Mount Elim chapel, Ynysmeudwy
Clydach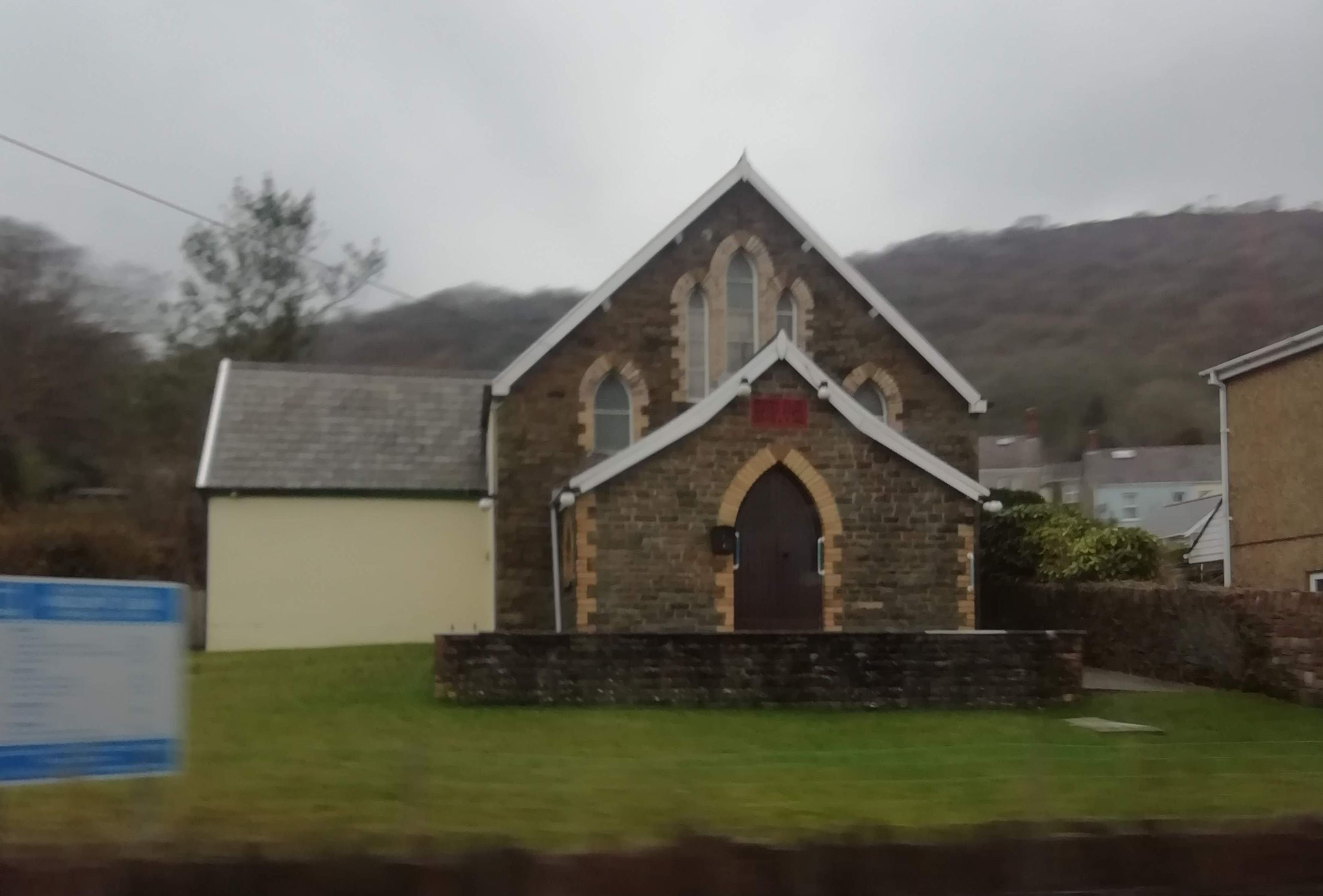 Mount Elim chapel in Ynysmeudwy was established by the Rev J.T. Morgan of Adulam Baptist Church, Pontardawe, in the 1880s.
The clear photographs come from 2006, when the Pastor was Rev Evan Richards. Other photographs have been taken from the bus in 2019, when Mount Elim is still going strong, but other chapels such as Adulam, Pontardawe and Caersalem, Ystalyfera, have long closed.
---
TAKEN FROM History of Pontardawe and District JOHN HENRY DAVIES

Towards the end of the Rev J T Morgan's ministry, some members formed a branch from Adulam at Ynysmeudwy. This cause first met at the Grosvenor Herbert Street and by the end of 1886, the new small chapel, Mount Elim Brecon Road, was opened. Mr Mathias was believed to be the first pastor. In 1890 the Rev Daniel Davies came and ministered for 20 years. The next two ministers stayed for a short time and in 1924, the Rev William Davies became Pastor and continued for 23 years, when he retired.

With the closing of the steel and tin plate works, many families moved away from the locality and the smaller chapels like Mount Elim suffered a loss of membership, which numbered only 25 in the 60's. At present, 1964, the Rev W R Evans Caersalem Ystalyfera, gives voluntary services in a caretaker capacity by kind arrangement between Mr Evans and his church

---
| | |
| --- | --- |
| TEXT | TEXT |
Like all chapels across South Wales, Mount Elim was fully invested in the First World War. It gave services and presentations for chapel members who were in the services and came home on leave, and it worked with local branches of organisations that would later become the British Legion.
From the Llais 3rd November 1917
RECEPTION AT MOUNT ELIM

Gunner David Thomas, of James Street, Pontardawe, who has been home for a few days prior to proceeding overseas, was the recipient of a presentation at Mount Elim Baptist Chapel Pontardawe, on Wednesday evening. Mr Jacob Gape presided over a large attendance. The presentation of Treasury notes on behalf of the Pontardawe S and S Welfare Association was made by Miss Blodwen Jones (Tyisha), who wished Gunner Thomas all possible luck. Gunner Thomas who was accorded a warm reception suitably returned thanks.

Mr Tom Morgan had arranged an excellent miscellaneous programme for the occasion, those who took part being Misses Sarah A Jones, Edith Thomas, Kate Morgan, Masters Will Lewis and Haydn Morgan, Messrs T Lewis, Jack Evans, - Phillips, Thomas Davies and verses by Mr Bowen Bevan.

Mr Henry Jenkins and Mrs J Evans acted as accompanists. A most enjoyable evening was brought to a close with the singing of "Hen Wlad fy Nhadau."
From the Llais 2nd August 1919
THE FIRST FALLEN HERO

The first of a series of meetings of the kind to be held at Pontardawe, took place on Sunday evening last, at Mount Elim Chapel, when Mr J Jones preached. The meeting was held under the auspices of the, S and S Welfare Association for the purpose of presenting Mrs E Davies with an emblem of sympathy, and a cheque due from the Association in respect of her brother, Private Henry Thomas, R.W.F., who was killed in action on 30th October 1914.

The presentation was made by the chairman, and later in the evening, cheques were presented to Air Mechanic Phill Michael, Driver J Richards, Sapper Harold Lewis, Pte T G Williams, Pte David Lewis, and Pte J Lewis. The presentations were made by Mr W H Howell, and the chairman. A miscellaneous programme was also given.
---
Views from the Bus
Ministers of Mount Elim Chapel
Rev. David Mathias
The
1895
edition of 'Kelly's Directory of South Wales' records that the minister of Mount Elim is the Rev. David Mathias, and that services are on a Sunday, and at 10.30 a.m. & 6.30 p.m. This appears to be somewhat contradictory to what John Henry Davies wrote in "Pontardawe and District' where he has Mr Mathias being succeeded in 1890 by the Rev Daniel Davies.
The Baptist Handbook for 1897 mentions in the obituary for Rev David Mathias that "
In 1890 he accepted an invitation to the pastorate of the Church at Elim, Pontardawe where he laboured successfully for ten months.
"
Rev David Mathias held a ministry at Bwlchyrhiw from 1886 (could be 1888) to 1890. Chapel lists then show his 'next' pastorate to be Llanfachreth and Llanddeusant 1891 to 1893 and finally Carmel, Sirhowy 1894 to 1895. It would appear that his 10-month ministry at Mount Elim managed to fall between two years' data for the Baptist returns, so it is only in his obituary that it was properly mentioned.
Baptist sources show that before these dates, Rev David Mathias was at Salim, Llangammarch and Pantycelyn in 1862, Memorial, Builth 1867 to 1868 and Horeb, Cwmdwr 1867 to 1871 and again 1880 to 1889.
People of Mount Elim Chapel
The composer Thomas John Williams, who was born in Ynysmeudwy in 1869, was for a time (probably prior to 1903) Organist at Mount Elim Chapel, Pontardawe. You can read about him on the Praise! website.
---
Contact Information
Mount Elim is a thriving local chapel as Mount Elim Evangelical Church (formed 1982), and holds regular services.

Address - Brecon Rd, Pontardawe, Swansea SA8 4PD
Phone - 07872 077403
Website - http://mountelim.org/
Facebook - https://en-gb.facebook.com/mountelim/
Pastor's Email - Steffan Jones: steff.jones1@btinternet.com