Tabernacle Independent Chapel
Pontardawe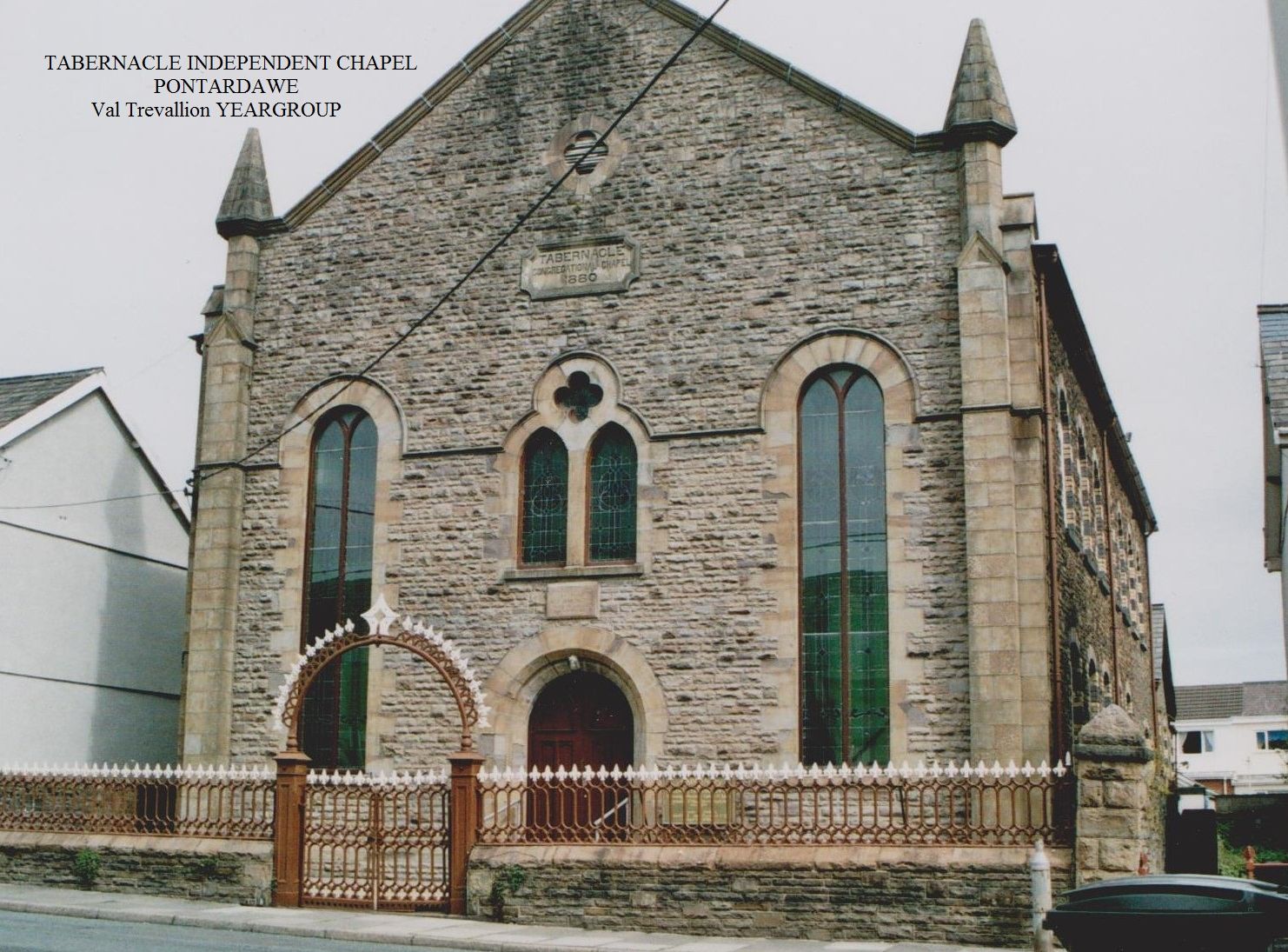 'Sir John Jones Jenkins (afterwards Lord Glantawe) laid the foundation stone on 18th August 1880 and from a platform in front of the building, sermons were preached to the audience standing on the road.................................. On Sunday 21st August, 1881, the chapel was officially opened, when the Rev J T Davies of Gosen and Bethesda, and the Rev Rees Rees Alltwen preached.'
---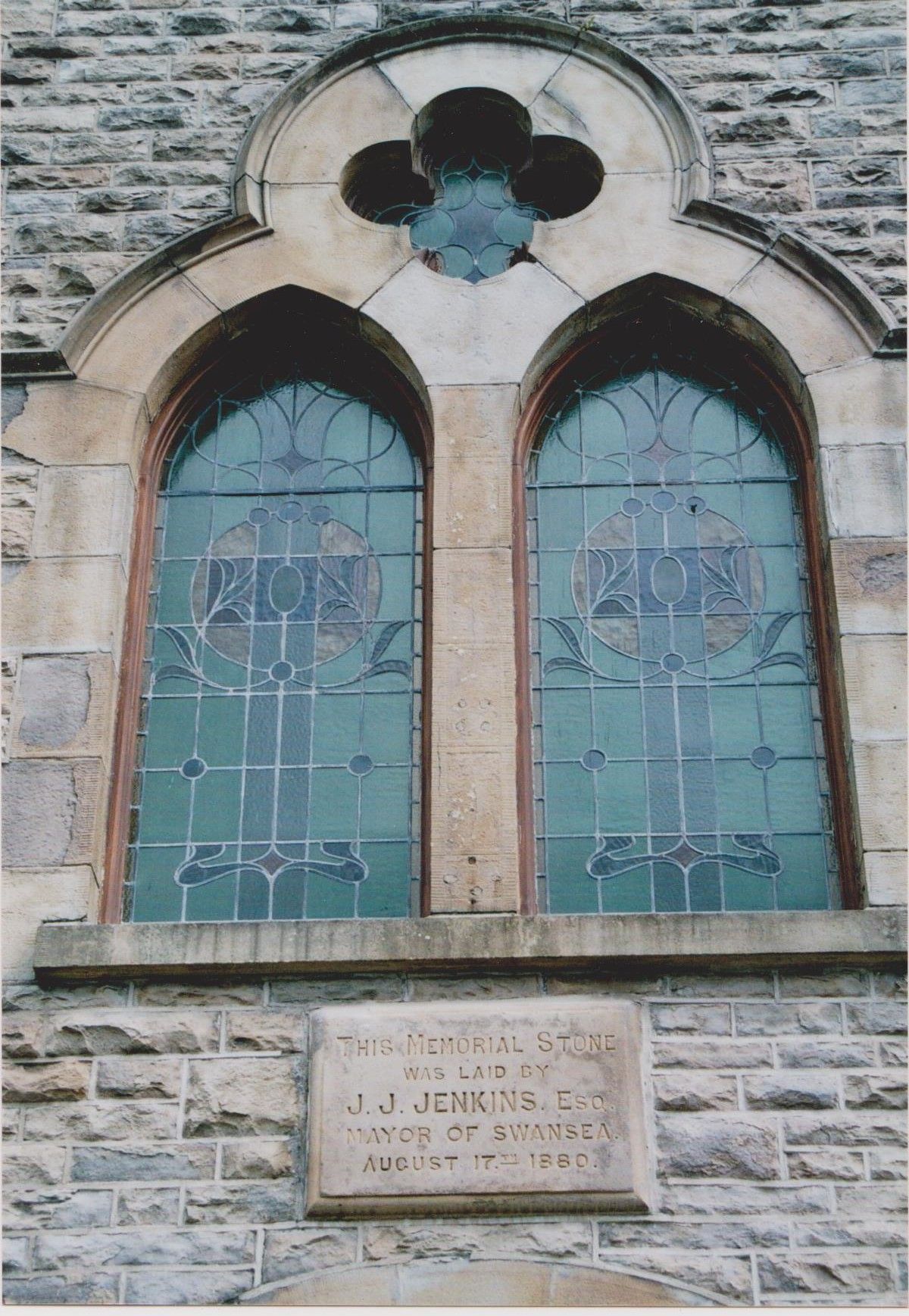 The photograph shows that the memorial stone is transcribed as August 17th 1880.
THIS MEMORIAL STONE
WAS LAID BY
J.J. JENKINS ESQ.
MAYOR OF SWANSEA
AUGUST 17TH 1880
---
It was a few years since I took that photograph and I am sorry to say I still have not seen inside the building where I have been told there is a plaque for a fallen soldier, a former member of the congregation.
Read More - TITLE
---
Tabernacle Chapel in the Llais
The Llais newspaper had always included a round-up of happenings at local churches and chapels, even when these were not part of any particular story. Sometimes they advertised forthcoming events, and at other times who was preaching, or had preached there recently.
From the South Wales Voice 20th September 1947 included information on the funeral of the widow of the Rev Seiriol Williams, formerly pastor of Tabernacle chuerch, Pontardawe:-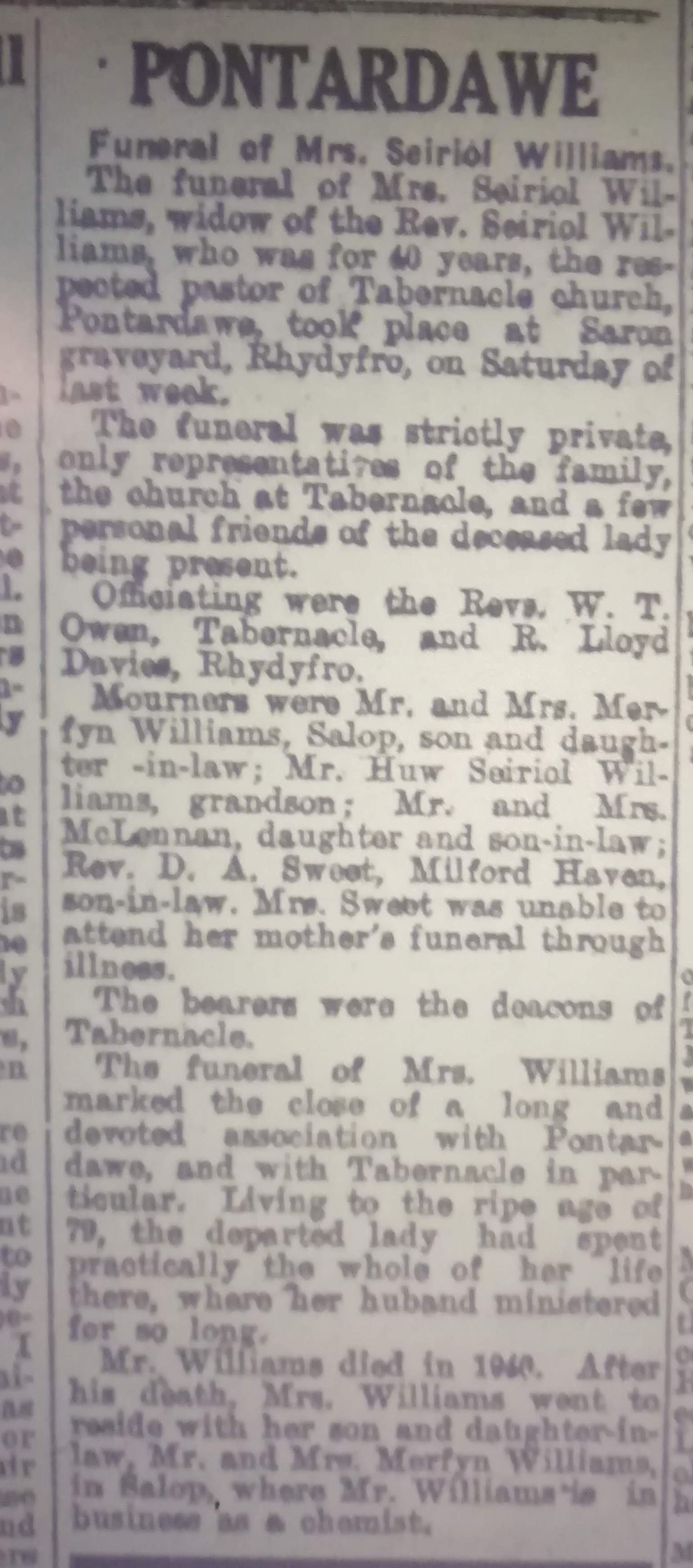 PONTARDAWE
FUNERAL OF MRS SEIRIOL WILLIAMS

The funeral of Mrs Seiriol Williams, widow of the Rev Seiriol Williams, who was for 40 years the respected pastor of Tabernacle church, Pontardawe, took place at Saron graveyard, Rhydyfro, on Saturday of last week.
The funeral was strictly private, only representatives of the family, the church at Tabernacles, and a few personal friends of the deceased lady being present.
Officiating were the Revs W T Owen, Tabernacle, and R Lloyd Davies, Rhydyfro.
Mourners were Mr and Mrs Merfyn Williams, Salop, son and daughter-in-law; Mr Huw Seiriol Williams, grandson; Mr and Mrs McLennan, daughter and son-in-law; Rev D A Sweet, Milford Haven, son-in-law. Mrs Sweet was unable to attend her mother's funeral through illness.
The bearers were the deacons of Tabernacle.
The funeral of Mrs Williams marked the close of a long and devoted associated with Pontardawe and with Tabernacle in particular. Living to the ripe age of 79 the departed lady had spent practically the whole of her life there, where her husband ministered for so long.
Mr Williams died in 1940. After his death, Mrs Williams went to reside with her son and daughter-in-law, Mr and Mrs Merfyn Williams in Salop, where Mr WIlliams is in business as a chemist.