Caersalem Chapel, Ystalyfera
From the book, 'HISTORY OF PONTARDAWE AND DISTRICT' by John Henry Davies comes this section on the history of Caersalem Chapel :-
CAERSALEM CHAPEL YSTALYFERA

Caersalem, a branch of Soar, was formed at the beginning of 1854, when it had 40 members. When the Rev Rhys Evans left for Liverpool, the membership numbered 152. Caersalem was officially opened in 1858. In 1861, the Rev David Edwards looked after the church until 1865, when he left for Adulam Pontardawe. In 1865, the Rev John Evans commenced duties and he remained until his death in 1896. During his pastorate in 1877, the chapel was rebuilt. From 1902 to 1904, the Rev David Rees took charge of the church. A very successful minister, the Rev E D Lewis came to Caersalem in 1905. He was elected president of Y Gymanfa Morgannwg in 1934 and as secretary of the District Meeting of Ystalyfera and surrounding area for 30 years. In 1941, he celebrated his 50th year in the ministry. Two years later he retired, after 38 years of faithful service at Caersalem.

The Rev Vincent N E Evans, a student of Bangor College, was the 1st to be ordained in this chapel.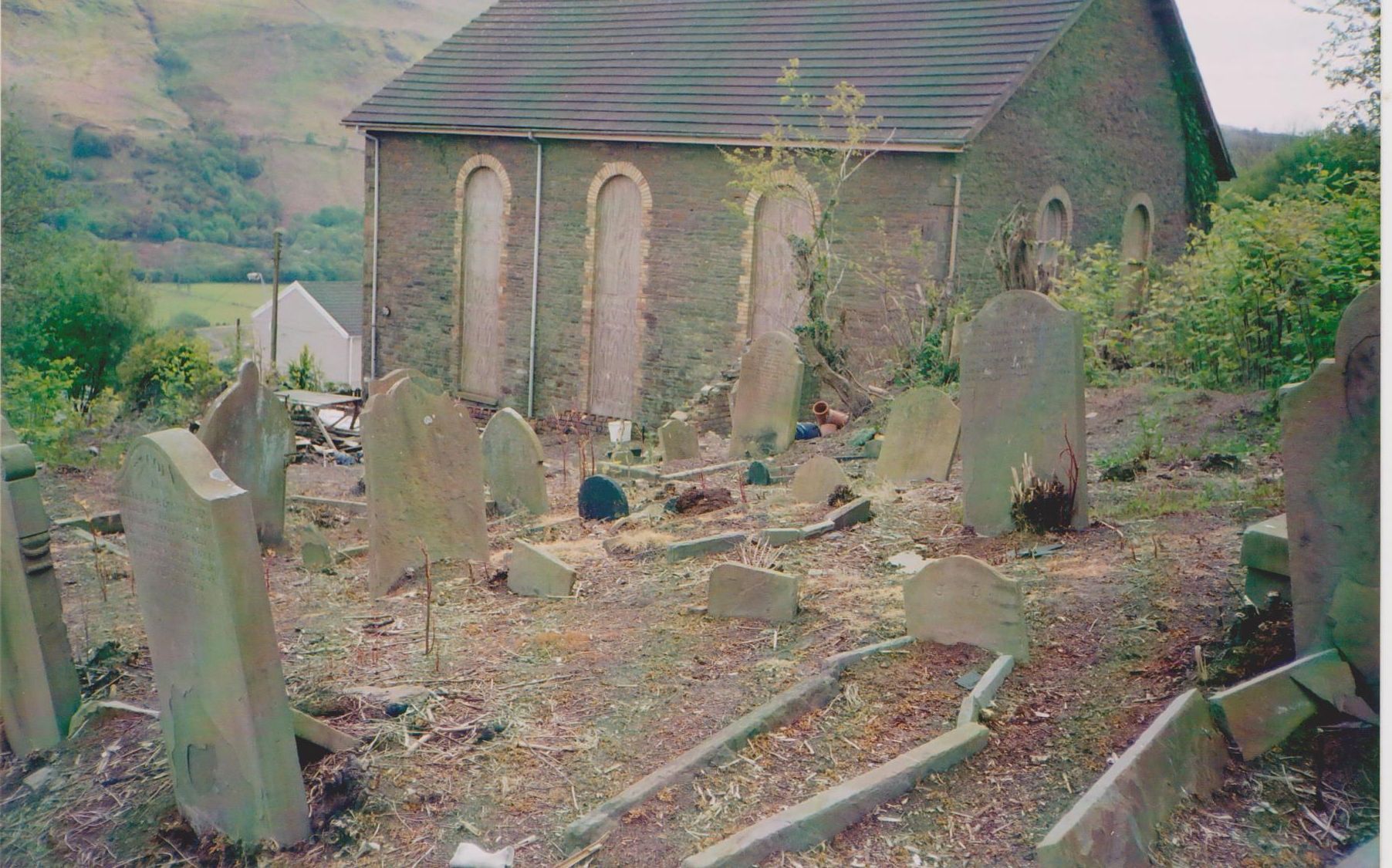 The rear of Caersalem Chapel, 2005, before conversion into a house.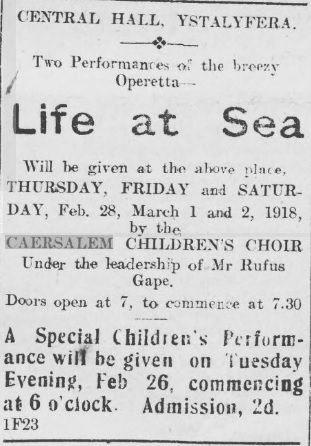 The Llais newspaper of 23rd February 1918 records that the Caersalem Children's Choir, under the leadership of Mr Rufus Gape, will be performing 'Life at Sea' at Central Hall, Ystalyfera, from February 28th to March 2nd.
---
On the 8th July 1922, The Labour Voice newspaper reported an interesting talk to be given at Caersalem Chapel, Ystalyfera.
POPULAR LECTURE

On Monday night next at Caersalem Chapel, Mr Risca Rees, the popular lecturer, will give a lecture on 'The Lusitania Disaster'. Local artistes will provide musical items. Mr Rees was one of the fortunate survivors of the Lusitania disaster, and his lecture is one of the most dramatic and stirring stories.

Read more on 'The Lusitania Disaster' at Encyclopedia Titanica.
The South Wales Voice newspaper for June 28th 1941 has an article on the jubilee of Rev. E.D. Lewis of Caersalem:-
YSTALYFERA PASTOR'S JUBILEE IN MINISTRY

One of the most impressive events that have taken place in the long history of Caersalem Chapel, Ystalyfera, was the celebration of the jubilee of the veteran pastor, the Rev E.D. Lewis, and of the 50 years he has spent 36 at Caersalem.
A native of Cwmgrenig, Glanamman, the Rev Mr Lewis commenced preaching at Bethesda Chapel. He was educated at Gwynfryn School, Ammanford, and the Baptist College, Llangollen, and was ordained at Bethlehem, Llancarfan, 18th January 1890. He held the pastorates of Horeb Chapel, Treorchy and Croesyparc and was inducted at Caersalem, Ystalyfera on 21st June 1905. During the time he was in Vale of Glamorgan, Mr Lewis was one of the founders of the cymanfa ganu and quarterly meeting.
In 1933-34 Mr Lewis was president of the West Glamorgan Baptist Association and is an ex president of the Ystalyfera Free Church Council. He has been secretary of the Ystalyfera District Baptists for over 30 years. A keen student and wide reader, he has contributed a great deal to the baptist press.
The Rev Ifor Jones, Soar, presided over a large and representative congregation at the celebration service held at Caersalem Chapel on Monday, and the introductory portions of the service was taken by the Rev E.T. Evans, Wern.
Mr Jones said that Mr Lewis was a man of sound judgement and firm convictions. When he was invited to become pastor of Soar, he, Mr Jones, consulted Mr Lewis and his advice on that occasion and ever since could be relied upon. Quoting a statement made at the presentation meeting to the late T Valentine Evans, Clydach, by Mr Percy Player, the Chairman said it was a good thing to be strong and rich, but it was far better to be surrounded by and to be beloved of friends. The large congregation present that day was ample testimony to the respect and esteem that Mr Lewis was held in the area. 50 years covered a short period to look upon but it was an age to look forward to. Tomorrow was far off but yesterday near. Mr Lewis had lived a long and useful life in the service of his Master and it was hoped that he would be spared for many years to come.
Speaking on behald of Mr Lewis' mother church Bethesda, Glanaman, the pastor Rev E Dulais Jones said Mr Lewis was held in high regard as a preacher, author and a man. Everyone spoke highly of him and even the younger generation at Glanaman thought of him in the best terms... They knew him through what they heard their parents say of Mr Lewis.

SINCERITY OF PURPOSE

The Reverend Miles Griffiths, Calforia, Garnant [sic] said Mr Lewis was a very able organiser and had met with considerable success in that branch of church work. He was able to make dry statistics like minutes of meetings interesting to read and his service as secretary of the Ystalyfera District Baptists had been marked with outstanding success. His whole work was permeated by sincerity, while he was human enough to possess a sense of humour which was a priceless possession.
Mr John Maddocks, representing Soar Chapel, spoke of the unity and harmony that existed between the two baptist churches at Ystalyfera and paid tribute to Mr Lewis for his sincerity of purpose. He lived his religion and the principles of Christianity.
Representing the West Glamorgan Baptist Association, treasurer Mr Fred William, Skewen, spoke of his long and happy association with Mr Lewis and said they were elected officials of the association at the same time. Mr Lewis' valedictory address at his conference in Cwmtwrch in 1934 was one which would remain with those present for many years yet.
The Reverend E Llwchwr Jones, Swansea, president of the association, described Mr Lewis as one of the spiritual statesman of the Baptist denomination. When he addressed the annual conference of the association, Mr Lewis always spoke with a purpose. As well as being a preacher, Mr Lewis had rendered lifelong service to the kingdom of God by his writings. He was also a historian and during a young people's rally at Nantyffin, he gave a detailed account of the cause in the upper reaches of the Swansea Valley. Mr Lewis was the "Peter Pan" of the Baptist Ministry, although in advancing years he did not seem to be getting old.

LONG AND SUCCESSFUL MINISTRY

The reverend Myles Griffiths, Calfaria, president of the Ystalyfera District Baptists, congratulated the church and all concerned on having to honour Mr Lewis during his lifetime. Homer had to beg bread in his lifetime, but after his death towns fought for the right to claim to be his birthplace. There should be more flowers on the path of life and less at gravesides.
Mr Rees W Hopkins, represented the Ystalyfera Free Church Council and paid tribute to Mr Lewis' efforts for the welfare of the people. During a long and successful ministry, Mr Lewis had been thoroughly loyal to his calling. His works and words would remain for years after he had gone to his reward. Mr Hopkins deprecated the lack of belief in angels which had gone with the advancement of modern times and concluded by quoting the couplet;
"Uwch, uwchach yr el
Dringed i gadair angel"
County Councillor John Phillips, J.P., Glanamman, brought greetings from the Amman Valley and said nothing could be expected from Mr Lewis but what had come from him, as he was the son of truly Christian parents. Mr Lewis could be described in the words:
"A gwr i Dduw o'r gwraidd oedd"
Both the reverends WD Lewis, Trecynon, and Daniel Jones, Lower Cwmtwrch, products of Caersalem Church, were in reminiscent mood and paid tribute to Mr Lewis for the valued help and guidance given them. He continued to take an active and fatherly interest in their welfare and careers. Mr Lewis also spoke of the great support Mr Lewis had received from his wife, the late Mrs M A Lewis, who died in 1931.

THE REVEREND E D LEWIS

Councillor Joseph Walters, chairman of the presentation committee, handed to Mr Lewis a wallet and substantial cheque. He said that the occasion was one of the most important in Mr Lewis' long and successful career; it was an honour which he richly deserved.
Expressing thanks, Mr Lewis said that the complete surprise to him. He was quite aware that he was approaching the half century mark but he had no idea that a presentation on such a scale was being arranged in his honour. He had only been able to do what he had done through God's gracious mercy.
The Chairman announced that the president of the Welsh Baptist Union, the Rev W R Watkins, Llanelli, was unable to be present owing to a prior engagement.
Mr Rufus Gabe read messages from the following who were unable to attend; the Rev W Clifford Davies, Deinion a product of the church; the Rev W D Davies, congregational minister Royston Herts; wireless operator Kenneth G Jones, RAF; Private Herbert Ambrose, Pioneer Corps; Miss May Williams, Womens Baptist Training College, London; Messrs Owen Jones, Sheffield; Rhys Gwilym Edwards, Market Drayton; W Roberts, Pentyrch; Miss Marion Gabe, Nottingham University; Messrs Robert Morgan, King Edward VI Grammar School, Bury St Edmunds; Glynne S Walters, Burryport; Mr and Mrs Watcyn Morgan, Macclesfield; Messrs T D Jones and Aneurin Edwards, Ystalyfera Tinplate Works; Misses Mary and Beryl Edwards, Shifnall, Shropshire; Mrs M A Carter and family, Swansea; ... Rev W Mon Williams, Brynamman.
The service was closed with prayer offered by the Rev William Davies, Mount Elim, Pontardawe, Mr Rufus Gabe led the singest, and the organist Miss Mair Potter was supported by the following instrumentalists: Messrs T E Jones, David Jones, Ben Davies, Emlyn Davies, Morgan Davies, Lewis Williams, Noel Thomas, W J Williams, and David Landry. Mr Stanley Alexander, solicitor, was secretary of the committee and the treasurer was Mr D T Samuel.
In the evening the Rev E Aman Jones, Gurnos, preached to a large and appreciative congregation. The service was opened by Rev L Humphreys, Camrose, Pembrokeshire.
Interior and exterior rennovations were carried out at the chapel by the male members, particularly Mr W J Lethaby, Mr Stanley Heale, Elwyn Gabe, Emlyn Davies, and Morgan Davies, and lady members in charge of Mrs Moses, the caretaker.
All the lady members gave gifts of food and entertained the visitors to tea.


The South Wales Voice newspaper for Saturday 21st November 1942 has an article on the retirement of the pastor of Caersalem:-
YSTALYFERA PASTOR RETIRES

On Sunday evening the Rev E D Lewis, retired from the pastorate of Caersalem Chapel Ystalyfera which he has held since 31st June 1905. Mr Lewis completed 52 years in the ministry on 18th January of this year and on the occasion of his Jubilee, two years ago, was presented with a cheque by the members of Caersalem and his friends.
References to Mr Lewis's long and faithful ministry were made during the service on Sunday evening by councillors Joseph Walters and David Morgan, also pay tribute to a successful pastorate at Caersalem.
A native of Cwmgrenig, Glanamman Mr Lewis commenced preaching at Bethesda Chapel. He was educated at Gwynfryn School Ammanford and the Baptist College Llangollen and was ordained that Bethlehem Llancarfan on 18th January 1890. Mr Lewis held the pastorate of Horeb Chapel Treorchy and Croesyparc and was inducted at Caersalem Ystalyfera 37 and a half years ago.
During the time he was in the Vale of Glamorgan, Mr Lewis was one of the founders of the Cymanfa Ganu and quarterly meetings.
In 1933- 34, Mr Lewis was president of the West Glamorgan Baptist Association and he is an ex-president of the Ystalyfera Free Church Council. He has been secretary of the Ystalyfera District Baptist for 38 years. A keen student and wide reader, he has contributed a great deal to the Baptist Press.
The South Wales Voice for October 27th 1951 has a report on Caersalem's Young People's Guild, showing that like most other chapels and churches in the locality, Caersalem had a thriving social life outside of direct services:-
CAERSALEM Y.P.G.

A musical evening was held on Monday by Mr David John Harries. The following took part: recitations: Anna Gabe Thomas, Kay Williams, Gaynor Farquhar and Mr Elwyn Gabe; solos, Margaret Rose Jones, Mrs R.A. Morris, Mrs Vincent Evans and Mr D.J. Harries; harmonica solo, Mr T.J. Harries; piano solo, Dorothy Gabe; the two choirs also contributed items. The president was Mrs M.A. Ambrose and Miss Dorothy Gabe was the accompanist. A vote of thanks to Mr Harries and all who helped to make the evening enjoyable and successful was proposed and seconded by Mr Heale and Miss Blodwen Gabe.
The South Wales Voice newspaper for 23rd January 1953 included a look-back on the history of Caersalem Chapel, written during a report on a recent service there.
Caersalem stands high above the Cyfyng Road and at the foot of Graig y Merched Ystalyfera. It is not a large building but it is well built and the inside is planned on orthodox lines, the gallery being on three sides the pulpit on the fourth.

An unusual feature is that the floor is sloping slightly towards the pulpit thus enabling those at the back to have a clear view to the front. Altogether the layout lends a cosy feeling of homeliness to the place and this feeling was helped, by the warm friendliness of the members.

The first chapel was built in 1855 and the first Minister was Rhys Evans. He left in 1860 for Liverpool. He was followed in 1861 by David Edwards, who left for Adulam Pontardawe in 1864. Then in 1865 came John Evans, he hailed from Cwmtwrch, who was first minister at Hermon Llanon. He served as minister at Caersalem and for 31 years.

After his death in 1896, there appears to be no minister until 1902 when David Rees came and served for two years and then left for Swansea.

In 1905 E D Lewis of Croesyparc, was called and he served until his death in 1943.

Mr Lewis was firmly established in Ystalyfera and was popular with all sections of the community. His son-in-law, Mr Rufus Gabe has been the precentor of Caersalem since 1916 and his granddaughter, Miss Dorothy Gabe A.L.C.M., is the capable organist. Miss Gabe gained eminent distinction recently by winning two much coveted scholarship - one for Girton College Cambridge, and the other for Somerville College Oxford. She decided to take the former. Such achievement reflects credit on the Ystalyfera Grammar Schools, on Ystalyfera and no less, on Caersalem.
The article in the 23rd January 1953 edition of the South Wales Voice proceeds with a report written by A SPECIAL CORRESPONDENT who continues by giving an account of the service which he personally must have attended in 1953::-
The present minister, Mr E E Vincent Evans, came to Caersalem from Bangor College in June 1948. Before going to Bangor he had worked for nine years as a miner. He is a native of Salem Llangyfelach.

He is a young man who has won his way to favour with the members at Caersalem by his likeable personality and his forceful preaching. It was good to hear his praises sung by several people I spoke to before and after the service on Sunday.

The service began with prayer and the singing of the hymn:
"Ar for tymhestlog teithio 'rwyf
I fyd sydd well i fyw,
Gan wenu ar ei stormydd oll-
Fy Nhad sydd wrth y Hyw."


The minister read a chapter from Paul's Epistle to the Corinthians after which were sung two hymns.

For his sermon, Mr Evans took for his text Judges: chapter 16 verse 20. He dealt with the story and character of Samson.

Samson was a wonderful man but he was difficult to understand. He had been brought up to regard the Philistine's enemies, yet he played with Philistine's daughters. He was a mixture of good and bad.
He would play like a saint but was capable of bitter revenge. He was a man of great strength but his strength came from above rather than from himself - he was a normal man physically. It is said that he derived his strength through keeping the covenants of his people. He was a man with a mission but his power was destructive.
He did not appeal to the Philistine is to reform but his efforts were to remove obstacles and allow others to make the reforms. He judged Israel the 20 years but we do not know what happened during that time or what he judged.
And when judging Samson we must consider the circumstances of that time 3000 years ago. And are we not revengeful? Are we less warlike? We can devise better weapons and he used and we are clever in waging war. We must recognise that on the whole Samson was a good man. He became a slave to Philistine women and one of them, Delilah, ultimately deceived him. But he afterwards repented and came back to God's favour. In those days if a man loses his place in society it will take a long time for him to be accepted back.
But God is always ready to forgive the repented sinner.

As I said, Mr Evans is a forceful preacher and he made his point with appropriate emphasis and compelling conviction. Caersalem can well be proud of him.

I was indeed impressed with the simple devotional spirit of the service and the singing was quite good - there was quality as well as volume in it which was really stirring. Much credit is due to the precentor and his gifted daughter at the organ but I must compliment the congregation as a whole.

Caersalem is a "going concern" if I may use the term. Its weeknight activities indicate life and I'm told that its Sunday school is well attended. I may be pardoned for commenting however that it is a pity that the youngsters do not attend the evening service in greater numbers.

The energetic secretary, Mr Elwyn Gabe, informed me that the chapel is free of debt. They acquired a manse in 1948 at a cost £1,550, £650 was loaned by members free of interest and this was cleared in 1950. This is a tribute to the chapel of 160 members - particularly a working class membership.

Among the stalwarts are Ex Councillor Joseph Walters, announcer; County Councillor David Morgan JP., and 2 Parish Councillors.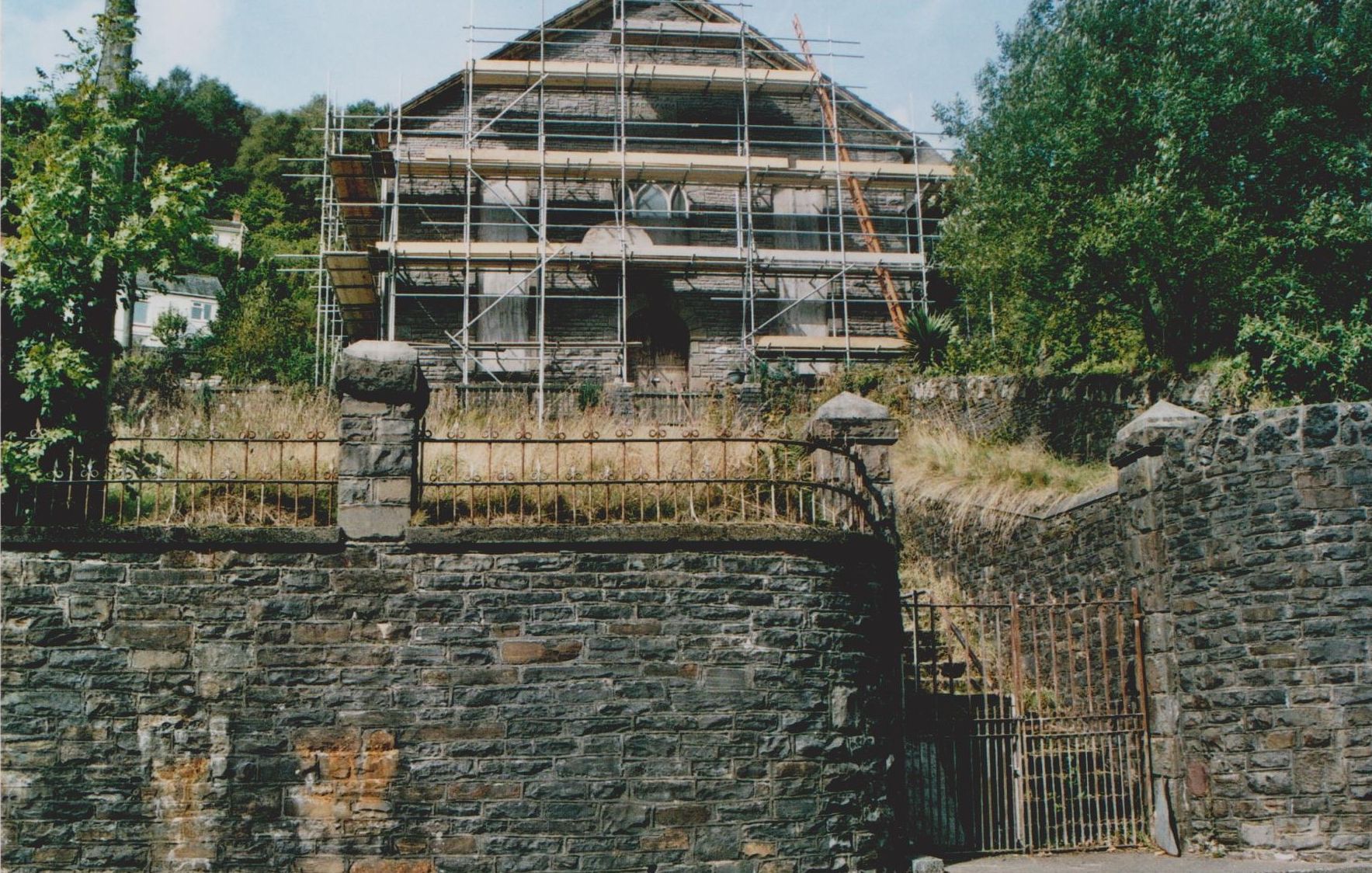 The above photograph shows Caersalem Chapel preparing to be converted into a home.
In the Llais of 11th March 1955, we learn that Caersalem chapel had been closed for renovations, but has now had a reopening ceremony.
CHAPEL RE-OPENING

Caersalem Baptist Chapel Ystalyfera, which has been closed some time to complete renovations and decorative work, was officially reopened on Saturday.
Mrs Martha Davies, Ty Coch Ystalyfera, for many years a generous benefactor to Caersalem Chapel and other places of worship, performed the ceremony after receiving the keys from Mrs Sarah Edwards.
Speeches, on account of the cold weather, were made inside the chapel, the Minister Rev Vincent Evans presiding. After welcoming all present, including Mr Rufus Gabe who had been in hospital for a long time, he paid tribute to those who had assisted in the task of renovating the Chapel.
Mrs Edwards, the eldest member having been baptised back in 1889, said she very much appreciated the great honour conferred upon her on the eve of the centenary of the church, Easter.
Then followed a service: introduced by Rev Arfon Jones Soar Ystalyfera and followed by a forceful sermon from the Rev D Hubert Davies Ainon Ystradgynlais.
Other ministers present were Rev William Jones Beulah Cwmtwrch and E T Evans Wern senior local minister.

In the Llais of 21st November 1958 we learn that Caersalem Baptist Church will be getting a new pastor:-
NEW PASTOR FOR CAERSALEM BAPTIST CHURCH YSTALYFERA
Caersalem Baptist Chapel will soon be welcoming a new pastor, the Rev W R Evans who has ministered at Tabernacle, Harlech and Llanfir for the past 9 years.
He succeeds the Rev Vincent Evans who left Caersalem earlier this year.

E.D. Lewis retired in 1943, two years after celebrating 50 years in the ministry. "He died in 1947 aged 81 years and was buried in his native village Glanamman."

Below, we have attempted to compile a list of the ministers of Caersalem:-
Ministers of Caersalem Chapel
1855 - 1860
Rhys Evans
1860 - 1864
David Edwards
1865 - 1896
John Evans
1902 - 1904
David Rees
1905 - 1943 (or 1945)
E D Lewis
1948 - 1958
E E Vincent Evans
1958 - 1972
W R Evans
We have it on reliable authority, that W R Evans retired in 1972 and was not replaced with a permanent pastor. Caersalem Chapel closed some years later due to a dwindling congregation.
| | | | | |
| --- | --- | --- | --- | --- |
| E D Lewis | | Caersalem Chapel, 1955, Vincent Evans centre front | | Vincent Evans |
---
Centenary of Caersalem Chapel, Ystalyfera
From The Voice newspaper, Friday 15th April 1955 :-
BAPTIST CHURCH CENTENARY

Carsalem Welsh Baptist Church, Ystalyfera, celebrated its centenary over Easter, with a series of special services Saturday to Thursday.
It was in 1853 that a section of worshippers seceded from Soar Baptist Church and with the minister, the Rev Rhys Evans, began a new church, despite an interim reconciliation.
For the first 2 years, services were held in the households of the late Jacob Gabe, Ebenezer Davies, y Wern Fawr, Rowland Phillips, and for some months in an empty house belonging to the late Isaac Evans at a monthly rental of 6 shillings, 8d.
During this period, membership increased appreciably and the need of a chapel became imperative.
For this purpose a committee was formed and comprised of the following members: Timothy Williams, who became secretary of the church from 1855 to 1875; John Howells, Evan Evans, William Roberts, John Jones, Graig-arw, and the Rev Rhys Evans.

COST £375

The first building was erected in 1855 at a cost of £375, a big sum in days of relatively small wages.
Funds were raised through concerts, eisteddfodau, lectures, etc and the readiness of local churches, Pantteg for instance, to lend their chapels for such functions greatly encouraged these pioneers.
The new church was named Caersalem and was opened in 1855. After a successful ministry there, the Rev Rhys Evans went to a new pastorate at Libanus, Treherbert in 1860.
He was followed by the Reverend David Edwards from Beaufort, a year later, leaving in April 1865 for Adulam Chapel, Pontardawe.

31 YEARS

He was succeeded in June of the same year by the Reverend John Evans, Beulah, Cwmtwrch and he for a time looked after two churches. His ministry was a successful one lasting 31 years until his death in November 1896.
The church became debt-free in 1874, membership had increased to 150 and the chapel was inadequate.
In 1876 it was decided to erect a new chapel and the first service in it was held in July 1878. A vestry was also built and the total cost came to £965.
Not long afterwards the church encountered many obstacles and had a difficult time to make ends meet. This was due to the emigration of local families to various parts of the country and abroad, chiefly to America, because of the great industrial depression of that period.

700 AT PARTY

Members were then reduced to just over 100. Nevertheless, the church continued to meet all demands and among functions organised to raise funds was a mammoth tea party, held on Good Friday 1891, when over 700 persons attended.
Another interesting venture, taken jointly with Jerusalem Methodist Church, also experiencing hard times, was a special fair night on the Swan Field in 1894, the late Mr Henry Studt having lent his entire amenities and facilities for the benefit of the churches.
The organiser was Mr Rees B Rees of Caersalem, who himself had to emigrate shortly afterwards to Nantes, France with his wife and family.
Reverend David Rees of Glascoed, near Pontypool, then came to Ystalyfera in November 1899 and was inducted in February 1900. He left for Siloam, Gelli, Rhondda in May 1904.

REVEREND E D LEWIS

He was succeeded in June 1905 by the Reverend Evan David Lewis, then minister of Groesyparc. His ministry lasted until 1943 and was the most successful in the history of the church.
Without a minister for over 4 years, the church's invitation to the Reverend Vincent Evans, then a ministerial student, was accepted and he was duly ordained and inducted in July 1948.
His coming gave a new lease of life to the church and his unremitting efforts have been blessed with splendid results.
Present officers and deacons are: Mr Elwyn Gabe, secretary; Mr Gwilym Jones, treasurer; Mr Rufus Gabe, precentor; Messrs Joseph Walters, announcer and eldest deacon; Stanley Heale, Herbert Ambrose, and Tom E Morgan.

SERVICES

The services during the week's celebrations:
Saturday evening and Sunday Rev J Williams-Hughes, Principal of Bangor Theological College, and Rev J M Lewis, Treorchy. Monday afternoon, former members of the chapel and others connected with it were entertained to tea. In the evening the Rev W Clifford Davies, Amlwch, preached a sermon. The Rev Daniel Jones, Cwmtwrch, also took part. Both were baptised in Caersalem.
The celebration prayer was on Tuesday, the minster, Rev Vincent Evanrs, presiding, and Rev T Arfon Jones, Soar, taking the introduction. Mrs Vincent Evans sang a solo, following a short review by Mr Elwyn Gabe on the history of the church.
Other speakers were Mr Joseph Walters, Mr Gwilym Jones, Mr Robert Morgan, Revs R T Evans, J R Jones, W Mon. Williams, Rev E T Evans, Rev Edwin J Davies
Tuesday evening: Rev R Emrys Davies, Swansea, was the preacher, the Rev D T Davies, Jerusalem, Ystalyfera, takng the introduction and Rev R G Roberts, Colbren, presiding.
Wednesday evening, the preachers were Revs John Thomas, Blaenwaun, and J Mansel John, Aberavon. The first part of the service was taken over by Rev Iowerth Jones, Pantteg, and the president was Rev William Jones, Beulah, Cwmtwrch.
On Thursday evening, Rev John Thomas gave a lecture on "Dafis-Login". He substituted for the Rev Jubilee Young, Llanelly, who was recently taken ill.