Caersalem Chapel, Ystalyfera
From the book, 'HISTORY OF PONTARDAWE AND DISTRICT' by John Henry Davies comes this section on the history of Caersalem Chapel :-
CAERSALEM CHAPEL YSTALYFERA

Caersalem, a branch of Soar, was formed at the beginning of 1854, when it had 40 members. When the Rev Rhys Evans left for Liverpool, the membership numbered 152. Caersalem was officially opened in 1858. In 1861, the Rev David Edwards looked after the church until 1865, when he left for Adulam Pontardawe. In 1865, the Rev John Evans commenced duties and he remained until his death in 1896. During his pastorate in 1877, the chapel was rebuilt. From 1902 to 1904, the Rev David Rees took charge of the church. A very successful minister, the Rev E D Lewis came to Caersalem in 1905. He was elected president of Y Gymanfa Morgannwg in 1934 and as secretary of the District Meeting of Ystalyfera and surrounding area for 30 years. In 1943, he celebrated his 50th year in the ministry. Two years later he retired, after 38 years of faithful service at Caersalem.

The Rev Vincent N E Evans, a student of Bangor College, was the 1st to be ordained in this chapel.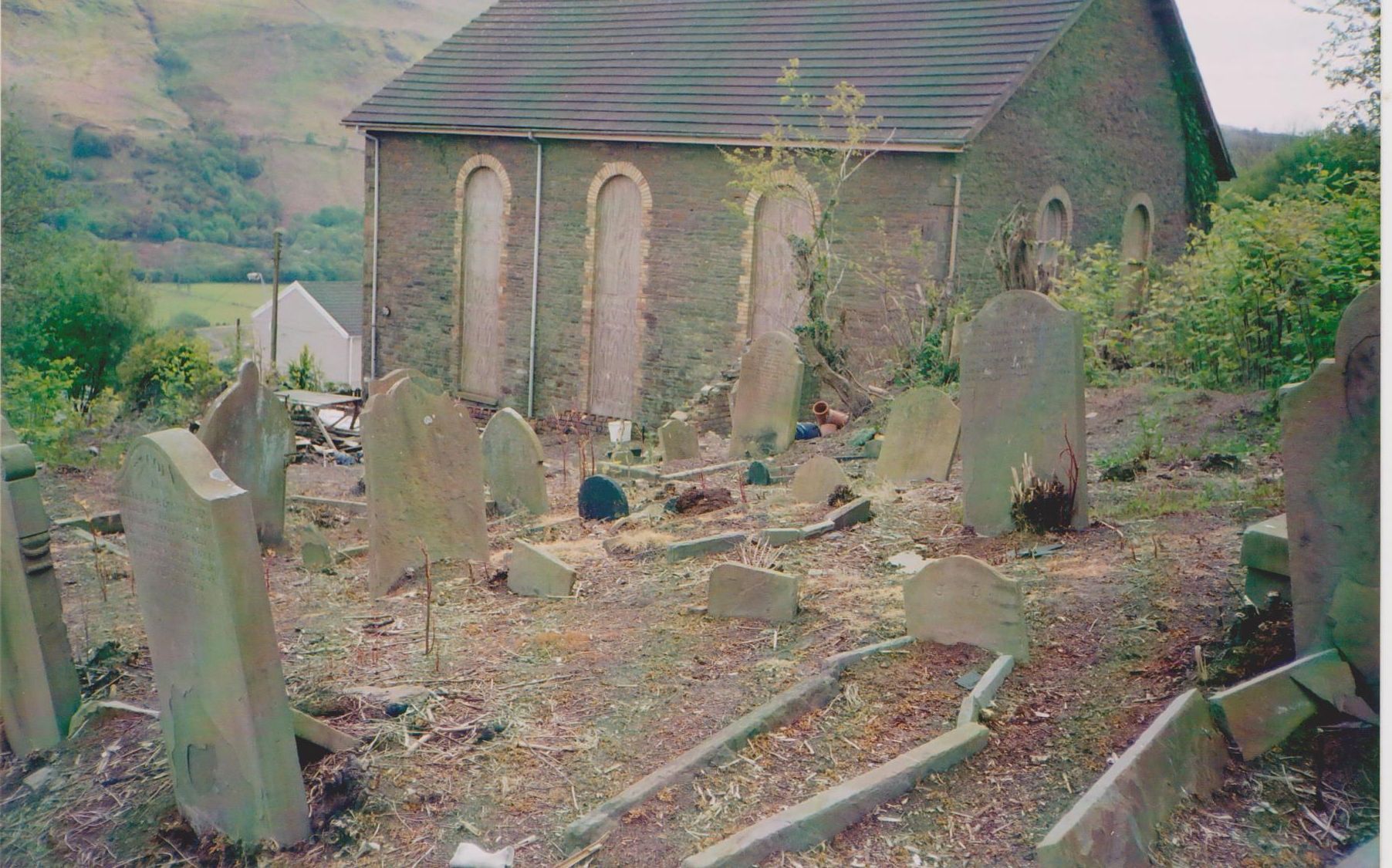 The rear of Caersalem Chapel, 2005, before conversion into a house.
On the 8th July 1922, The Labour Voice newspaper reported an interesting talk to be given at Caersalem Chapel, Ystalyfera.
POPULAR LECTURE

On Monday night next at Caersalem Chapel, Mr Risca Rees, the popular lecturer, will give a lecture on 'The Lusitania Disaster'. Local artistes will provide musical items. Mr Rees was one of the fortunate survivors of the Lusitania disaster, and his lecture is one of the most dramatic and stirring stories.

Read more on 'The Lusitania Disaster' at Encyclopedia Titanica.
The South Wales Voice newspaper for Saturday 21st November 1942 has an article on the retirement of the pastor of Caersalem:-
YSTALYFERA PASTOR RETIRES

On Sunday evening the Rev E D Lewis, retired from the pastorate of Caersalem Chapel Ystalyfera which he has held since 31st June 1905. Mr Lewis completed 52 years in the ministry on 18th January of this year and on the occasion of his Jubilee, two years ago, was presented with a cheque by the members of Caersalem and his friends.
References to Mr Lewis's long and faithful ministry were made during the service on Sunday evening by councillors Joseph Walters and David Morgan, also pay tribute to a successful pastorate at Caersalem.
A native of Cwmgrenig, Glanamman Mr Lewis commenced preaching at Bethesda Chapel. He was educated at Gwynfryn School Ammanford and the Baptist College Llangollen and was ordained that Bethlehem Llancarfan on 18th January 1890. Mr Lewis held the pastorate of Horeb Chapel Treorchy and Croesyparc and was inducted at Caersalem Ystalyfera 37 and a half years ago.
During the time he was in the Vale of Glamorgan, Mr Lewis was one of the founders of the Cymanfa Ganu and quarterly meetings.
In 1933- 34, Mr Lewis was president of the West Glamorgan Baptist Association and he is an ex-president of the Ystalyfera Free Church Council. He has been secretary of the Ystalyfera District Baptist for 38 years. A keen student and wide reader, he has contributed a great deal to the Baptist Press.
The South Wales Voice newspaper for 23rd January 1953 included a look-back on the history of Caersalem Chapel, written during a report on a recent service there.
Caersalem stands high above the Cyfyng Road and at the foot of Graig y Merched Ystalyfera. It is not a large building but it is well built and the inside is planned on orthodox lines, the gallery being on three sides the pulpit on the fourth.

An unusual feature is that the floor is sloping slightly towards the pulpit thus enabling those at the back to have a clear view to the front. Altogether the layout lends a cosy feeling of homeliness to the place and this feeling was helped, by the warm friendliness of the members.

The first chapel was built in 1855 and the first Minister was Rhys Evans. He left in 1860 for Liverpool. He was followed in 1861 by David Edwards, who left for Adulam Pontardawe in 1864. Then in 1865 came John Evans, he held from Cwmtwrch, who was first minister at Hermon Llanon. He served as minister at Caersalem and for 31 years.

After his death in 1896, there appears to be no minister until 1902 when David Rees came and served for two years and then left for Swansea.

In 1905 E D Lewis of Croesyparc, was called and he served until his death in 1943.

Mr Lewis was firmly established in Ystalyfera and was popular with all sections of the community. His son-in-law, Mr Rufus Gabe has been the precentor of Caersalem since 1916 and his granddaughter, Miss Dorothy Gabe A.L.C.M., is the capable organist. Miss Gabe gained eminent distinction recently by winning two much coveted scholarship - one for Girton College Cambridge, and the other for Somerville College Oxford. She decided to take the former. Such achievement reflects credit on the Ystalyfera Grammar Schools, on Ystalyfera and no less, on Caersalem.
The article in the 23rd January 1953 edition of the South Wales Voice proceeds with a report written by A SPECIAL CORRESPONDENT who continues by giving an account of the service which he personally must have attended in 1953::-
The present minister, Mr E E Vincent Evans, came to Caersalem from Bangor College in June 1948. Before going to Bangor he had worked for nine years as a miner. He is a native of Salem Llangyfelach.

He is a young man who has won his way to favour with the members at Caersalem by his likeable personality and his forceful preaching. It was good to hear his praises sung by several people I spoke to before and after the service on Sunday.

The service began with prayer and the singing of the hymn:
"Ar for tymhestlog teithio 'rwyf
I fyd sydd well i fyw,
Gan wenu ar ei stormydd oll-
Fy Nhad sydd wrth y Hyw."


The minister read a chapter from Paul's Epistle to the Corinthians after which were sung two hymns.

For his sermon, Mr Evans took for his text Judges: chapter 16 verse 20. He dealt with the story and character of Samson.

Samson was a wonderful man but he was difficult to understand. He had been brought up to regard the Philistine's enemies, yet he played with Philistine's daughters. He was a mixture of good and bad.
He would play like a saint but was capable of bitter revenge. He was a man of great strength but his strength came from above rather than from himself - he was a normal man physically. It is said that he derived his strength through keeping the covenants of his people. He was a man with a mission but his power was destructive.
He did not appeal to the Philistine is to reform but his efforts were to remove obstacles and allow others to make the reforms. He judged Israel the 20 years but we do not know what happened during that time or what he judged.
And when judging Samson we must consider the circumstances of that time 3000 years ago. And are we not revengeful? Are we less warlike? We can devise better weapons and he used and we are clever in waging war. We must recognise that on the whole Samson was a good man. He became a slave to Philistine women and one of them, Delilah, ultimately deceived him. But he afterwards repented and came back to God's favour. In those days if a man loses his place in society it will take a long time for him to be accepted back.
But God is always ready to forgive the repented sinner.

As I said, Mr Evans is a forceful preacher and he made his point with appropriate emphasis and compelling conviction. Caersalem can well be proud of him.

I was indeed impressed with the simple devotional spirit of the service and the singing was quite good - there was quality as well as volume in it which was really stirring. Much credit is due to the precentor and his gifted daughter at the organ but I must compliment the congregation as a whole.

Caersalem is a "going concern" if I may use the term. Its weeknight activities indicate life and I'm told that its Sunday school is well attended. I may be pardoned for commenting however that it is a pity that the youngsters do not attend the evening service in greater numbers.

The energetic secretary, Mr Elwyn Gabe, informed me that the chapel is free of debt. They acquired a manse in 1948 at a cost £1,550, £650 was loaned by members free of interest and this was cleared in 1950. This is a tribute to the chapel of 160 members - particularly a working class membership.

Among the stalwarts are Ex Councillor Joseph Walters, announcer; County Councillor David Morgan JP., and 2 Parish Councillors.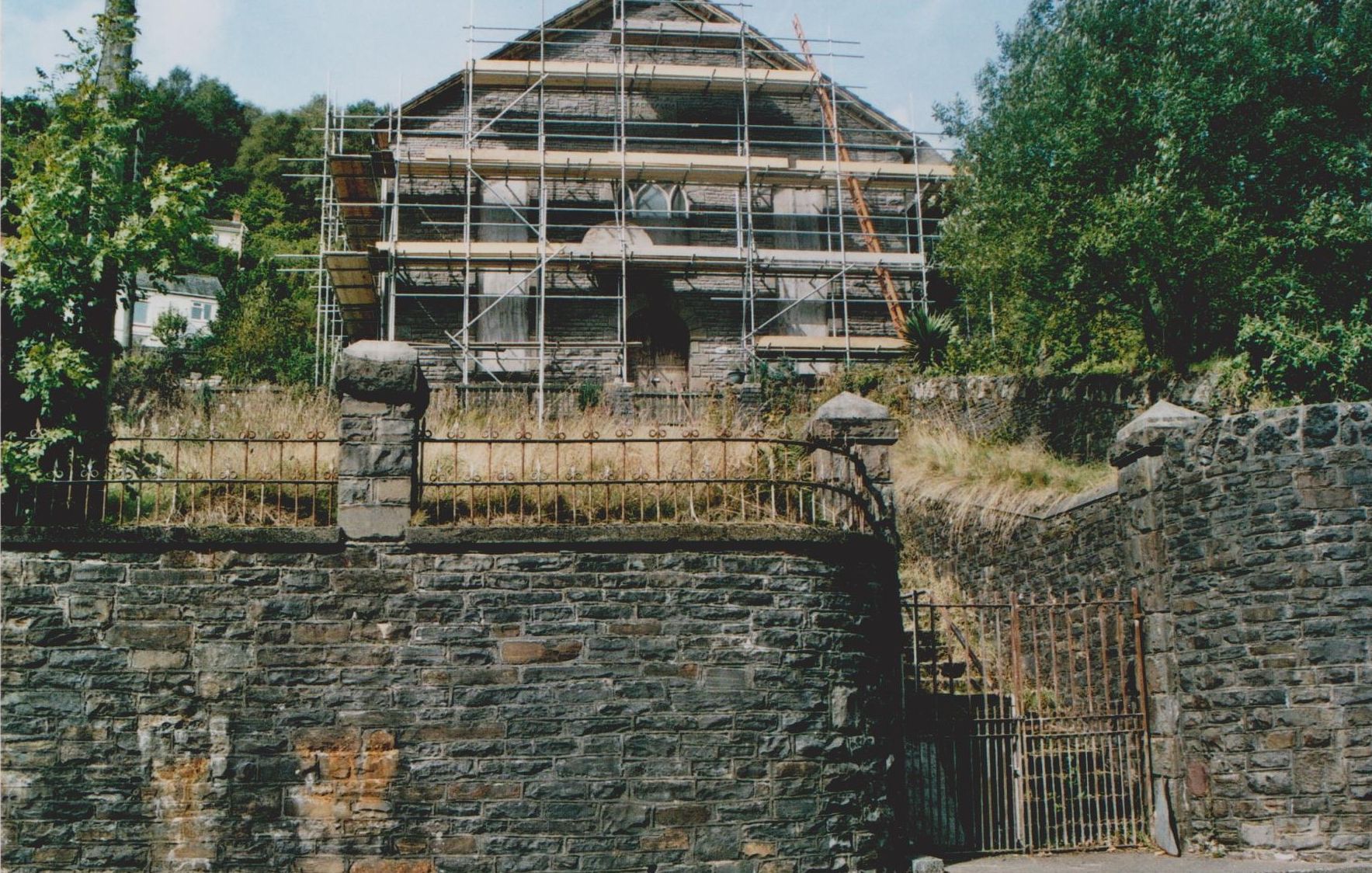 The above photograph shows Caersalem Chapel preparing to be converted into a home.
In the of 21st November 1958 we learn that Caersalem Baptist Church will be getting a new pastor:-
NEW PASTOR FOR CAERSALEM BAPTIST CHURCH YSTALYFERA
Caersalem Baptist Chapel will soon be welcoming a new pastor, the Rev W R Evans who has ministered at Tabernacle, Harlech and Llanfir for the past 9 years.
He succeeds the Rev Vincent Evans who left Caersalem earlier this year.

As can be seen above, there seems to be considerable confusion about the dates of E.D. Lewis' ministry, when he retired, and when he died. There is even a note that "He died in 1947 aged 81 years and was buried in his native village Glanamman."
So, did E D Lewis retire in 1942 or 1943, did he in fact retire by dying in 1943, or retire in 1945, and die in 1947?

This notwithstanding, we have attempted to compile a list of the ministers of Caersalem:-
Ministers of Caersalem Chapel
1855 - 1860
Rhys Evans
1860 - 1864
David Edwards
1865 - 1896
John Evans
1902 - 1904
David Rees
1905 - 1943 (or 1945)
E D Lewis
1948 - 1958
E E Vincent Evans
1958 - 1972
W R Evans
We have it on reliable authority, that W R Evans retired in 1972 and was not replaced with a permanent pastor. Caersalem Chapel closed some years later due to a dwindling congregation.
| | | | | |
| --- | --- | --- | --- | --- |
| E D Lewis | | Caersalem Chapel, 1955, Vincent Evans centre front | | Vincent Lewis |