Adulam Baptist Chapel, Pontardawe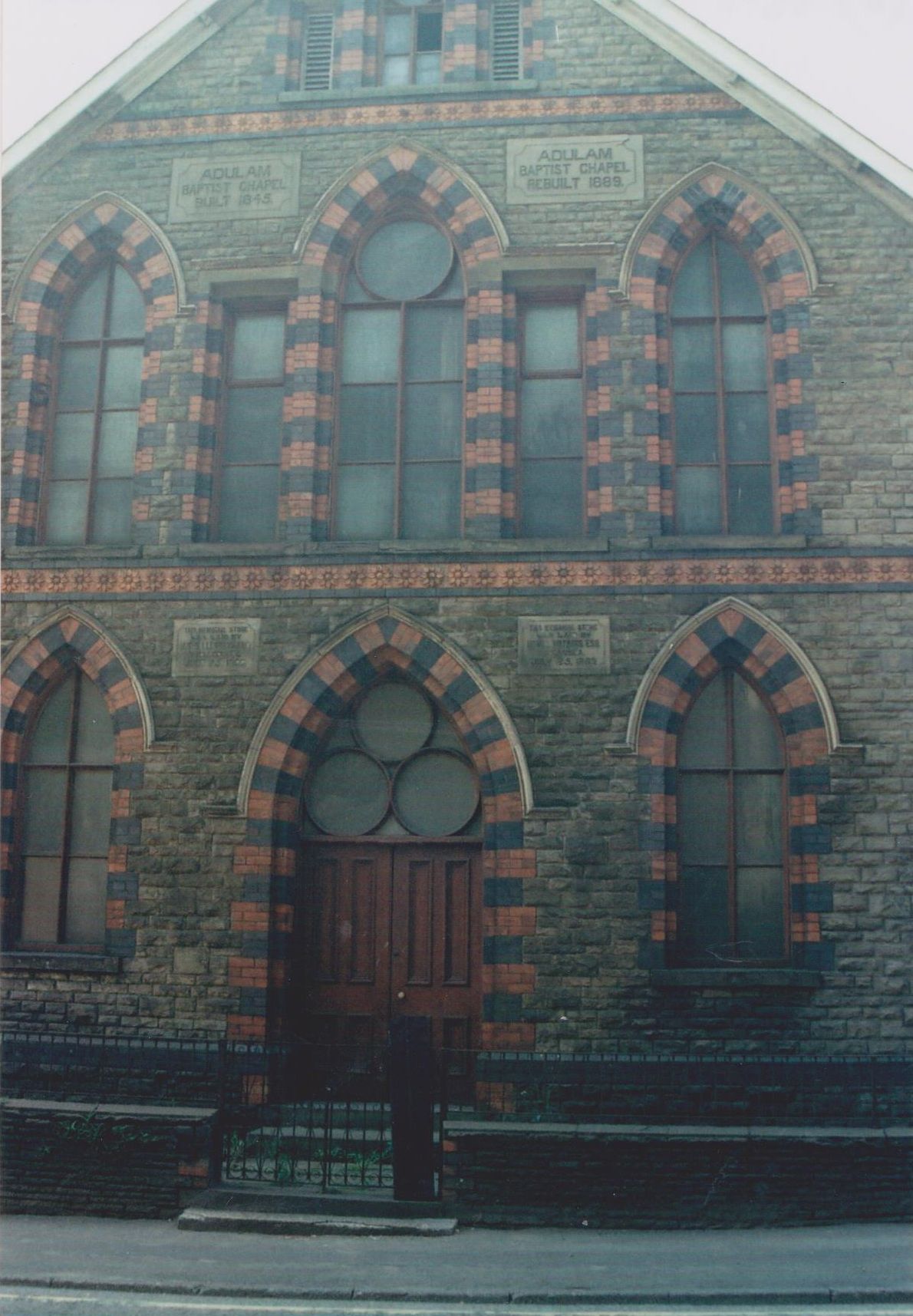 Adulam Baptist Chapel Pontardawe
First constructed in 1844-1845, Adulam Baptist Chapel was rebuilt in 1889. The first minister was the Rev Philip Morgan, around 1848 when the cause was officially incorporated. The chapel was closed in 2004 and the building sold.

There appears to be dispute over the spelling of the name, with some sources citing Adulam, and others Adulum. As the chapel's own foundation stones call it "Adulam", that is the name we will be using here.

The chapel is located on Swansea Road, on the left after the Dilwyn Arms, before you get to the main roundabout leading either towards Trebanos, or left to the shopping park or Alltwen.
---
The Rebuilding
From The Cambrian newspaper, 26th July 1889:-
ADULAM CHAPEL PONTARDAWE

The rebuilding of this chapel having been completed, the ceremony of laying the two memorial stones were performed on Thursday, by Mr J T D Llewelyn, of Penllergaer, and Mr T Watkins, of Swansea. Mr Llewelyn and Mr Watkins were presented with a silver trowel and mallets by Mrs Jones, Clydach, and Mrs Dr Evans. Addresses were afterwards delivered by Mr Llewelyn, Mr Watkins, Revs T Evans, J Lewis, N Evans, J Lewis and others.
Mr Llewelyn and Mr Arthur Gilbertson presented cheques for 10 guineas each and Mr Watkins for £5 towards the building fund.

Ministers of Adulam Chapel
| | |
| --- | --- |
| Rev Philip Morgan | c1848 |
| Rev Charles Williams | To 1853 |
| Rev J Pugh | 1862-64 |
| Rev D Edwards | 1865-1874 |
| Rev D H Jones (also Minister of Nant-y-Ffin) | 1874-1880 |
| Rev J T Morgan (and established Mount Elim in Ynysmeudwy) | 1880-87 |
| Rev Evan Robert Evans | 1888-1915 |
| | |
| Rev Lewis Goronwy Lewis | 1917-30 |
| Rev Vernon Rees | 1934-1938 |
| Rev J Rowland Jones | 1943-1960 |
Read More about the Ministers
Rev Evan Robert Evans came to Adulam in February 1888, and ministered there until his death in November 1915 - read more about Rev Evan Robert Evans.
Rev Lewis Goronwy Lewis came to Adulam in November 1916, after having been sent the call by the congregation the previous month. He was famous for putting on shows, concerts and performances, and ministered there until 1930 - read more about Rev Lewis Goronwy Lewis.
Rev Vernon Rees entered Cardiff Baptist College from Tycroes and Adulam Chapel, Pontardawe was his first ministry. He served there from 1934 to 1938. The 1940 Baptist Handbook shows him to be residing in Penylan, Cardiff.
Memorial Stones of Adulam Baptist Chapel



Memorial stone of Adulam Baptist Chapel, Pontardawe, reading:-

This memorial stone
Was laid by
J.T.D. Llewelyn Esq.
Penllergare
July 25 1889




Memorial stone of Adulam Baptist Chapel, Pontardawe, reading:-

This memorial stone
Was laid by
Howel Watkins Esq.
Swansea
July 25 1889
---
History of the Chapel
From 'Pontardawe and District" by John Henry Davies
The orginal Adulam Chapel (John Henry Davies says Adulum in Welsh, Adullum in English) was built in 1845 and was a small square whie-washed building, with a low pyramid roof. It had two rows of seats in the upper gallery. The church was officially acccepted into the Welsh Baptist union (the Gymanfa) in 1848.
Several of the ministers also had Welsh Bardic names - J. Jones who was one of the ministers from elsewhere who helped to look after Adulam in the period 1853-62 was known as Mathetes; D H Jones, who also ministered at Nant-y-Ffin was known as Gaius; and J T Morgan, minister from 1880 to 1887 was known as Thalamis.
The chapel was rebuilt and reopened in 1889.
At the time that John Henry Davies' book was published, the most recent minister had been the Rev J Rowland Jones, B.A., who had left for Waunarlwydd on the last Sunday in January 1960.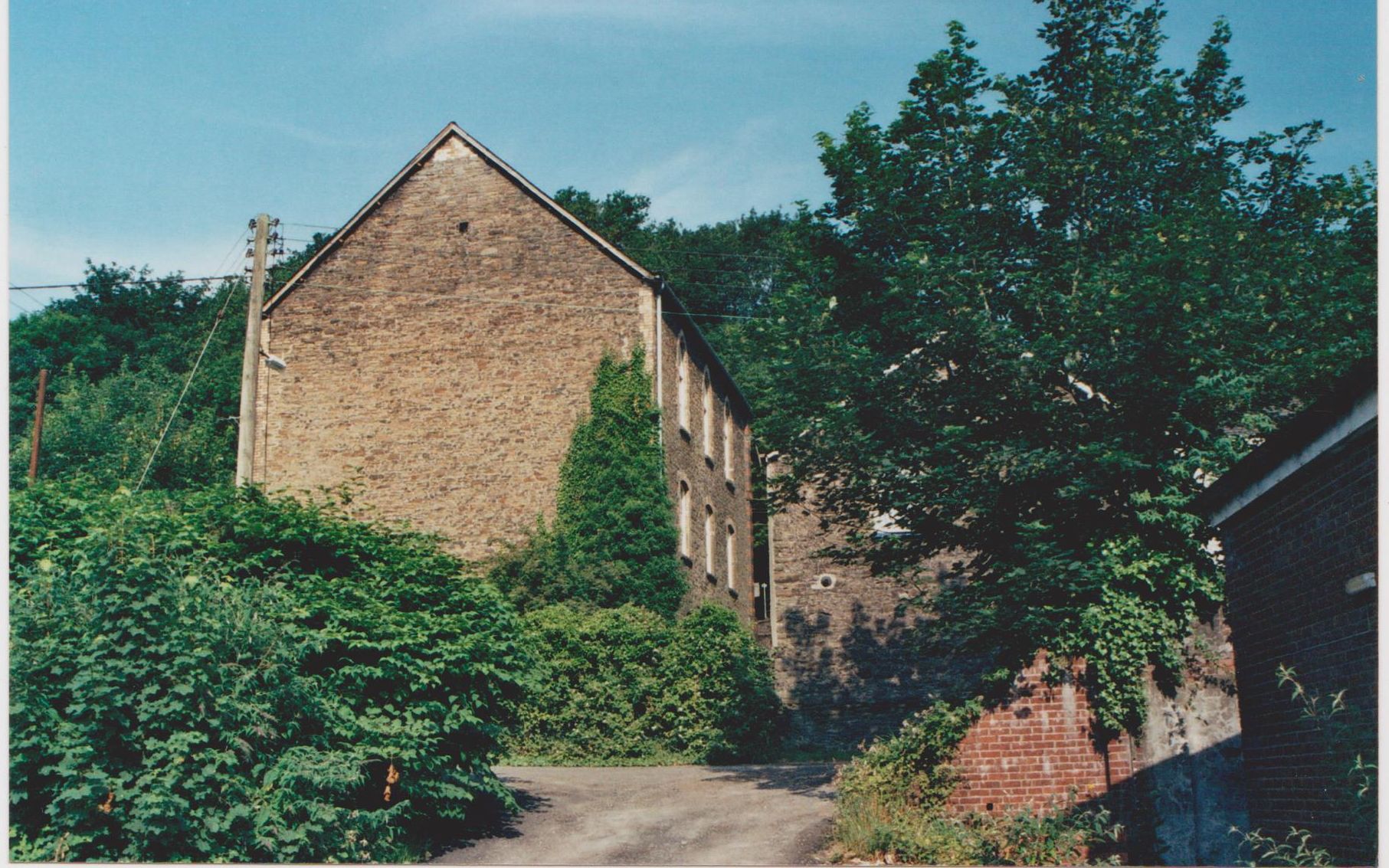 Rear view of Adulam Chapel, Pontardawe, taken from Works Road
People of Adulam Chapel
The Llais newspaper of 31st March 1917 records the death of a deacon of Adulam:-
MR WILLIAM LEWIS Deacon

The death took place at Ynystawe Clydach, of Mr William Lewis, who had resided at Pontardawe for many years. Deceased was 78 years of age and was the father in law of Councillor Henry Thomas Trebanos.
He was a deacon at Adulam Pontardawe for 35 years and highly respected in the locality.
The funeral took place on Tuesday at Alltwen. A service was first held at Adulam, the Revs L G Lewis, T V Evans and Seiriol Williams and D Gower Richards being the officiating ministers.

War Memorial Plaque
Adulam Chapel had a war memorial plaque, containing the names of five men who had been killed in the First World War. The inscription read:-

ER COF ANNWYL AM Y BECHGYN O'R EGLWYS HON A SYRTHIODD YN Y RHYFEL MAWR
1914 - 1918.

Brinley Bevan
Carey Davies
John Davies
Henry George Howells
Daniel George John

"MUR OEDDYNT HWY N' NI NOS A DYDD"
---
Views of Adulam Chapel
These photographs of Adulam Chapel, Pontardawe, were taken in July 2019 and shows that it has not, to date, been converted for use into anything else.