English Congregational Church
The English Congregational Chapel, Ystalyfera, was constructed at the end of the 1860s, with the foundation stone laid in 1868 by H O Wills Esquire of Bristol. Slater's Commercial Directory 1871, written when the chapel was a new feature in the valley, records:-
YSTALYFERA IN THE SWANSEA VALLEY
Ystalyfera is a populous village in the parish Llanguick distant 12 miles from Swansea

The newly erected English congregational chapel is in the Gothic style and is capable of seating 450 persons. It is one of the greatest architectural features in the neighbourhood
Read More - Origins
---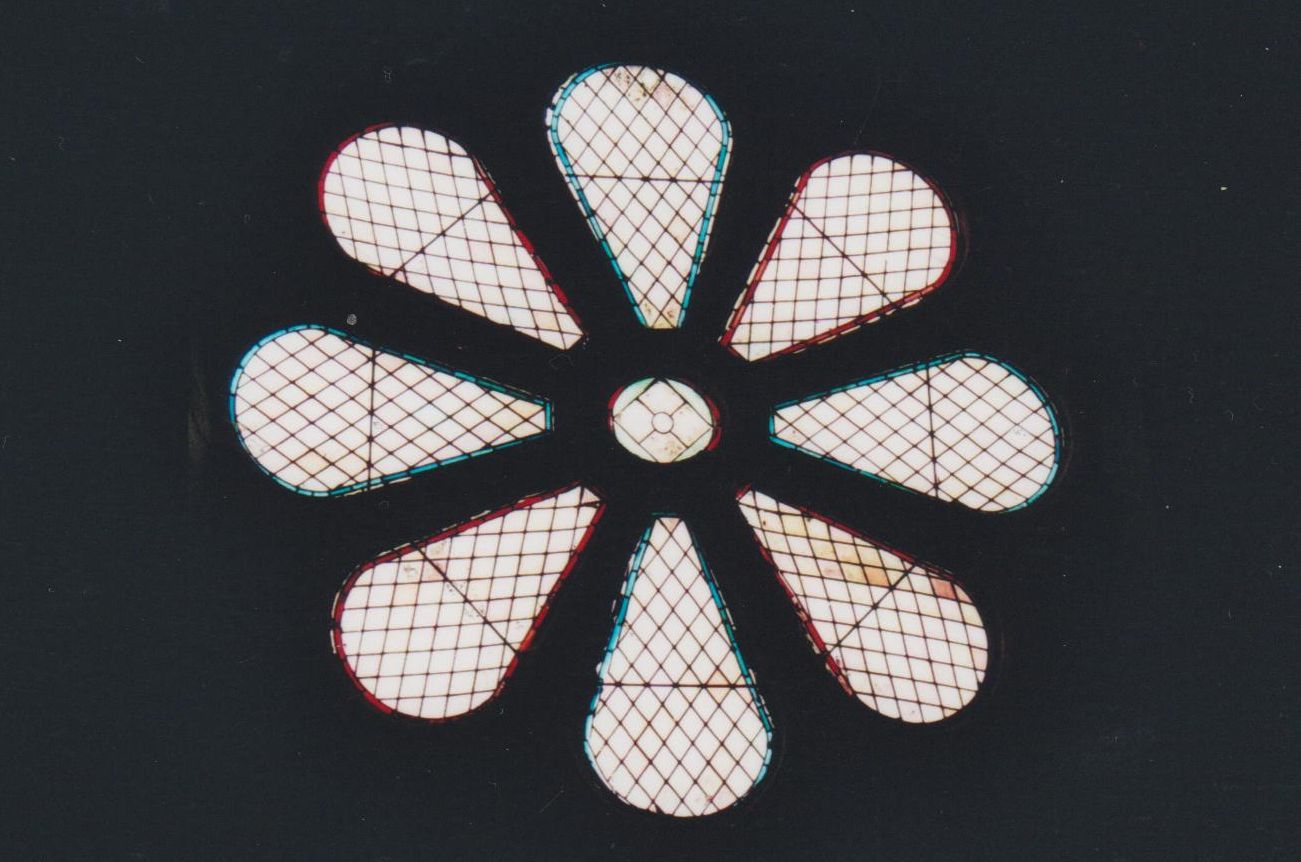 The most famous architectural feature was the large rose window at the front, looking out over the valley. The church had another large window at the rear, and a heavy iron cross upon the distinctive steeple.
Read More - Architecture
---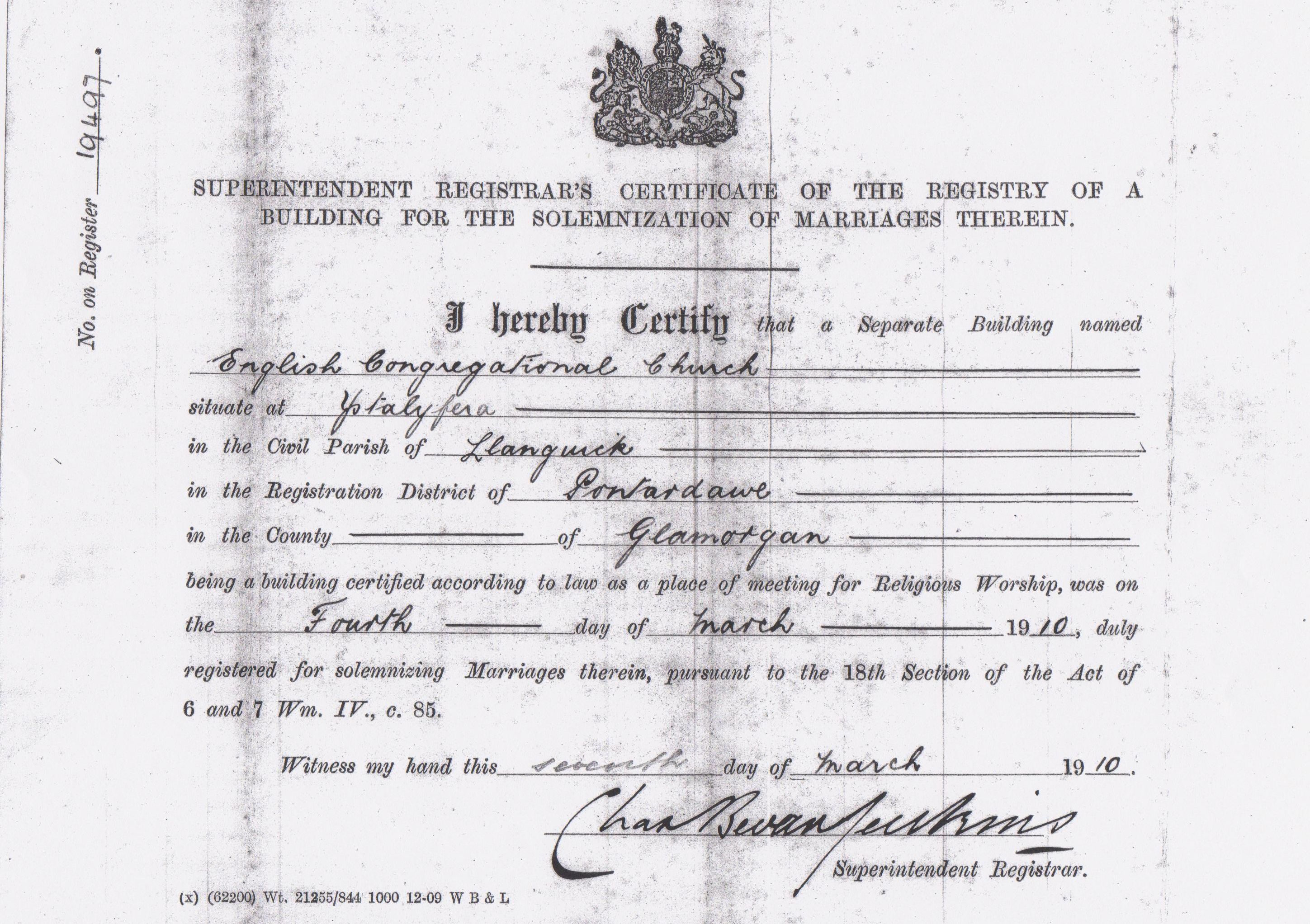 On the 4th March 1910, the English Congregational Church, Ystalyfera, was granted certification of the right to solemnize marriages. It was listed as being in the civil parish of Llanguicke.
Read More - Marriages
---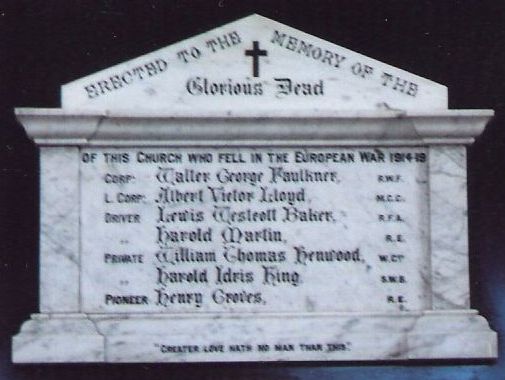 The First World War left its mark on the English Con, as it did on all communities in the valley. In 1917, the church committee voted to erect a marble memorial to the fallen. A newspaper article from 1920 explains further the role played in the war by the pastor of the chapel.
Read More - WW1
The Fallen of the English Congregational Church in World War One was a speech given in 1935 by John Bell, for 28 years Treasurer of the English Congregational Church.
---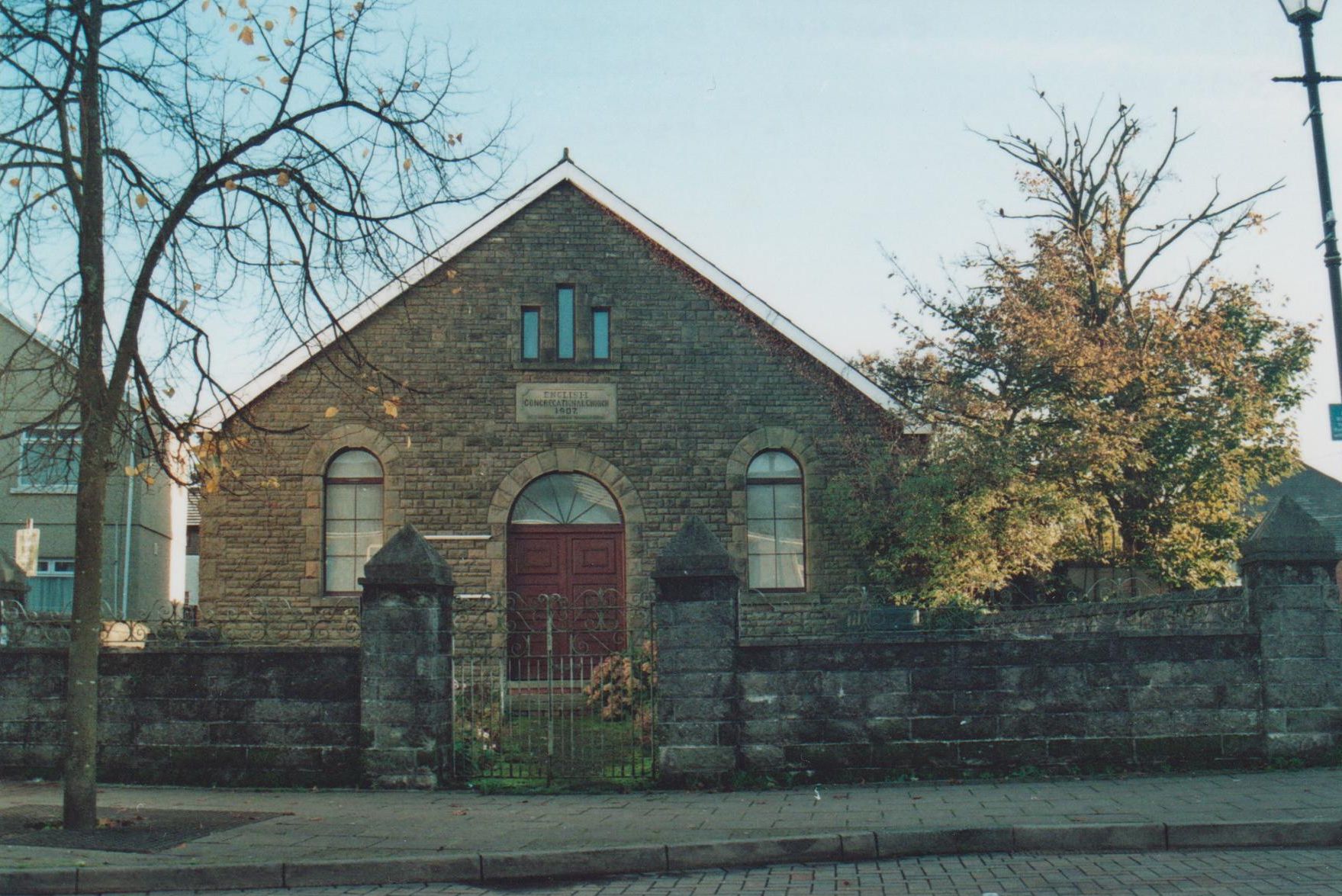 In order to cater for English families living in the Ystradgynlais area, the decision was made to open a separate English Congregational Church in Ystradgynlais, in 1907 and in September 1931 the Rev M. Phillips became joint minister, along with his role in Ystalyfera.
Read More - Ystradgynlais
---
In 1933, a special service was held to receive a handsome Bible, presented in memory of Mrs Silas Evans, until her death a faithful member of the church.
Read More - Bible
---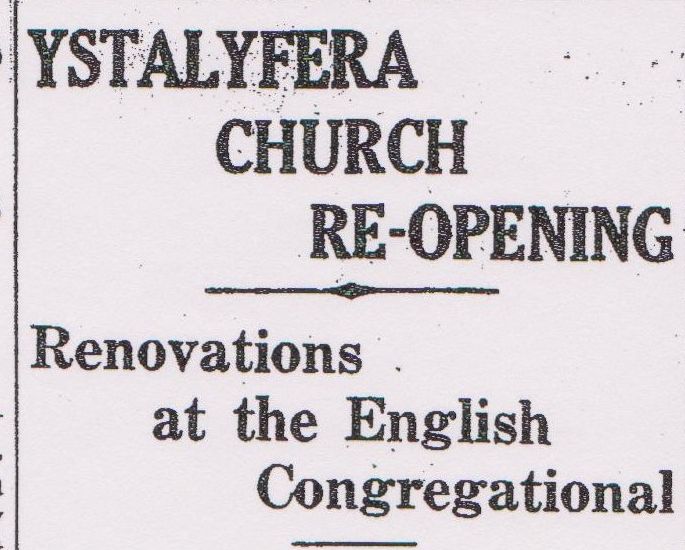 Between 1932 and 1934, largescale renovations at the English Congregational Church occurred, and a re-opening service took place in December 1934.
Read More - 1934 Renovations
---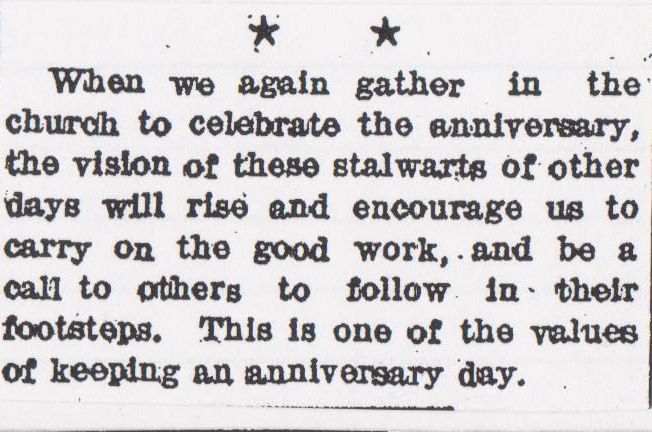 The 71st anniversary of the founding of the English Con, Ystalyfera fell in 1939 and was celebrated with a look back on the founding of the church in the 1860s.
Read More - Anniversary
---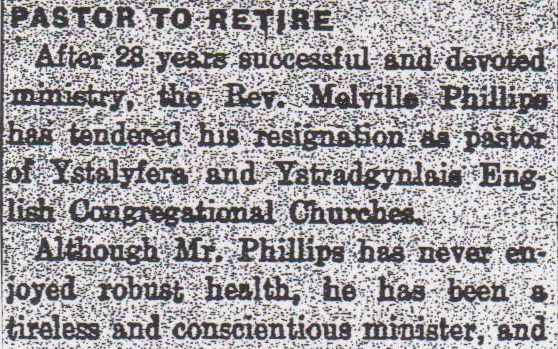 In 1952, Pastor Melville Phillips retired after a ministry of 28 years, during the latter two decades of which he had ministered to both Ystalyfera, and Ystradgynlais English Congregational churches.
Read More - Retirement
---
Several members of the congregation gave their lives in the Second World War, and in 1958 a memorial plaque was unveiled in their honour.
Read More - WW2
---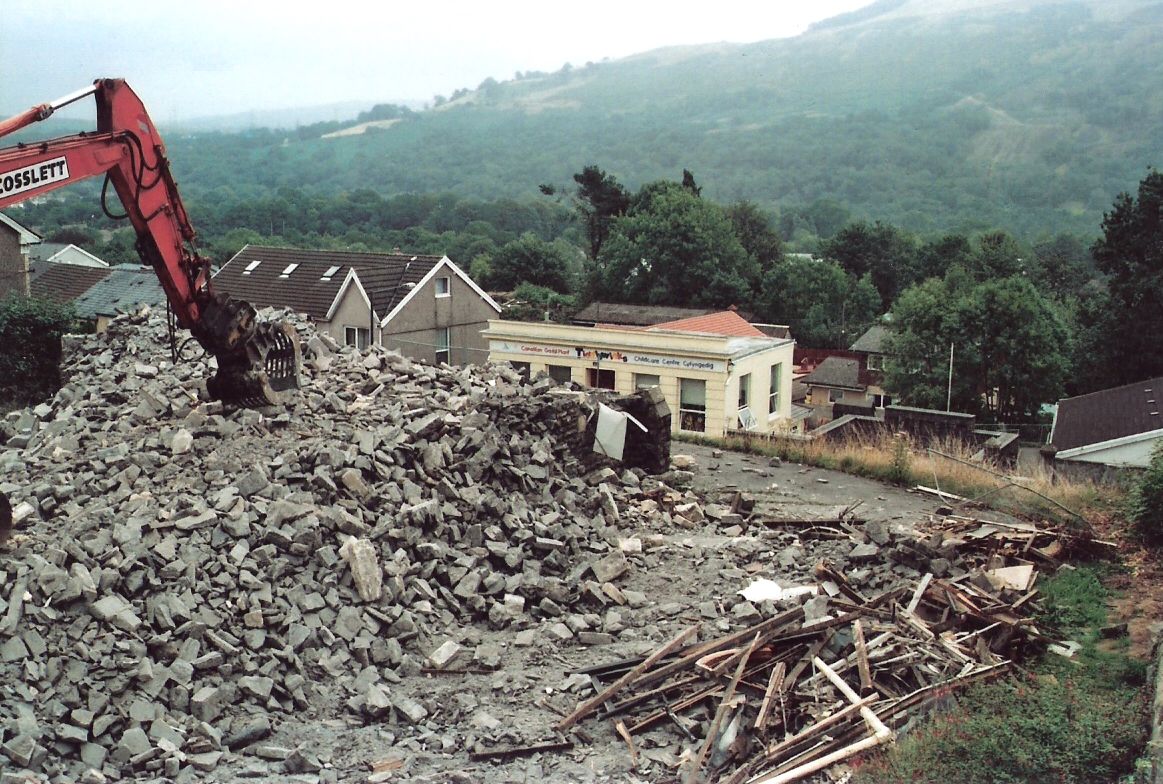 In 2005, the English Congregational Church, Ystalyfera, was demolished. The site is currently empty land, situated opposite Tiddlywinks Nursery and the Ystalyfera War Memorial.
Read More - Demolition
---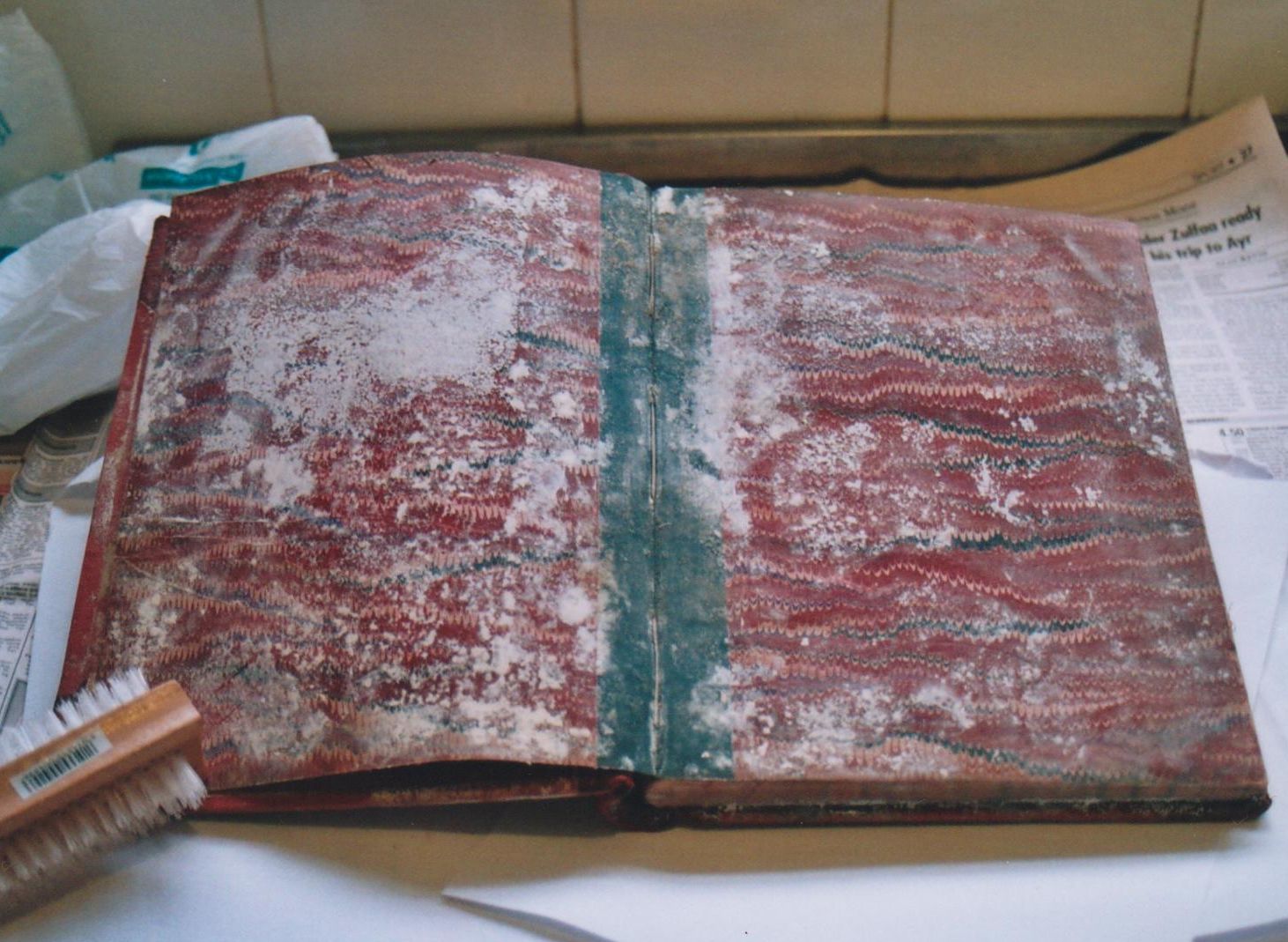 The Minute Book of the English Congregational Church, Ystalyfera was in a bad condition when the church was demolished, and was cleaned at the Swansea Archives.
Read More - Minute Book
---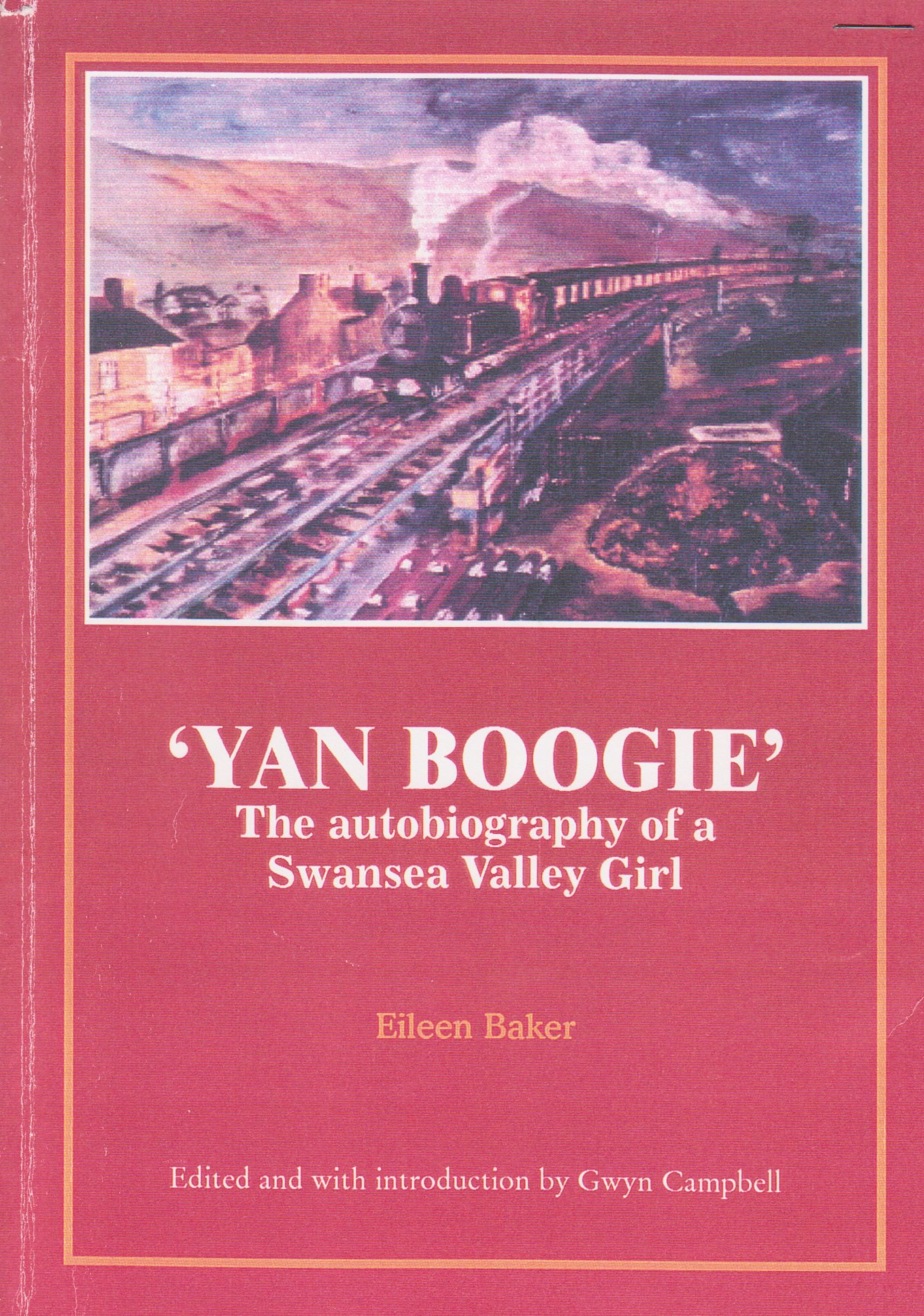 Eileen Baker, who wrote two autobiographical memoirs of life growing up in the Swansea Valley was married in the English Congregational Church, Ystalyfera. Her books were 'Yan Boogie - The Autobiography of a Swansea Valley Girl' printed 1992 and 'Eileen Memories of a working class girl in Depression and War' published in 2006.
Read More - Yan Boogie