Ystalyfera History Articles
Below, you will find summaries of Local History articles, authored by Val Trevallion. A quick link to the full article is provided in the menu to the right, beneath the photograph of Morgan Lewis' grave.
---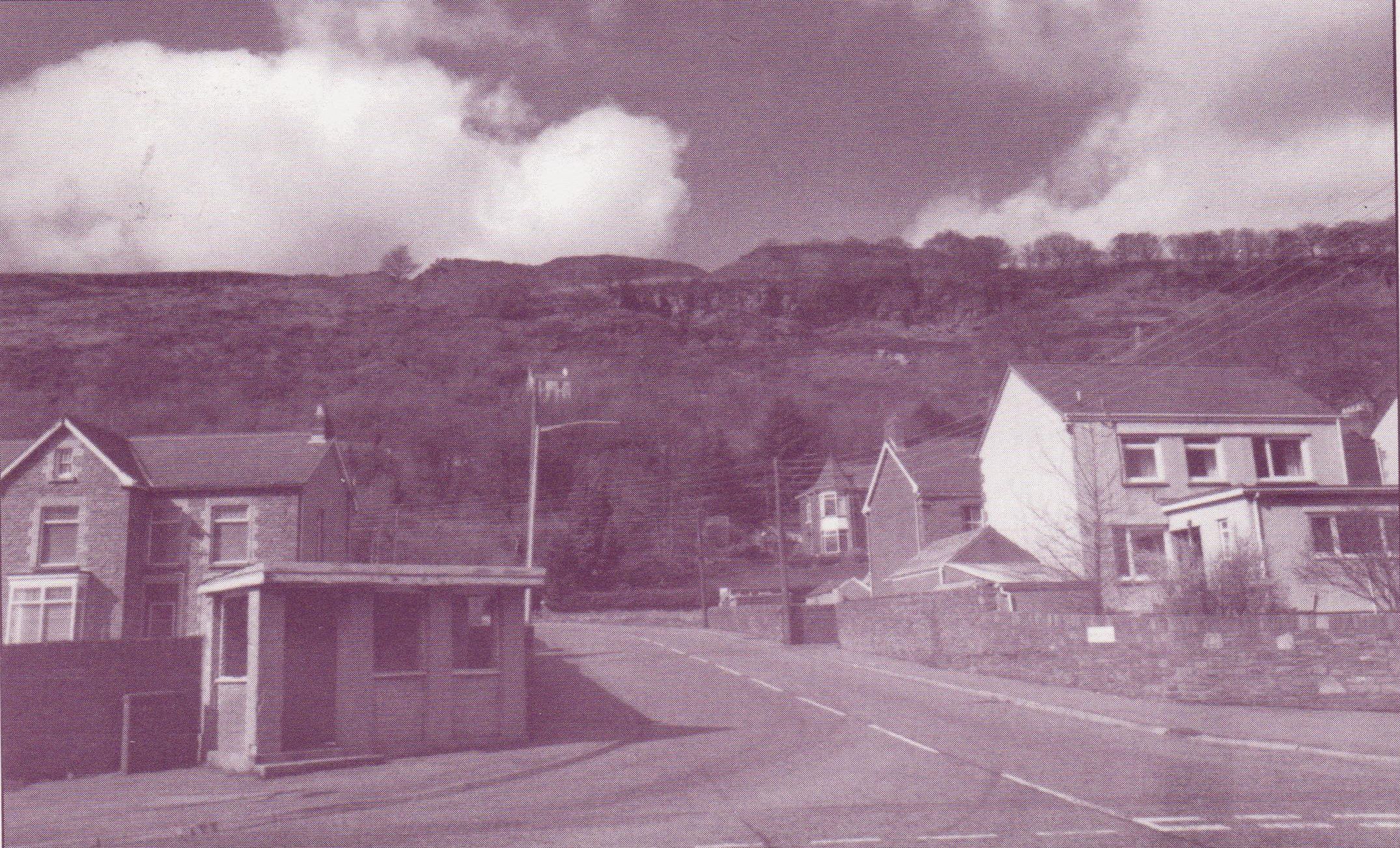 Lost Landmarks of Ystalyfera
As the decades pass by, a town changes its face as buildings are demolished, replaced by others, or replaced by different amenities. In this article, Val Trevallion examines the changes she has seen since coming to the valley thirty years ago.
Read More - Lost Landmarks
---
Ystalyfera Then and Now
This page compares views, then and now, from across Ystalyfera, showing side by side how a certain place used to look, and how it looks today.
Read More - Then and Now
---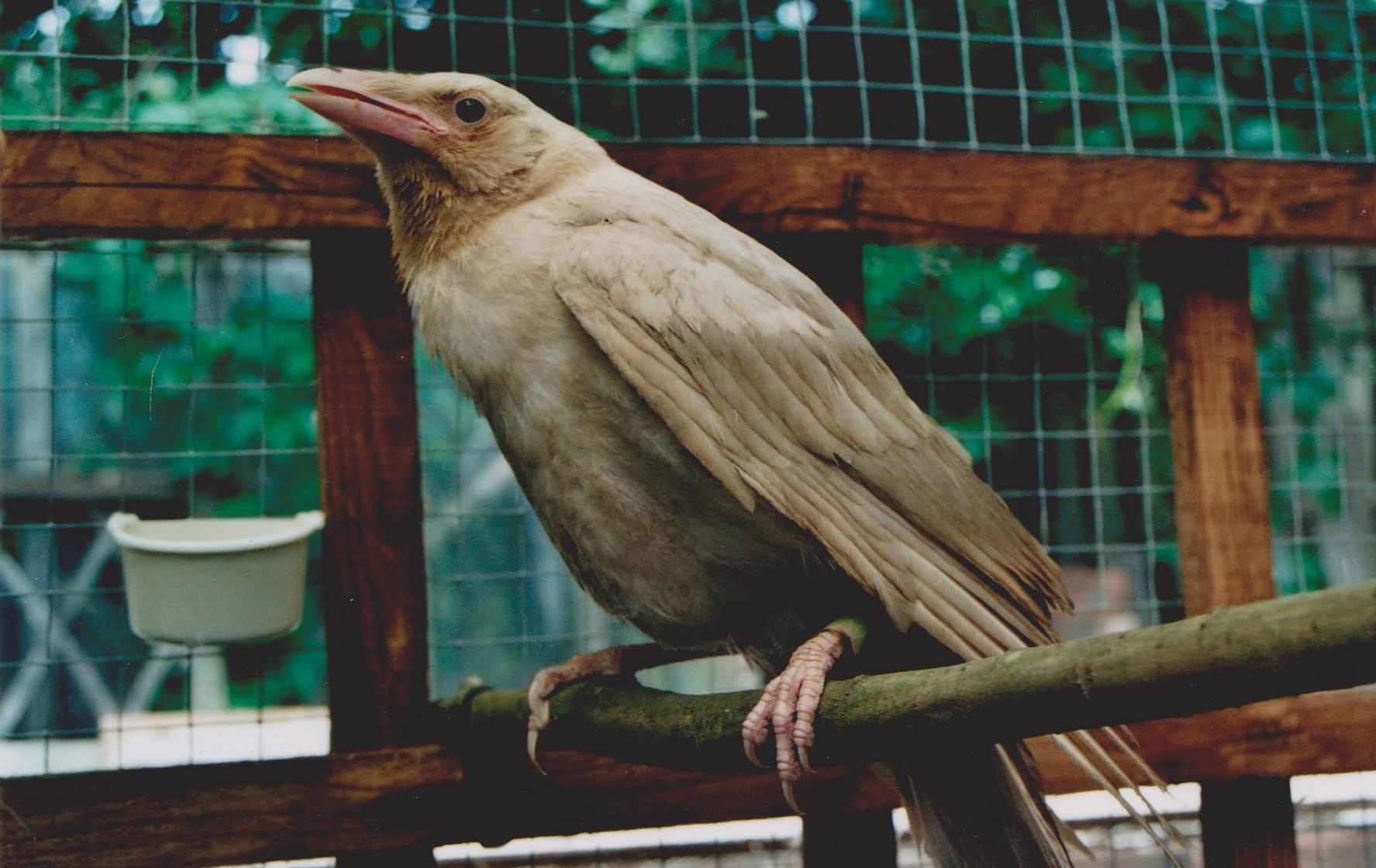 Our Feathered Friends
In this article, Val Trevallion looks at the wildlife of the Upper Tawe Valley, with especial focus on the birds. She refers back to a 1920s source to compare then and now, and talks in detail about her devotion to caring for sick and injured birds over the years.
Read More - Wildlife of the Upper Tawe Valley
---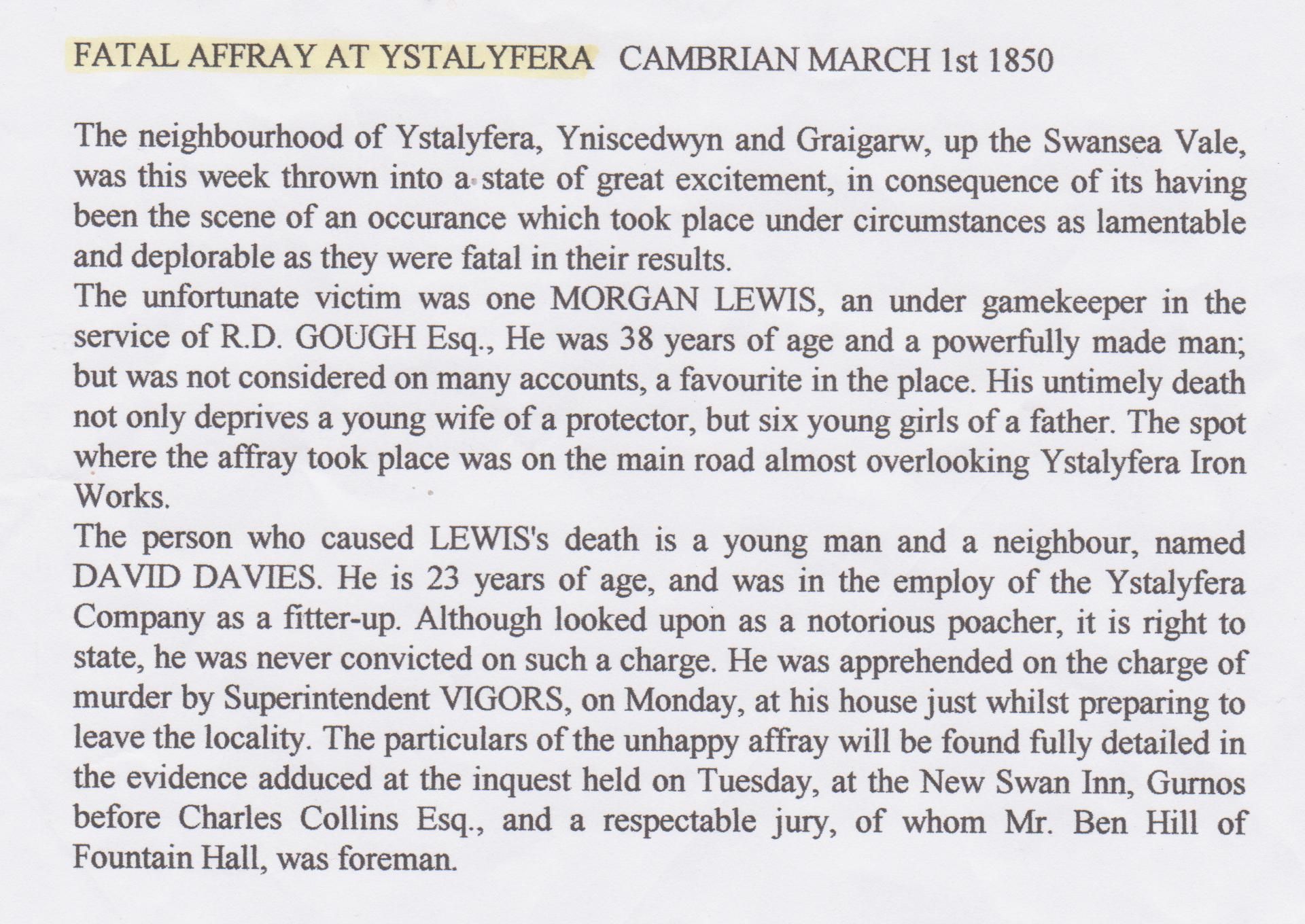 Murder in Ystalyfera
Morgan Lewis was murdered in 1850 by one David Davies. The victim was a game-keeper in the employ of Mr R.D. Gough, and the murderer a known poacher, but whether this played any part in the altercation leading to Mr Lewis' death is unknown.
Read More - Pantteg Murder
---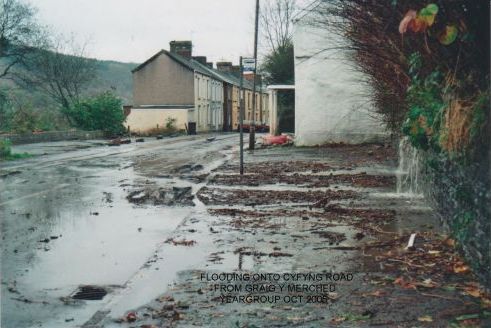 Bronchitis Valley
Ystalyfera has always been subject to a higher than average rainfall. To those who think it is a more recent thing, this article has extracts from the Llais newspaper, and information about the locally famed rainfall collectors of the 1920s, Mr James Williams and Miss Jessie Williams.
Read More - Bronchitis Valley
---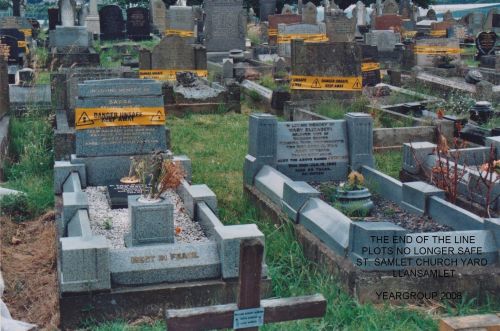 Cemeteries of
Ystalyfera
Local cemeteries are increasingly suffering from the cumulative effects of age and neglect. As families of the deceased either move away, die off, or can no longer afford the upkeep, the number of gravestones which are deemed unsafe increases year on year, and so deemed they are laid flat, leading to a potential mass loss of information.
Read More - Cemeteries of Ystalyfera
---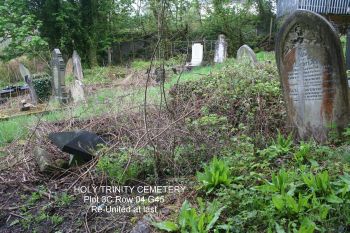 Storm Damage
The Great Storm of 1989 had crashed several large beech trees down onto the graves at Holy Trinity, not only smashing head stones, and hiding them, but forcing them into the grave. Recently able to finally get a look at one of these graves, it has transpired that it is the family grave of local airman, David Kenneth Vincent Edwards, who was killed during the Second World War.
Read More - Storm Damage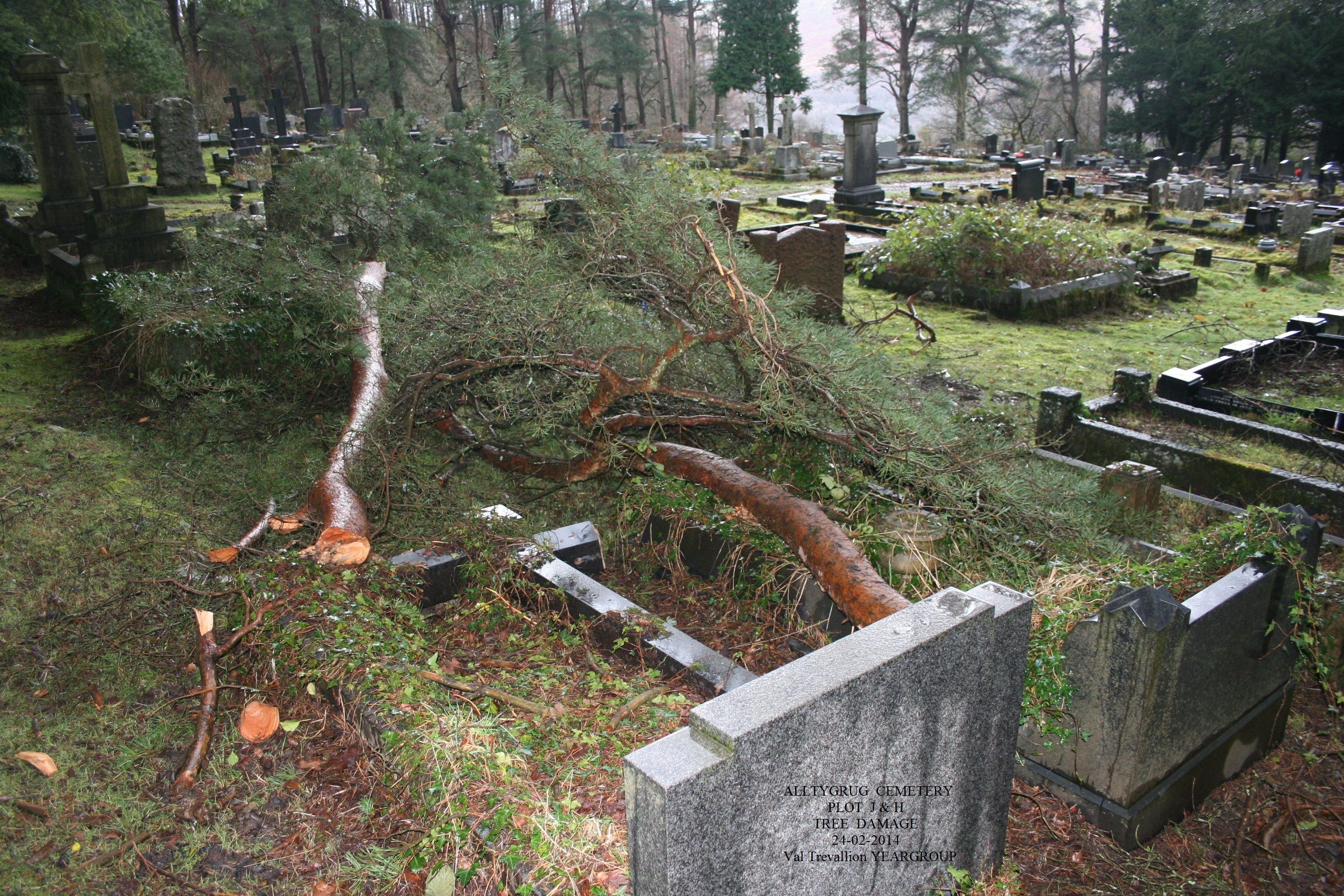 Cemetery Damage
Alltygrug, the burial ground for St. David's Church Ystalyfera, suffered the latest gale (in February 2014) and it managed to uproot a couple of the fir trees. The Church quickly managed to clear the debris and when I later revisited, although totally demolished, I was able to record the inscription of the first headstone in that plot, as the heavy foliage previously covering it had been removed as well in the clearance.
Read More -
Cemetery Damage
---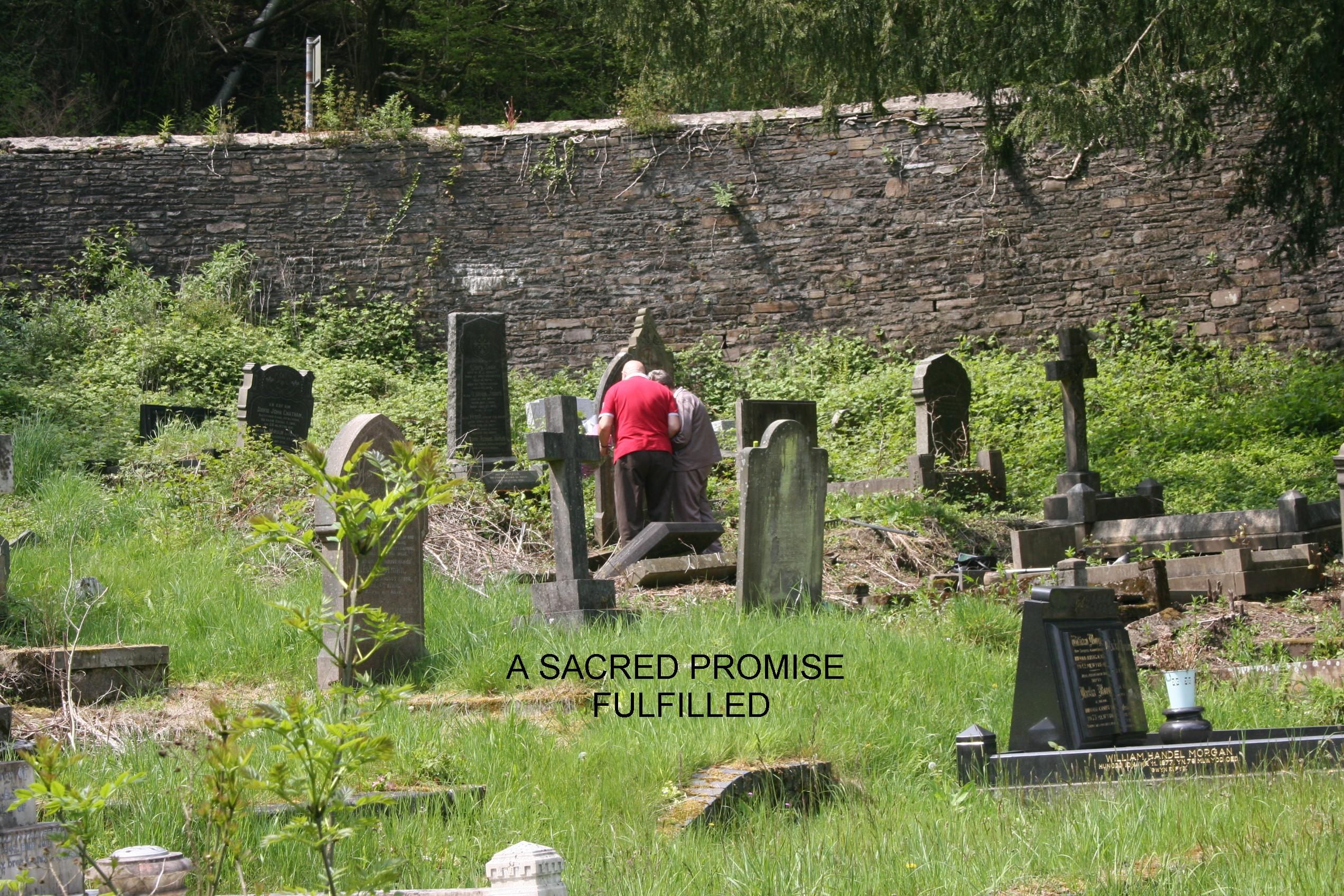 A Sacred Promise
A young girl dies on holiday in the 1940s and is buried with a family member in Holy Trinity. Three quarters of a century later her sister seeks to live up to a promise to their mother, and lay some flowers on the grave but by now nobody knows where the grave is. She contacts YEARGroup, and the detailed records kept over the years allows for a determination of the exact location of the grave.
This is the story of lost graves and how once in a while they may be found.
Read More -
A Sacred Promise
---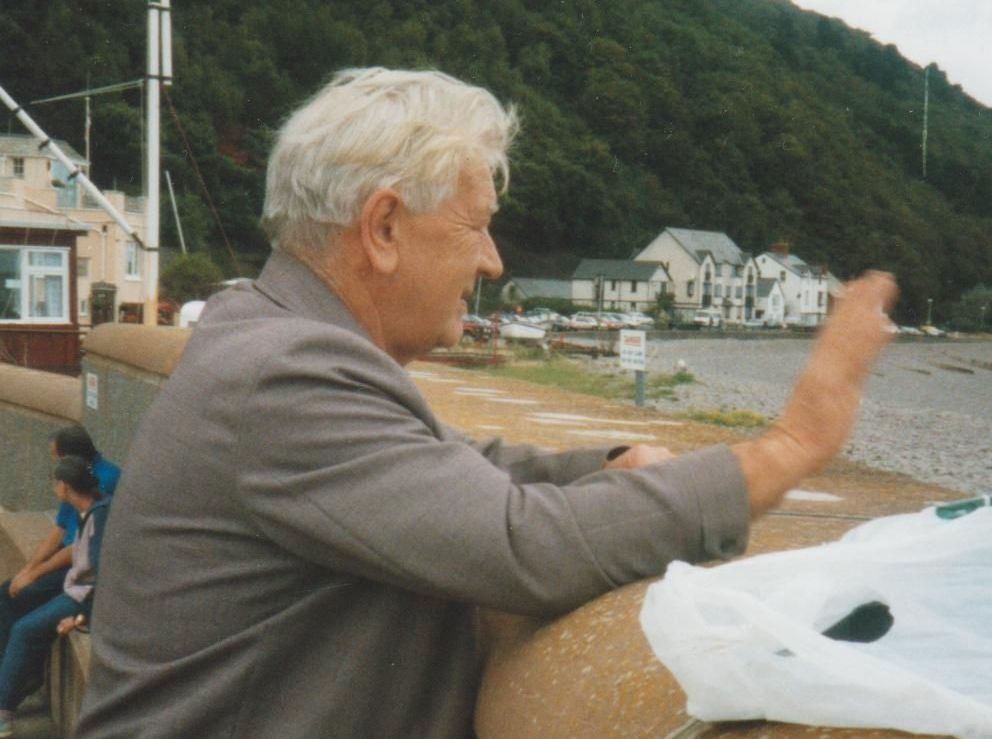 Historian Noel Watkins
Local historian Noel Watkins was a key member of Ystalyfera Electronic Archive Research Group (YEARGroup) before his untimely death in 2007. In this article, Val Trevallion remembers him, and pulls out a 1994 article he had published on the hardships of the mining industry in the local area.
Read More - Noel Watkins
---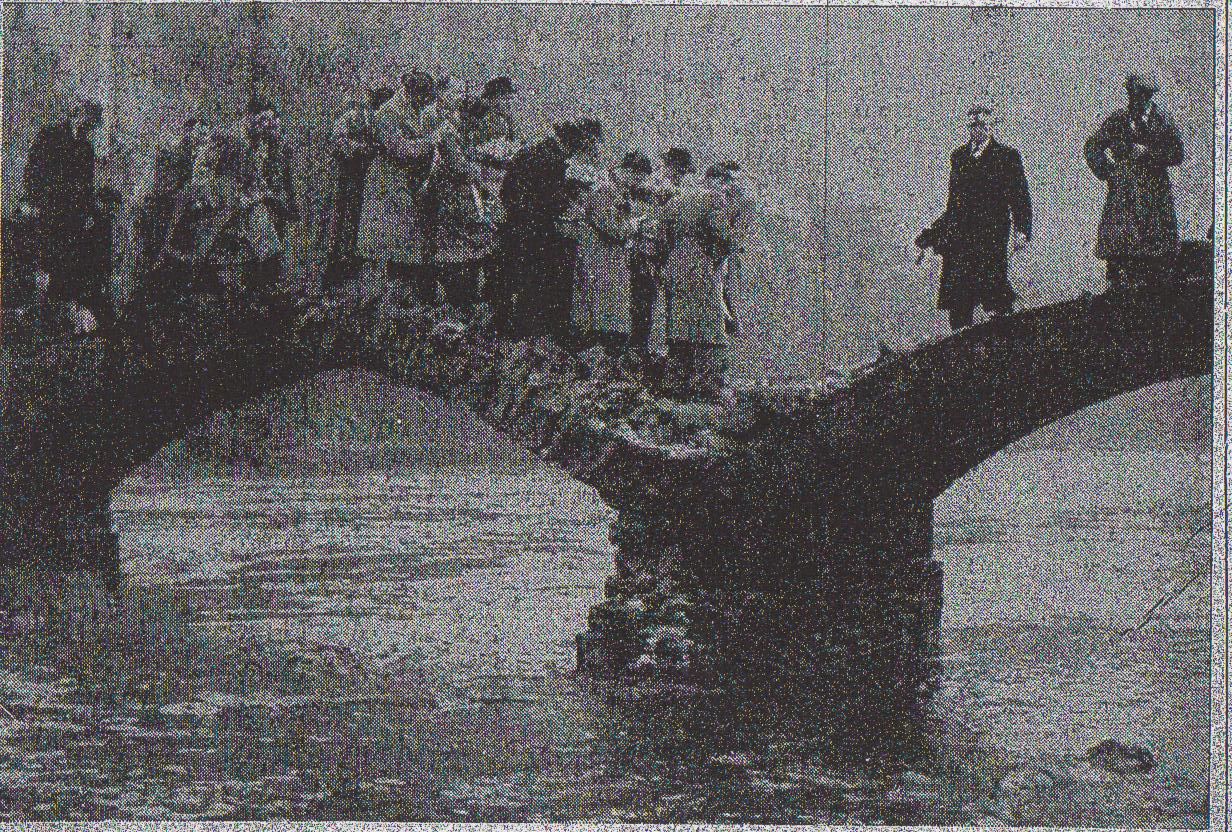 Dangerous Bridges
On 6th February 1954, John Henry Day died and was buried in Plot A182 in Godre'rgraig Cemetery. Interestingly, someone with a camera had captured the moment when, in order to arrive at the cemetery, the coffin first had to be carried over the River Tawe.
Read More -
Dangerous Bridges
---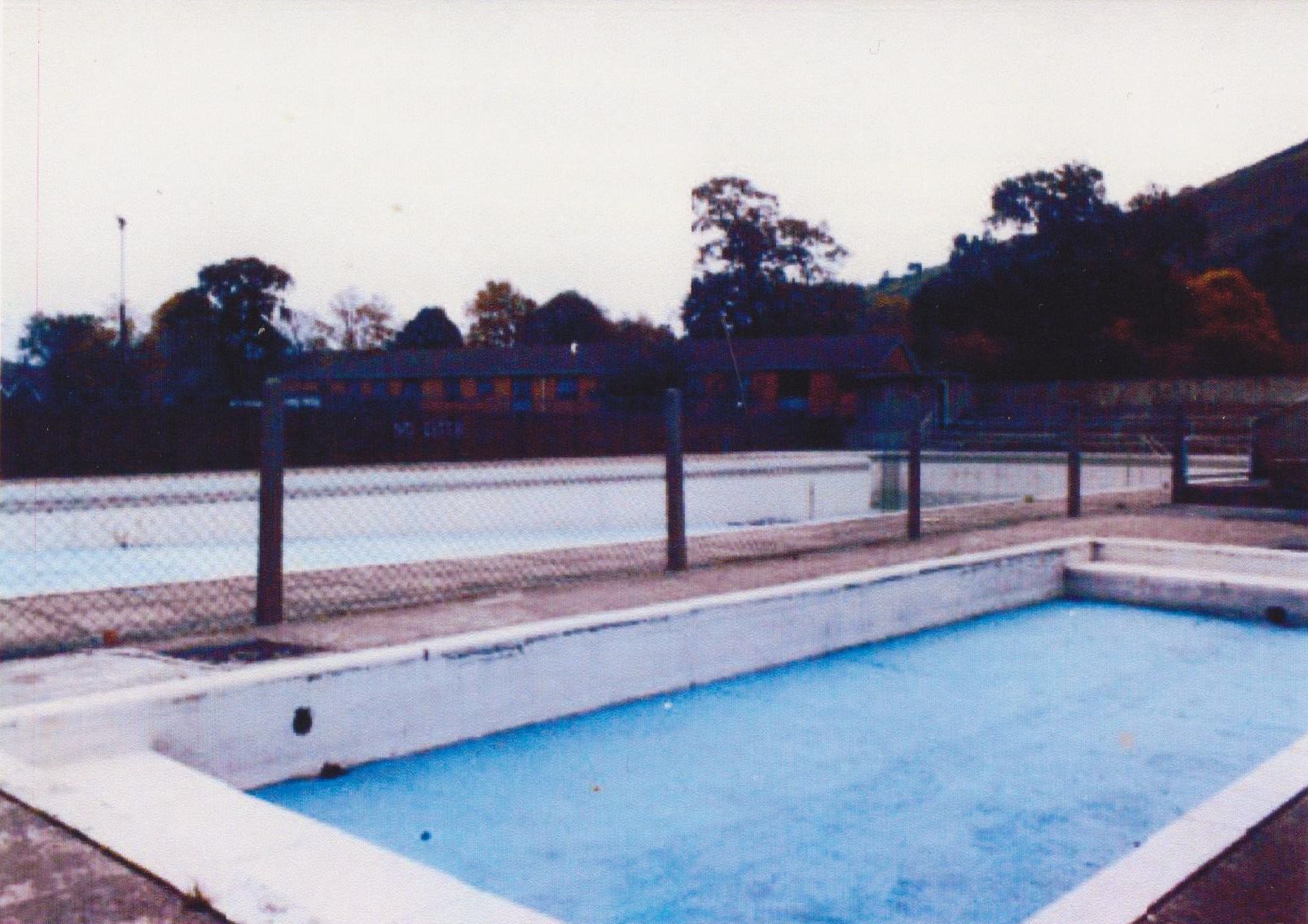 Ystalyfera Swimming Pool
Ystalyfera swimming pool was a lido-like structure constructed in the late 1930s in the lower town. Originally it helped to get the local youths out of the probably infected river. It became a popular recreational venue, but in the 1990s was closed down, and later demolished to make way for facilities for skate-bording and roller-boarding.
Read More -
Ystalyfera Swimming Pool
---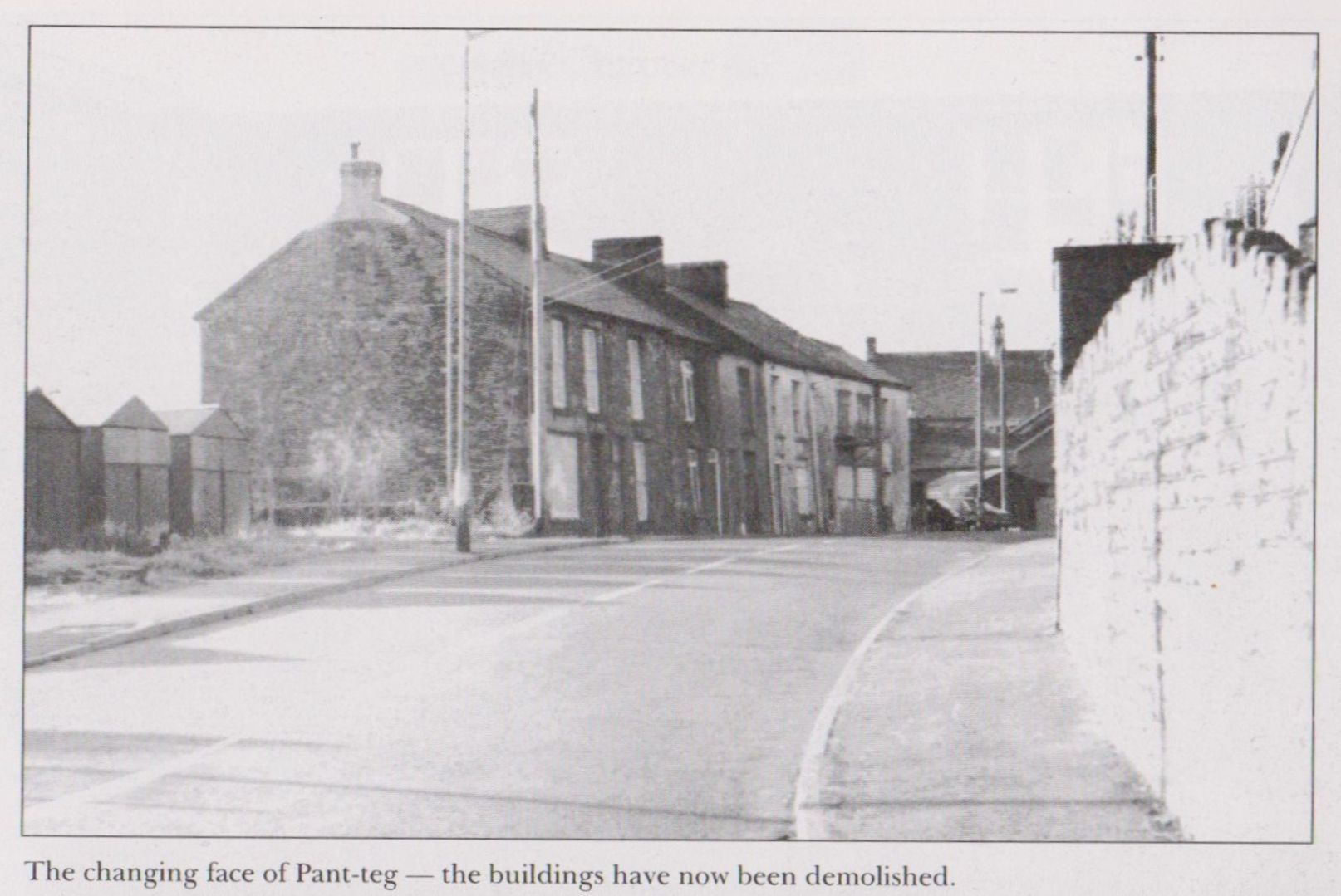 British Legion,
Ystalyfera
The Ystalyfera British Legion Club was destroyed by fire in an early morning blaze on August 8th 1936. This article explains the circumstances of the fire, and the dramatic rescue effort.
Read More - British Legion, Ystalyfera
---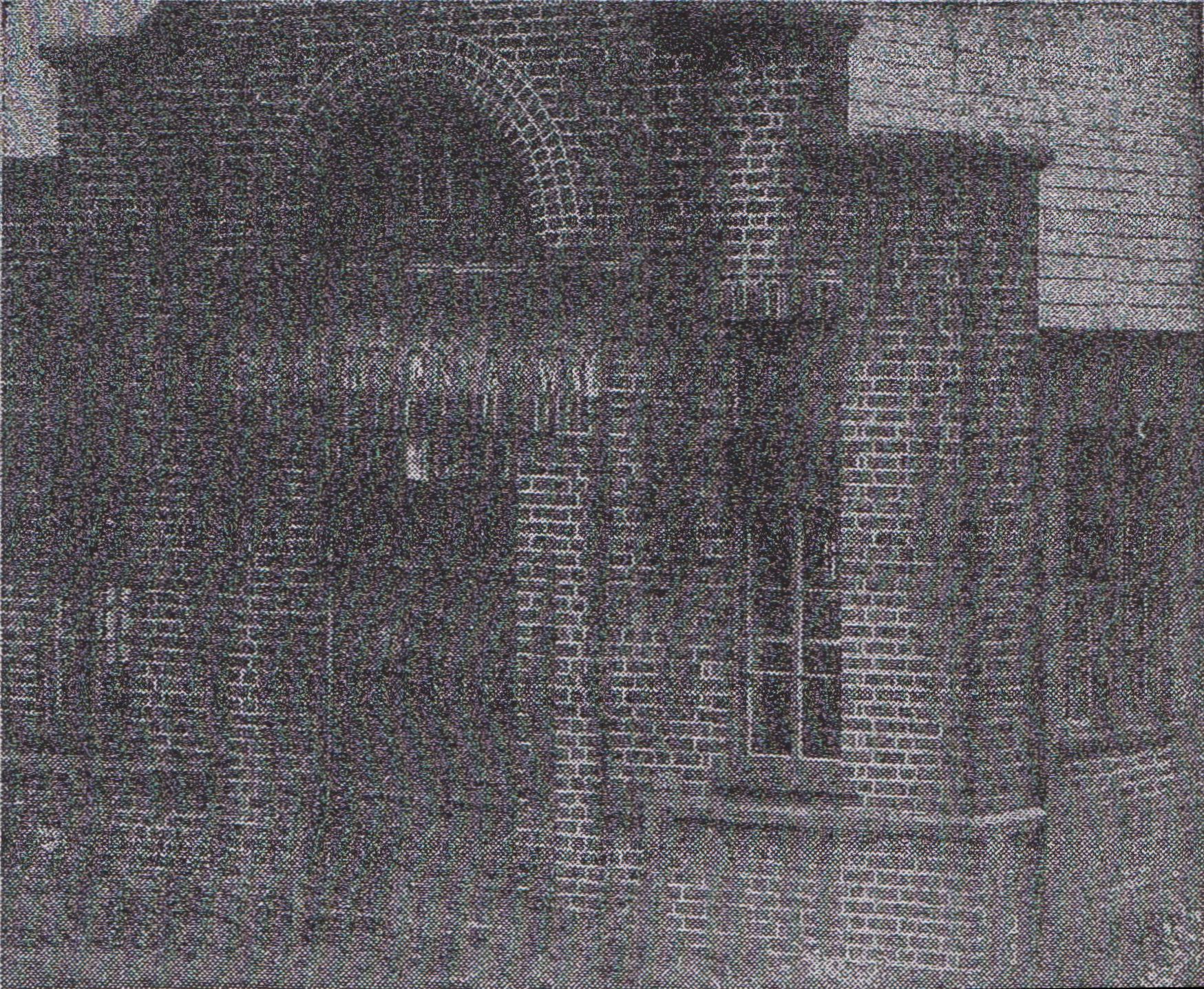 Eyesores of Ystalyfera
A couple of articles in the Llais newspaper speak forcibly against local eyesores. One was referred to bizarrely as "King Kong's bad egg cup" and apparently was a remnant of a colliery in Lower Cwmtwrch that became a fly-tip. The other began life as a Salvation Army hall (right), went through other uses before ending up disused, vandalised and disgusting.
Read More -
Eyesores of Ystalyfera
---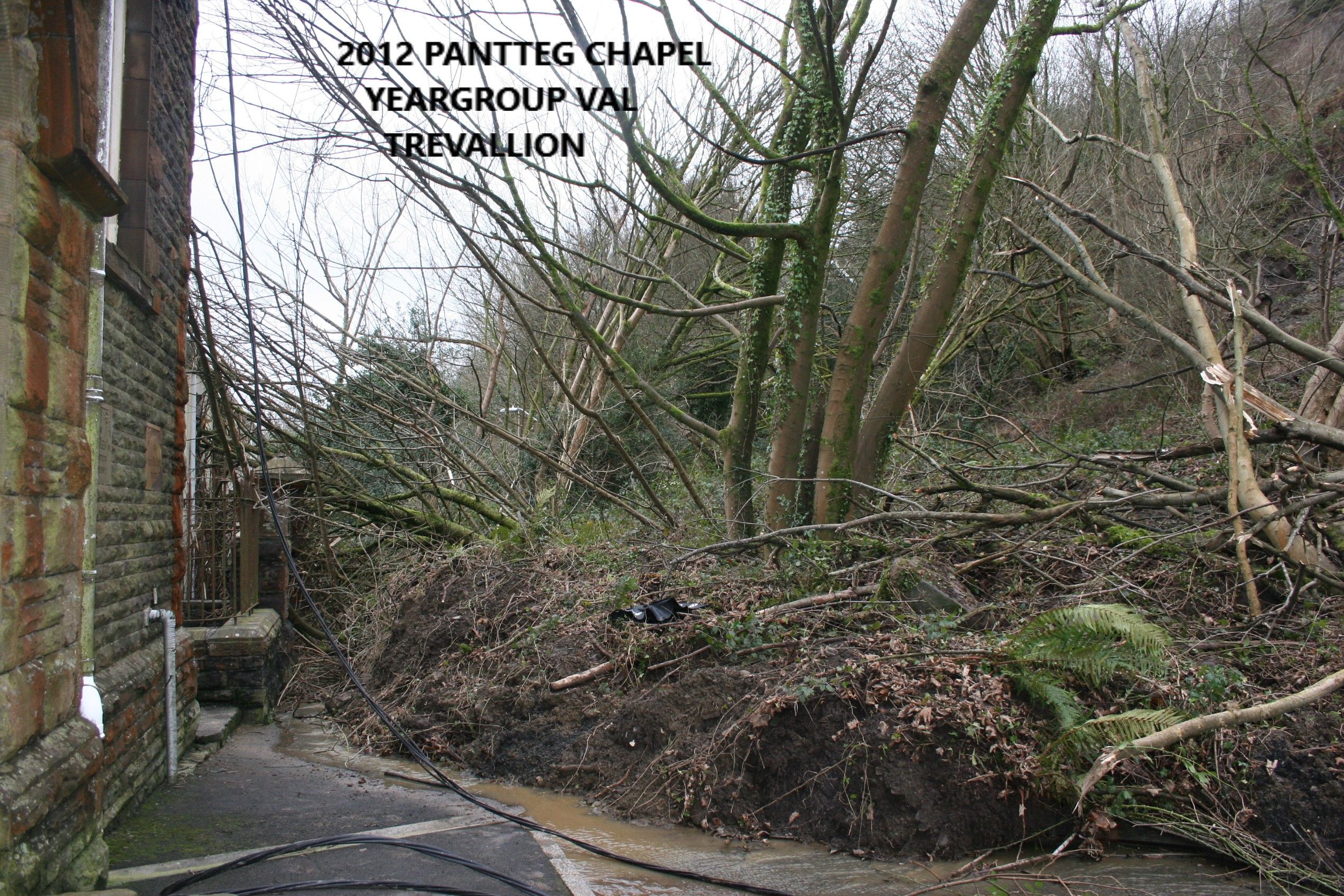 Tree Felling,
2018
In this article, Val Trevallion looks at January 2018's tree-felling programme from the perspective of landslips in the Ystalyfera area, including the one that forced her from her home in the 1980s, and the subsequent 2012 landslip at Pantteg.
Read More - Tree Felling, 2018
---