Headmasters of Godre'rgraig School
Heads of Godre'rgraig Scchool
Godre'rgraig's first school was built in 1863, by the sturdy inhabitants in their spare time. In those days, a great deal of voluntary labour was done.

"Miss Margaret A Harris took charge of the Godre'rgraig School on 26th June 1882, when the attendance was 48. On 5 January 1883, the Inspector reported that if the premises were to be occupied as a school in future, the playground and the approaches to the offices must be considerably improved, and a porch (which could be used as a cloakroom), built at the front entrance. There were no means of ventilating the cloakroom.

On 19 February 1883, Miss Mary Price became head teacher of the school. Afterwards she was appointed as headmistress of the Infant Department at Gwauncaegurwen. In 1883, were: Mary Price certified, M A Samuel monitress and Gwen Jones monitress. The average attendance on week ending 14 September 1883 was 98. Absenteeism was due to bad weather, measles, chickenpox, scarlet fever, whooping cough, swollen faces, St David's Day, Fairs, Menagerie, and Circus etc.

On 28 September 1885, Rachel Evans took charge of the school and on 4 June 1888, Mary Williams followed. She was assisted by M A Samuel and R A Davies. The first standard was sent up to Pantteg School.

Margaret Thomas commenced duties as mistress on 7 April 1896. She suffered from deafness. In the Log Book she recorded: 26 April 1899 - "cannot possibly keep school this afternoon. The children have gone to see the procession of Wombwells Menagerie."

A supplementary teacher was engaged in 1907 at £25 per annum."

The formal opening, by the Glamorgan Education Committee, of the new Godre'rgraig School took place on Monday 16th November 1908 where by Mr T Powell HM Inspector for Glamorgan referred to his connection with the district in a speech given to the large gathering.

A public meeting was afterwards held at the school, Rev D B Davies presided - Rev T V Evans Clydach proposed thanks to Mr Powell - Mr Daniel Daniels, Mr Bowen Trebanos and Astley Samuel supported.
Arthur Ivor Davies
In 1909 Arthur Ivor Davies, the son of Evan and Mary Davies and living at the time at Vardre Road Clydach became the first head master of the school, now able to accommodate 320 boys, girls and infants [mixed]. The mistress was Mrs Margaret Thomas. Formerly a teacher employed at the Velindre Council School Mr Davies came to Godre'rgraig as the headmaster in 1909.

After occupying the position of headmaster at Godre'rgraig for 6 years, Mr Arthur Ivor Davies applied for the vacancy of head master at the Oystermouth Council School and in February 1915 at a meeting in Cardiff of the Glamorgan Education Committee there were 3 applicants in the short list for this position. The voting resulted in Mr Davies being appointed and he took over from Mr Luke John Bessant, in May.

Read about Arthur Ivor Davies
---
John Gerwyn Rees
John Gerwyn Rees had the sad distinction of being a Headmaster of Godre'graig primary school who died in his position. He was 54 years old, and had been ill for a while, initially spending several months earlier in the year in Morriston Hospital. Though he took up his duties again at the start of the new school year in September 1954, he was taken ill again after a few weeks and died in early December 1954.

Read about John Gerwyn Rees
---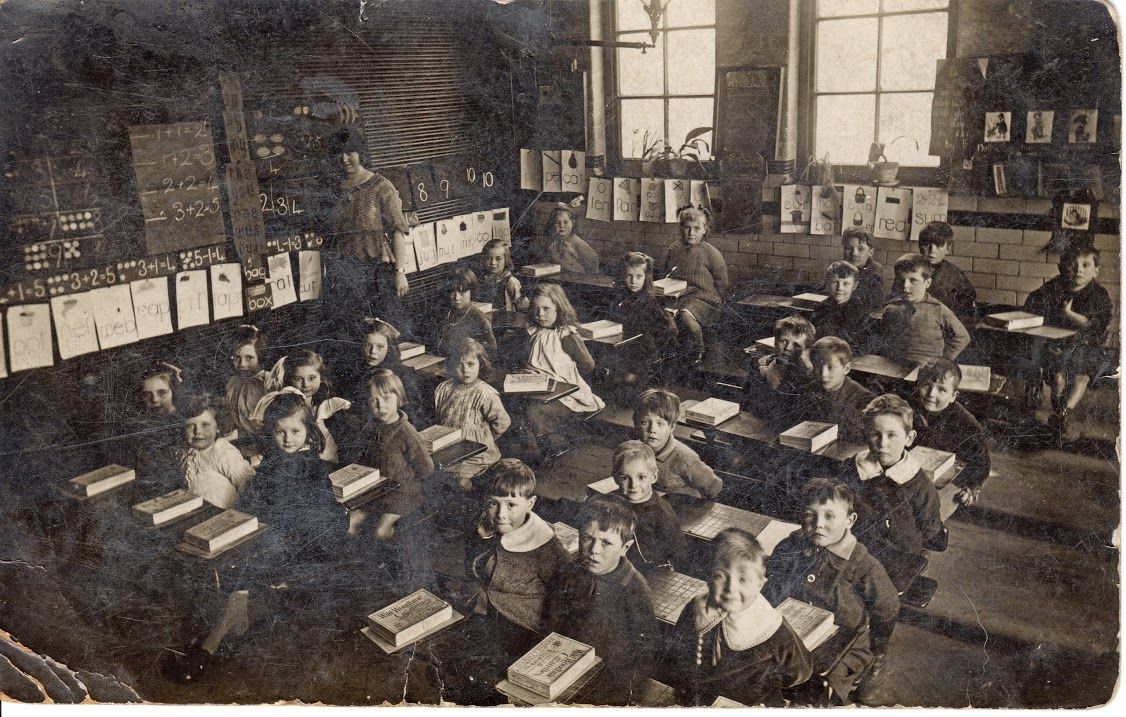 Godre'rgraig School, Ystalyfera
Thank You to Mairona for the photograph
---