Our Feathered Friends
Happy New Year to all and as the snow threatens and the winds pick up I was watching the garden birds wondering, now the berries have been consumed and the ivy bush had its best year last year, how they were going to eat their own body weight just to get through another cold night. I could quite easily feed them till spring with just the "over buy" at Christmas but judging by the way the nut holders are emptied every two days I rather think they prefer bird food to an overdose of high sugar carbs.
I read an article the other day, entitled the Wild Life of the Upper Tawe Valley, published in the South Wales Voice of January 1928. Below is an extract which was penned by Mr Llew E Morgan of Ystradgynlais:
"The upper reaches of the Tawe Valley, as the result chiefly of the encroachment of industry, are fast being denuded of the rarer birds and mammal. The wooded slopes of the Giedd, Llech and Upper Tawe were stripped of them during the war and this also has helped to accelerate the disappearance of the rarer forms of wild life.
However, the afforestation schemes of the Forestry Commission include the replanting with coniferous trees of the slopes of the Van Mountains, a start already been made on Glaesfynydd, and a welcome sanctuary may thus be provided some years hence.
In the early summer of 1925 a pair of nightingales appeared at Cwmgiedd, and attracted thousands of listeners to this beautiful little village. So much damage was done to the well kept gardens of the inhabitants that no publicity was given to the fact when, last year, several of these wonderful songsters visited the Wern neighbourhood, at the head if the Giedd Valley.
The raven is still holding its own in the district. A pair has bred for years in an inaccessible spot on Darren Wyddon, and they have a family this year again. Others may be found at Craig y Nos, Llyn y fan, Nant y llyn and a quarry near Cray.
"The rare kite has been seen in the neighbourhood this year (1927), but it would be unwise to make public the exact locality.
Herons are occasionally on the river but there is no heronry within twenty miles. The kingfisher is still to be observed on the canal and the river, and the water ouzel is fairly common. (I know the last bird as the Dipper and I have often seen them standing on rocks on the edge of the Tawe before making a dive into the water)
"On the hills and moors which are to be found to the north and east of the district the green plover and the curlew breed freely, while on the Varteg mountain to the south the golden plover breeds in good numbers. The snipe is fairly abundant, especially in marshy places on the Palleg and on Glaesfynydd. On the latter, moorhen and wild duck nest regularly.
Nightjars are not uncommon on the bracken clothed sides of the Varteg. The Brown Owl is sometimes seen but more often heard, in the neighbourhood of the older country houses, notably Yniscedwyn and Maesydderwen.
"The jay is abundant in the contiguous valley of the Dulais but is very scarce in the Tawe Valley."
He continues by mentioning some of the smaller mammals but it was the birds which held my attention.
There is a rhododendron bush in our back garden and when in 1990, a stray border collie followed me home and adopted us as his family; he would lie under its branches soaking up the sun. From that day it has been referred to as "Tests Bush" and over the years has become something of a feeding station for our gardens feathered visitors. What's more, the bush can be seen from the kitchen window and has definitely turned the chore of dish washing into something of entertainment hour. In winter, it holds countless peanut holders, suet balls, fat cones and coconuts throughout its branches mainly to enable the smaller birds to get a look in, as the jackdaws prefer to be in more open ground, although the spotted woodpecker will weave his way through the branches to feast on the suet cone. The other day in the space of 20 minutes I counted a visit from 18 different species. A visitor which did re appear last year, much to my delight was a lone starling. Twenty five years ago there were flocks of these beautiful birds feeding on the lawn and then for some unknown reason I have only seen them in Tesco car park in Swansea. I always think when the colours were being given out; these cheeky chaps could not decide which one to have, so got a touch of everyone because whenever their plumage is caught in the sunlight, they shine like little jewels.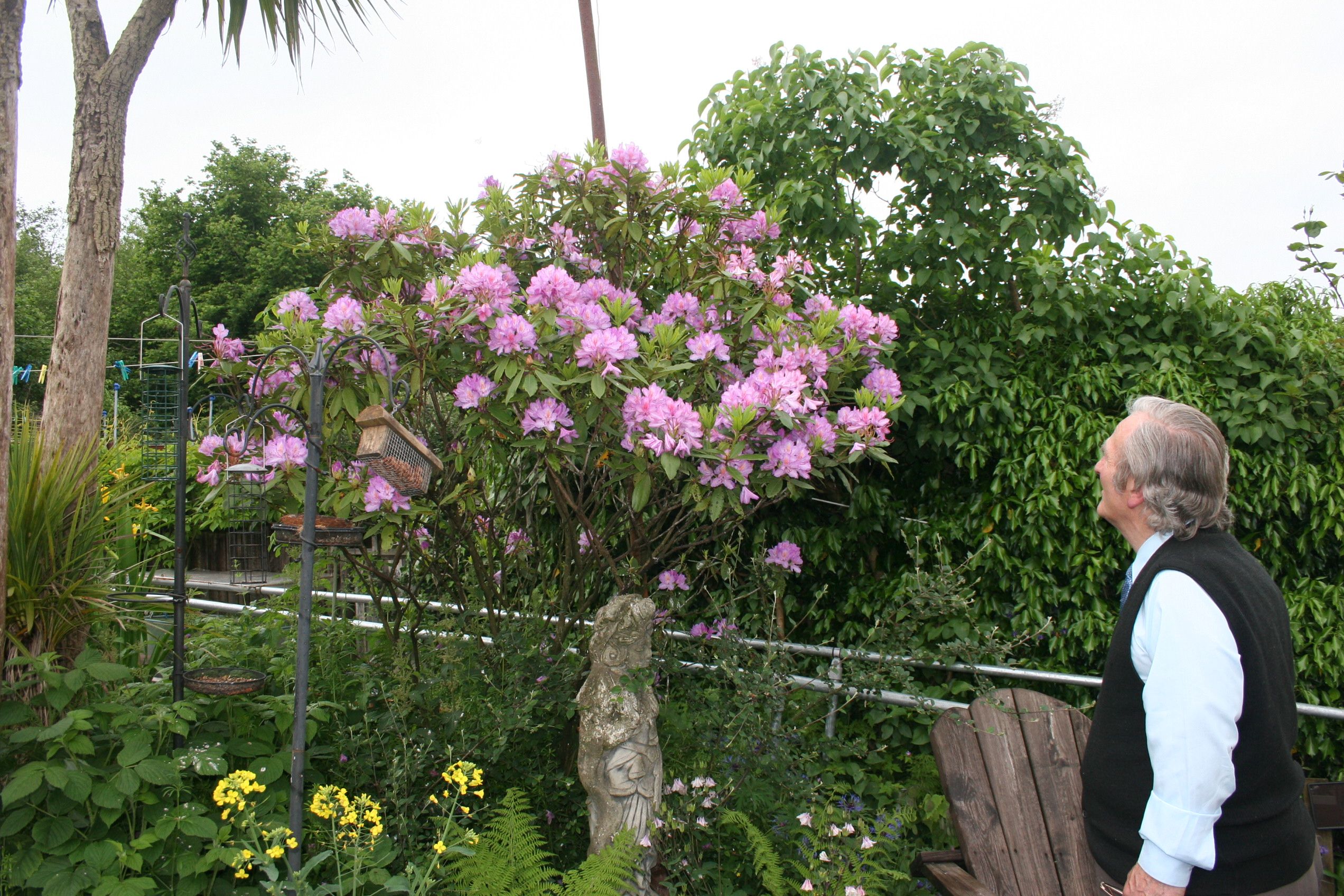 Then towards the back end of November, I noticed two more so I am not sure if he/she brought a mate and last year's youngster which is refusing to cut the apron strings or what the arrangement is, (unfortunately, can hardly call three a flock but it is great to see them after such a long absence and reminds me in the late 1970's, when I used to film wildlife, we would often follow a 'murmuration of flocking starlings' when the sky would be black due to their numbers). Keeping my fingers crossed a few more join the newly arrived this year.
Although my favourite call is produced by the Curlew I have not heard one in many a year but as I as am typing this I have just caught a glimpse of my favourite bird, the collared dove, sitting on top of next doors washing pole, eyeing out the area for cats before she makes a beeline for her feeding dish. I say she because I have been watching them for three years and the pair often mated on the shed roof and in fact last year arrived with two youngsters. She has a smaller head, browner plumage and is more cautious than her mate who just lands and then has to make a quick getaway if he suddenly sees a cat.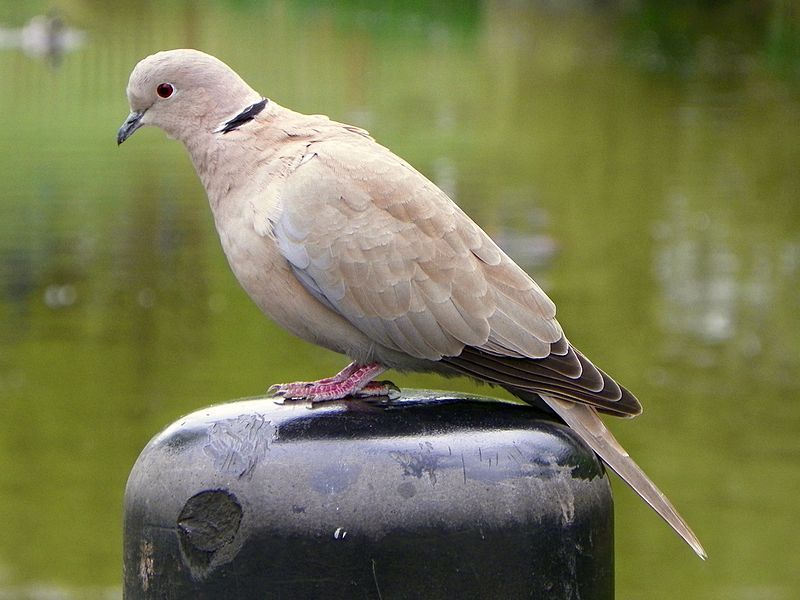 I am very protective of this pair because about 15 years ago I was out in the front garden and a car drove past with three men in it. As they got to the crossroads the back seat passenger pointed an air gun at a collared dove perched above on the telephone wire and shot it. It all happened so quickly and they sped off but in the two minutes it took me to get to the bird which dropped like a stone, it was beyond saving.
Not all however just drop in to feed; some out of necessity have stayed with us whilst they recovered from injuries or needed hand rearing. The kingfisher, "corn" the wood pigeon, countless sparrows, blackbirds and a wren all have been successfully returned to the wild.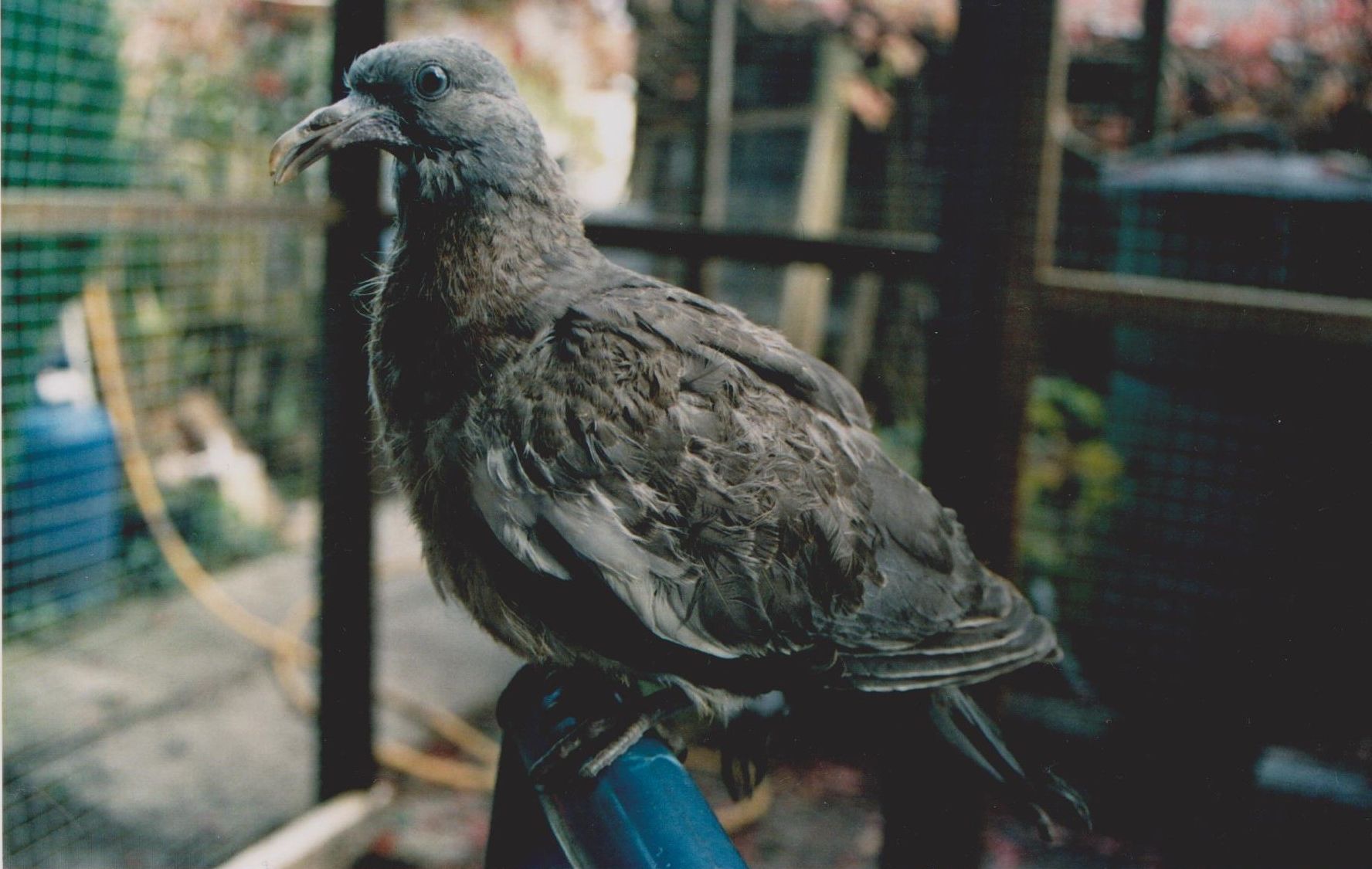 In the early days the top of the garden acted as a nursery and hospital and we even had to build a walk in aviary to house 13 jackdaws, each suffering from a gunshot wound to a wing. These latter casualties came from the surgery where I worked as a Veterinary Nurse and rather than put them to sleep I brought them home. The 1990's saw a lot of wounded birds, not only from work but the neighbours would often find a casualty and bring it round to see if anything could be done. Coal fires have gradually been replaced by gas (we still have ours) in the street but back in the 90's nearly every chimney managed to rear a family of jackdaws and it was during one of those nesting times that a knock on the front door brought us our first "chimney casualty". Unfortunately the adult jackdaw was beyond saving as it has landed on the hot coals but a second one was luckier and then a baby turned up covered in soot and squawking its head off. After a wash and some food it appeared to have only singed wings which would grow back again, so he went in with two other youngsters. All patients have been named. The three ducklings were Ding Dong and Bell so the three little jackdaws were christened Jack, Jill and Bucket, seeing as how one had spent a day or two in a bucket being washed.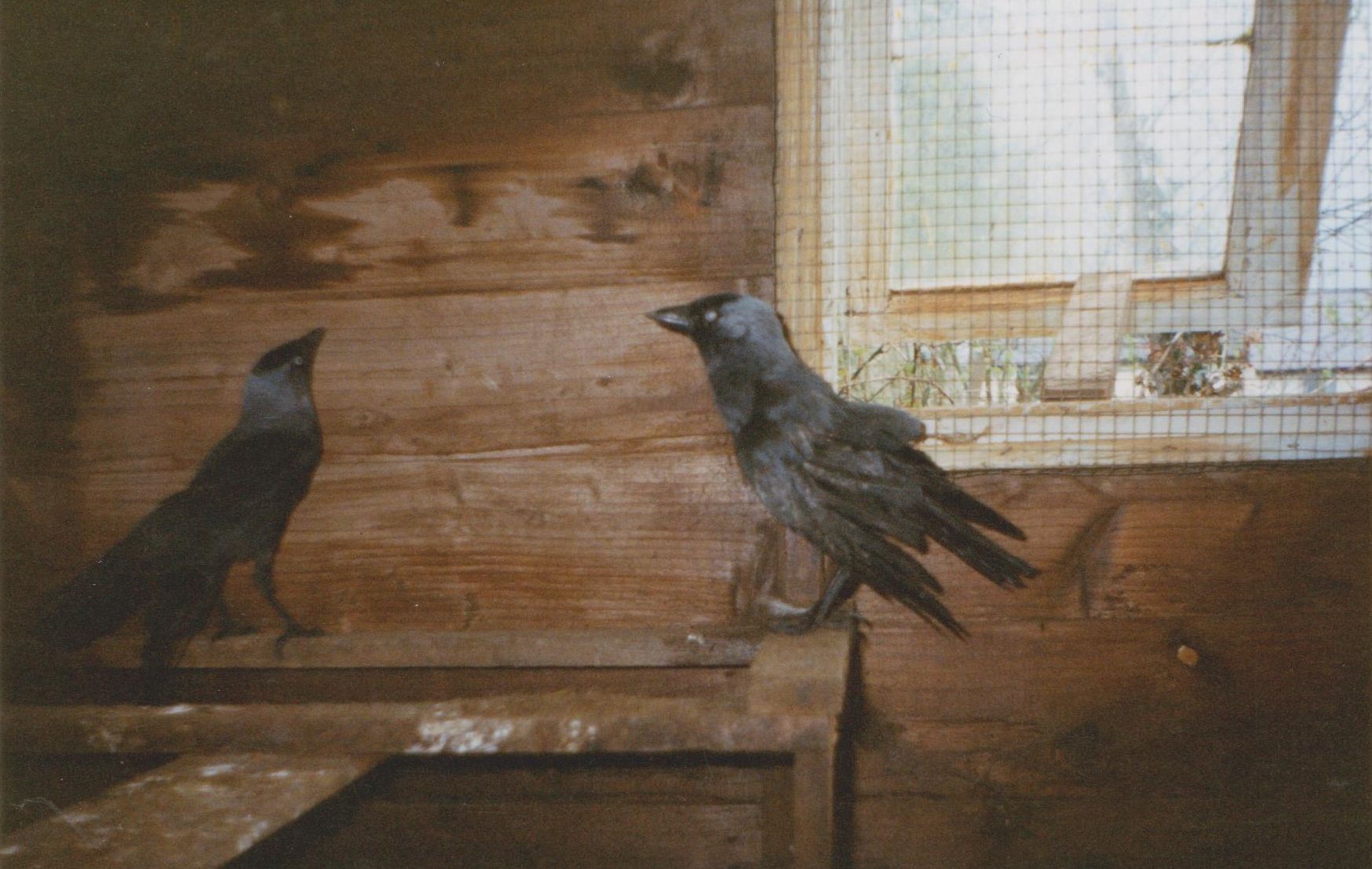 Their story however did not end there, in fact they stayed with us for a year until all feathers had grown back and they were healthy adults. When it became time to let them go, I took them to the mountain behind our house and they flew round and round for ages before eventually flying off up the valley. Later that week Peter and I were in the kitchen when suddenly a Jack Jack and a flapping noise startled us. Three jackdaws had flown in through the back door, circled the kitchen and landed on the kitchen table. There was no doubt one of them was Bucket, so we took it the others were Jack and Jill; they all certainly knew where the digestive biscuit tin was situated and settled down to a biscuit or two before taking leave and this time we never had another visit, although whenever we saw 3 jackdaws together we wished them well.
The article back in 1928 also referred to the buzzards nesting on the Vans, with several pairs to be found in the oak woods of the Cray Valley.
For at least 4 or 5 years whenever we drove along the A4067, from Ystalyfera to Pontardawe, we always kept a look out for the local white buzzard often to be seen just sitting on a telegraph pole or in a tree, very rarely in flight, so when we were presented with a white bird in 2006 I had at first thought it may have been one of its off spring. However it was not found in this valley and as it developed it was clearly not a buzzard but a white crow. I called him Paz (Peace) hopefully to influence his character because he was far from peaceful in fact quite aggressive. Neither did he take to any of the other residents, so again we had to arrange for "private quarters" and this time it meant my potting shed had to be converted as it was a large enough structure to provide a flight area and he would soon need that if he was to develop strong enough wings to return to the wild one day. However we soon discovered the first problem: to get him to feed - until I had a go with a pair of tweezers and he calmed down and did what a little bird was supposed to do. For some unknown reason it became clear that I was going to have to do all the feeds because he went into frenzied mode whenever anyone else tried.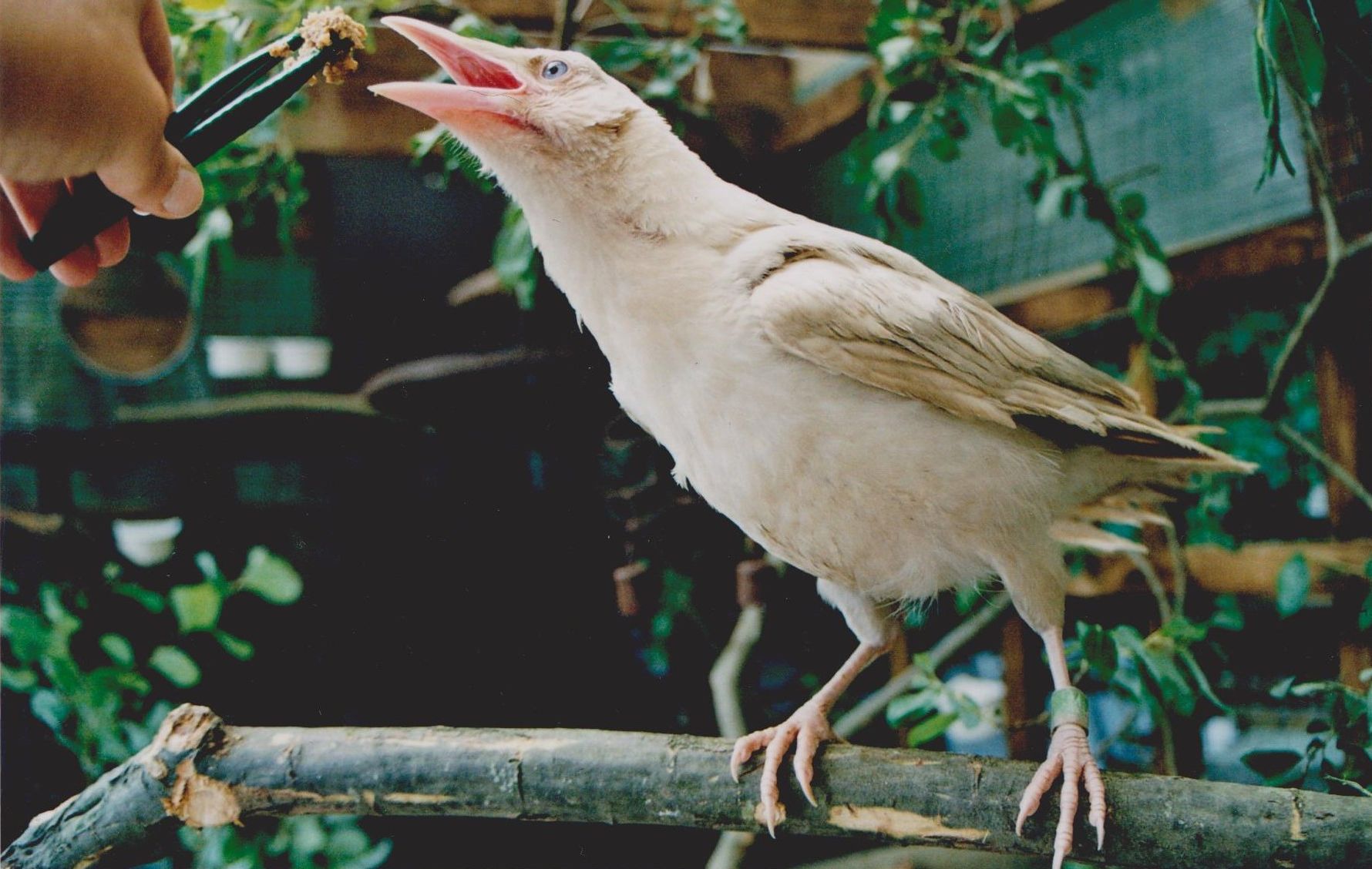 After his feathers grew and he was a healthy weight we introduced him to his new home outside because I needed to get him to fly. The first attempts did not help his mood and because of his temper I was not going to pick him up and place him back on his perch so we built an elaborate step system of branches which he soon got the idea and hopped up and up until he was in his favourite position - higher than me!
He did have a personality and he was always ready to learn a new "trick" although he did have a few of his own. His bath was a plastic dog's bed with enough water in to have a really good splash but each day it would be a muddy mess as everything he could find, which included all his "toys", stones from his soil grub box, food and pieces of wood which just for something to do, he had torn off from his cage sides, was given a good soaking until he retrieved them at HIS leisure, because if we took them out he immediately threw them back in.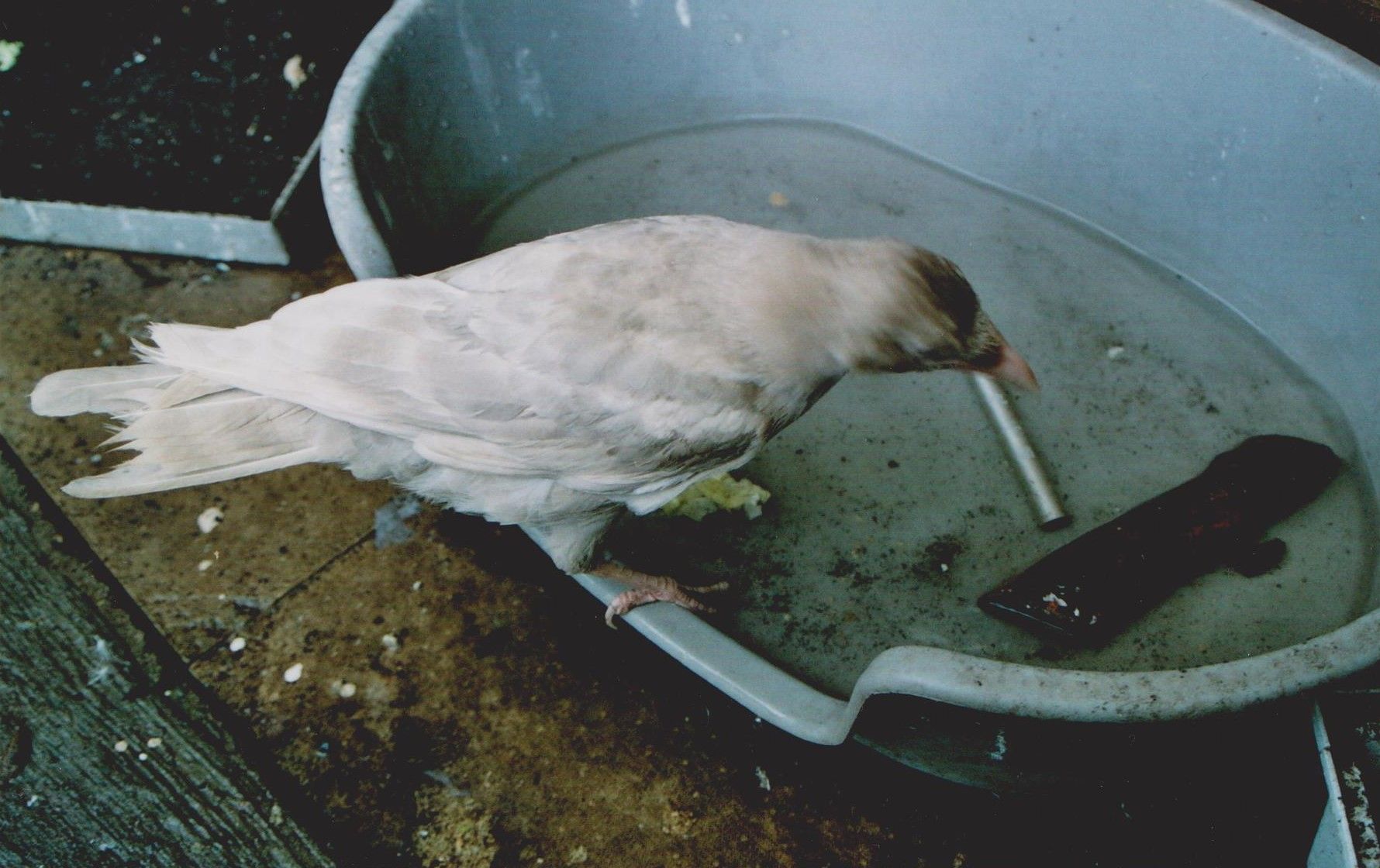 I was told a story once where a tame magpie was once noticed gathering pebbles in the garden and with much solemnity, dropping them in a deep hole made to receive a post. As each stone dropped, the magpie gave a triumphant "currack" and went off for another stone. Examination showed that a poor toad was at the bottom of the hole and that the magpie was stoning it for amusement.
Pax definitely had a mischievous side as Patches, our Jack Russell was to discover. She would often shuffle along the outside of the cage with the hope that bits of food had been dropped or in his case thrown out. One day a terrific noise of flapping, yelping and squawking got us running to the spot only to find Pax had managed to spear through the netting, the ear of Patches who was now not able to get free. That little mishap not only taught Patches to be on her guard but it showed us that at least the bottom foot of the cage needed to be solid. Then after one year, I was to get the same treatment as the dog. He decided he could quite easily feed himself and those tweezers ended up in the bath and I was band from the flight. Only without me going in and out he "realised" he had no company so he swapped allegiances to Peter, his new best friend from then on. For two more years Peter could do anything and I was only allowed to watch, although as for looking after himself he was now on his own, no more feeding, grooming, contact unless he chose to land on Pete's shoulder to play with his glasses, he needed to go back into the wild.
He was free to go as he was not caged, (except at night) but after a time in the garden he would fly back in to take a nap or just refuse to come out again if he had had a soaking in the rain. Then one day in spring, after I had noticed him calling more frequently to the local birds, he decided to fly a little further than normally and landed in next doors hawthorn tree. Suddenly he took off and that was that, until the evening of the next day. There he was in the Holly tree two doors up and when he saw us he flew back into the garden and later back into his cage. It took another year but this time he left and it was a sight to see him above the roof tops flying down the road. At the end of the hill before it turns a flock of jackdaws flew out towards him and I thought that's it he'll get mobbed but he changed direction and flew up over the mountain and was gone.
I still have his bell on a chain fastened to the shed. He learnt to pull that as a youngster when he wanted feeding and sometimes the wind catches it and it rings, in the early days I thought he was back but now when it rings it reminds me of the cheeky white crow who spent a few years with us in my potting shed.
As I said many feathered friends have spent time recuperating with us over the past 30 years but Spadge I am afraid is not going anywhere. He was brought to us after being hit by a car and although I could see he probably would not last another hour, I had told the boy who had found it I would do my best. Not sure how or why but this little brain damaged sparrow held on and after spending the night in the warmth and dark I found him still breathing in the morning. He had a head tilt, a blood shot eye, a wing that was badly damaged and tail feathers matted together with blood. It took two weeks for him to act "normally", fed by hand, his wing had come off and his tail feathers fell out but his head was no longer swinging from side to side so he was introduced into a cat cage (one that hopefully no longer smelt of cats).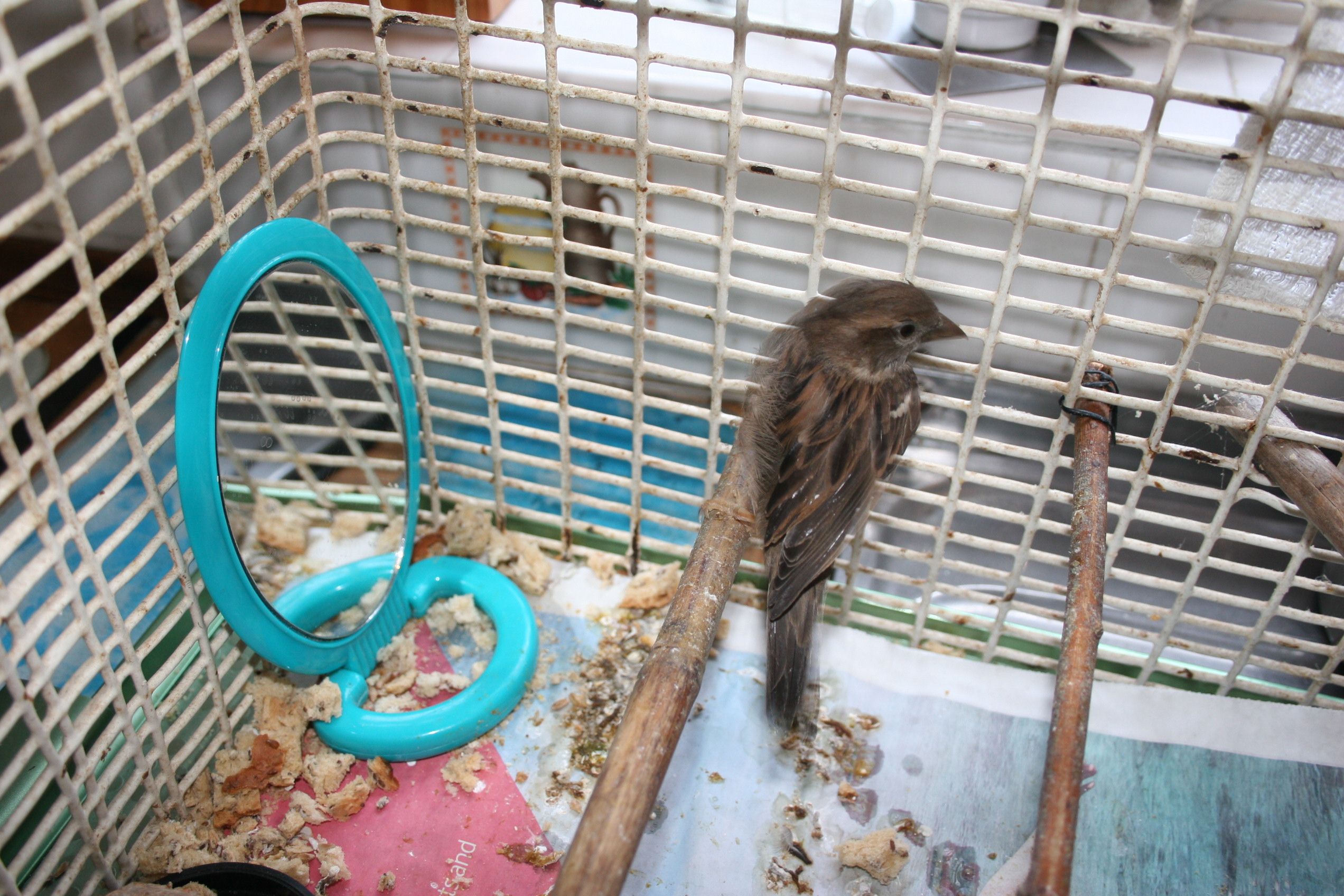 His feet gradually returned to normal and he was able to perch and then to jump from perch to perch. At first he fell more times than not until he managed to get the idea that with only one wing he had to compensate and finding himself on his back took a bit of figuring out until today on the very rare occasion he finds himself upside down he now, no longer needs my help to put him back on his feet. After the first year he grew a new tail and he had to learn to readjust his balance again as it grew longer and longer until now it is the correct size and he is very proud of it as he spends a lot of time preening. The wing of course never grew back as the primary feathers had been torn out but this February will be his second year he has held his own. He sits tweeting quite amorously to his "friend" in his mirror (which we refer to as his "mum" because he will always take whatever food he wants back to the mirror which is on old make up mirror with a stand and inside this stand he drops his food and eats chattering with his reflection). Sometimes he will spend the night in the base of the stand and when cleaning his cage his mirror has to be washed from the number of times he has put his beak on the glass.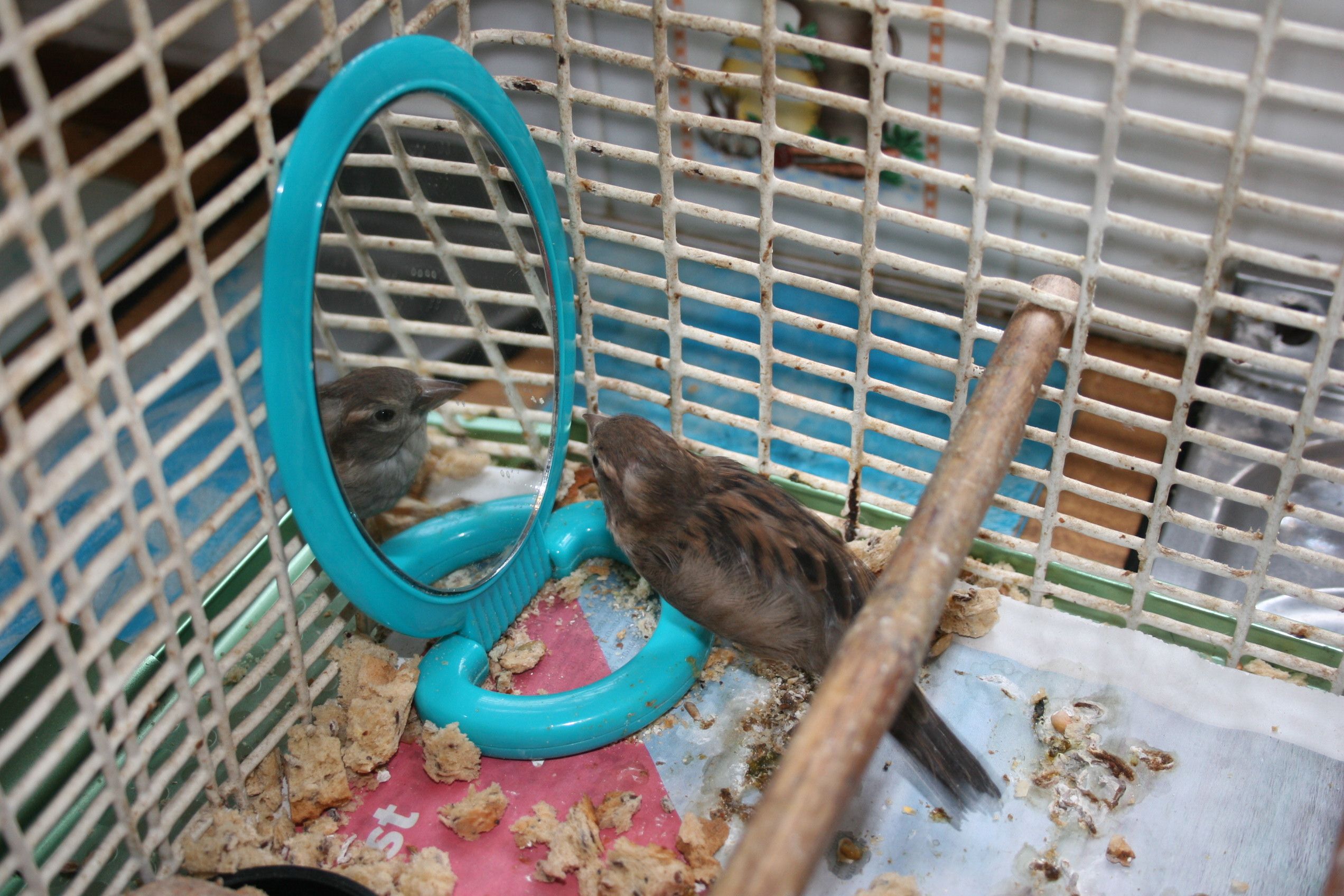 Although he has a piece of cuttle fish I still trim his beak from time to time and putting him back in his cage the other day I wondered with the New Year approaching who, what or if any waifs and strays would turn up this year. However it is not only the wildlife that has a battle to survive.
From time to time I find an interesting article which seems to describe an ideal spot but further down the page comes the inevitable sting in the tail. Ystalyfera, as I once read: "boasts a number of beauty spots, both close at hand and in the surrounding district, but perhaps one of the most popular is that grassy, wooded slope, known as "Plain Signal" and "Heol Ski" at its foot."
I had come across those names before in the book GROWING UP IN THE VARTEG by Gerald Thomas where he describes A Trip Down Memory Lane. Under Summer Activities, it reminded me of my childhood when ALL CHORES had to be completed before permission was granted to go out and play but once outside there was no need to come back until we were tired or hungry. Mr Thomas describes "Plain Signal" as a piece of ground between Ynyscu House and Ynysygeinon Farm "which was covered with ferns and silver birch trees and the ideal spot to play Cowboys and Indians. We would make dens in the undergrowth which provided sufficient cover to hide from the others."
Reading further into the article it warned that in winter, the area was inaccessible due to the streams of water rushing down from the mountainside but young and old welcomed the days when they could enjoy the delights of that little rustic spot. With the Tawe flowing swiftly down the Valley, the convenient boulders which acted as seats and the profusion of wild flowers with the gnarled old trees stretching out their green, shady branches all combined to make the spot very attractive.
The unnamed author then referred back to the industrial dispute of 1926 when the little wood was robbed of many of its trees, which were apparently cut down for firewood and how it could only be expected that any new trees would take a long time to grow back to their former glory. But his anger was focused on a new threat and, as he described it, a still more tragic offense, that of tipping rubbish.
"The scavenger's lorry has now taken to tipping filthy refuse along the path leading from the bridge and unless this is stopped, Ystalyfera will lose its little natural park.
I have often walked around Ystalyfera in search of relics of the past, trying to identify the sites of buildings etc no longer with us but I have also just walked for the fun of it to observe the creatures that too share this village and surrounding landscape that my family came too thirty years ago this year. More often than not I do catch a glimpse of something you would not notice if one was not sitting quietly and yet I can still sadly, 87 years later on from the article, focus my camera on scenes which remind me that man for some unknown reason continues to discard his waste with no apparent thought as to how it effects the landscape or endangers its inhabitants.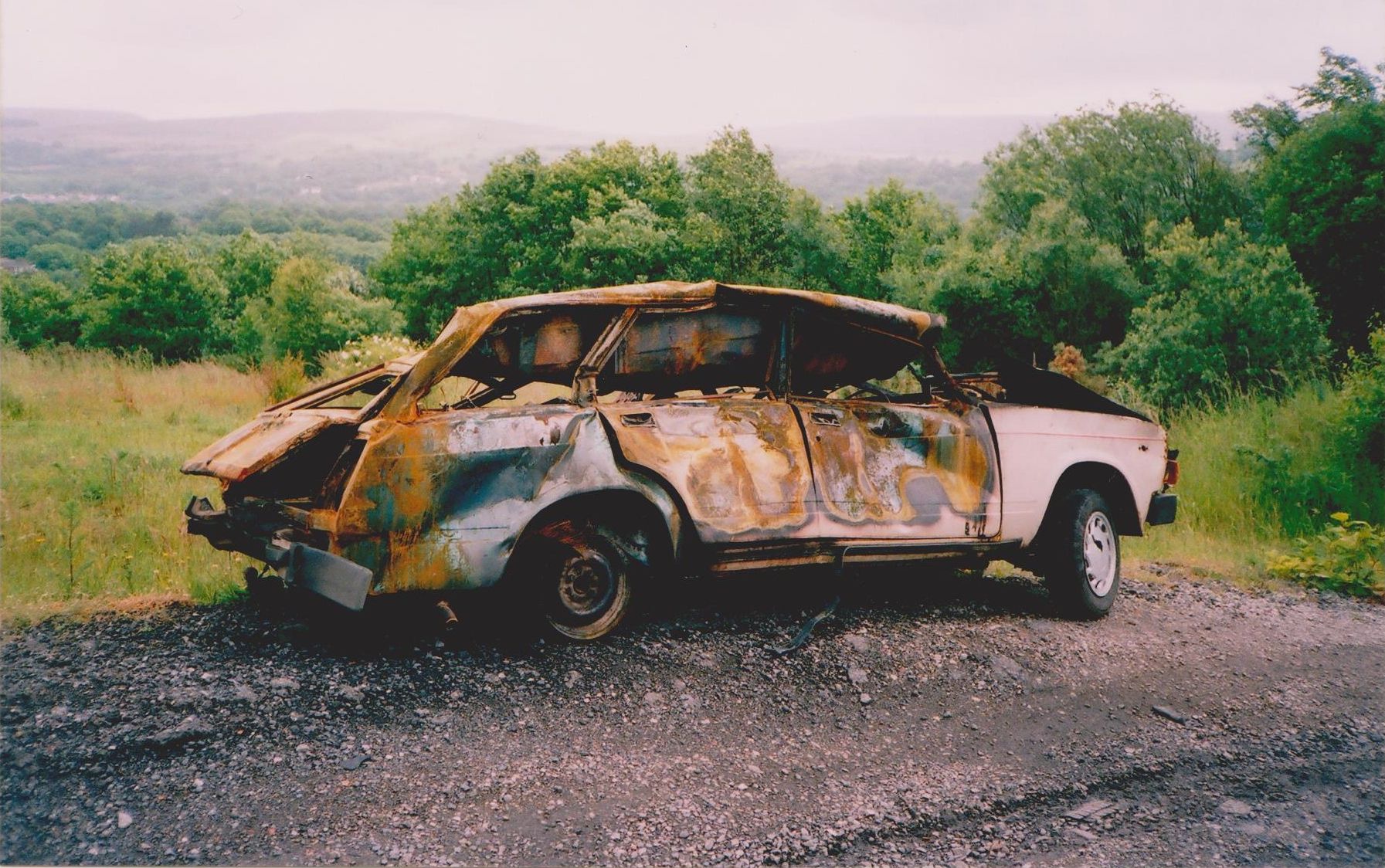 So all we can do is look after God's creatures to the best of our ability. It is sad when we keep hearing just how many species are under threat from mankind but it would appear that from the dawn of time nature has had to fight against the actions of the so called 'custodians' of this planet.
Val Trevallion, 2015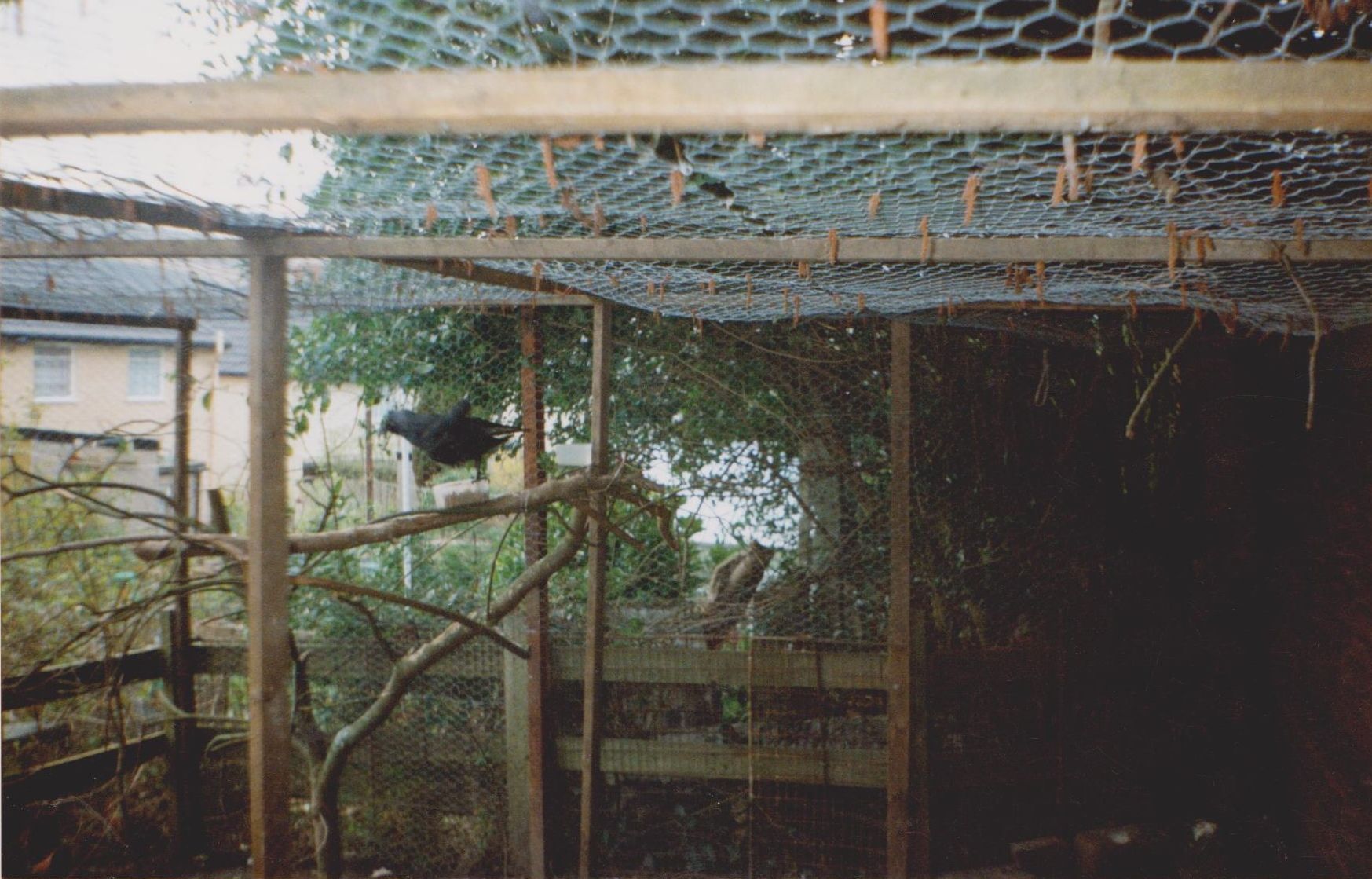 The Jackdaw Aviary