LOST LANDMARKS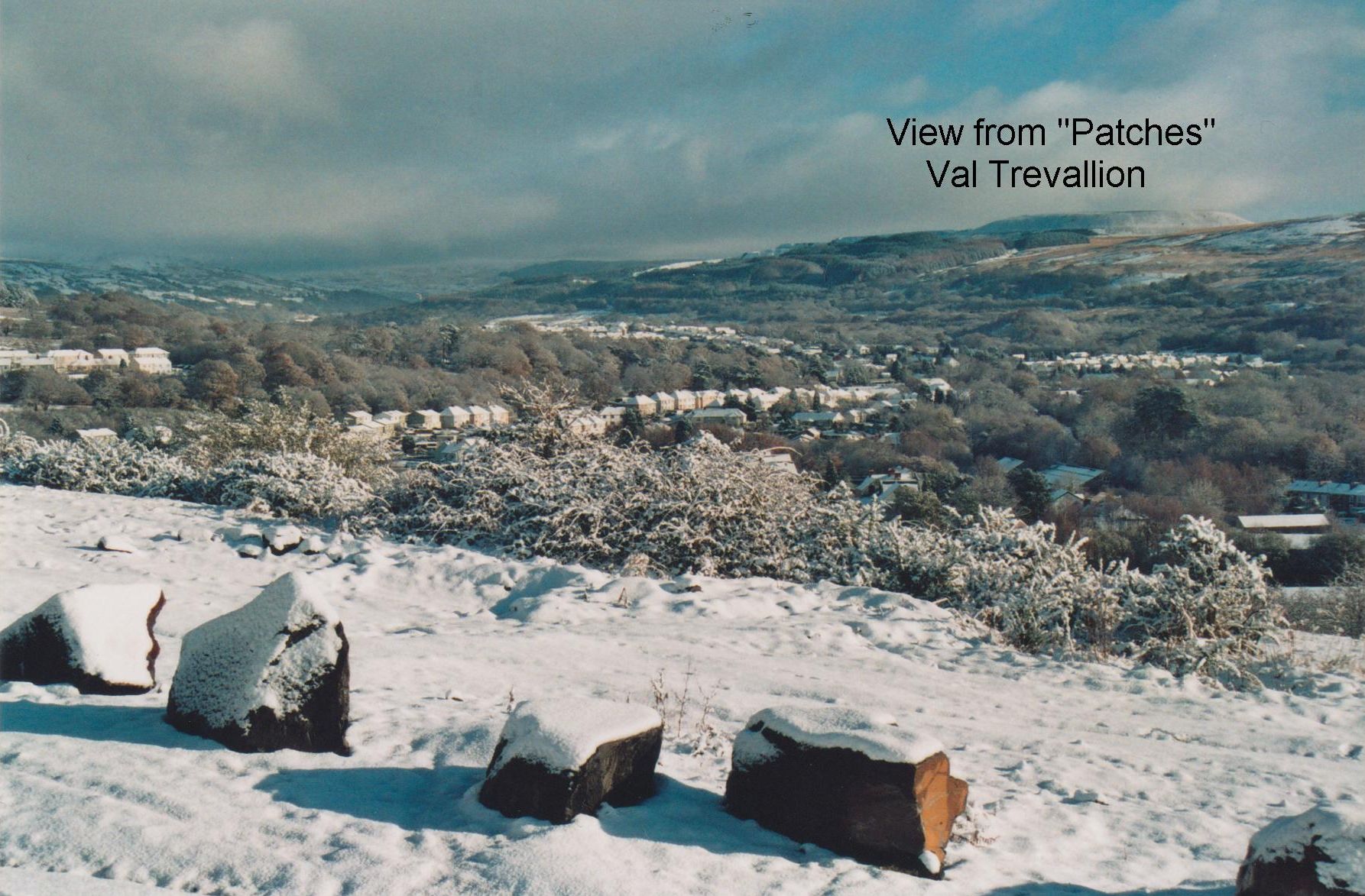 On the very rare occasion I try my hand at DIY I cover my tracks by reminding everyone that they are actually focused on my little effort and within the next two days or so no one will even notice its there, gone or crooked. I can make that statement because I find it is the same when I have a search through YEAR Groups Photographic Archives. Visually I know a scene has altered but often fail to pinpoint every little change until I look at what the camera captured on a given day and year.
There unfortunately appears to be a shortage of photographs taken in and around Ystalyfera that have not already been included in various books and I wish I had taken the changing face of our Valley more seriously 30 years ago, as I am now all too aware that many subtle changes have perhaps gone unnoticed and possibly not recorded.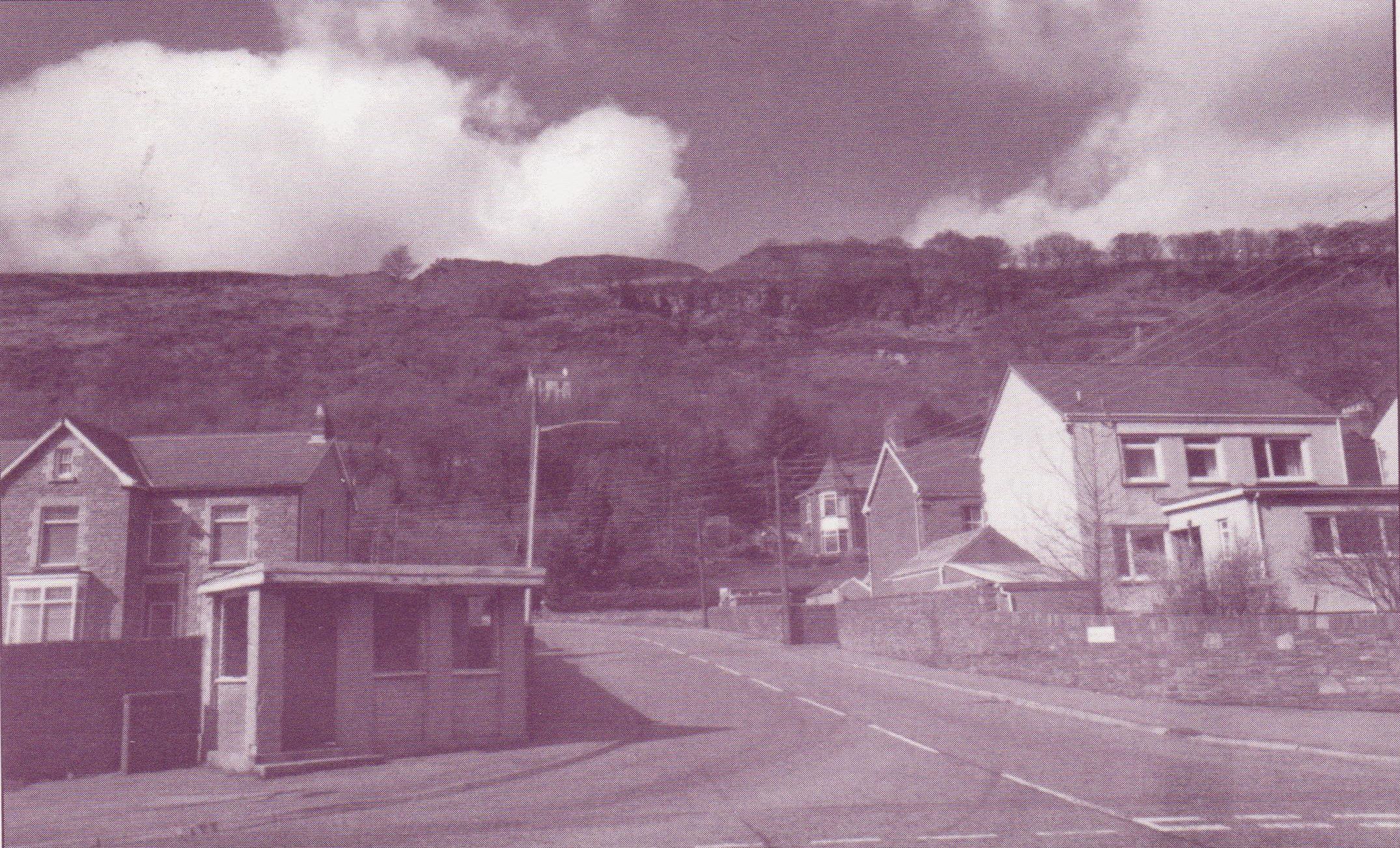 Each time I turn into Church Road and look up I am reminded of a lost landmark. The white house, Penygraig House, had, we believed when we bought it in 1985, been standing on bed rock for nearly 150 years. Today all evidence of our former home has gone and with it not only a landmark but another slice of history, which is why I had a look through Ystalyfera Archives to recall a few other changes.
---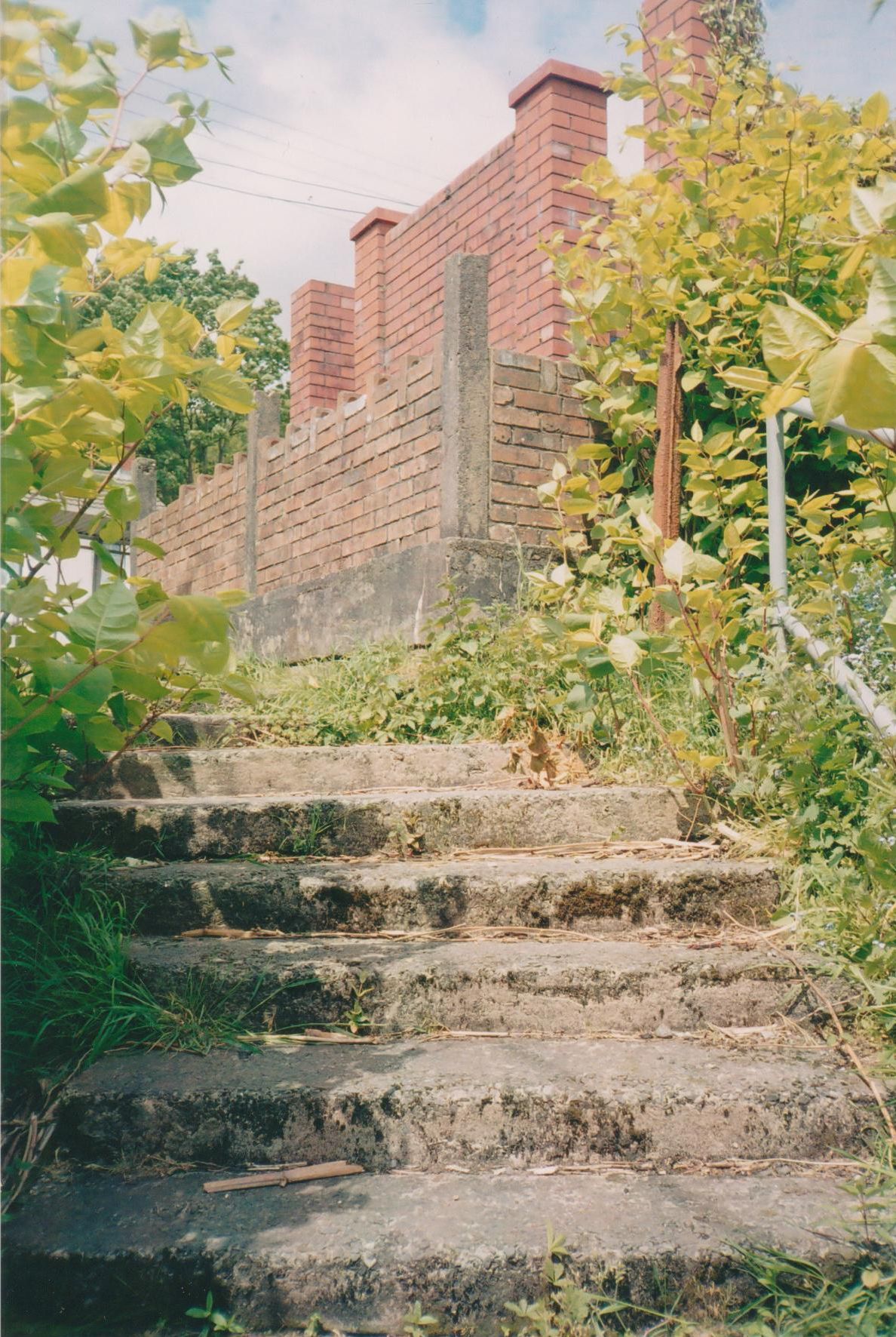 LOCAL LOOS: Noel Watkins the late historian of this area asked me once to go and find all the public conveniences and bearing in mind that the area had its fair share of taverns, inns and drinking houses these buildings had been built from Ynismeudw to the Capitol at Gurnos, about every half a mile or so apart. Needless to say I failed the task. The first one I missed was at Godre'rgraig almost opposite the road leading to and from Godre'rgraig cemetery. True it was no longer there but according to the local residents there had been one although now the site had become part of a garden. The one above Owens Lane I actually remember and have used when we lived in Pantteg but again that has long gone along with the one (another one I missed) almost opposite Pantteg Chapel. The Public House, Smiths Arms sadly is no more but the toilets opposite on Cyfyng Road which were opened in 1935, still stand by the side of the 175 steps leading down to the canal.
To cover the gap between there and the Woodlands garage site at least the Ystalyfera Surgery has a convenience but that is not included in the original list and I did not get brownie points for including them. The toilets at the Garage opposite the Capitol buildings were by far the largest and I am afraid to say I did not notice when they were actually demolished but if any one does have a photograph of said toilets in their heyday I would be grateful for a copy.
SITE FOR CONVENIENCE - 1933
It was reported to the Pontardawe Council on Thursday, by the Public Health Committee, that Mr D W Davies Tycoch, owner of property at Pwllbach, where the Council proposed erecting a public convenience, had now intimated that he was prepared to dispose of the land for £32. The committee recommended purchase at that figure.
---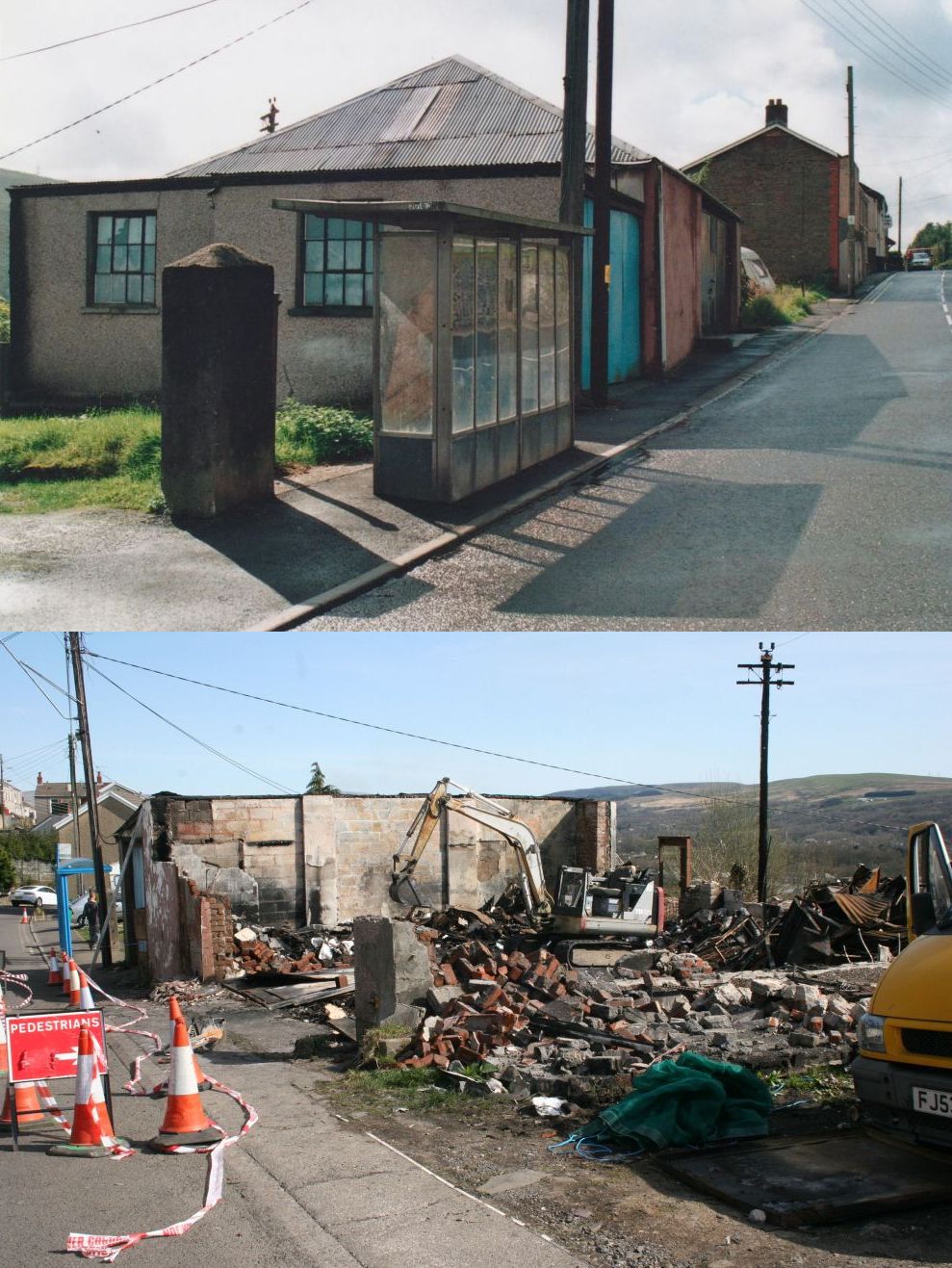 SMITHS GARAGE: CYFYNG ROAD YSTALYFERA
DESTROYED BY FIRE MARCH 2012
Unfortunately this does not present a little alteration in appearance because after the fire in 2012, the loss of this landmark has left a very large gap on Cyfyng Road. Built above the steps leading down to canal it once commanded a magnificent view across the valley.
I have no idea what it looked like in its heyday but it was one of those buildings you expected to always see as you drove past, one with links to the history of Ystalyfera so on the day locals told me of a fire down on Cyfyng Road, I was not thinking of the garage.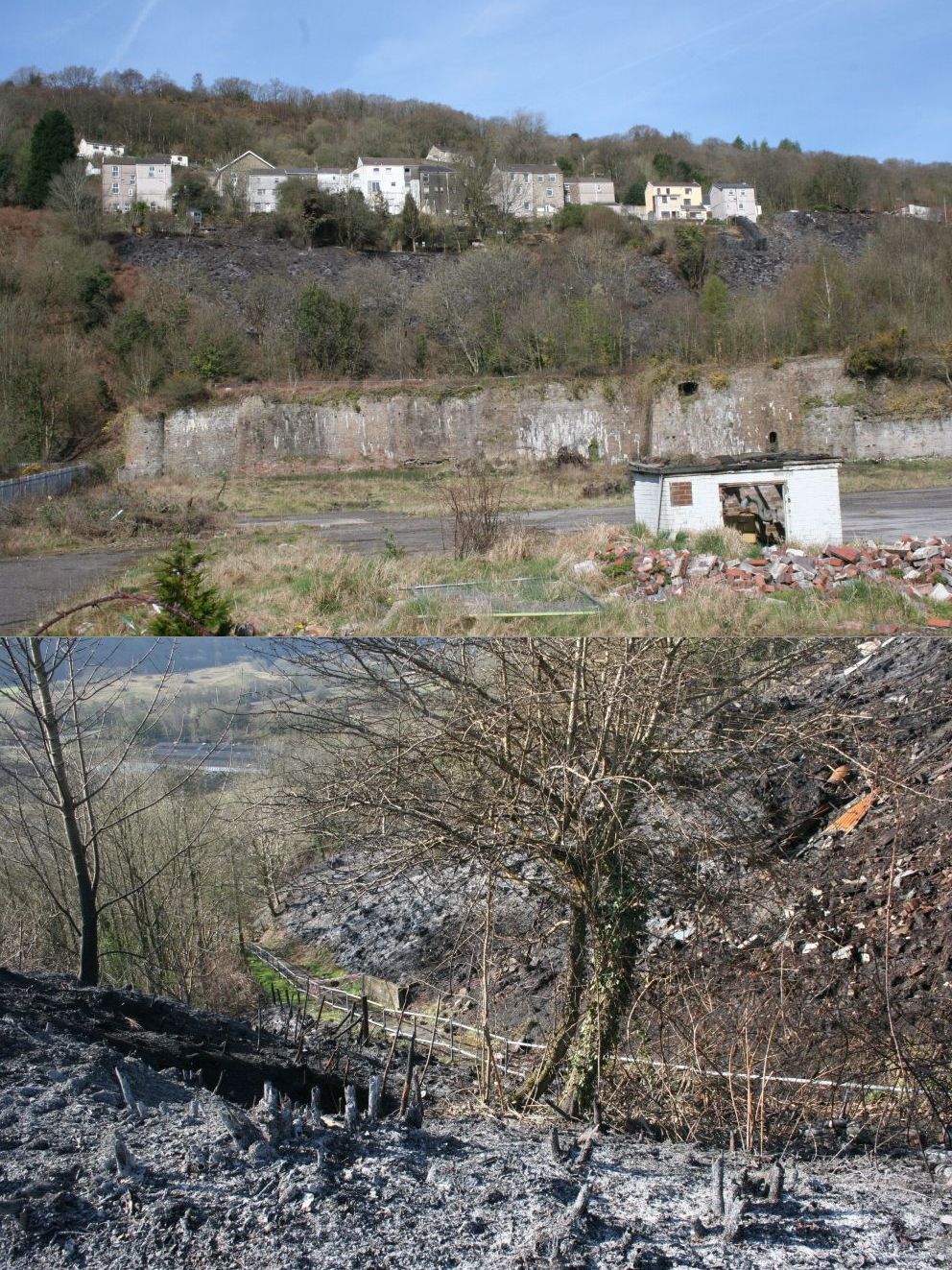 According to the BBC News (Wales) a grass fire started on the bank below Cyfyng Road and quickly spread to a house, garage and electricity poles. Mid and West Wales Fire Service were called at 17.00 on the Tuesday to discover two grass fires burning at separate locations which took until midnight to be brought under control.
For safety reasons the Western Power Distribution cut the electricity to 20 houses along Woodman's Terrace but thankfully there were no human casualties.
---
CROSSINGS: Zebra crossings have been put up outside the Maesydderwen School Ystradgynlais for obvious safety reasons but the Belisha Beacons installed on Cyfyng Road Ystalyfera in 1938, were actually requested to be taken down. The decline in businesses throughout Pantteg and with Pantteg school long closed the crossing was in fact seldom used, and as such fell some way short of the criteria level for the recommendation of such a facility.
The crossing could therefore be removed but although the request and the following site survey were undertaken in 2003, the actual removal was only carried out in 2005 when funding was available.
---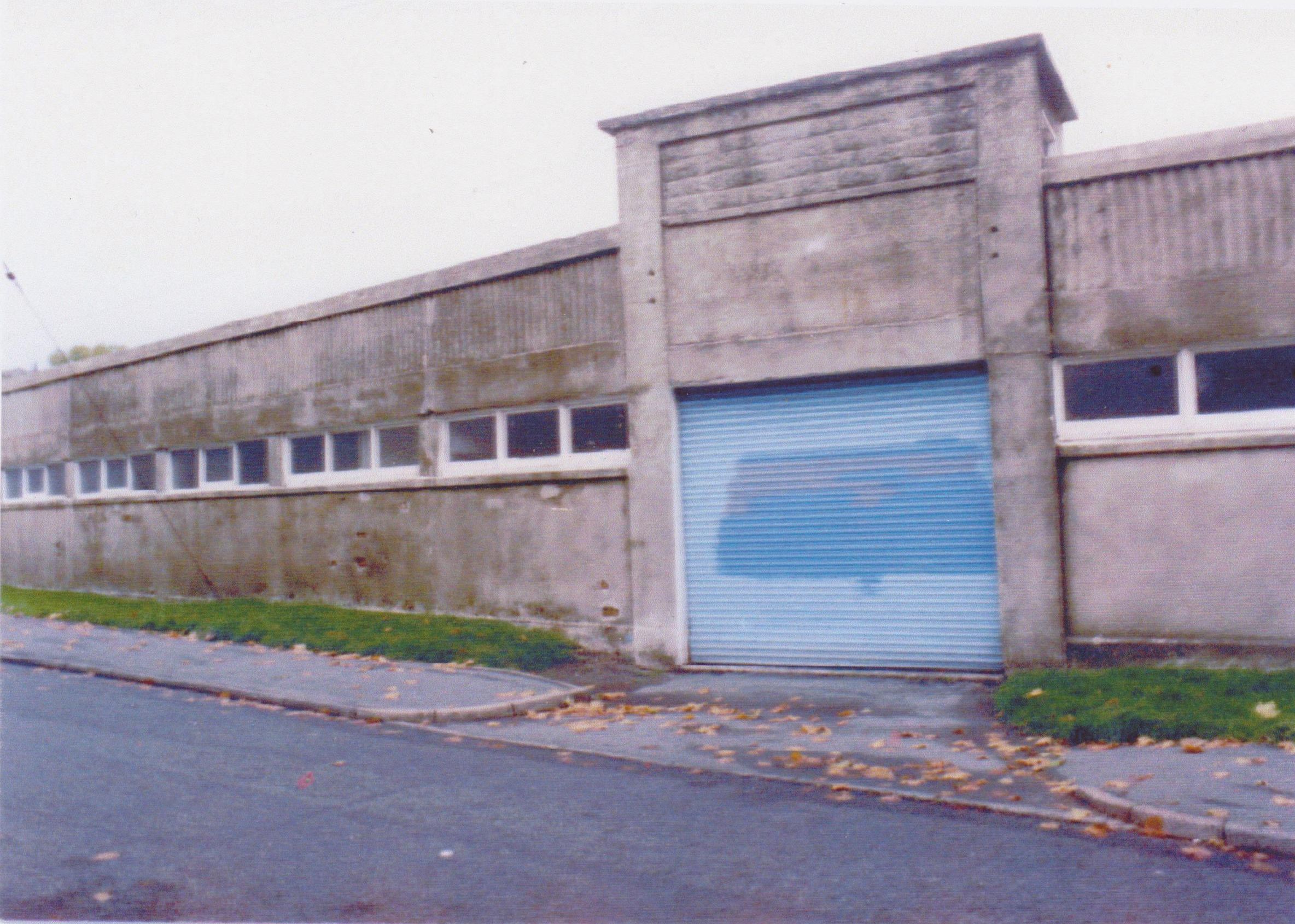 KEEPING COOL
LABOUR VOICE 13th JUNE 1925

"Scores of boys and young men may be seen in the River Tawe every day trying to find relief from the trials of this hot weather. Doubtless, many more might be seen but for their previous neglect to learn the art of swimming and their unwillingness to make it known."
Unfortunately boys will be boys and the pool beneath the Old Swan Bridge was in great demand even when the local doctors continued to give out warnings about the water being contaminated by refuse and effluent from sewers. However children could look forward to bathing in the comparative safety of the Ystalyfera Swimming Pool jointly opened in 1937 by Mr. D. W. Davies and Dr. Lewis. It was constructed for the Llanguick Parish Council at a cost of £5.000. It was built in an 'L' shape, 132 feet long by 42 feet wide, with a diving bay 32 feet by 18 feet in the toe of the 'L' shape. The depth varied from 2 foot 6 inches at the shallow end to 10 foot 6 inches in the diving bay. The water was continually purified by modern filtration.
A swimming gala was held on August 1937 although the Ystalyfera Water Polo team lost to Cwmtwrch by 2 goals to 1
However having not been used since 1991, the swimming pool on Ffordd Glandwr is no longer there. It was demolished around 1997 and on the site today stands the Ystalyfera Community Council Play Area with facilities for skateboarding and rollerblading.

Read more about Ystalyfera Swimming Pool
---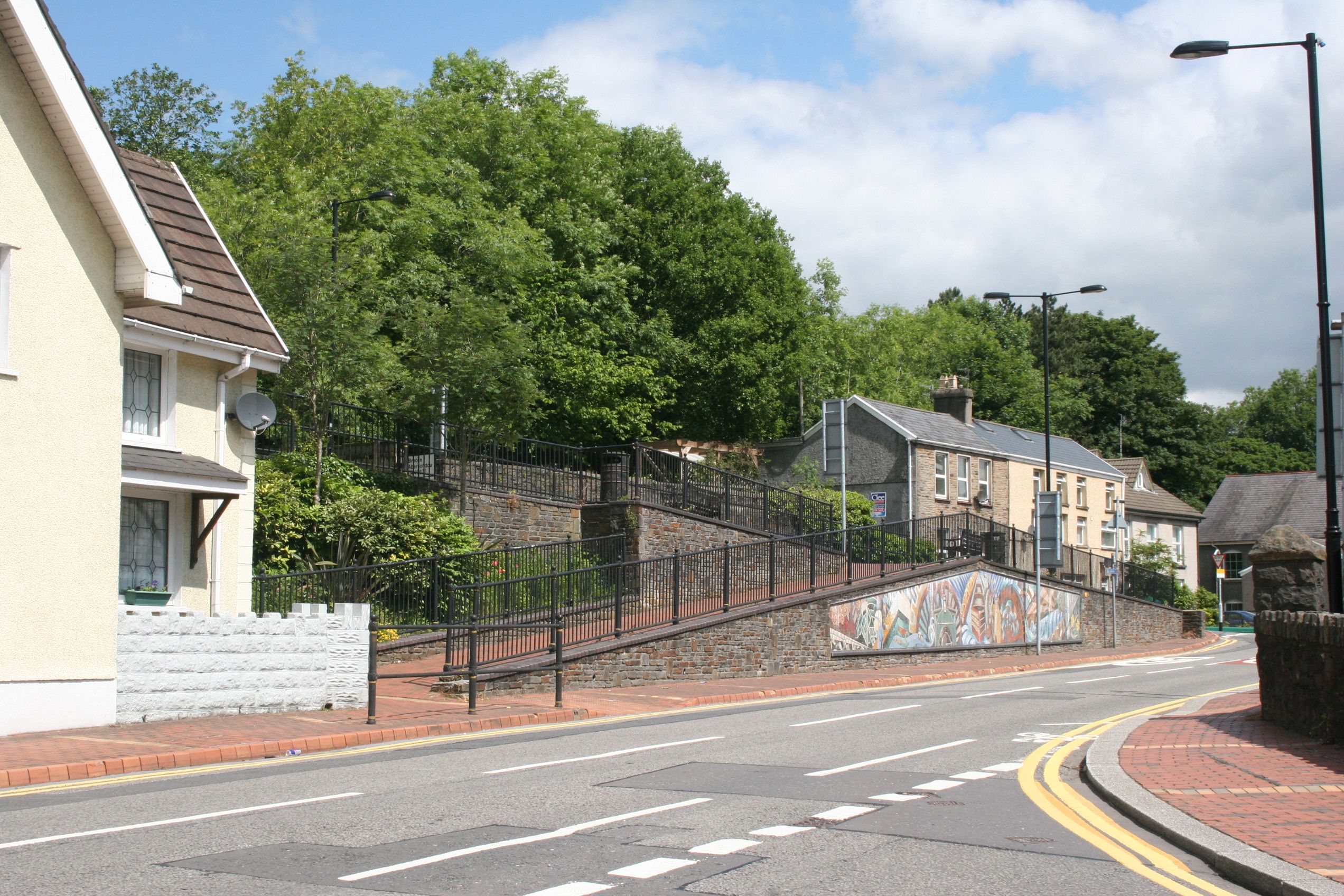 LLOYD'S BUILDINGS: It would be hard to find a village of equal size to Ystalyfera, which could boast the following in one road: a newspaper press, four paints and wallpaper shops, three chemists, wireless and T V, four butchers, café, Ladies and Gent's outfitters, a ladies gown and drapery shops, three grocers' and three greengrocery premises, a mineral water works, two china shops, two solicitors, dentist, doctor's surgery, three banks, two betting shops, fourteen public houses, eight chapels, two churches - all within a mile and a quarter on the same road.
This impressive list was apparently evident in 1963. Within the last thirty years another landmark which has been removed was the Lloyd Buildings or to give them their other name Coffin Row on an account of the shape which the little row of shops resembled. This site at the junction of Gurnos Road and Ynysydarren Road, has not been redeveloped but made in to a walk way with the retaining wall opposite St. David's Church, featuring a mural depicting the area's past industry.
---
GURNOS It was Eileen Campbell nee Baker who introduced me to this area. Sadly Eileen has now passed away but when I used to visit her in Swansea one of her last gifts, was a copy of her book 'Yan Boogie' The autobiography of a Swansea Valley Girl. Although she was born in Hereford in 1919, her mother was Welsh and her family came to live in one of the railway cottages (long since pulled down). She would recall scenes in Gurnos when she was growing up in the railway cottages as her father worked in the signal box on Ystalyfera station. Although Gurnos was considerably smaller than Ystalyfera they still had a handful of shops which included, a butchers, an ironmonger's, several sweet shops, a drapers, a post office and store and the Co-op. The Co-op of course had 'div' (dividend) stamps which helped and it also sold clothing and good quality shoes. Several businesses have been run from this block of buildings but when I went the other day, to up date my photographs I was surprised to find not only the little supermarket had gone (and in its place the Palleg apartments) but as the walls had been re rendered the signs CO-OP and Lower have disappeared, just leaving Cwmtwrch.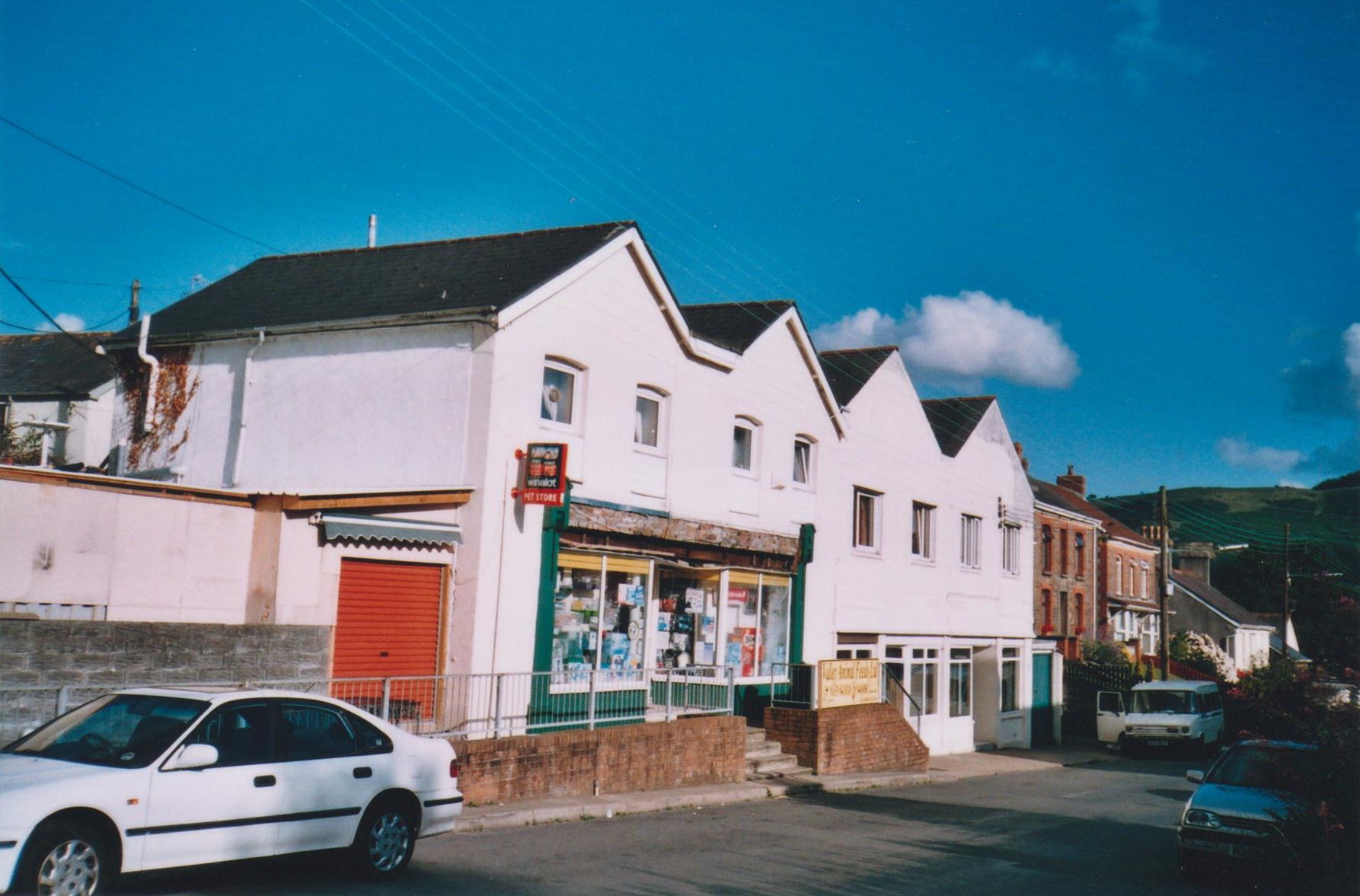 Pleased to see the laundrette is still in business, especially as it was a life line in the early days when our family did not own a washing machine.

Site of the Original Co-op Gurnos/Palleg Place Laundrette & to rent
---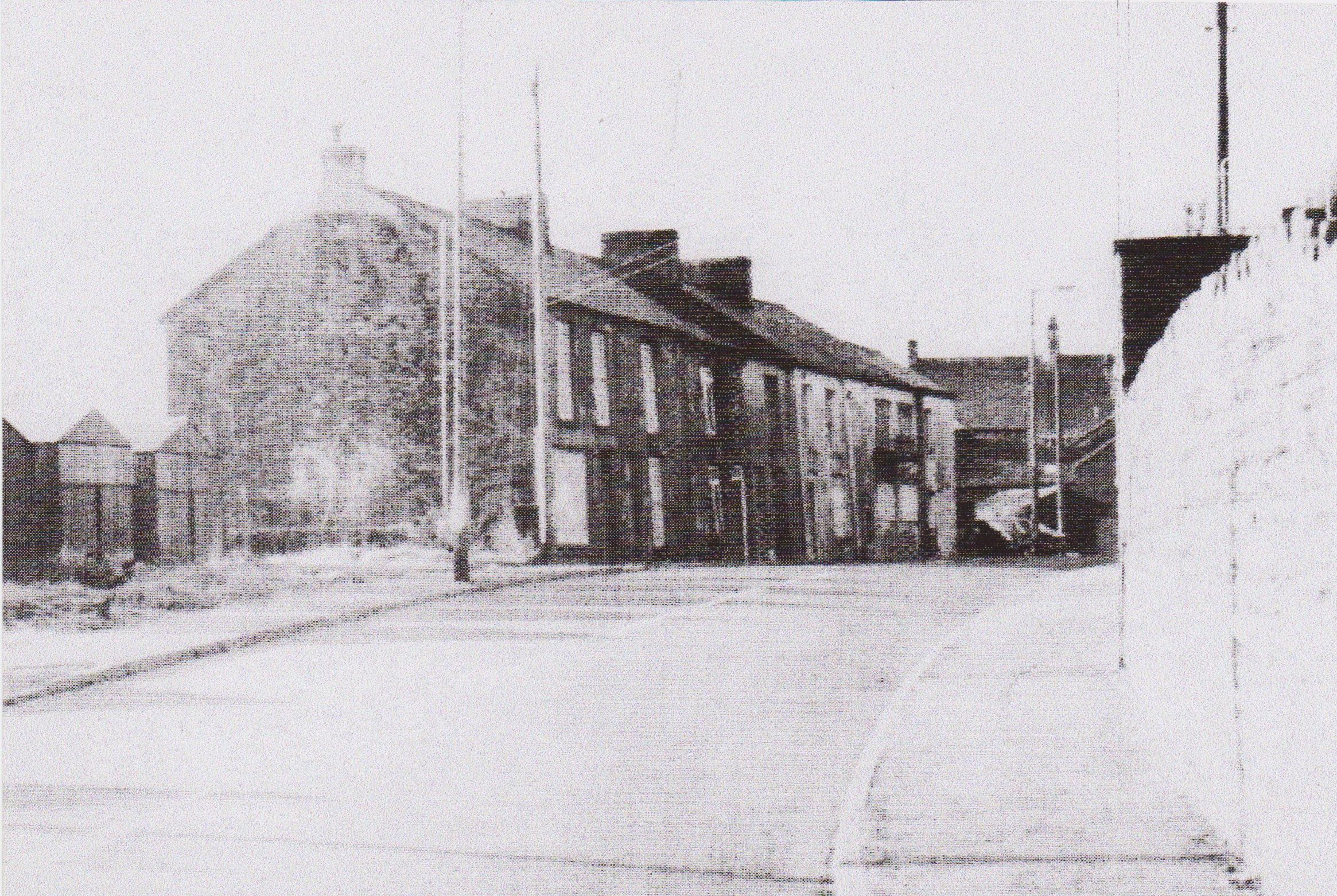 ANOTHER ROW OF BUILDINGS: This block used to be above Clee's Lane and in 1933 the British Legion opened a club in one of the buildings that was originally owned by Mr. William Thomas and then known as the Central Stores, Pantteg. As well as groceries his store sold boots and shoes, all kinds of clothing and a variety of patent medicines. I can only remember these buildings being empty in the late 1980's but there was still a mail box on the wall which I hope was in use, because I did use it once or twice, in fact it can be seen in the photograph next door to his shop.
Again this site has not been re developed and looking at the piece of ground these buildings were erected on it is not surprising.
---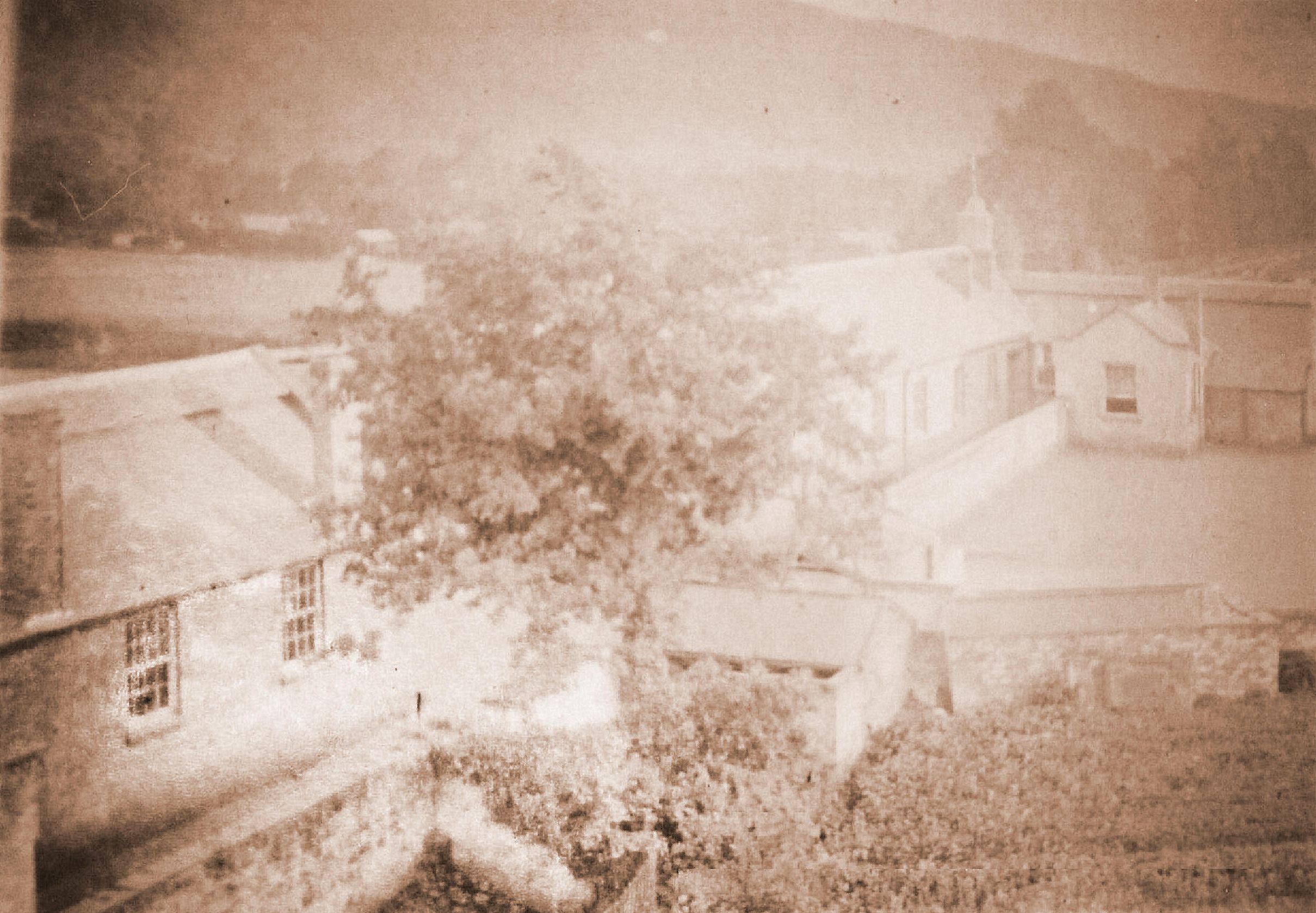 ORIGINAL WERN SCHOOL: As well as Pantteg School, Ystalyfera has lost the old Wern Elementary and Infants' Schools which were built near the railway and canal along Deeley Road. James Palmer Budd promoted the building of the school and his wife Emily also took a keen interest, her activities in education, social service and in the church were invaluable. She took a particularly keen interest in the education of girls and personally supervised the sewing classes.
For many years she acted as organizer of a clothing club, ordering the best material at the lowest prices and provided food and clothing for many women who struggled with a houseful of children.
An advertisement appeared in the Cambrian Newspaper dated 8th March 1850 under SCHOOL MISTRESS WANTED:
Wanted: for the Girls school at Ystalyfera; a mistress competent to teach English, Spelling and Reading, Writing and Arithmetic. She must be a good needle woman and able to lead the children in singing. It is also essential that she should have a sufficient knowledge of Welsh, to communicate with children ignorant of English.
Applications with testimonials: to be made by letters only to Mrs. Palmer Budd, Ynisdaren Swansea. 06/03/1850
When I began researching the life of James Palmer Budd, a very elderly gentlemen from Pontardawe, gave me his only known photograph of the old Wern Schools. These buildings were replaced by the much larger Wern Schools built on Clare Road up on Alltygrug Hill, the foundation stone being laid on a Thursday, 3rd September 1903 by Mr. James Williams, the chairman of the School Board.
---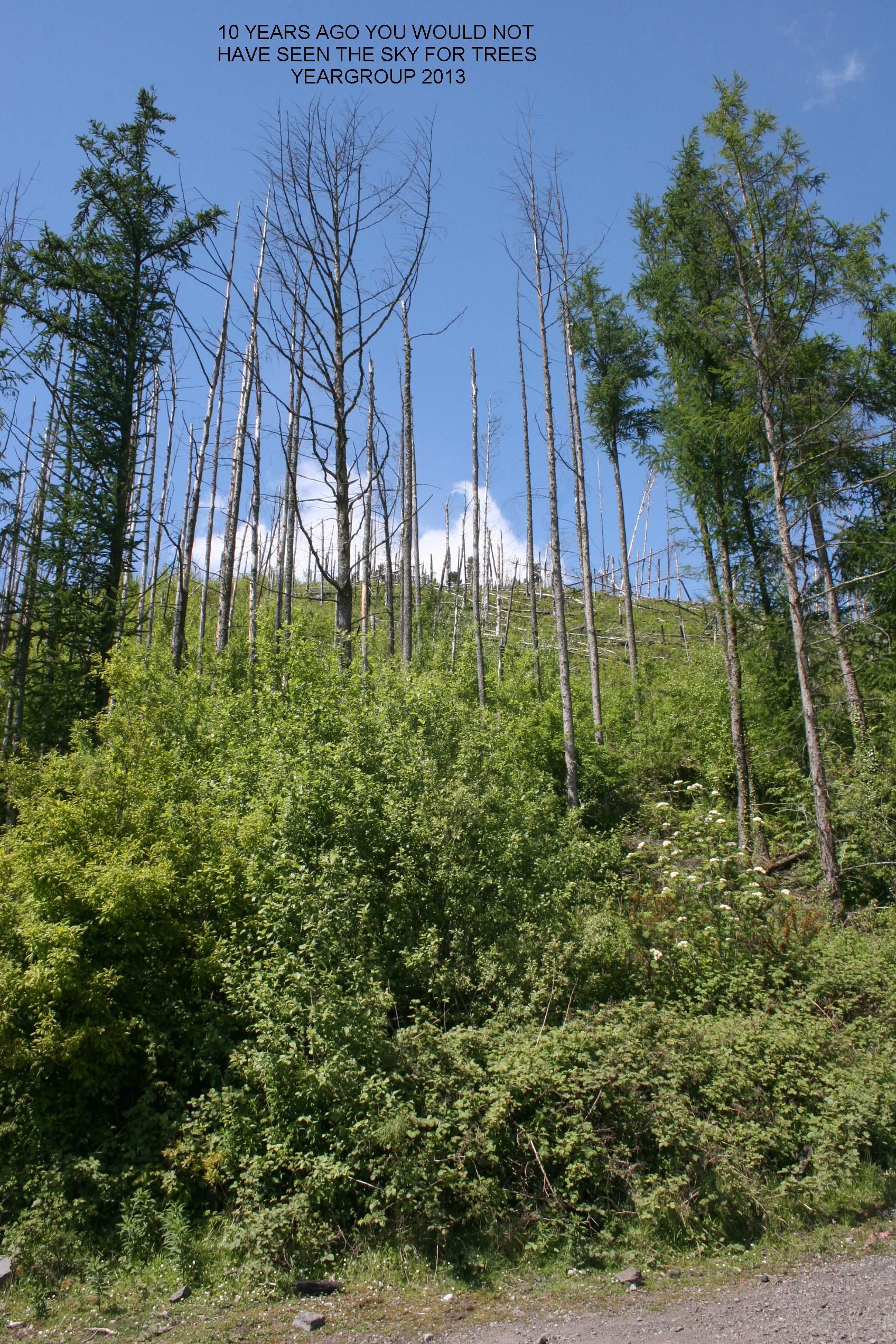 THE PATCHES More than any other name in Ystalyfera "The Patches" holds very dear memories for me. In the late 80's this area of waste land lying just below Alltygrug Cemetery, bordered on one side by the lower edge of a beautiful woodland and commanding magnificent views over the Gurnos was my "get away spot". Whether writing poetry, training my terrier (who I named after the Patches and not as I believe people expected because of the patch over her eye) collecting crab apples, wild strawberries, rose-hips, elder flowers and many wild herbs, it was a special place that was just far enough and high enough away to eliminate the sounds of civilization. In the early 90's whilst watching foxes, badgers and rabbits I would often see pieces of coal which had surfaced and caught my eye as their shiny surfaces twinkled in the suns early morning rays.
There were not many visits which did not see me return with containers full of useful items. I now understand I had in fact joined a long line of families who had gathered fuel by this means. During the 1926 Strike, many of the families would be forced to pick coal on the Patches as the picture in the book Stepping Stones by Bernant Hughes, clearly shows.
Originally, this area of ground had been worked extensively by the Iron Works and the name Patches came from the method used for working iron ore. The result of Patching left large accumulations of material and added to the waste being dumped from the furnaces at the Works, the landscape south of the River Twrch and extending to Cwmtwrch, has not changed that much. Unfortunately, in the late 90's, man had one more attempt at removing coal from the area and since that time I have not seen a bush, tree or any wild plant except the odd blade of grass. The elder trees have since died out and the crab apples are covered in lichen and will no longer produce fruit. The final blow came when I was driving back from Abercrave one day and as usual looked up to the mountain but noticed "Patches of Light" shining through the woodland. Over the last few years it appears that even the woodland has lost its grip on life. I am not sure who owns this wood but if the larches have succumbed to the disease which is spreading at an alarming rate through Wales, I have to fear the worse and within a few more years say good bye to another once very beautiful landmark.
---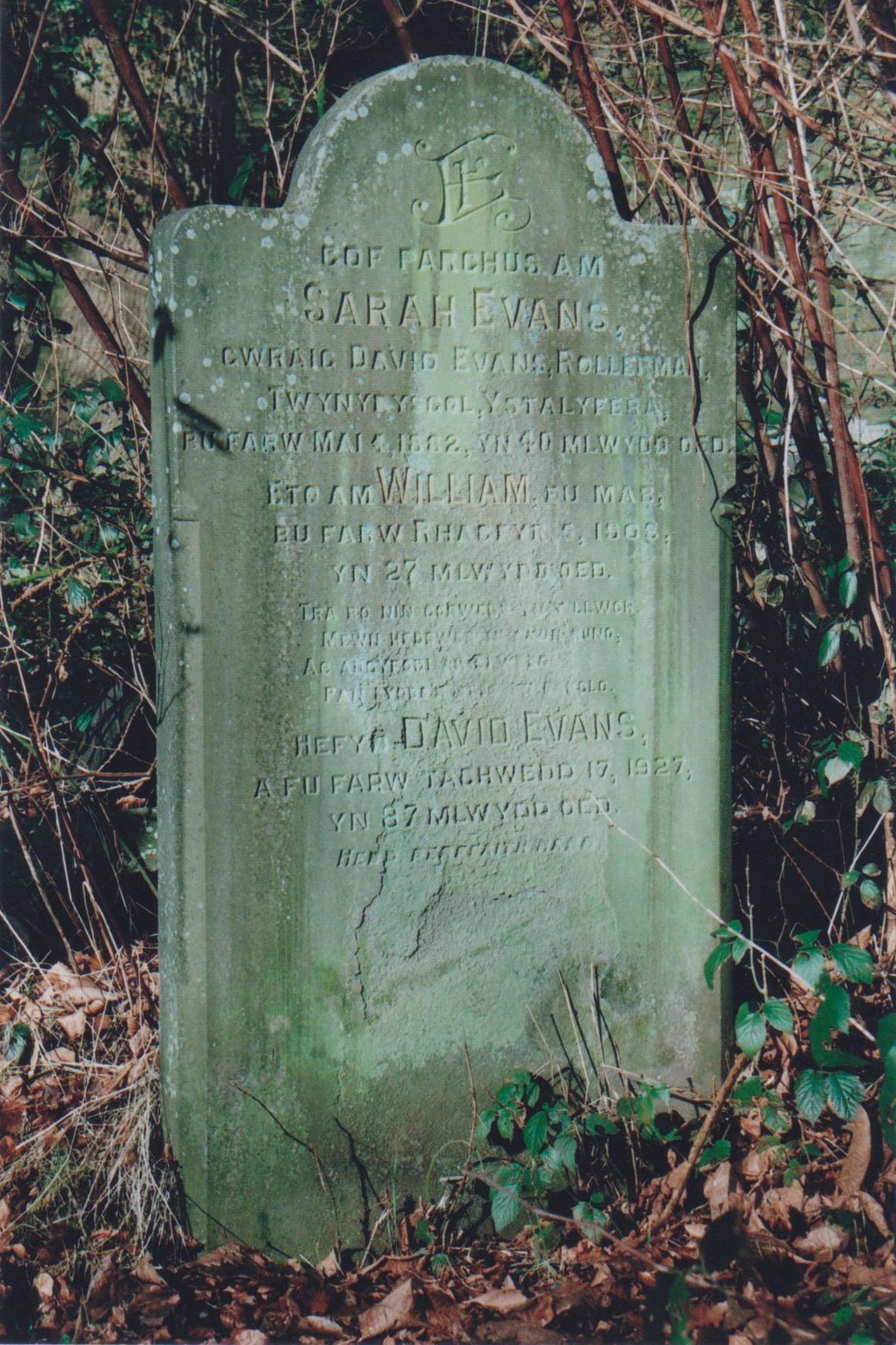 I mentioned I named our dog after the Patches, well the other day whilst working on Holy Trinity Records; I came across an obituary from 1927:
Last week we briefly recorded the death of an Ystalyfera octogenarian, in the person of Mr. Dafydd Evans (Patch), and in his death Ystalyfera and district loses a link with the past, for the deceased gentleman was indeed a citizen in the true sense of the word, and one well qualified to advise others. Dafydd was one of 7, born 1st November 1839. He had little opportunity of attending school and when he was 9 years of age young David commenced work at the cold rolls at Ystalyfera tinworks. His father was then engaged in the digging of iron ore at the "Patches", from which the family derived the name "Evans y Patch", and some of the old man's work is still to be seen at Penygraig farm, the walls and hedges being built by him with the assistance of the children.
---
ROAD SCRAPER: And finally I'll let the following lines culled from an 1880 diary to show how useful this gadget known as a road scraper was but with the advent of tar macadam it became a thing of the past.
"Oh where, oh where is the road scraper gone?
Oh where and oh where can it roam?
The roads are so muddy, so sloppy with slush,
But it slyly keeps snugly at home.
Oh where and oh where is the road scraper gone?
The servants all sorrowing cry!
Here's missus' boots an inch with mud
But that scraper is home nice and dry;
Oh where and oh where is the road scraper gone?
The townsmen must send round the crier,
We'd better spend sixpence and pay rates as well
Than walk through streets in such mire;
Oh where and oh where is the road scraper gone?
Oh where and of where can it be?
Not handsome, but useful, pray find him at once
For his presence we gladly would see.