Murder in Pantteg
A well known headstone in St. Catwg Church yard Cadoxton stands over the grave of 26 years old Margaret Williams. It is well known because the inscription records her murder and in one magazine article it is actually referred to as the "Murder Stone" at Cadoxton. I found it because it stands next to Richard Watkins War Grave who was killed in 1917.
---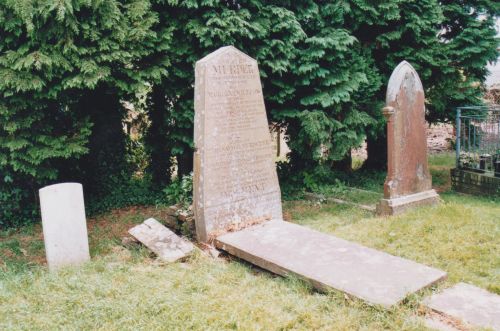 Margaret Williams
1823 / To record / MURDER / This stone was erected / Over the body / Of / MARGARET WILLIAMS / Aged 26 / A native of Carmarthenshire / Living in service in this parish / Who was found dead / With marks upon her person / In a ditch on the marsh / Below this churchyard on the morning / Of Sunday the 14th of July / 1822. /
Although / The Savage Murderer / Escape for a season the detection of man / Yet God hath set His mark upon him / Either for time or eternity / And / The Cry of Blood / Will assuredly pursue him / To certain and terrible but righteous / JUDGEMENT
---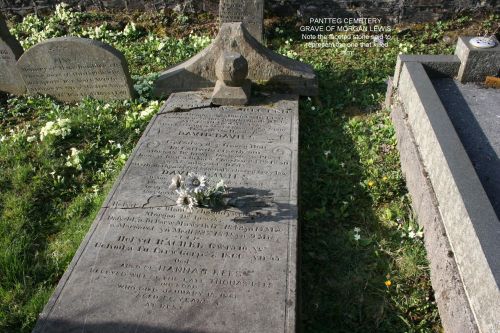 Pantteg Cemetery
When searching graveyards one never knows what might turn up but then I realized that a stone lying over a grave in Pantteg Cemetery Godre'rgraig also had an inscription but unlike Margaret's unknown murderer, this one named the person responsible.
The Pantteg inscription appeared to invite us to take a closer look and I was curious to find out something about these two families whose lives obviously became so connected in 1850 with such tragic outcomes.
The grave is in Pantteg Row 01 G 06 and the inscription reads:
Cyfodwyd y gareg Hon
Er Coffadwriaeth am
MORGAN Dd LEWIS Graigarw yn y Plwyf
Hwn; yr hwn a fu farw Chwefror 25ain 1850
Yn 38 mlwydd oed
Wedi derbyn ergyd angeuol a chareg trwy law
DAVID DAVIES

Dyma argel dy MORGAN fe'i curwyd
Efo careg i'r graian;
Drwy wall rhydd, dro hyll i'w ran
Gwyliwch! Cofiwch y cyfan.
The above was very kindly translated for me by Dr. Kevin L. Davies Godre'rgraig
This stone was erected
To the memory of
Morgan Dd Lewis of Graigarw in this Parish
Who died February 25th 1850
Aged 38 years
Having received a fatal blow with a stone at the hand of
David Davies

Here is the hiding place of Morgan, struck
By a stone to the cranium:
By mishap, this dreadful thing befell him
Take care and remember all this.
---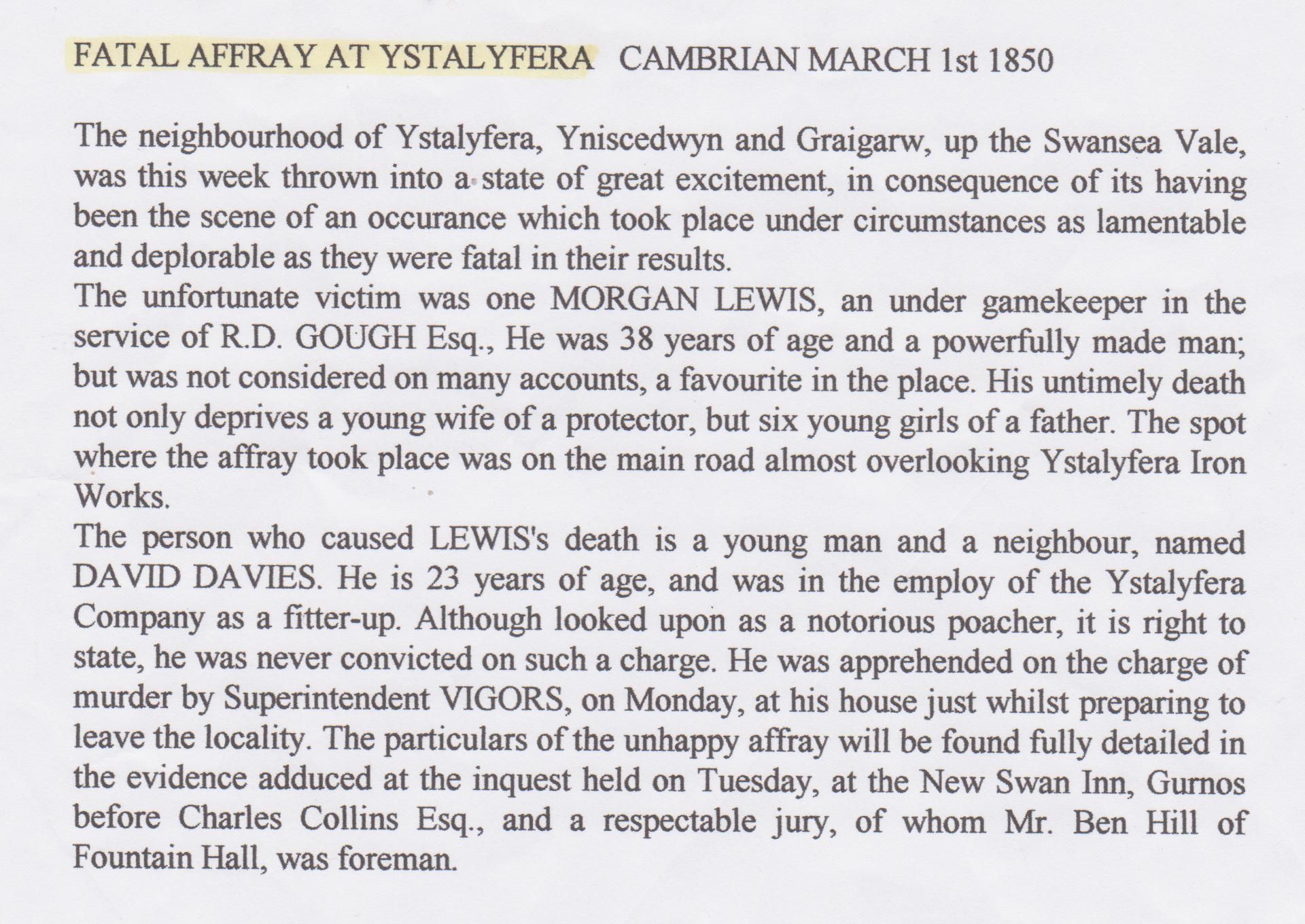 Morgan Lewis
Interred with Morgan are his wife Rachel (died July 7th 1866, aged 55 years) and two of his children, David (died March 17th 1842, aged 15 months) and Margaret (died September 22nd 1848, aged 9 months).
The earliest census returns for Ystalyfera (1841) [2] show that sixteen people, ten of whom had the surname Lewis, resided at a dwelling, then known as "The Horse and Groom" which we believe was situated somewhere along the stretch of road extending from the area formerly called Graigarw (now known as Pantteg) to the bottom of Mount Pleasant (now known as Tyle Mount or Mount Hill) where Church Road begins but to date, evidence for its exact location has not been forthcoming. The census shows that at that time, Morgan Lewis had four children: Elizabeth (6 years), Elinor (4 years), Jane (2 years) and David (1 year) and it is safe to assume that it is the same David who now lies next to his parents, having died at 15 months in 1942. Since Margaret passed away at 9 months on September 22nd 1848, her name does not appear on either the 1841 nor the 1851 census forms. Similarly, Morgan died in 1850, and, as one would expect, there is no mention of him in the 1851census nor is there anything about him in the records of Pantteg Chapel which are post 1899, consequently, other clues had to be sought.
The next breakthrough was provided by the fact that Morgan had been killed at the hand of David Davies. Was this tragedy newsworthy? The largest independent newspaper in Glamorgan, Y Llais Llafur, was not established until 1898, long after the event but there was a much older newspaper, The Cambrian, which was established in 1804 and was the first weekly newspaper to cover Welsh events. Fortunately, runs of The Cambrian still exist and even more fortunately, these are available locally to the public. [3] The aim of The Cambrian was to foster the commercial growth of Swansea but it also reported news from all parts of the country. The incident at Pantteg had indeed warranted coverage. A lengthy article headlined "FATAL AFFRAY at YSTALYFERA" appears on page three of the Friday March 1st 1850 edition.
---
It would appear that for some time prior to the incident there had been an ongoing dispute between Lewis, an under gamekeeper on the Gough Estate and Davies who worked for the Ystalyfera Company as a "fitter up" but who was also a renowned poacher, and anecdotal evidence suggests that an element of blackmail may have been involved. This eventually resulted in the death of Lewis.
The article in The Cambrian reports a seemingly chance encounter between Lewis and Davies at about 6pm on the evening of Friday February 22nd, on the road by the Wern Fawr Public House, where Lewis was first reported to have given Davies a beating. Despite this, Davies had accompanied Lewis for part of his homeward journey in the direction of Pantteg. They eventually parted company and Lewis called at the sign of the Miners Arms where John Williams lived. When Lewis's wife was warned that Davies was seeking to kill him, she went to the Miners Arms to fetch Lewis home. Unfortunately, on their way, they met Davies. We are told that this meeting occurred opposite the gardens of Mount Pleasant which we assume to have been somewhere along Tyle Mount, especially since, when challenged by Lewis, John and Jenkin, the brothers of Davies, who were also present, are said to have run up the Graig.
---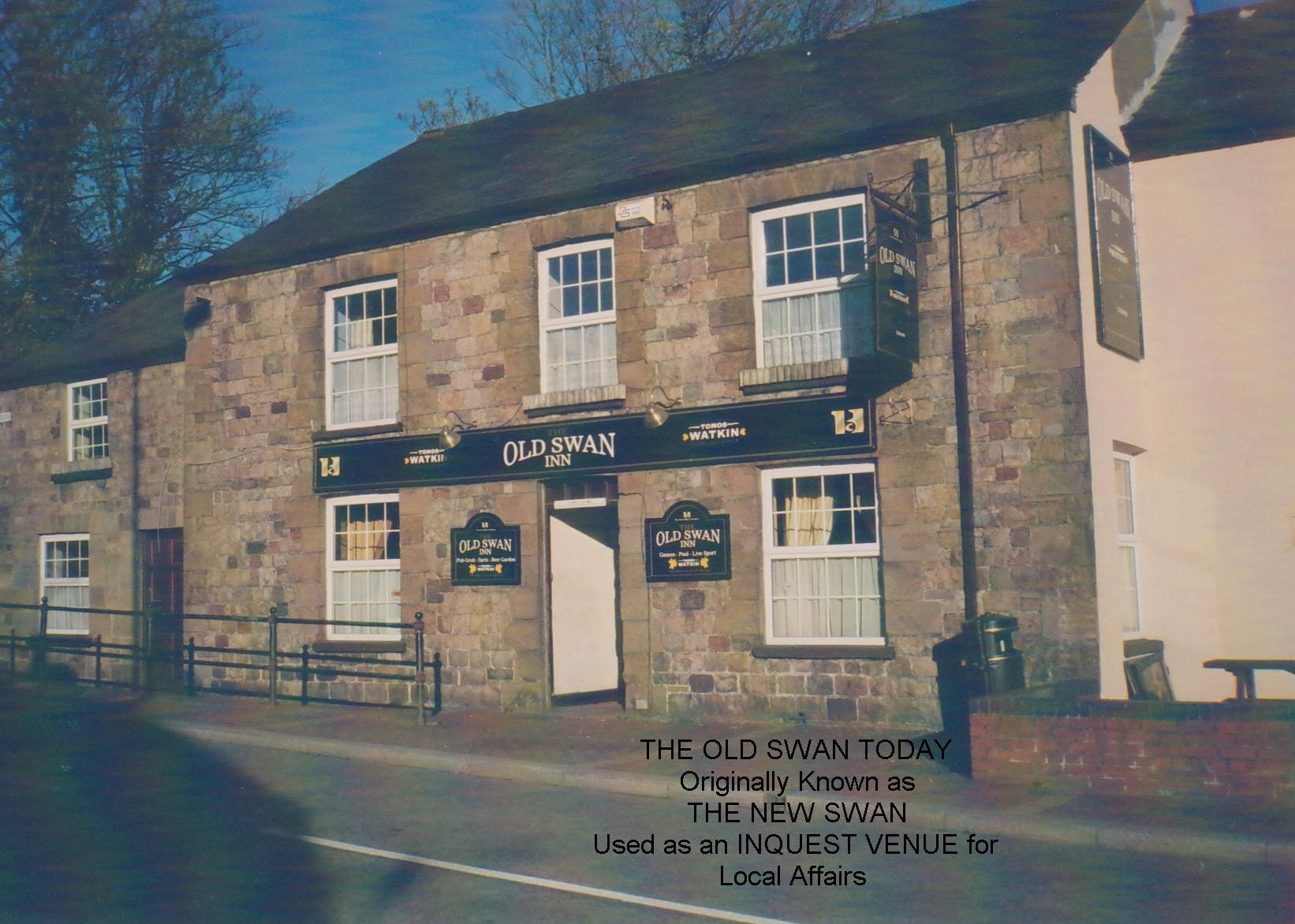 Although it is possible that this may refer to present day Graig y Merched, it is more likely that it refers to Pen y Graig, adjacent to Tyle Mount. We are told that Davies had concealed a stone upon his person and this he threw at Lewis. It struck him forcibly on the forehead near the left eye but, although he was bleeding "like a pig", he managed to stagger back to his feet boasting that despite Davies' best effort, he still lived. Davies threw a second stone at Rachel but luckily this missed its target. Lewis' friends took him back to the Miners Arms. John Williams was sent to fetch Mr. William Price, the surgeon, but he refused to come as he was too ill to attend the patient that evening.
The following morning, however, Price visited Lewis at home and, although there was a cut to the forehead and this "extended in depth to the bone", Dr. Price was satisfied with the patient's condition. He dressed the wound and even the following day, he was satisfied with Lewis' progress. Unfortunately, by midnight on Sunday, Lewis was unconscious and Price testified that he considered his patient to be "in a dangerous state". Lewis eventually died on Monday evening at about 3 o'clock.
The editor of The Cambrian at that time saw fit to record the actual inquest held on Friday 26th, thereby providing us with an insight into the proceedings relating to the affair. The report begins with a profile of the unfortunate victim and a description of the one who had caused his death. This is followed by a very precise account of the inquest held on Tuesday, at the New Swan Inn (the present Old Swan) [4] Gurnos before Charles Collins Esq., and a respectable jury, for which Mr. Ben Hill of Fountain Hall was foreman. [5]
Sifting through the account of the sworn evidence given by each individual enabled us to identify all those associated with the tragedy, from the first sighting of a struggle near the Wern Fawr Public House [6] to the conclusion of the inquiry "which lasted until past 11 at night." These individuals included Mr. William Price, the surgeon who visited Morgan Lewis at home and eventually carried out the post mortem, Superintendent Vigors, the policeman who apprehended the prisoner and to whom Rachel handed the stone to be used as evidence, local colliers, publicans and brothers of the accused, all of whom appear on the census forms and provide us with an overall picture of life in Ystalyfera during the mid 1800s.
---
A visit to the Neath Reference Library revealed that the 1850 Spring Assizes were held in Swansea.[7] A notice dated February 11th and written from Hensol Castle by Rowland Fothergill Esquire, High Sheriff, was printed in The Cambrian on Friday February 15th 1850 instructing "all Justices of the Peace, Mayors, Coroners and Bailiffs of Liberties, within said county, and all Jurors, Persons bound by recognizance's, Witnesses and others having business there" to attend the meetings arranged for Saturday March 2nd when the town of Swansea would be welcoming the Learned Judge. That week's calendar and the list of gentlemen who were to sit on the Grand Jury make for impressive reading. [8]
A list of prisoners to be brought before the court follows, David Davies is listed under the section "Manslaughter and Assault at Ynyscedwin and the article reports that "David Davies was charged with having feloniously killed and slayed one Morgan Lewis or otherwise, Morgan David Lewis, late of the Parish of Llanguicke"... Mr. Allen defended the prisoner in a moving address, - "Verdict Guilty, with a recommendation to mercy".[9]
This verdict is most puzzling. What could Mr. Thomas Allen have possibly said whilst defending the prisoner to bring in such a verdict? Murder was an offence punishable by hanging or at the very least, deportation, so why did Allen request a recommendation for mercy? Whatever the reason, Davies was sentenced to three months hard labour instead. Neither a search of The Cambrian nor of the Record Office at County Hall has been able to provide a satisfactory answer. That Davies appeared before the Spring Assizes of 1850, was indeed convicted of manslaughter and served three months hard labour at Swansea, the sentence expiring on June 1st 1850, has since been confirmed by Michael Wilcox of the Glamorgan Record Office, Cardiff. Unfortunately the National Archives, Kew, were not able to provide YEARGROUP with a copy of Thomas Allen's speech even though we had provided them with the appropriate reference numbers and dates. However, they did send a copy of the entry for David Davies and this contained one surprise. It bears the phase "Transported for 7 years".
So although Davies had served three months hard labour at the House of Correction, the old part of the present Swansea Prison, he can not be traced on the Ystalyfera census after 1851. Eventually, using the information on the gravestone, we managed to trace living members of Morgan Lewis's family and we were granted an interview by a very kind, elderly gentleman. He told me that he has some recollection of a family conversation relating to the incident but since then, the matter was never discussed. He informed me that during that conversation, it was said that David Davies should have been transported but before it could be arranged, he had died of "galloping consumption".
Whatever the reason for withholding the death penalty, examination of the gravestone reveals that the family of Morgan Lewis never doubted that Davies should have been convicted of murder. Firstly, the inscription clearly states that Lewis had died at the hand of David Davies and this is emphasized by a pair of accusing fingers engraved on the gravestone on either side of and pointing at his name. Also, upon the grave is an unusual, rounded, faceted, carved stone, said to signify that thrown by Davies at Lewis, a stone, which, even in living memory, is said to have been regularly painted red. Finally, the inscription on the grave exhorts the local residents to always remember the needless tragedy that occurred in the small community of Graigarw _ a tragedy which even now, almost a hundred and sixty five years later, they have not been allowed to forget.
---
Footnotes
YEARGROUP can be contacted on Yeargroup@hotmail.co.uk
Census names of Ystalyfera. Indexed by Ystradgynlais Family History Society
Available for inspection at Swansea Museum by prior appointment. Also available on microfiche at Swansea Reference Library.
The Cambrian. March 1st 1858 Page
Fountain Hall once stood near the Swansea Canal behind Godre'rgraig Working Mans Club.
Wern Fawr still stands today on Wern Road, formerly called Clare Street Ystalyfera
The Cambrian March 8th 1850 Page 3.
Grand Jury List: The Cambrian March 8th 1850 Page 3.
The Cambrian March 8th 1850 Page 4.