Storm Damage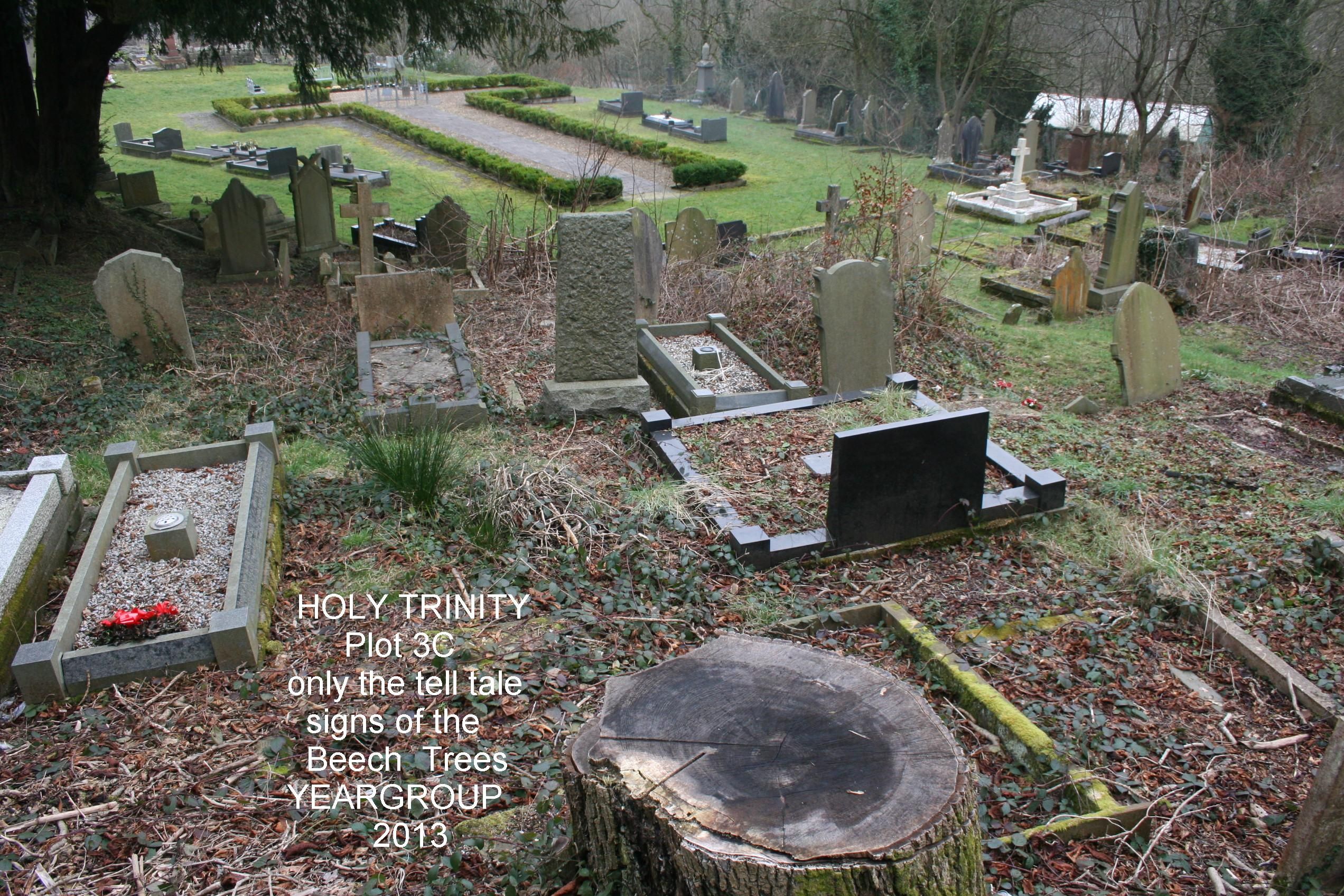 When I first launched YEARGROUP (Ystalyfera Electronic Archive Research) a decade ago, two projects were on top of the agenda: to document the local cemeteries ie Pantteg, Holy Trinity and Alltygrug and the other, to collect and record the Fallen of the Tawe Valley. Both of these tasks are very dear to my heart and both are still a work in progress with information from many sources, not in the least from the general public, being added to the files on a daily basis.
For example, I noticed an article the other day on the internet which was headed TELEGRAPH REPORTS Trees suffer worst damage since 1989 storms.
WHAT 1989 storms. I can not really recall the storms although I suppose where we live we probably had a few things flying around the garden that week. The article reported that "trees, many of them hundreds of years old, on country estates are the worst affected because of their size, but popular evergreens like Wellingtonia and cedars in ordinary gardens have also been brought down. The hardest hit area is in the South West where hundreds of trees have been toppled, with one estate reporting the worst damage since the gales of 1989 and 1991."
---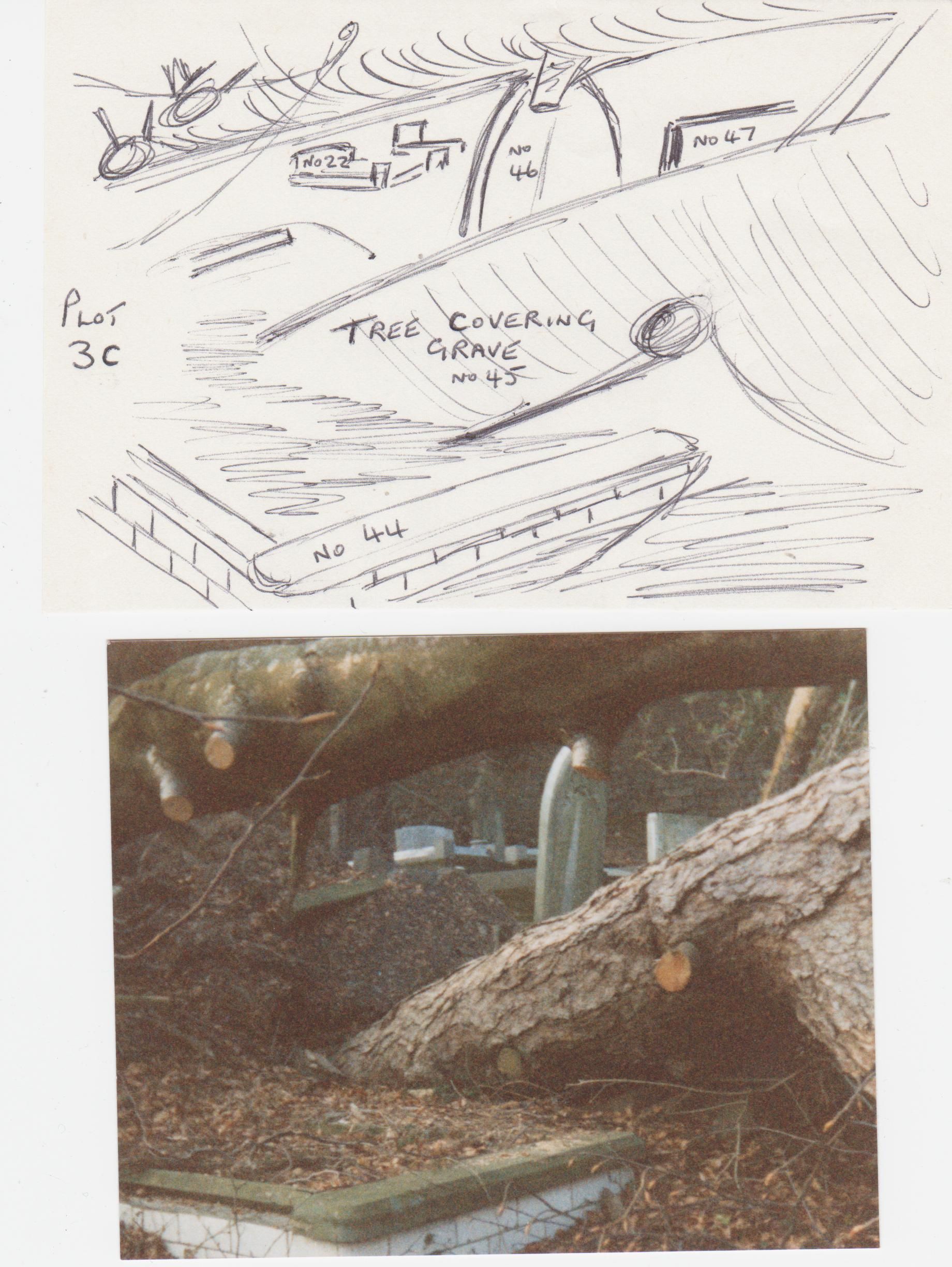 Oh that storm! Holy Trinity Cemetery Godre'rgraig was affected and a friend had given me a couple of photographs, that for some reason I had filed away. When I began to organize the plots in this cemetery in 2003, I looked out those photographs and realized just what had happened when the beech trees up in the top corner of Plot 3C had been brought down in the storm. Headstones inevitably had been smashed but those were huge trees and unfortunately when trees of that weight crash to the ground every thing in their path gets crushed. Large holes where the trunks had bore into the ground made the whole area unsafe and grave were actually buried beneath tons of timber. As I did not own a camera back then, I decided to sketch the result of Mother Nature's mighty hand.

I do recall one grave in particular had virtually disappeared into the ground at a very odd angle and I suppose at the time, in the interests of safety, I did not give it a second thought and once again filed away the photographs along with my sketches.
In 2006 armed with a camera, I photographed the section in Holy Trinity that I had named Plot 3C. Many of the graves where completely overgrown and it was extremely difficult to decide whether or not there had actually been a burial in any given section of ground when no headstone/marker was present. I did take a shot of this odd angled grave but again due to a mass of brambles it still remained on my unknown list.
---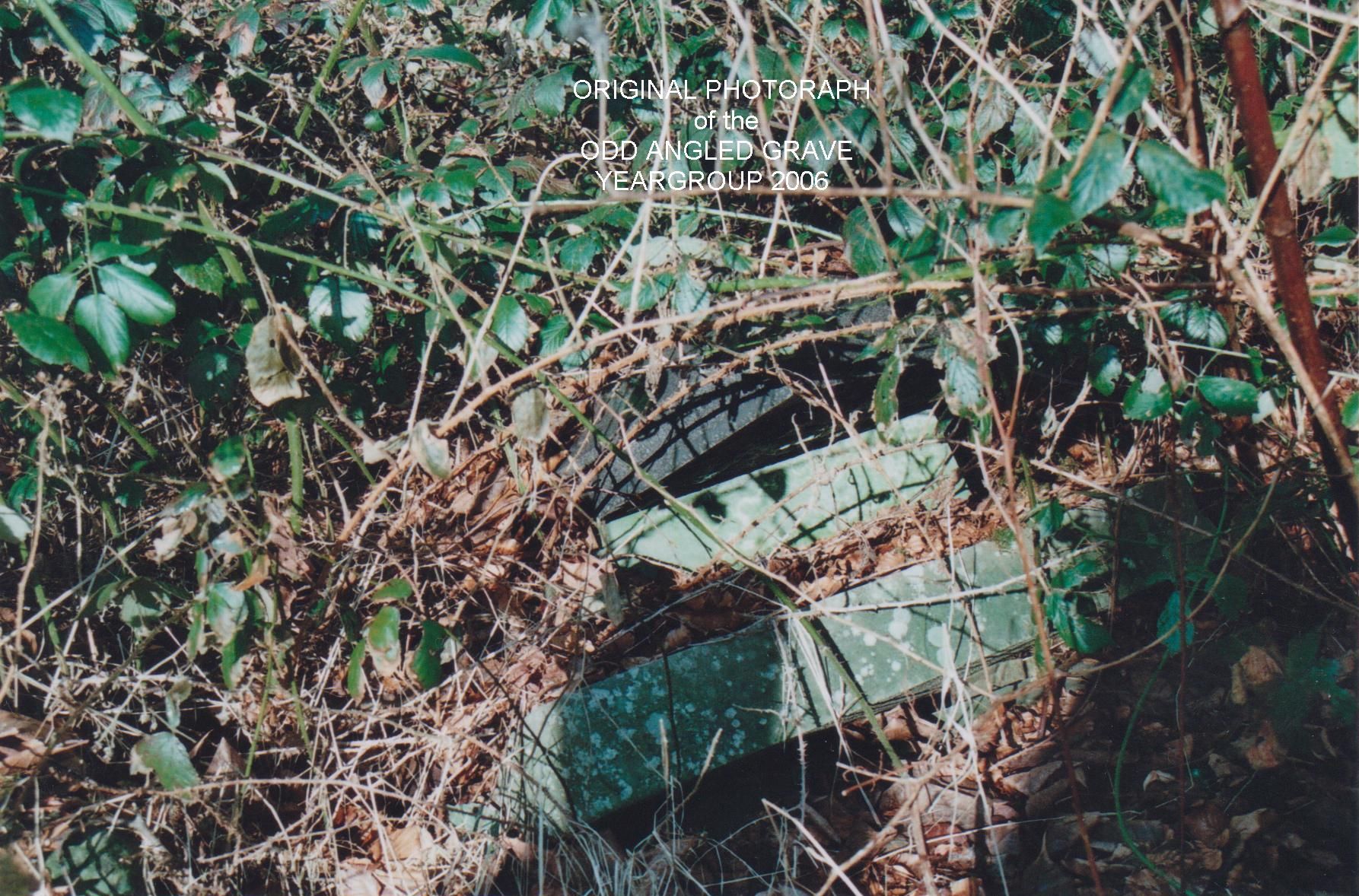 Only last week, in 2013, I had a reason to revisit Plot 3C to check out another grave. I had received an email from someone looking for a grave site of a family member who had been buried in Holy Trinity. My records indicated that this grave was in fact quite close to "my odd angled grave". My Cemetery Kit has grown out of necessity over the years and now includes leather gloves, trowel, scrubbing brush but most importantly cutters. Satisfied that this was the site I had identified I was about to leave when I realized that Spring had not really taken hold and those menacing strands of brambles were actually last years growth and even more importantly I could see the tombstone, albeit still lying in its dangerous angle. Perhaps this was my last chance and so I began clearing the site.
---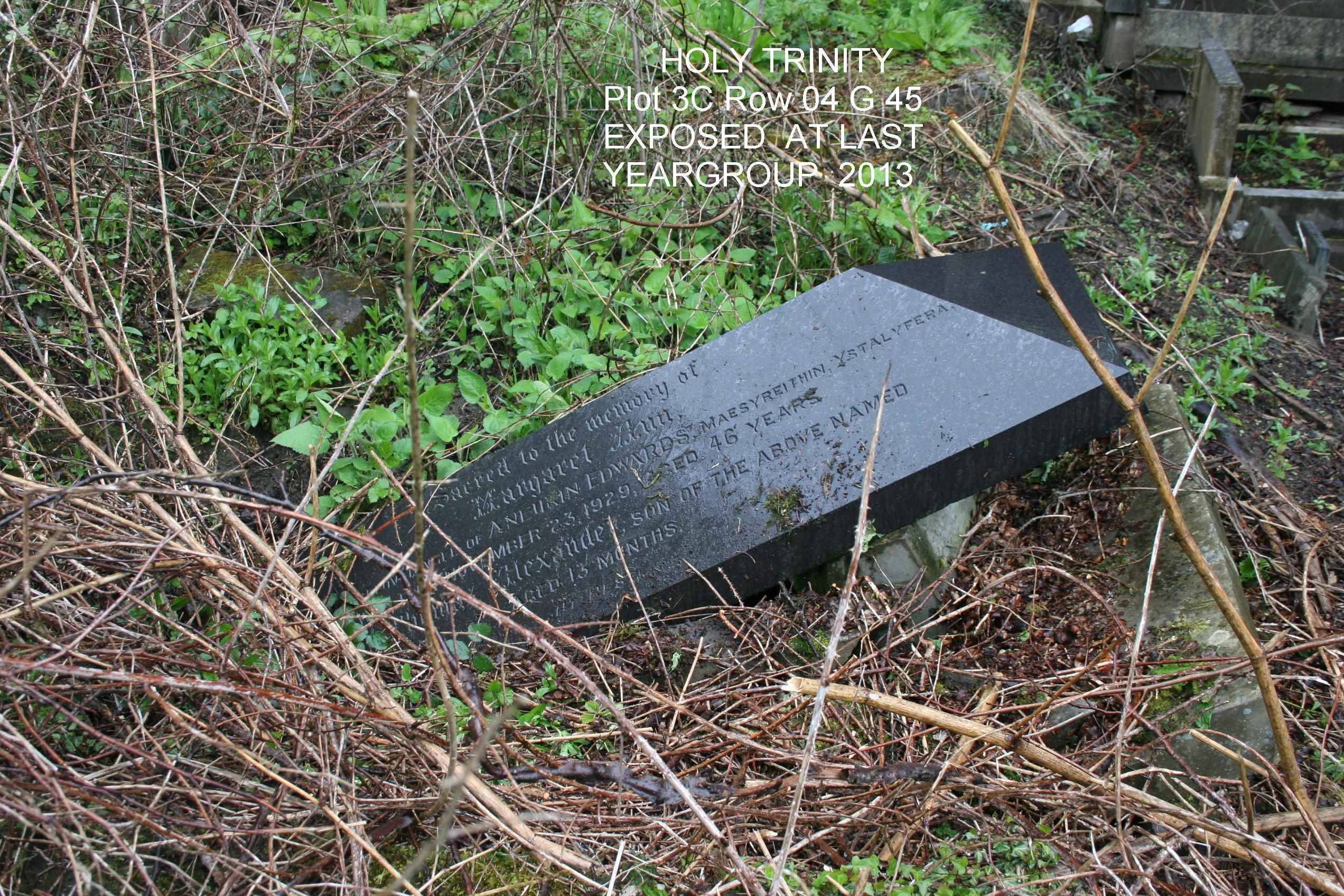 Back home I entered the inscription into my data base and sat for a while in amazement. After spending quiet a few years documenting local cemeteries I am quite aware I am able to walk through the graves and hear myself greeting many of the inhabitants as I recognize their graves. Thank goodness only the robins hear me and perhaps the odd sheep, but going mad or not I am definitely sure that some unknown force goes out of its way to get me to visit and revisit a particular spot until I take a proper look. This time the inscription had at last been recorded and when, that night, I began researching the family occupants (mother, father and son) I uncovered the other son recorded on the 1911 Census forms, one David Kenneth Vincent EDWARDS. He had not died at an early age like his brother but had gone on to attend the Ystalyfera County School and then to join the Royal Air Force. He became a Leading Aircraftman and was assigned to the Base Signal Radar Unit. Records listed his next of kin as his wife Valerie Elizabeth and I believe he had a daughter when he was killed in 1944. His last resting place was in Belgium and my file would have been complete but for a separate piece of research which had been undertaken by Mr. Andy Ingham.
Andy specializes in RAF issues and kindly sent me a few months earlier, details of the fates of several local airmen including David K. V. Edwards. David was serving with BSRU (Base Signal Radar Unit) and was killed whilst on board LST-420 which was sunk by a mine in the Schelde Estuary. "LST-420 left Dover on 7th November with a party of airmen, trucks and supplies for RAF personnel in Belgium. It was unable to enter the Port of Ostend when it hit a mine, split in two and sank.
Fourteen officers and 224 other ranks were lost. Only 31 were saved. It was the greatest loss of lives on a British landing craft during the war."
---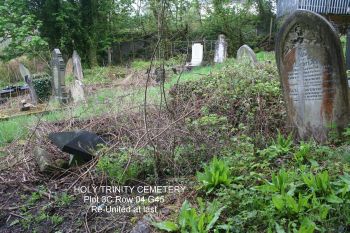 IT IS THE ROLE, THE PRIVILEGE AND THE DUTY OF THE HISTORIAN TO DRAW ASIDE THE VEIL WHICH OBSCURES THE PAST AND TO SHOW US THE PICTURE AS TO HOW OUR ANCESTORS WORKED AND LIVED AND LOVED IN THEIR OWN DAY AND UNDER WHAT CONDITIONS THEIR LIVES WERE SPENT.
In David's case however, it had taken a Storm, a lot of persuasion and dedicated research to re-unite a WWII airman with his mother father and little brother.
May they all rest in Peace Perfect Peace.