History and Heritage
Ystalyfera and District
Ystalyfera History & Heritage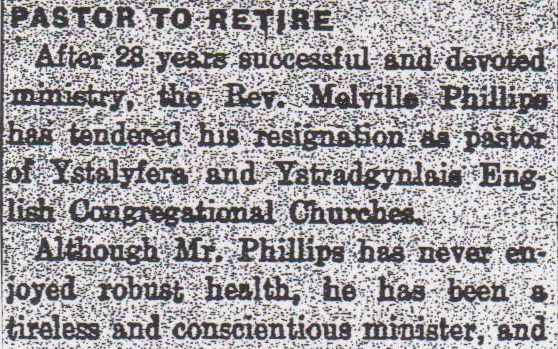 Retirement of Pastor Melville Phillips, 1952
From the South Wales Voice, 16th February 1952 came the story of Pastor Melville Phillips' retirement, after many years serving both Ystalyfera and Ystradgynlais English Congregational Churches:-
PASTOR TO RETIRE
After 28 years successful and devoted ministry, the Rev. Melville Phillips has tendered his resignation as pastor of Ystalyfera and Ystradgynlais English Congregational Churches.

Although Mr Phillips has never enjoyed robust health, he has been a tireless and conscientious minister, and is held in very high regard throughout the area. His kindly personality, dry wit and courteous manner have made him a welcome visitor in countless homes, and his loyalty and assiduos care for the members of his churches found their reward in the affectionate friendship of the members. He appealed very much too, to the younger generation and by his sincerity and understanding of their problems he has won their friendship and esteem.

Mr. Phillips has a pleasing pulpit manner, and his forthright and personal approach to his subject, no less than the fact that he has never been known to consult notes, have made him a popular preacher.

He has been greatly helped in his task by his wife, who is equally popular with the chapel members and others in the locality, and since failing health made it impossible for Mr. Phillips to cover the large area which comes under his charge, Mrs Phillips has given even greater support than formerly.

Mr. and Mrs. Phillips will not be leaving the district and it is hoped that Mr. Phillips will benefit from his rest and enjoy many years of happy retirement.