History and Heritage
Ystalyfera and District
Ystalyfera History & Heritage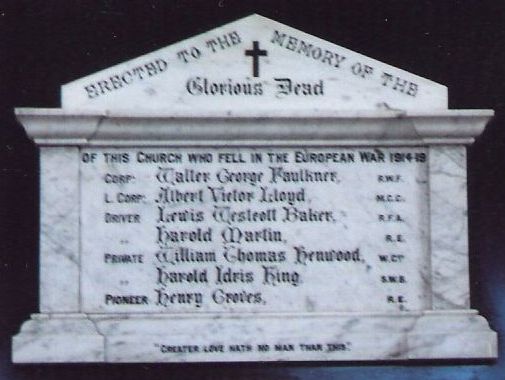 The Fallen of the English Congregational Church
Walter George Faulkner
Albert Victor Lloyd
Lewis Westcott Baker
Harold Martin
William Thomas Henwood
Harold Idris King
Henry Groves
The Fallen of the English Congregational Church
Mr John Bell was a Railway Inspector for the Midland Railway Co and worked in the Gurnos Yard. A native of Yorkshire then stationed at Brecon and Swansea he finally took up residence at Alltygrug Ystalyfera. A staunch Nonconformist he was treasurer of the English Congregational Church Ystalyfera, for 28 years. A keen student, Robert Burns was his favourite poet and as a result of his research the baptismal entry in the Parish Registers at Tenby of Mary Davies, 'Bonnie Wee Thing,' of Burns' poem was discovered.
For several years Mr Bell contributed regularly to the 'Llais' in the 'Sketches from the Cwm', Gwen and Noah series, portraying the simple home life of many older inhabitants and friends. He also contributed to several other papers, particularly the 'Darlington and Stockton Times,' tales of his early experiences in Swaledale.
Mr and Mrs Bell celebrated their Golden Wedding in May 1947.
In 2015, his Grandson contacted YEARGroup and very kindly sent a copy of some notes, which John Bell had written in 1935, on the English Congregational Church. It is presumed that these notes were possibly used as a basis for a talk on the history of the Church.
At the end of the notes John Bell included a paragraph on the War Memorial which gave the names of the Men from his Church who made the supreme sacrifice.
"It is felt that a record of the young men connected with the above church who joined His Majesty's forces and lost their lives during the Great War 1914 – 1918 would be of interest in the future and a slight recognition of the supreme sacrifice they made for others. Their names are as follows:
Walter George FAULKNER, Corporal, RWF was the son of Mr and Mrs George Faulkner of Midland Cottages Gurnos. Mr Faulkner senior has been for many years one of the deacons of this church.
Albert Victor LLOYD, Lance Corporal, M G Corps, was a native of Frome Somerset and not much is known of his early life. He lost one or both parents when very young and was for a time in Muller's Orphan Homes in Bristol. He came to Ystalyfera as a member of the staff in the "Llais Llafur" office. He enlisted November 1915. Killed in action in France 20 September 1917, age 21.
Lewis Westcott BAKER, Driver, RFA, was the son of the late Mr and Mrs Joseph Baker, the Pavement Hay. He came into this district as a youth in the service of the Midland Railway Company at Gurnos. He afterwards joined the staff of the Diamond Colliery Company and from there he enlisted shortly after the outbreak of war. Killed in Belgium 18 June 1917 and is buried at Railway Dug Out Cemetery Ypres, age 22.
Harold MARTIN, Driver, RE, was a son of Mr and Mrs John Martin of Lower Cwmtwrch. Mr Martin senior was for some years a deacon of this church.
William Thomas HENWOOD, Private, 1st Welsh Guards, was the son of Mr and Mrs William Henwood, Clare Road Ystalyfera. He enlisted shortly after the outbreak of war and was killed in action at the battle of Loos, 27 September 1915.
Harold Idris KING, Private, SWB, was the son of Mr and Mrs T King Lower Cwmtwrch – old members of this church. He enlisted in September 1914, served in Aden, India and Mesopotamia. Died of wounds 19 February 1917 and is buried at Kut el Amarah (now in Iraq, age 21.
Harry GROVES, Pioneer, RE a native of Evesham Worcestershire. He came to the district as a platelayer on the Midland Railway and afterwards worked at Blaen Cwm Colliery.
Presented with Kind Permission by Mr G BELL Grandson of Mr John Bell
---
The fallen of the English Congregational Church at Ystradgynlais Wargraves.