History of Ystalyfera County School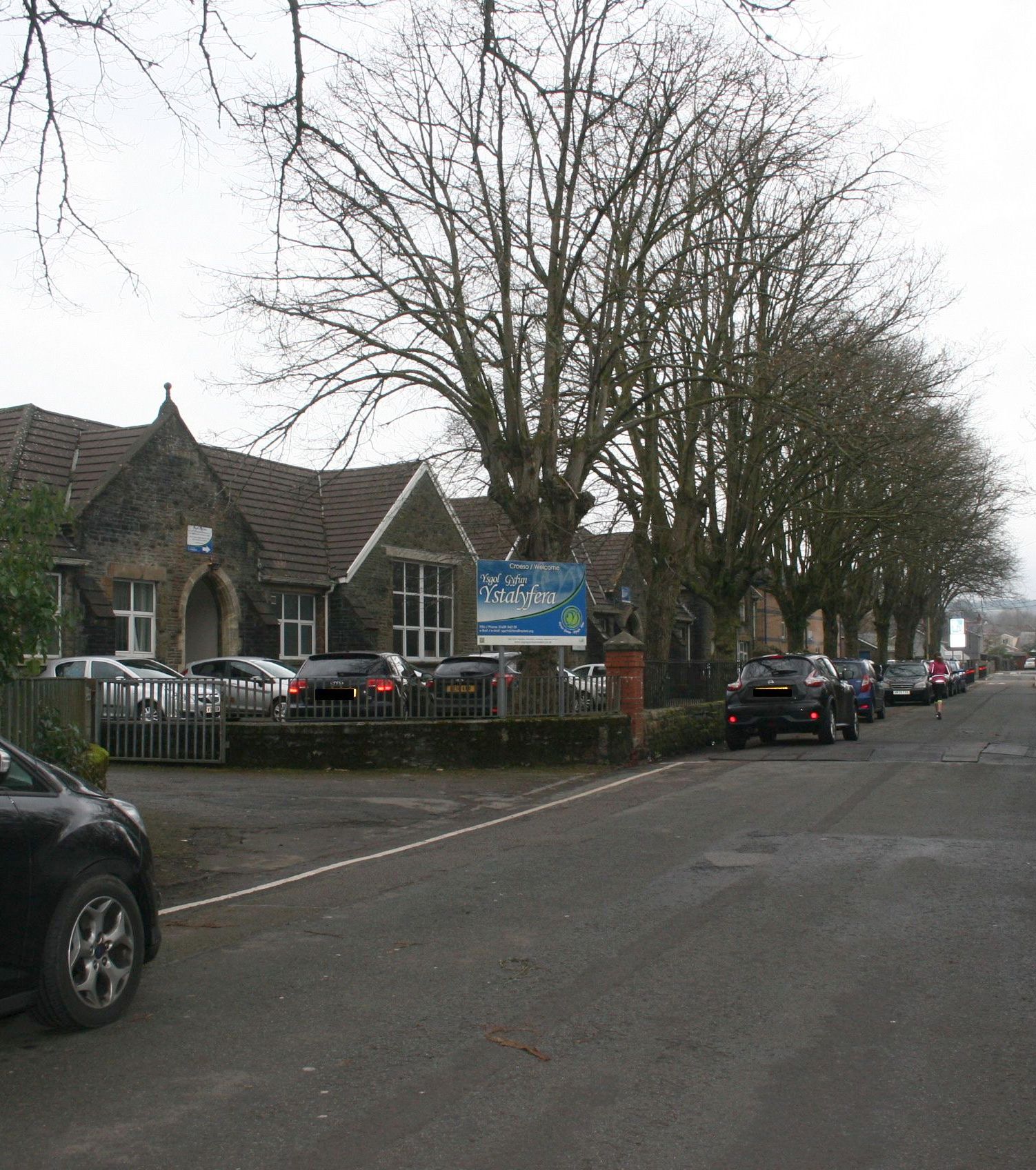 YSTALYFERA COUNTY SCHOOL
Now YSGOL GYFUN

Public subscriptions towards the Ystalyfera School Building Fund were first received in 1891 and when the Glamorgan Scheme received the Royal Assent in May 1896, the school was almost ready to be opened. During July, August and September governors meetings were held in the new school, which was officially opened on 20th October 1896.
Read More - History of Ystalyfera County School
---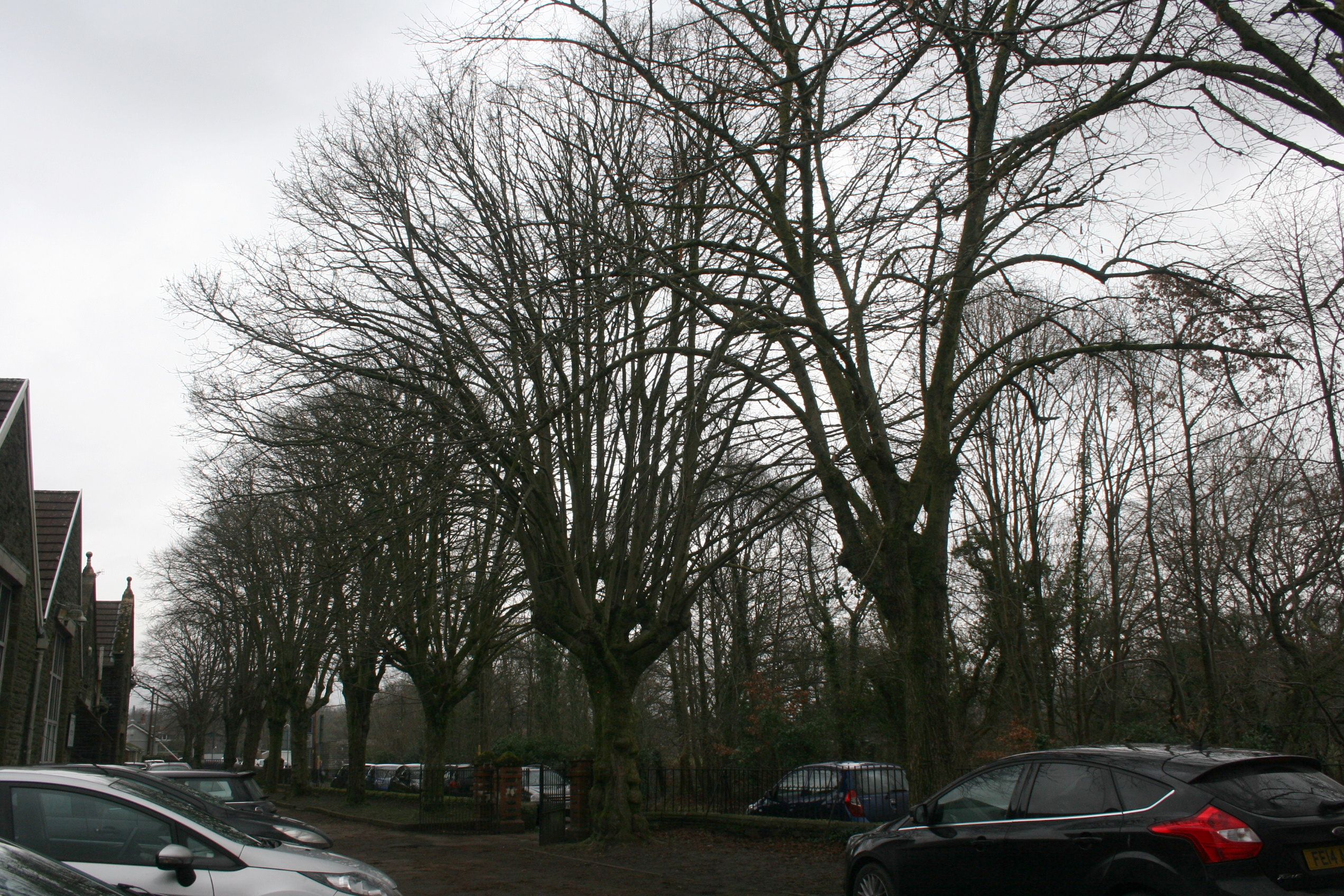 In the photograph in the book Stepping Stones, by Bernant Hughes (reproduced top right), the main building of the Ystalyfera County School shows a row of trees. This photograph I took in January 2017 still depicts the trees along the front of the building but I am almost too afraid to ask if they will still be there at the end of this year. If I could be granted a wish, I think I would like a way to be able to listen to what Mother Nature especially her trees, records of the history as it unfolds beneath their branches.
---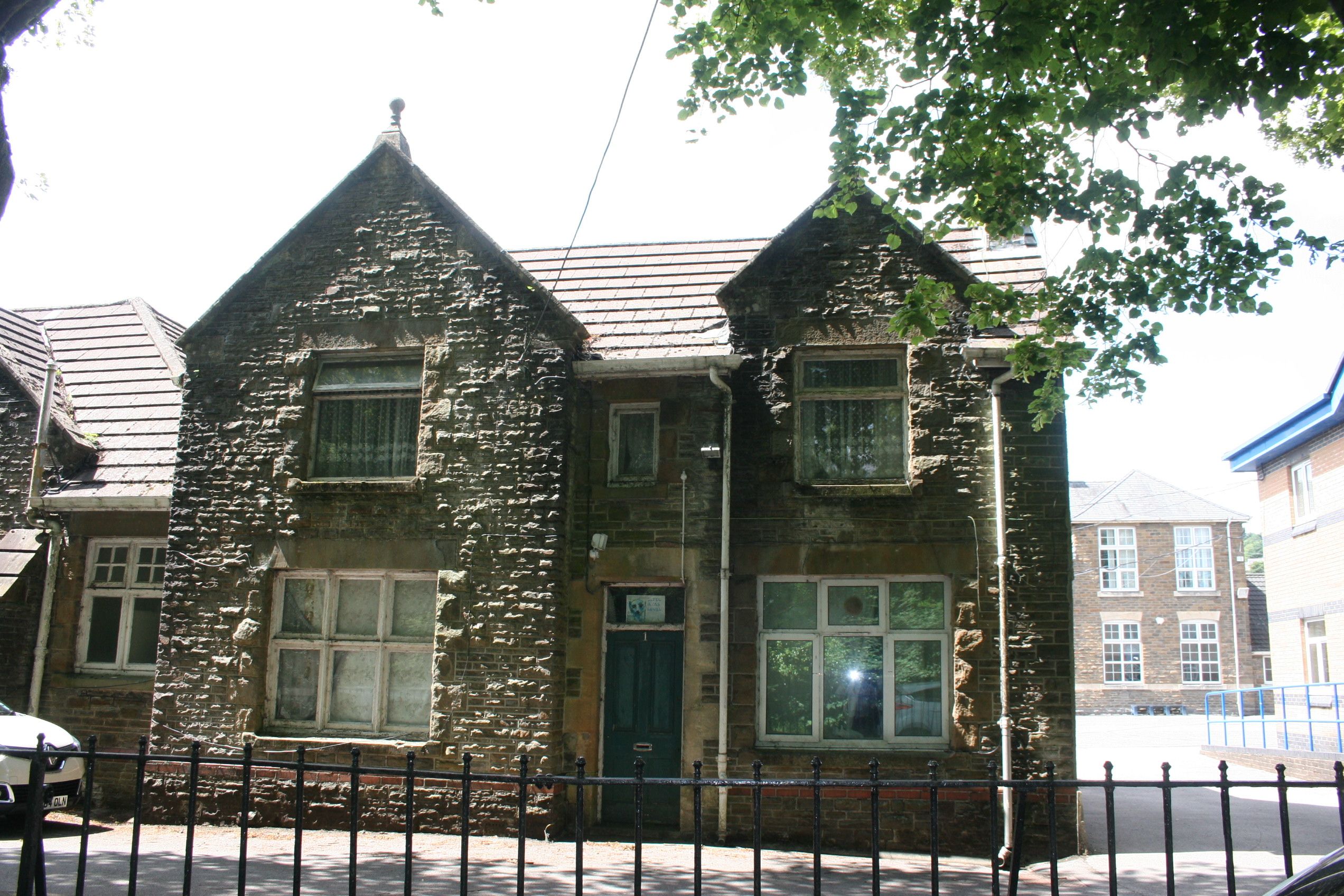 CARETAKER
The caretaker's house was built on the end of the building. The front of the building also housed the main entrance and an entrance for the staff. The earliest reference I could find was an advert for the post of Caretaker which according to the letter published a week later caused someone to feel very disgruntled. The successful candidate was to have free coal and there is a chimney still on the building and the lean-to at the back may have been where the coal was stored. I am told these building are soon to be demolished to make way for a new junior school but standing in front of this house/home I cannot but feel sad to think of one more piece of history is to be rendered to the archives in the name of progress. Read More - The Caretaker

---
XXX XX X X XXXXXXXXXXXXXXXX XXX X XXXXXXXXX XXX X X XX XXX XXX XX X X XXXXXXXXXX XXX X XXXXXXXXX XXX XX XXXXXXXXXX X X XXX XX X X XXXXXXXXXXXXXXXX XXX X XXXXXXXXX XXX XX XXXXXXXXXX X XXX XX X X XXXXXXXXXXXXXXXX XXX X XXXXXXXXX XXX XX XXXXXXXXXX X X XX XXX XXX XX X X XXXXXXXXXXXXXXXX XXX X XXXXXXXXX XXX XX XXXXXXXXXX X X XX XXX XXX XX X X XXXXXXXXXXXXXXXX XXX X XXXXXXXXX XXX XX XXXXXXXXXX X X XX XXX XXX XX X X XXXXXXXXXXXXXXXX
---
XXX XX X X XXXXXXXXXXXXXXXX XXX X XXXXXXXXX XXX XX XXXXXXXXXX X X XX XXX XXX XX X X XXXXXXXXXXXXXXXX XXX X XXXXXXXXX XXX XX XXXXXXXXXX X X XXX XX X X XXXXXXXXXXXXXXXX XXX X XXXXXXXXX XXX XX XXXXXXXXXX X XXX XX X X XXXXXXXXXXXXXXXX XXX X XXXXXXXXX XXX XX XXXXXXXXXX X X XX XXX XXX XX X X XXXXXXXXXXXXXXXX XXX X XXXXXXXXX XXX XX XXXXXXXXXX X X XX XXX XXX XX X X XXXXXXXXXXXXXXXX XXX X XXXXXXXXX XXX XX XXXXXXXXXX X X XX XXX XXX XX X X XXXXXXXXXXXXXXXX
---
XXX XX X X XXXXXXXXXXXXXXXX XXX X XXXXXXXXX XXX XX XXXXXXXXXX X X XX XXX XXX XX X X XXXXXXXXXXXXXXXX XXX X XXXXXXXXX XXX XX XXXXXXXXXX X X XXX XX X X XXXXXXXXXXXXXXXX XXX X XXXXXXXXX XXX XX XXXXXXXXXX X XXX XX X X XXXXXXXXXXXXXXXX XXX X XXXXXXXXX XXX XX XXXXXXXXXX X X XX XXX XXX XX X X XXXXXXXXXXXXXXXX XXX X XXXXXXXXX XXX XX XXXXXXXXXX X X XX XXX XXX XX X X XXXXXXXXXXXXXXXX XXX X XXXXXXXXX XXX XX XXXXXXXXXX X X XX XXX XXX XX X X XXXXXXXXXXXXXXXX
---
XXX XX X X XXXXXXXXXXXXXXXX XXX X XXXXXXXXX XXX XX XXXXXXXXXX X X XX XXX XXX XX X X XXXXXXXXXXXXXXXX XXX X XXXXXXXXX XXX XX XXXXXXXXXX X X XXX XX X X XXXXXXXXXXXXXXXX XXX X XXXXXXXXX XXX XX XXXXXXXXXX X XXX XX X X XXXXXXXXXXXXXXXX XXX X XXXXXXXXX XXX XX XXXXXXXXXX X X XX XXX XXX XX X X XXXXXXXXXXXXXXXX XXX X XXXXXXXXX XXX XX XXXXXXXXXX X X XX XXX XXX XX X X XXXXXXXXXXXXXXXX XXX X XXXXXXXXX XXX XX XXXXXXXXXX X X XX XXX XXX XX X X XXXXXXXXXXXXXXXX
---

VAL TREVALLION
2017