Arthur Blount Sully
YSTALYFERA COUNTY SCHOOL
The first Headmaster of Ystalyfera County School was Arthur Blount Sully who took up the post at the opening of the school in 1896 and left in 1913.
ARTHUR BLOUNT SULLY MA

Intermediate School, Ystalyfera:
Established under the Welsh Education Act, 1889, for 180 boys & girls; average attendance, 176; erected in 1895, at a cost of over £3,000, from the plans of Messrs Buckley, Wilson & Moxham, of Swansea. A chemical laboratory & additional accommodation added in 1903.
Arthur Blount Sully MA Oxon., BA London head master
Miss E M Webb B.A. chief assistant mistress
Miss Winifred Lewis, Miss A A Thomson & Miss D Lewis, junior mistresses
John Morgan BSc London, Charles M Barnes BSc London, Griffith Jones BSc Wales, Owen G Jones BA Wales, Henry Wade Evans & Benjamin T Jones BA Wales, assistant masters

His Headmastership began in 1896 and by 1899 the inhabitants of the district could read of his success.
Mr Arthur B Sully MA must be congratulated upon the progress which the Ystalyfera County School is making under his direction. The school, situated in the middle of three valleys, Swansea, Cwmtwrch and Ystrad, it caters for a large population and in a few years its total accommodation has almost been fully taken advantage of. It has already scored a few scholastic successes and when the intermediate and elementary systems are properly dovetailed into each other - a thing which is bound to come in a few years, or less the success will probably be increased.
Mr Arthur Blount Sully became the First President of the Old Pupils' Association.

YSTALYFERA COUNTY SCHOOL OLD PUPILS ASSOCIATION
The Ystalyfera County School Old Pupils' Association was founded on April 8th, 1905, and is thus completing its tenth year (1915). Its primary object was and is, to provide facilities for communications between past pupils of the school, and so keep green and fresh, those memories and friendships which are often the firmest and most steadfast that exist between one mortal and another. At Eastertide each year the Association arranges a re-union of the old pupils of the school, and in fact that these meetings are still attended by some of the first pupils is sufficient proof that the ties between the scholar and his or her Alma Mater are of the strongest. The Association is thus justified in its existence if only that it recalls and revives these memories and strengthens these ties. In many ways the old pupils have through their Association maintained their interest in the activities of the present pupils. Past v. Present cricket and football matches have been taking place practically every year since the foundation of the Association. The school magazine, when it existed, has been strongly supported by the old pupils, who have also -unostentatiously perhaps -evinced a keen interest in all the special functions of the school. Three of the schools' old pupils are on the present staff, and this in itself is of great benefit, for an old pupil is naturally stirred to greater efforts for the welfare of his Alma Mater than a stranger. It would be well nigh impossible to give a complete list of the scholastic and civic successes attained by past scholars. As the years roll on they accumulate, and it is essentially one of the duties of the Association to keep & record of these. The number of old pupils is large approximating to 1,000, and amongst these there are doubtless many whose success has not reached the notice of the Association.
The present war has made an insistent call upon the patriotism of all men, and it is pleasing to note that the response of Ystalyfera Old Boys has been prompt, and satisfactory. The Association has taken measures to secure a list of those who have responded to their country's call and so far as can be ascertained at present they number nearly forty.

Obviously as headmaster his task was to read the annual report when the School held its prize distribution evenings and on the school prize day held on the Wednesday evening of 29th June 1904 it is worth noting that:
The proceedings, presided over by Colonel Gough, Ynyscedwyn, opened with singing and speeches of welcome in French and Welsh by some of the pupils. The headmaster, Mr Arthur B Sully MA read his annual report. Among other things, he commented on the success of pupils at public examinations; 50 past scholars had become pupil teachers and 17 London matriculation successes had been obtained in three years, this constituting a record for Welsh county schools.

Mr Sully relinquished his post as headmaster in order to take chambers with the object of practising at the Bar.
Before he left Ystalyfera he was residing at Maesyffynon Milborough Road Ystalyfera

From the book 'The First Fifty Years' by Rees John Davies, M.A. comes this
Obituary of Arthur Blount Sully
Mr A.B. Sully died in London on 20th January 1946, at the age of 75 years. He was born in Bridgwater and educated at Taunton, Cardiff University College, and Oxford. At Oxford he studied under Owen M. Edwards, upon whose advice he took up the teaching profession, although he had intended to study for the Bar. After a period of service in the Intermediate School, Bala, he was appointed headmaster of Ystalyfera County School in 1896. Upon relinquishing this post he went to London, where he took chambers with the object of practising at the Bar. During the 1914-1918 war he was employed on Government work in the War Contracts Department. Subsequently, he returned to legal work and continued to reside in London.

His general activities were much curtailed by ill-health due to arthritis, and he left London to live in Clevedon during the second World War. He then went into a London hospital for treatment and an operation. He died there and was cremated at Golder's Green on 23rd January.

Mr Sully's mother was of Welsh descent, being the daughter of Mr J.B. Hopkins, of Cardiff, who was a great grandson of Lewis Hopkin, of Llantrisant, one of the renowned "Hopcyniaid" of Glamorgan.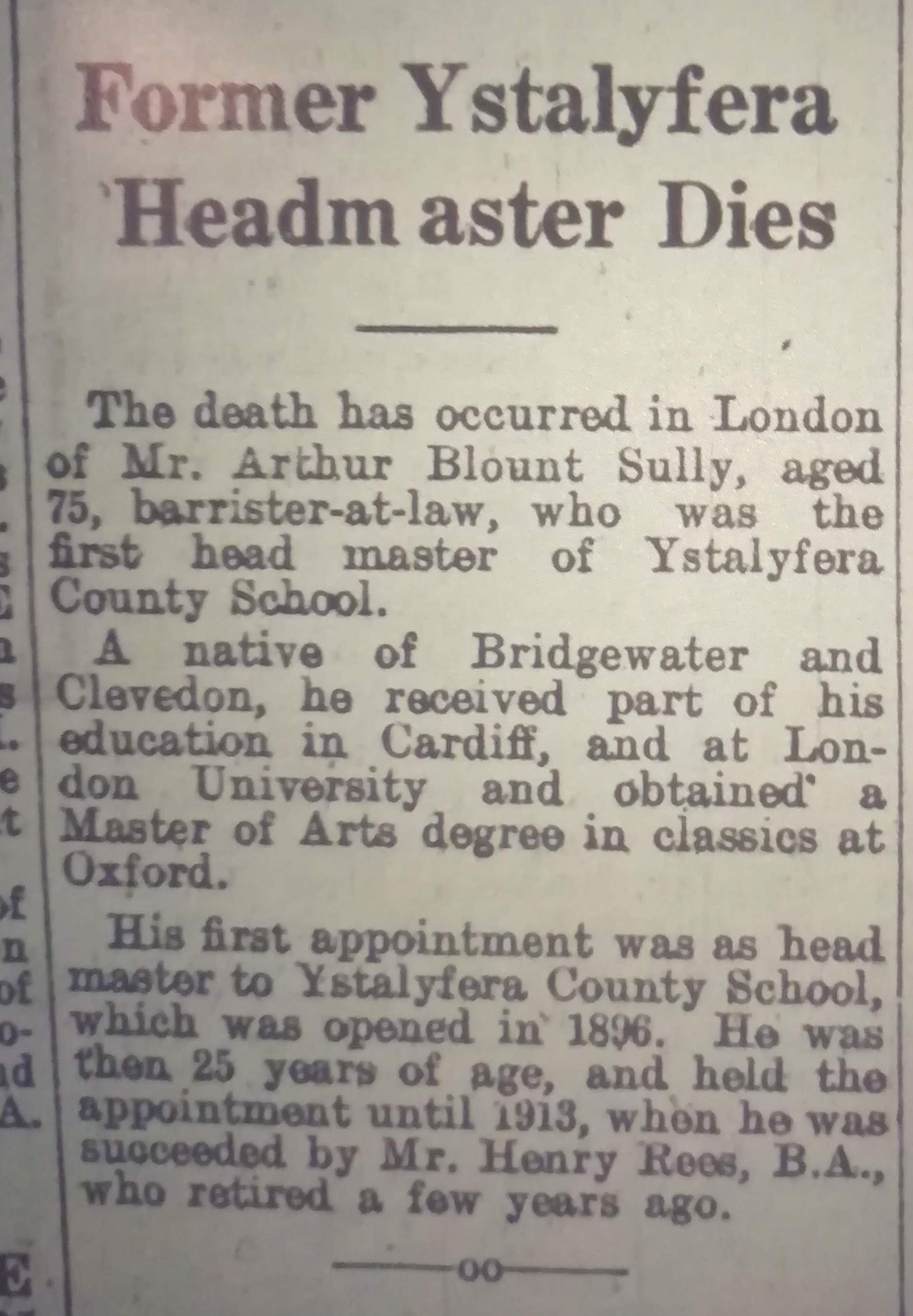 From the South Wales Voice newspaper, Sarurday 2nd February 1946:-
FORMER YSTALYFERA HEADMASTER DIES:
The death has occurred in London of Mr Arthur Blount Sully, aged 75, a barrister at law, who was the first headmaster of Ystalyfera County School.

A native of Bridgewater and Clevedon, he received part if his education in Cardiff and at London University and obtained a Master of Arts degree in classic at Oxford.

His first appointment was as headmaster to Ystalyfera County School which was opened in 1896. He was then 25 years of age and held the appointment until 1913, when he was succeeded by Mr Henry Rees BA who retired a few years ago.
---
The Labour Voice newspaper of 26th July 1913 records that the old pupils association of Ystalyfera County School came out in some numbers to bid him farewell as he departed from the valley.
OLD PUPILS' FAREWELL

The loyalty of old pupils to their Alma Mater is always a tribute to the good tone and "public spirit" which prevail at that school. It is also a tribute to the efficiency of the headmaster, of whom few are better able to judge than his old scholars. Thus the prosperity of the Ystalyfera County School Old Pupils' Association speaks volumes for the affection and respect with which Mr A B Sully MA is regarded by his old boys and girls.
On Wednesday afternoon, well over 50 old pupils gathered at the School at short notice to bid farewell to Mr Sully, before his departure from the Valley. The chair was taken by Mr H Wade Evans, chairman of the Association and senior old pupil. All the members of the School Staff were also present. Mr Evans first referred to the object of the meeting and on behalf of all old pupils expressed to Mr Sully their sincere regret at his departure, as president of the Old Pupils Association. Mr Sully had infused enthusiasm into its members by his example. From the start he had been the life of the Association and his presence at future meetings will be much missed.
Mrs A B Griffiths Ystalyfera, then presented Mr Sully with a dressing case and as representing the senior old pupils, wished him long life and prosperity.
Mr Noah L Davies Pontardawe, vice president, made the presentation of a suitably inscribed smoker cabinet and assured the recipient that he was leaving some of his very best and most loyal friends among his old pupils.
Mr Sully who was deeply touched by these greetings from his old scholars, thanked them one and all for their kindly thought and their presence at that meeting. He would always cherish his associations with his old boys and girls and the pleasant times he had enjoyed in their reunions and picnics. He traced the history of the Old Pupils Association and wished its success in all its future meetings. If ever he revisited Ystalyfera, he hoped it would be to be present at another reunion or at some future picnic. Mr Sully concluded by trusting that their loyalty to the school would not abate as years rolled by.
Mr G E Chappell Ystalyfera, the secretary, regretted that Mr Sully was leaving his school at the time when its former pupils were making a name for themselves. All would be grateful to him for the start he had given them. Miss Eliz. Salmon, Trebanos, vice president and Miss Winnie Powell Cwmllynfell secretary, also wished their president at happy future.
Speeches were also made by Mr David Jenkins Pontardawe and Mr Jack Watkins Cwmllynfell, eulogistic of Mr Sully's interest in the Association. The old boys and old girls, Headmaster and staff then sang "Auld Lang Syne" with deep feelings, conscious that that might be the last occasion when they would be all joining in that time-honoured refrain.