The new buildings are mentioned in the South Wales Voice of October 29th 1932, explaining what will happen on the following Monday, and what and why the new buildings are:-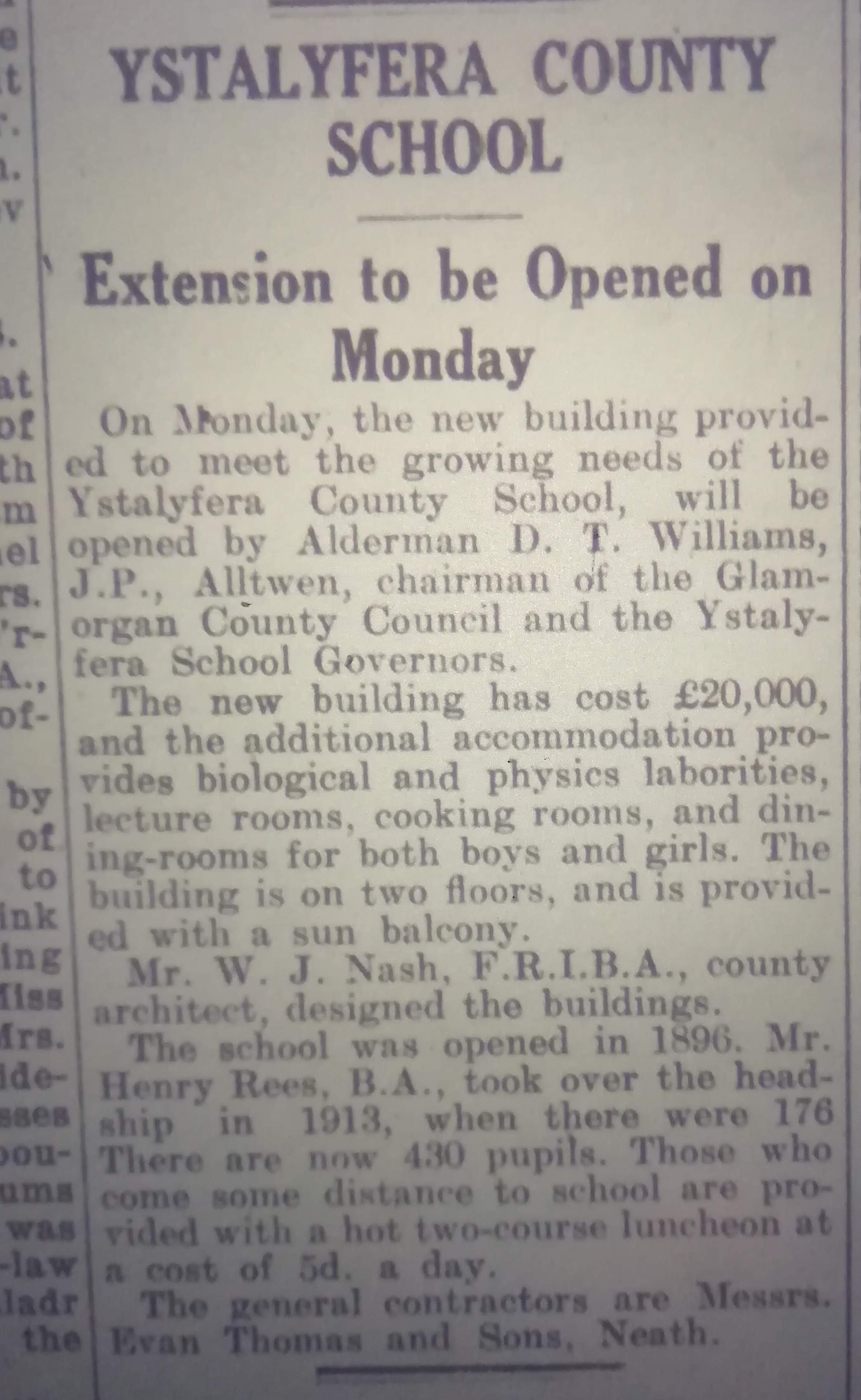 YSTALYFERA COUNTY SCHOOL
Extension to be Opened on Monday

On Monday, the new building provided to meet the growing needs of the Ystalyfera County School, will be opebed by Alderman D.T. Williams, J.P., Alltwen, chairman of the Glamorgan County Council and the Ystalyfera School Governors.
The new building has cost £20,000, and the additional accommodation provides biological and physics laboratories, lecture rooms, cooking rooms, and dining-rooms for both boys and girls. The building is on two floors, and is provided with a sun balcony.
Mr W.J. Nash, F.R.I.B.A., county architect, designed the building.
The school was opened in 1896. Mr Henry Rees, B.A., took over the headship in 1913 when there were 176. There anow 430 pupils. Thos who come some distance to school are provided with a hot two-course luncheon at a cost of 5d. a day.
The general contractors are Messrs Evan Thomas and Sons, Neath.

The South Wales Voice newspaper from Saturday 5th November 1932 has several stories on the opening of the expansion to Ystalyfera County School.
Last Monday was a red letter day in the educational life of the district. The new school buildings at Ystalyfera which have been erected at a cost of £20,000 to provide additional accommodation at the County School were formally opened and visitors were impressed by the very fine type of building which has been provided.
NEW SCHOOL BUILDINGS AT YSTALYFERA
OPENING CEREMONY BY ALDERMAN D.T. WILLIAMS, J.P.
The new building to provide additional accommodation at the Ystalyfera County School was formally opened on Monday. The new block which adjoins the older buildings is one of the finest in Glamorgan and cost £20,000. New laboratories, art room, lecture rooms, and dining rooms are included in the buildings, and there is also a sun balcony.

THE OPENING CEREMONY
There was a very large gathering at the main entrance when Miss Myra Thomas, Head Prefect, handed a gold key to Alderman D T Williams to open the door. Speaking in Welsh, Miss Thomas said she had great pleasure in performing the duty on behalf of the school, staff, and schoolmates. She wished the school every success and extended cordial greetings to the Headmaster, Mr Henry Rees, and teachers and Alderman D T Williams.
In accepting the key, Alderman Williams said the chief object of the formal opening was to bring the parents and the teachers into closer touch with each other.

The newspaper includes mention of the Head Prefect, Myra Thomas, delivering a speech and of Ealdorman D T Williams receiving the Key from her, again in the Nov 5th 1932 issue of the Llais. The photograph top right shows this, reproduced below:-
Miss Thomas delivered a very neat speech.