YSTALYFERA COUNTY SCHOOL SPORTS
Like most secondary schools, sports teams flourished at Ystalyfera County School, competing in local and regional competitions. We cover a selection here to provide a flavour, and an example of the excellence some students attained in these sports:-
Rugby
Thank you to Hywel Thomas for the photograph below which features the rugby team for the 1945-46 season. His father Denzil Thomas is among them, and a full list of those shown is given beneath the photograph. YIS on the ball appears to stand for "Ystalyfera Intermediate School" which was its original name, or designation, before it became a grammar or county school.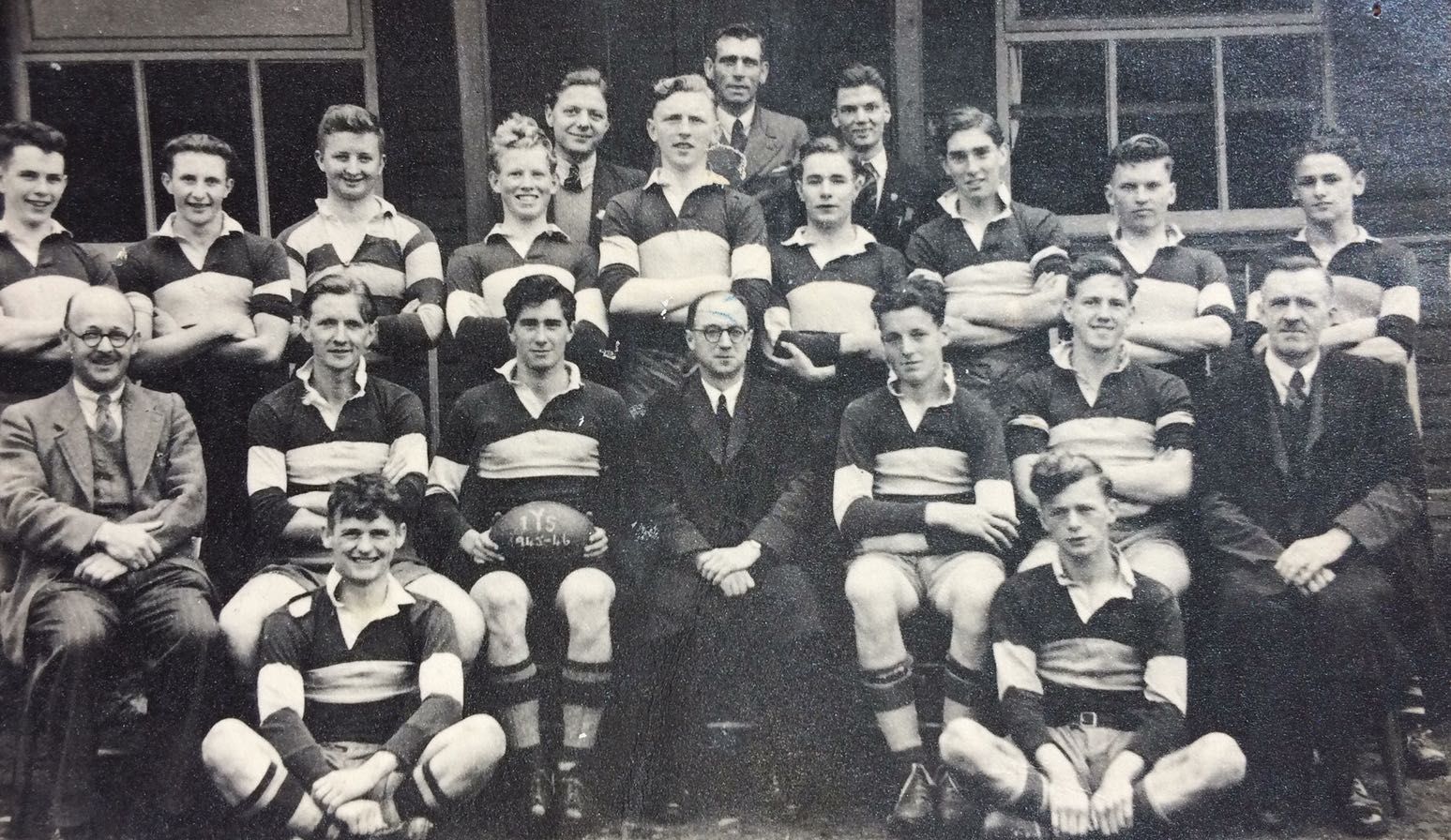 RUGBY TEAM 1945-46 - INTERMEDIATE YSTALYFERA SCHOOL
BACK ROW: Lynn JONES, Mr Cliff POWELL, Bernant HUGHES

STANDING: Eurfryn THOMAS, Will MORGAN, K THOMAS, Dudley OWEN, R H WILLIAMS, Bleddyn DAVIES, Frank SIMMONS, Stuart ROATH, D JONES.

SEATED: Mr N McLeod JONES, Jack THOMAS, John PHILLIPS, Mr E D LEWIS Headmaster, Owen JONES, Conrad JENKINS, Mr William Rhys G BELL Chemistry and Mathematics Master.

IN FRONT: Denzil THOMAS, Austin THOMAS
---
DENZIL THOMAS
Denzil Thomas would become a top-level rugby union player, in the days before it became a professional sport and all participants continued to have day jobs. As his
obituary on the Welsh Rugby Union website
states
He learned his rugby at Llandeilo and Ystalyfera Grammar Schools before studying to be a school teacher at Bangor Normal College and then Cardiff College of Education. He played for Brynamman, Skewen and Neath before joining Llanelli.
He also played for Bath, Cwmgors, the RAF and Tenby United. He was a schoolmaster in Bridgend before spending 30 years as a Sports Master at Greenhill Grammar School in Tenby.
Denzil won his only international cap in 1954, playing against Ireland in the
Five Nations Championship
. His last-minute drop-goal earned Wales a 12-9 win in the match, played in Dublin.
Denzil lost his wife, Dilys, in 2000, and died on Monday 17th February 2014.
---
Schoolboy Selected for Wales
In February 1950, a pupil of Ystalyfera Grammar School [sic] was selected for the Welsh team for the first time. This article from the
South Wales Voice
from Saturday 25th February 1950 has the story:-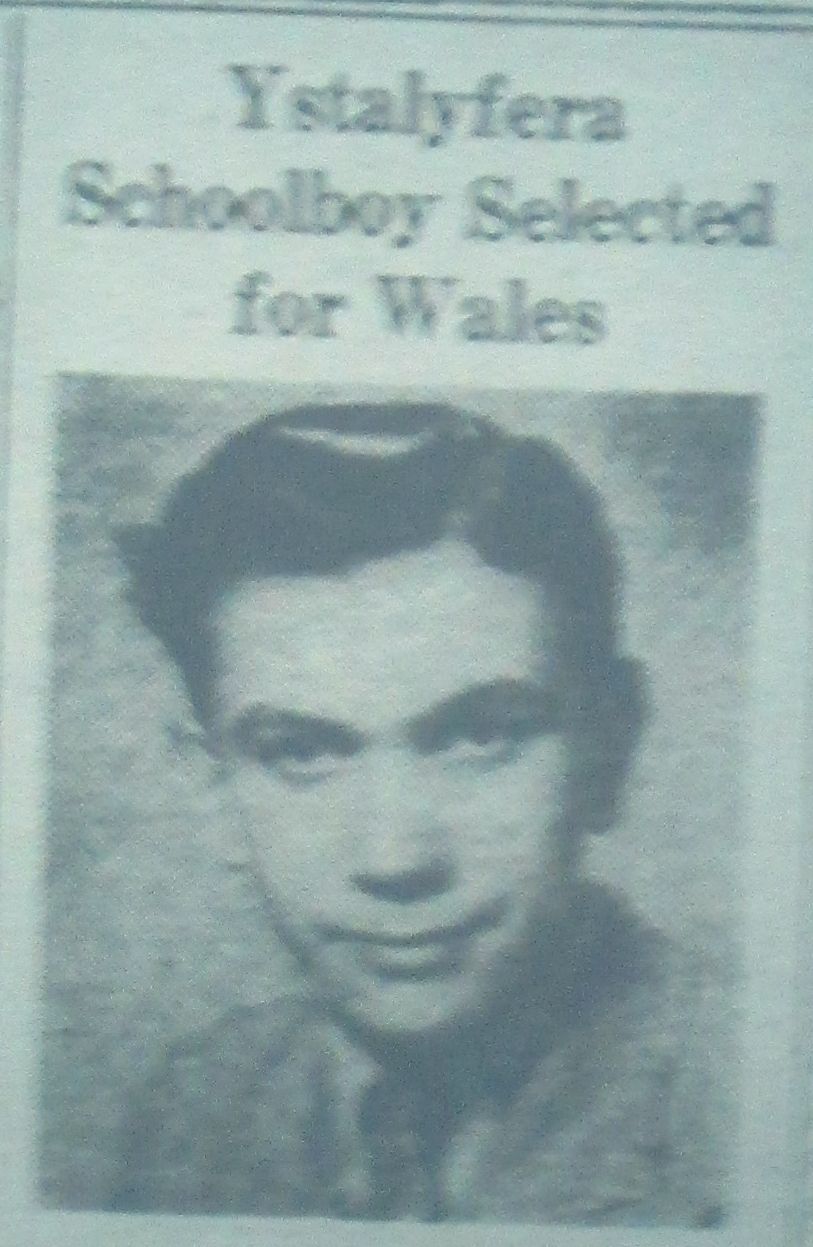 YSTALYFERA SCHOOLBOY SELECTED FOR WALES

Local rugger enthusiasts will rejoice to learn that young David Davies, Ynisydarren Road, Ystalyfera, has been selected to play in the fullback position in the Wales Schoolboys (Junior) Team versus Scotland Schoolboys at Scotland on Saturday 4th March.
David is 14 years of age and will be better known as the son of Mr Tom Davies, Ynisydarren, himself a former rugger XV and grandson of the late Councillor David Davies, St David's Road, Ystalyfera. He is the first Ystalyfera-born player selected to represent his country; he is also the first junior Schoolboy "cap" that the Ystalyfera Grammar School has produced.
We extend to David our sincere congratulations coupled with the hope that this first honour is the fore-runner of many to follow.
Read More about Daniel Davies and friends' from their schoolboy rugby days.
---
Athletics
Annual sports days are a major part of a school's yearly life, and consist of a variety of track and field events. Ystalyfera County Grammar School had various Cups and Medals available for outstanding performance, including the Jenkin Evans Cup and the Henry Rees Medal which combined sports and social activities in its award.
The Voice newspaper for Friday July 26th 1957 records the achievement of two brothers, Dewi and Gwynfor Davies:-
No fewer than four records were broken in the middle class section of the annual sports held at Ystalyfera County Grammar School last week by young Dewi Davies, second son of Mr and Mrs Austin Davies, Pantteg.
The new times recorded were 10.5 seconds in the 100 yards; 24.3 in the 220 yards; 19 feet 11 inches in the long jump; and 8 feet 6 inches in the pole vault. He was also awarded the Jenkin Evans Cup for his win in the 100 yards.
Another distinction to the family was the award of the Henry Rees Medal for sport and social activities and attitude towards the school, to Gwynfor, his brother, who enters Swansea University College next term.
Gwynfor, of course, also distinguished himself at the sports and won the Jenkin Evans Cup twice, consecutively. At rugger, he was captain of the school senior team last season and is a fine outside half. No one who saw that memorable match between the school and High Wycombe High School will forget his brilliant display.
Cricket is also a natural game to him and in 1955 he captained the school team.
---
Cricket