Eileen Price of Ystalyfera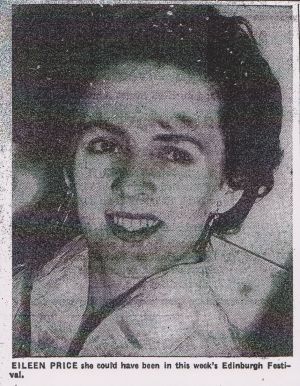 Airs on a Shoestring

An intimate revue devised and directed by Laurier Lister
Royal Court Theatre, London - 22 April, 1953

The Cast:
Moyra Fraser, Betty Marsden, Sally Rogers, Carole Newton, Patricia Lancaster, Eileen Price, Max Adrian, Bernard Hunter, Jack Gray, Denis Quilley, Charles Ross and Peter Reeves

Ystalyfera residents who pop up from time to time, other than in obituaries, always hold my attention and sometimes where a portion of their life has been recorded, I make a note and file it under 'interesting lives'. It was only a couple of lines but as usual I filed it.

Then, the name popped up again and I retrieved my original clipping:
---
From the South Wales Voice newspaper, Saturday 17th March 1951:-
LOCAL SINGER

Miss Eileen Price, the talented young Ystalyfera singer recently appeared in two operas performed by the Royal College of Music, in the Parry Theatre London.
On 23rd February, she portrayed 'Laura Rivers' in 'The Two Bouquets', a Victorian operetta by Eleanor and Herbert Farjeon; and on 9th March, she played the leading role in 'Martha' by Flotow, a sparkling comedy. Miss Price is to appear in Television on Saturday.
---
I thought this time I was lucky because I had come across a photograph of Eileen alongside another clipping, which no doubt recounted more of her successes.
Until I read the actually write up:-
From the South Wales Voice newspaper, Friday 24th August 1956 :-
LOCAL SINGERS COURAGEOUS FIGHT

A Valley Girl who was 'Student of the Year' in 1952 at the Royal College of Music in London, but whose career was interrupted by a car crash which broke nearly every bone in her face, is going to try to fight her way back to success.
She is Eileen Price, the 28 year old daughter of Ystalyfera hair dresser, Mrs Price, now married to a Scottish garage director, Mr Iain McWilliams.
Six weeks plastic surgery were needed to rebuild her face from a photograph after the accident which happened two and a half years ago, and now it is as lovely as it was before.

LURE TOO STRONG

Now the girl who sang for the Queen and took part in the successful revue 'Airs on a Shoestring' has been a happy and contented housewife for two years. But the lure of the footlights is strong and a short while ago she flew to London for an audition for a part in Dylan Thomas's radio play 'Under Milk Wood' which has been adapted for the Edinburgh Festival.
This alone is a triumph because after the operations Miss Price found she could not sing and had to do special facial exercises for months before she regained her voice.
However when she discovered that she would have to tour if she joined the 'Milk Wood' company, Miss Price declined the offer and is now concentrating on the considerable amount of work which has come her way during the past few weeks from the B.B.C. Scottish region.
Her mother is expecting to go to Scotland to visit her this week, and hopes to bring back more news of her daughter's career, so happily restored to her.