Edwin Telyordd Nicholas of Ystalyfera
EDWIN TELORYDD NICHOLAS: was born in 1862 and died in 1940. A native of Ystalyfera, he became a famous singer. Below are reproduced newspaper articles from the Llais, first from the Labour Voice in 1924, and two from the South Wales Voice, one a report of his death and an overview of his life, the other a more esoteric article about his place in the world of song.
The Labour Voice newspaper for February 2nd 1924 includes this snippet about Edwin Telorydd Nicholas:-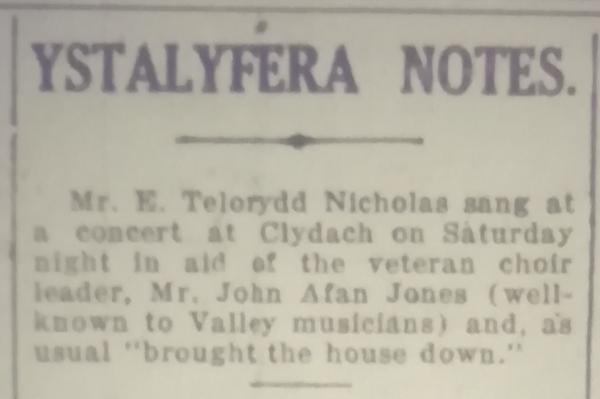 Mr E Telorydd Nicholas sang at a concert at Clydach on Saturday night in aid of the veteran choir leader, Mr John Afan Jones (well-known to Valley musicians) and as usual "brought the house down".
The South Wales Voice newspaper produced on Saturday 10th February 1940 reports the death of Edwin Telorydd Nicholas, aged 79, as having happened on Sunday 4th February 1940:-
PASSING OF TELORYDD NICHOLAS
A LINK WITH FAMOUS SINGERS BROKEN

We regret to record the death of Mr Edwin Telorydd Nicholas Wern Fawr Hotel Ystalyfera, who passed away on Sunday, in his 79th year. Mr Nicholas had been unwell for some time.

The death of Telorydd Nicholas breaks the last link with the great musicians of the past in the district - Dyfed Lewis, Teddy Evans, Eos Morlais, Gwyn Alaw, Afanfryn, David Hughes, Madame Adelina Patti, and Madame Drinkwater.

Telorydd had spent his life in the strains of music, starting his musical career as a child. He was born in the Wern Fawr Hotel, which has been kept by his family for over 80 years. As a boy he took part in such works as "Robin Goch", "Ymgom yr Adar". He was taught to read music when 9 years old by Mr Rowlands (Asaph Glandyfi), the first precentor of Wern Chapel Ystalyfera. He became a child conductor at the age of 8 and gained prizes at 7 out of 8 competitions which he entered. Competing as an alto he won hundreds of prizes, his contemporary being the late Dr Dan Protheroe. He blossomed forth as a tenor when 15 years old and his voice was as firm as ever to within a few years of his death.

When he was 18 years of age, he became a member of the famous Orpheus Glee Society, under the conductorship of the well known musician Mr Morgan Morgans Cwmtawe. After the society had won twice at National Eisteddfodau - Cardiff and Swansea - they were offered a week's engagement at the Caernarvon Eisteddfod on condition they did not compete. The artistes were: Madam Patti, Maggie Dowlais, Martha Harris, Edith Wyn, Eos Morlais, Ben Davies, Dyfed Lewis, David Hughes, Signor Folie, Lewis Thomas (London) and John Thomas (harpist).

SANG AT CRAIGYNOS:
To commemorate the occasion, the conductor was presented with an ebony silver mounted walking stick. Then they were asked to contribute to a musical evening at Craigynos Castle, when Madame Patti sang for them, the accompanist being Sir Julius Benedict, who was 80 years of age.

Mr Nicholas was precentor of Wern Chapel for many years and produced several works for adult and children's choirs. Among the works produced by the children were "Flowers of the Forest", "Cantawd yr Adar", "Cantawd y Blodau" and "Snow White and the 7 dwarfs".

The adult choir produced "Joseph", "Y Ferch o Gefn Ydfa", "Maritana", "Wreck of the Argosy", "Esther, the Beautiful Queen", and "Captivity".

In July, 1911, Telorydd was presented with an address and roll top desk, in recognition of his services to Wern Chapel.

He had sung all over the country and for 30 years did not spend Christmas Day at home. Telorydd was conductor of the Ystalyfera Section of the Brynamman Choral Society, which, under the conductorship of the late Teddy Evans, won at the Mountain Ash, Carmarthen, Cardiff, Swansea and Neath Eisteddfodau.

Mr Nicholas was also well known as a composer and had written 32 children's tunes, which are being sung at festivals all over Wales. Among them are: "Molwch yr Arglwydd", "Clodforwch yr Arglwtdd", "Galwad I'r Ysgol Sul", "Byw I'r Iesu" and "Mae Nhad wrth y llyw". His services as a festival conductor and eisteddfod adjudicator were widely in demand.

Eleven years ago, Telorydd visited his daughter and son in law, Professor and Mrs Lewis Thomas, in Chicago U.S.A. and spent some time with his old friend, Mr Dan Protheroe.

His wife predeceased him some years ago, and he is survived by three daughters, Mrs Henry Carpenter, Mrs Arthur Cooke and Mrs Lewis Thomas. A brother is Mr Rhys Nicholas (late of Cwmavon), now of Wenbery Plymouth and a sister Mrs Powell Wern Road Ystalyfera.

PRIVATE FUNERAL: The funeral, which was of a private character, took place on Wednesday burial being in Holy Trinity Churchyard...

MOURNERS: Chief mourners were: Ex-Inspector Henry Carpenter Skewen, Messrs William Cooke sons in law; Trefor Cooke Cardiff grandson; Tom R Samuel J.P. and William Powell Ystalyfera brothers in law

From the South Wales Voice newspaper, March 9th 1940 comes this article written shortly after his death:-
TELORYDD: AN APPRECIATION

The Ministry of Song
By Alltygrug

"We shall not forget the singer and shall not forget the song"

The influence of song is one of the strongest and most abiding in our human nature. From the mother, crooning with her infant at her breast, to the lover singing the praises of his beloved when parted from each other, to the strong man armed, stelling himself for the stern trial of mortal combat, it presents one of the most enduring features of our lives.

It has been the same in all ages. The captive Jews in ancient Babylon, when urged to sing could not forget their chains and cried "How can we sing the songs of Zion in a strange land." It only reminded them more vividly of the old homeland. And we remember how, in the days of persecution, wwhen pressed by enemies thirsting for their lives, the Scottish Covenanters gathered in the remote glens of their land with watchers on the hilltops, to sing the songs of Zion which they loved. And listening to negro melodies which we hear occasionally, carries us back to the American civil war to free the slaves and their famous song,
"John Brown's body lies mouldering in the dust
But his soul goes marching on."

These old melodies embody in themselves the haunting memory of an oppressed people longing for freedom and remembering their wrongs down the ages. Martian song has its place and who can forget Burns' famous song on Bruce's appeal to his men going into battle at Bannockburn or similarly what Mr. Lloyd George has described as the greatest battle song in the world, "The March of the Men of Harlech"

* * * * *

Our old friend Telorydd has passed from our mortal ken, but throughout his long life song was his great delight. He loved to sing himself and train others to do so. In this way he has left a worthy example for others with the same gift, to follow.With him it was always wisely used, and it can only be for good. We miss his cheery smile and greeting, and his alert figure in our streets, but his memory will long remain to guide and cheer us.