History and Heritage
Ystalyfera and District
Ystalyfera - South Wales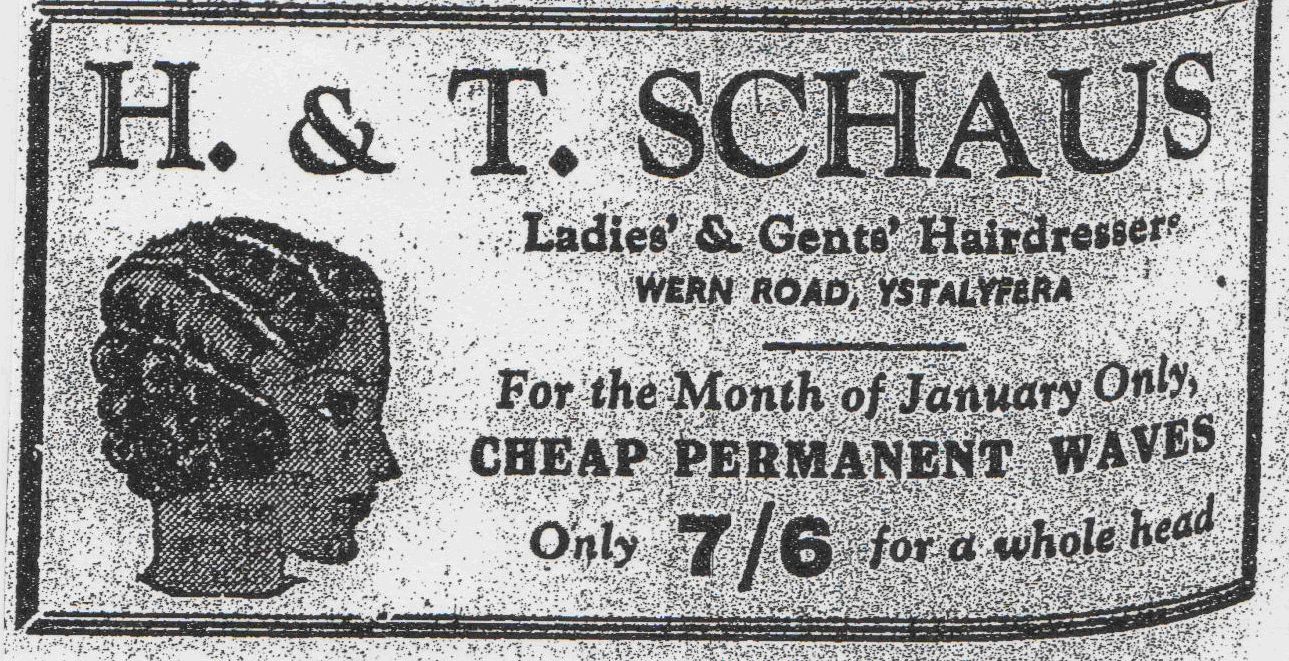 The Family of Hans Schaus
Hans Schaus
Hans Schaus, Barber of Ystalyfera
Hans Schaus, barber of Ystalyfera is another name, another business which has become part of the development of the history of Ystalyfera, and yet here again by spending a little while looking into the life of this family we realise that indeed he really does come under the heading of 'interesting lives'.

A fellow researcher I met a few years ago regularly visits Cwmtwrch and often calls in so that we can catch up and swop notes. On this particular visit he happened to mention that his "first official haircut" was in the barbers of Hans Schaus in Wern Road, and that he had heard somewhere that Hans had actually attended royalty.

I had notes in the archives to that effect and we spent an afternoon reminiscing amongst other things, what a remarkable distance this gentleman had travelled back in the earlier part of the last century.

Val Trevallion
THIS ARTICLE IS A WORK IN PROGRESS - MUCH MORE TO COME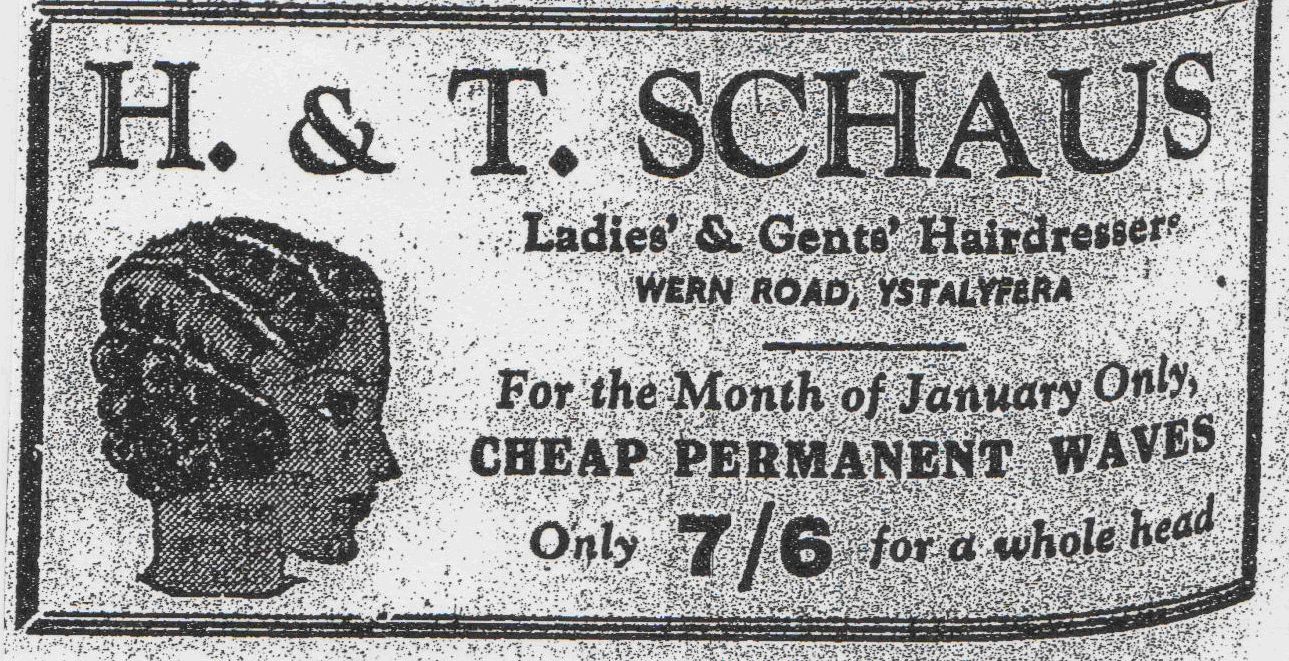 As advertised in February 1940
A native of Kirn Germany, Hans Schaus was born in January 1879 and to celebrate his 85th birthday in 1964, all his regular customers had a free hair cut at is premises in Wern Road Ystalyfera. Mr Schaus was actually apprenticed in 1894, at the age of 15, to the hairdressing trade. After qualifying he travelled many European countries including Finland, Denmark, Holland, Norway, Sweden and Alsace Lorraine (the region of present day France which belonged to both France and Germany in the past but today is known as the Lower Rhine in France). Eventually he arrived in London in 1905, where after joining the Hairdressers' Association, he found employment in London, Scotland and Ireland. It was whilst in London that he shaved many well known personalities including Mr Joseph Chamberlain.

He first came to Wales in the latter half of 1906, settling in Swansea and providing a service for the many well known families of that day including the Vivian's (of Singleton, of the Hafod Copper Works). He himself once recalled an interesting episode: that of his daily visit to shave Lord Swansea for which he was paid 5 shillings plus 1 shilling tip and a glass of whiskey.

According to the 1911 Census his wife was Lucy who he married in 1907. She came from an old respected Ystalyfera family who was living at Landore at that time. Two children are recorded, a daughter Iris and a son John Hans Schaus both born in Landore Swansea.
It may have been on the advice of Mr Ben Jones the Welsh master at Ystalyfera Grammar School that Mr Schaus finally settled in Ystalyfera. Opening his hairdressing saloon next door to the Wern Chapel, his daughter, Iris Schaus no doubt belonged to the local Sunday school and is mentioned first in the Llais newspaper in 1916 when as one of the scholars to take part in the Sunday school anniversary in connection with the English Congregational Church, she sang and recitated, much to the enjoyment of the large number who attended the service. Later in May of 1919 she is recorded as taking part in the quarterly meetings of the Wern Sunday school, when along with other children, who had received excellent training by Miss Annie Jones (Darren Road superintendent of the children's section) she recited various items in "first class style".
Within his capacity of hairdressers Mr Schaus made hundreds of wigs for clients all over South Wales and the saloon also became the first ladies hairdressers in the district, to create the "Marcel wave" by hand.
(Marcelling is a hair styling technique later on performed by the use of hot curling tongs to induce a curl into the hair.)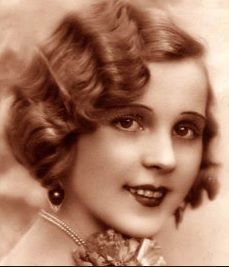 An example of the Marcel wave, from images for Marcel wave hairdo
Back in those days a shave would cost you 1 and a half pennies, and a hair cut 3 pennies. On his 85th Birthday although a haircut was offered free it would normally be 3 shillings and there was no longer any call for shavings.
However, as interesting as his life appeared there was a time that must have given the whole family an enormous amount of uncertainty and worry.

Within a fortnight after the declaration of the 1914 – 1918 war, Police Sergeant Brown arrested Mr Schaus, as a German, and took him to the Police Station in Clydach. Here in fact where a number of Germans who had been "rounded up" from the surrounding areas and who like himself had been gathered at Clydach. Not for long however. Several days later they were transferred to Queensferry in North Wales where they were next moved to Alexandra Palace and then eventually to the Isle of Man.

He was to remain at the camp on the Isle of Man for the next 5 years and a week.
The following extracts from the Llais take up his story:
From the Labour Voice newspaper, 15th August 1914
YSTALYFERA NOTES
LOCAL TRADESMAN'S UNFORTUNATE POSITION
Great sympathy has been expressed during the past few days, with Mr Hans Schaus, hairdresser, of the Wern, who finds himself in a very unfortunate position. Mr. Schaus is a native of Germany, and his parents still reside there on the borders of Alsace Lorraine. For ten years, however, he himself has been in Great Britain—six years in Swansea and four in Ystalyfera. Mr Schaus married a local lady and they have two children. It is, therefore, regrettable to learn that certain people are attempting to create ill-feeling against him. We understand that on Saturday night someone went to the shop and, in the presence of customers, behaved unkindly towards Mr Schaus. This is ridiculous in face of the fact that by now Mr Schaus is virtually a British citizen, with British sentiments and aspirations. An unfounded rumour spread abroad on Monday to the effect that Mr Schaus had left Ystalyfera. The facts were that, like many thousands of others, as he had not taken out naturalization papers, he had to register himself before Police Superintendant Letheran at Gowerton, under the recently passed Aliens' Act and therefore, his shop was closed for the day.

Both he and his wife are respected members of the English Congregational Church and at the service on Sunday evening, when there was a large attendance, the pastor (Rev R. G. James), made suitable reference to the matter.

Ruffian hot heads of the type referred to, who imagine that they are giving proof of "patriotism" by their display of ignorant prejudice, ought to be discouraged and suppressed. Let us not forget our British traditions and also remember that there are thousands of our countrymen in Germany at the present moment.
From the Labour Voice newspaper, 19th September 1914:-
"It raineth on the righteous and the unrighteous," says the Scriptures, and the Alien Restriction Act causes hardships to quite innocent people. Whilst endeavouring to combat the evils designed by malignant enemies of this country still within our gates, a Home Office order to apprehend all aliens of German or Austrian nationality resulted in the apprehension of our fellow townsman Mr Hans Schaus, on Saturday night. This is regarded on all hands as a regrettable necessity arising out of the present situation and Mr Shaus has to pay for the folly of others of his countrymen not well-intentioned towards this country. We should carefully safeguard ourselves against harbouring prejudice against him on account of this unfortunate, however necessary, proceedings. Mr Schaus merits our sympathy all the more that he has this week suffered bereavement in the family.
By June 1916 xenophobia seemed to be much more in the air, after two years of war. From the Labour Voice newspaper, 24th June 1916:-
Interned German's Business at Ystalyfera
Guardians Discuss Application for Further Relief for His Case for the Treasury. It was reported at the fortnightly meeting of the Pontardawe Guardians on Thursday, Mr. H. J. Powell, J. P., presiding, that an application for increase in relief had been made to one of the Relief Committees by the wife of an interned German, who kept a shop and barber's saloon at Ystalyfera.
It was explained that according to figures, which were produced, that the business was not a paying one, and that the applicant was obliged to pay £1 a week to a barber for working in the saloon. The applicant was being paid 14s. 6d. per week towards the support of herself and children, and the committee had refused to increase the amount.
When the matter was thrown open for discussion Mr. Wade Evans (Ystalyfera) said he did not think they should be paying anything, as he contended that a good deal of the 14s. 6d. was being used to keep on the business in readiness for the woman's husband when he returned. He did not think it right that British money should be utilised for that purpose. He agreed that something should be paid to the woman and children in case there was destitution. Mr. Dd. Jenkins (relieving officer) said the woman had told him that it was a hard struggle to keep things going.
Several members said they understood that the business was being kept open until the husband returned. The Rev. Evan Davies said he knew of a Welsh barber who had closed up his business on the previous night because he had been called to the colours. There was no one to keep the business open until he returned.
Mr. Lewis Thomas (Cwmtwrch) said the question was one of destitution, as the woman was Welsh.
Mr. Wm. Walters (Abercrave) said the woman would be far better off in a cottage than running the business at a loss.
Mr D J Williams said he did not think there was a single man in Ystalyfera who would go into the shop even if the husband returned.
Clerk: We are quick to forget.
Mr. J. W. Morgan: You won't forget a German in a hurry.
It was decided that the clerk should communicate with the Treasury on the matter.
A month later the mood was not much better. From the Labour Voice newspaper, 8th July 1916:-
INTERNED GERMAN'S HAIRDRESSING SALON
Local Guardians and the Relief of His Wife
A letter was read at the Pontardawe Guardians on Thursday (Mr H. J. Powell J.P., presiding), from the Treasury, stating that the wives of interned aliens were relieved from the British Government and not from Germany.
Mrs Schaus, the wife of a German, who kept a hairdresser's saloon at Ystalyfera, asked for relief as she had sold the business to Mrs. G. Bowen, her mother.
The Rev Evan Davies said that it was not fair that they had sent a barber from the place to the Army a few weeks ago if this business was kept open. This German would take the trade of the Britisher at the end of the war.
Mr. David Jenkins (relieving officer) stated that the mother could not be blamed for helping her daughter, Mrs. Schaus.
Mr. D. Lewis (Gwauncaegurwen) Casement had a mother. (Laughter)
In answer to Mr. D. Lewis (Colbren) it was stated that the Government would not pay an allowance if the women and children came to the workhouse. It was not fair that money should go towards keeping the business open.
It was resolved that the relief be continued pending the report of the clerk upon the matter.
The article below is a more general one, reporting on looking after German prisoners of war held in the British Isles. From the Labour Voice newspaper, 7th November 1914:-
German Prisoners of War: How they are treated:
Already there are many thousands of captured German soldiers in this country and a brief description of their treatment will doubtless prove interesting. The following account refers to the camp at Douglas, Isle of Man, but is typical of other camps in various parts of the country:

GERMAN CAMP AT DOUGLAS
Beyond the fact that they are not at liberty to come and go as they please, these 3,000 men have certainly nothing to complain of. The camp is healthily situated, on high ground and the buildings include a spacious dining hall, with accommodation for 3,000 diners, kitchens fitted with modern cooking appliances, bake house, a swimming bath and the most complete sanitary arrangements. There is an abundant water supply and an electric light installation.
The prisoners sleep eight in a tent. One of them is constituted corporal of each tent and he is responsible for a company of 12 tents; and there is a captain, also a prisoner, who is responsible for a company of 12 tents. Any complaints have to be made through these officers. The camp is carefully inspected daily by the commandant, Colonel Madoc.
There is an abundance of good food. Breakfast consists of porridge, bread and tea; dinner of meat, potatoes, bread and one vegetable; and tea of bread and butter and tea.
The prisoners are given as much exercise as possible, being encouraged to play football and other outdoor games, while two hundred are daily sent out for a constitutional round the beautiful lanes near Douglas under escort.
A concert is held every Saturday night, the programme being entirely furnished by the prisoners, many of whom are accomplished musicians. The performances of a full orchestra are exceptionally fine.
Knitting and darning classes are held so that the prisoners may be taught to supply their own socks and mend their clothes. Destitute prisoners, who have been in the proportion of 20 per cent, are supplied with clothes by the Government.
Needless to say when Hitler came to power in Germany and the war clouds began to gather Mr Schaus was already a naturalised British subject in 1935. He had however, been a frequent visitor after the end of the 1939 - 1945 war, to his homeland and his relatives visited Ystalyfera on a number of occasions.

Hans and Lucy celebrated their golden wedding together but in 1961 her death was registered in West Glamorgan at the age of 75 years.

Hans himself died in 1972 and maybe he had gone to live with one of his children but his death at the age of 98 was recorded in Evesham Worcestershire.