Arthur Gill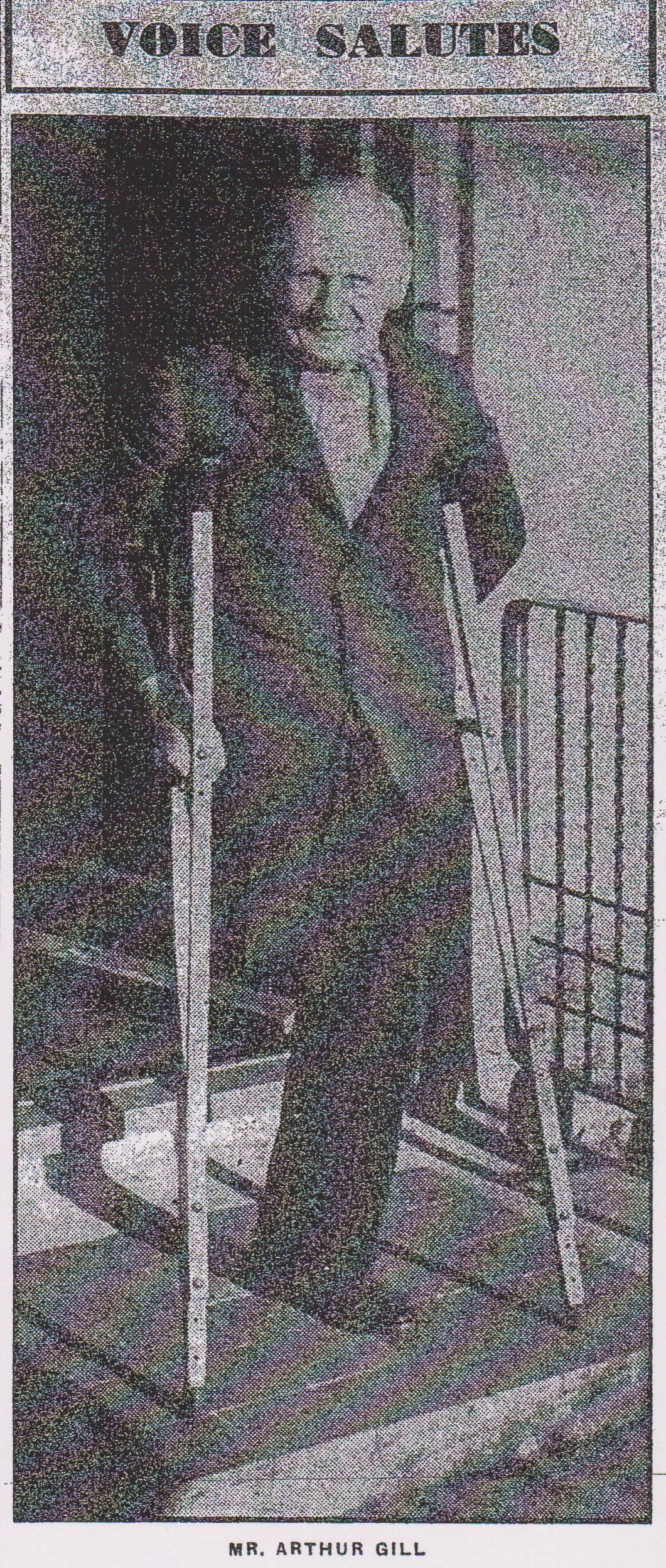 I had previously seen this picture of Mr Arthur Gill in the book called Growing up in the Varteg by Gerald Thomas but although he was an evacuee to Ystalyfera and lived here for only 1 year, I have included him for his contribution to society, after I found a little about the gentleman under the title "The district's most courageous flag seller", an article written by Stuart Leyshon and included in:
THE VOICE FRIDAY 13th DECEMBER 1957
If you ever dropped a penny in the team to help a good cause or a charity, the chances are that the man who pinned the flag on your lapel was Mr Ernest Arthur Gill.
Every Flag Day you can see him sitting with his round tin and tray of paper flags in one of Swansea's stores -with his crutches at his side.
It doesn't matter what the good cause, Mr Gill will be there just the same. His flags may be in aid of the YMCA, the blind, the Red Cross, the RSPCA, the lifeboat institution, the NSPCC or a local boys club.
It was 19 years ago that crippled Mr Gill began selling flags for good causes - "just to get out of the house".
He has been out of the house every Flag Day since and thousands have had cause to thank him for it.
Mr Gill is a remarkable man. At 71 he is full of enthusiasm and an insatiable desire to help people. There is hardly a charity or cause for which Mr Gill has not sold the flag. When I saw him in his neat home at 24 Acacia Road West Cross this week, he had letters in this possession from dozens of causes thanking him for his help. There were receipts, to, acknowledging sums of as much as £52.
LETTER FROM THE QUEEN
"I am still waiting to hear from the local boys club" said Mr Gill, "I have not heard the result of that collection yet".
One of his proudest possessions is a letter from the Queen. It acknowledges with thanks the large sum of money collected by Mr Gill for the Sunshine Homes for blind Babies.
At first Mr Gill found great difficulty in selling his flags. Not because the public would not buy them but because he found he could not stand for long, his one leg -the other was amputated after an industrial accident many years ago. But Mr Gill found a way to beat is handicap. He was allowed to sit at a small table in a local store.
Now many of Swansea's largest stores welcome Mr Gill as if he were a valued customer. You can see him in Macowards, C & A's or in the British Home Stores. In one store they have even set aside a brand-new table and chair for him.
As Mr Gill cannot walk any long distance, friends or charity officials pick him up in their cars on Flag Day.
He usually starts selling at nine on a Saturday morning and finishes at 5.30pm when the shops shut. A car then takes him back home.
Mr Gill is not only known in Swansea. During the war he was evacuated to Ystalyfera where he lived for a year in Wade Avenue. Even then he sold flags. Someone found a corner in an Ystradgynlais cafe and there he sat. At the end of one day he had sold many pounds worth. Once, Mr Gill was persuaded to go to Llanelly: he sat in the market and when he picked up his heavy tin and empty tray, charity had benefited by £20.
A native of Somerset, Mr Gill has a wife aged 76, a daughter and three grandchildren.
Mr Gill and lived in Swansea for more years than he can remember. "I came just before they started widening Castle Street", is the nearest he can get to the date of his arrival in the town. Selling flags does not bring Mr Gill any extra money for himself. Like most old people he has to manage on his pension.
Nevertheless, every flag sold is a penny worth of satisfaction for Mr Gill. He enjoys his job although he knows there is no pay packet at the end of the day or a cheque in the post. Mr Gill is simply one of those very fortunate people who asked nothing more from life than to help others who very often cannot help themselves.

As a researcher of the Fallen of both World Wars within the Tawe Valley, may I just add a thank you to all, who today, stand or sit in order to raise money selling Flags / Poppies for Remembrance Day

Val Trevallion YEARGROUP