History and Heritage
Ystalyfera and District
Ystalyfera - South Wales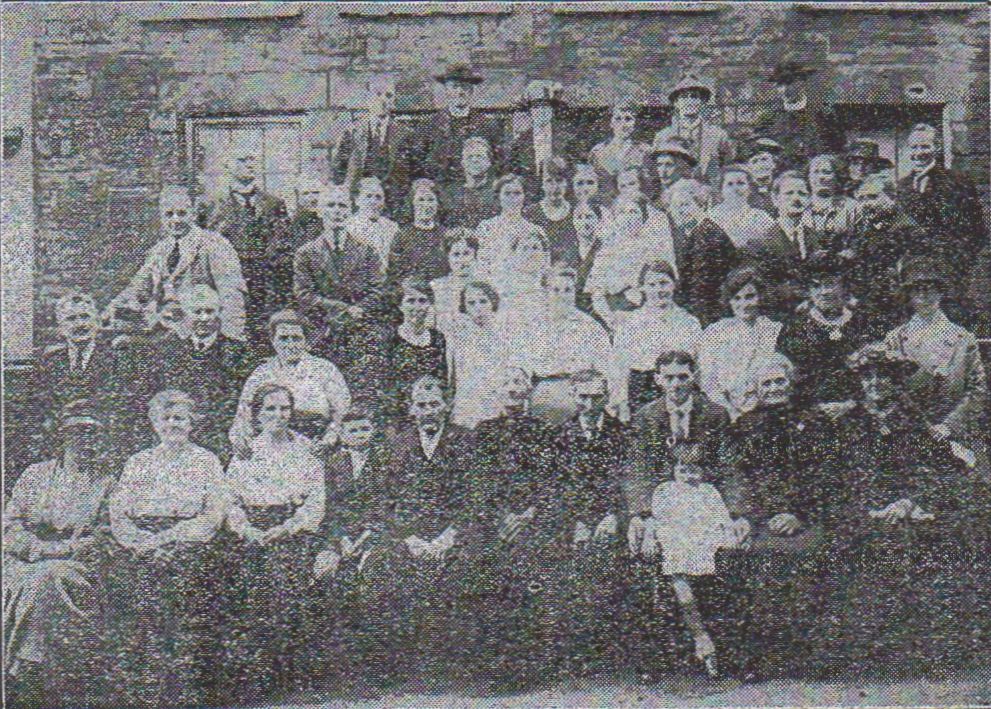 The Golden Wedding Anniversary photo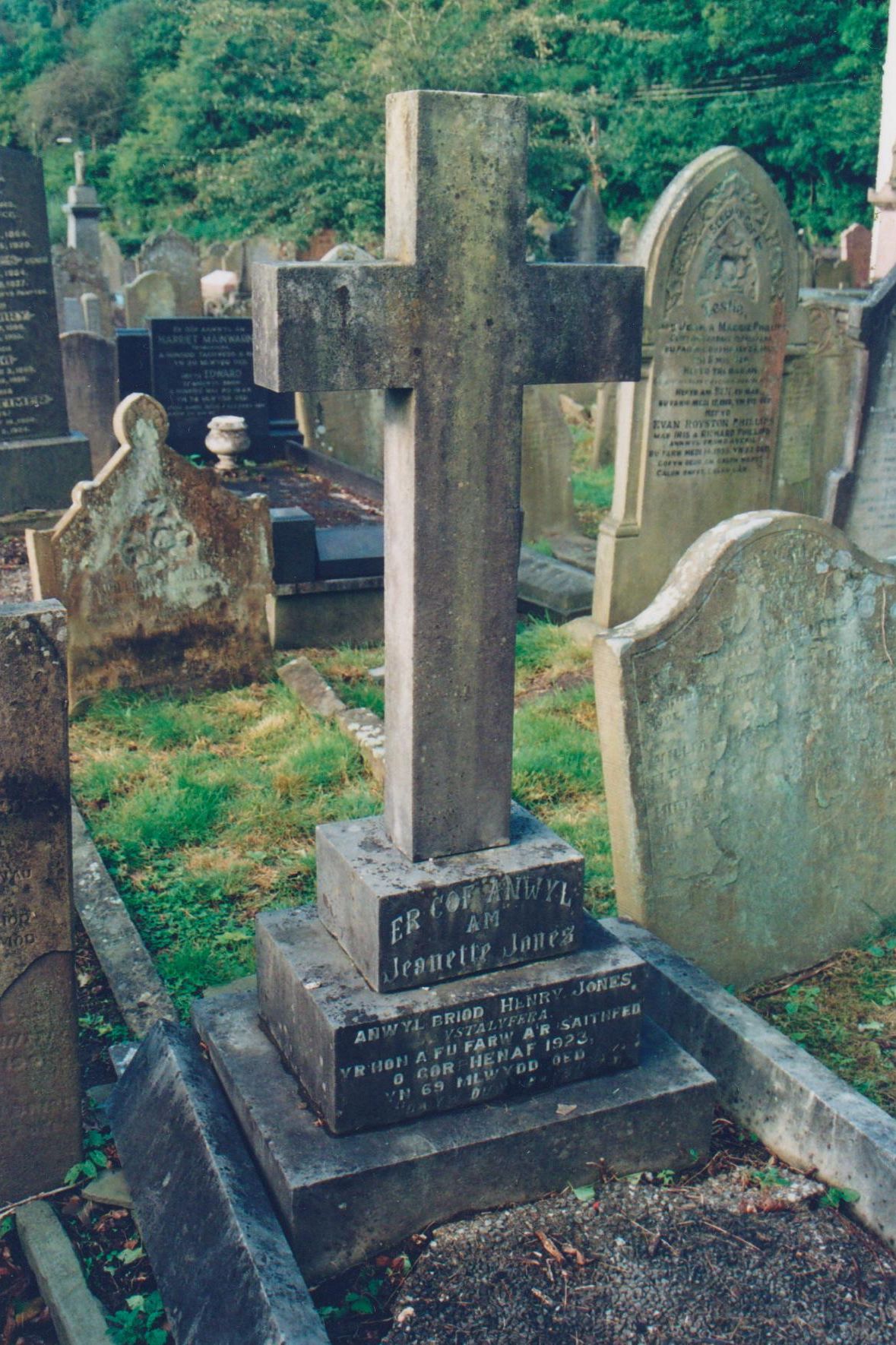 The Jones grave in Pantteg
Jeanette Jones
Born 1853 Ty Gwenws, Tynycoed, Abercrave
Died aged 69 7th July 1923
Buried 12th July 1923

married to
Henry Jones
Farm hand, Annealer and later Publican
Died aged 74 6th May 1925
Adopted Sons
Ivor Rees
and
David R Jones LIG CM
Born Neath 1883
Organist at Holy Trinity Church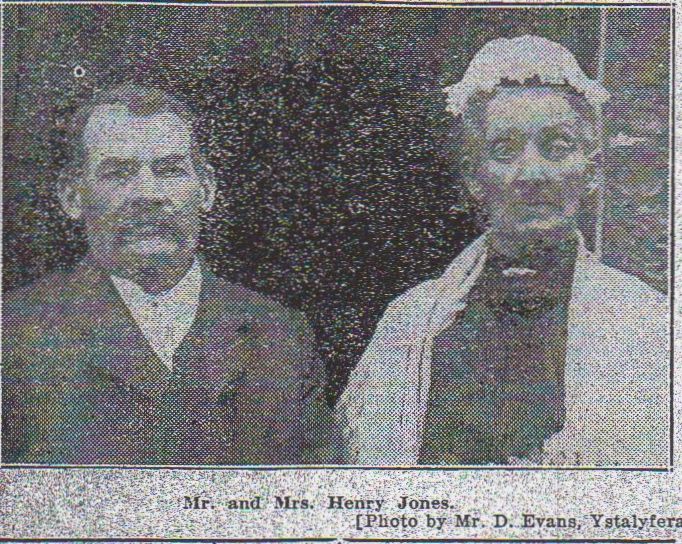 Henry and Jeanette Jones
Henry and Jeanette Jones of Pantteg, Ystalyfera
Henry and Jeanette Jones of Pantteg, Ystalyfera celebrated their Golden Wedding Anniversary in 1923. These articles record details of their lives, how they came to be in Ystalyfera, and the jobs that they did in this period. Also of note is their adopted son, David, who was remembered for his service with Holy Trinity Church.
THE LABOUR VOICE SATURDAY 9th JUNE 1923
WEDDED 50 YEARS
MRS & MR HENRY JONES CELEBRATE GOLDEN WEDDING
70 YEARS IN THE SAME SPOT

Fifty years ago. On June 5th 1873, Mr and Mrs Henry Jones Pantteg Ystalyfera were married at St. Peters Pontardawe. As no buses were available then, and as honey-moons were hardly in the fashion for a working class couple, they walked to and fro the same day. True, the Swansea Vale Railway Co. had started running trains a few years previously but as Mr Henry Jones was a lusty farm labourer, only 24 years old, and Miss Jennet Hopkin a few weeks short of 20, the distance to Pontardawe was hardly more than an ordinary lover's walk. That the love light that shone in their eyes on that beautiful and sacred morning 50 years ago, is still undimmed was evident on Tuesday last, when they celebrated their golden wedding.

CAME FROM PEMBROKESHIRE:
In a chat which the writer had with Mr and Mrs Jones, he learnt that Mr Jones was born in the parish of Pencaer Pembrokeshire. Early in life he heard of the good wages earned in the "gwithe the industrial districts of Glamorgan, and like many others left his native village for the "hills". By and by he came to Cwmgarw and was engaged as a farm servant at Cwmtawe Ystalyfera. He was popularly known then as "Harri Cwmtawe". Later he was known as "Henry Jones Annealer", then "Henry Jones the Bush", and now again as simply "Henry Jones". As these appellations suggest he was employed for many years at the Old Ystalyfera Works, to become, later, the landlord of the Bush Inn, which he gave up after a tenancy of 13 years.
Mrs Jones although not born at Ystalyfera, has been here long enough to justify her being called a native. She was born at Ty Gwenws Tynycoed Abercrave and her parents, Mr and Mrs William Hopkin moved to Graigarw when Jeanette was nine weeks old. They lived then in one of the three houses which were formed out of a previous "school house" at the eastern end of Pantteg Chapel and which were afterwards demolished to make room for the house that was built by Pantteg Church for their minister (Rev John Jenkins) in 1866.

IN THE SAME SPOT FOR 70 YEARS:
As Mrs Jones has lived in this spot near Pantteg for 70 years her reminiscences are exceedingly interesting. She has good cause, although she was only 13 years old at the time, to remember the dreadful cholera visitation of 1866, when one of her two sisters died. The old genius, Dr. James Rogers, was the medical officer at the time. Many tales are told of his gruff ways but very efficient doctoring. Mrs Jones also remembers Dr William Price of Glantwrch and Dr. David Thomas and has a kind word for each. But her heaviest debt of gratitude is to Dr Lewis and Dr Wright. She states that she exacted a promise from the former during her recent severe illness to keep her alive until she celebrated her golden wedding and he has faithfully kept his word!
Mrs Jones has recollections of four ministers at Pantteg Chapel, being admitted to church membership by the Rev Phillip Griffiths, who was followed by the Revs John Jenkins, R Trefor Jones and Ben Davies. She takes some pride in this fact that when the latter, with his young wife first came to live at Ystalyfera; it was to her house that old Dafydd Evans Pantygwanyd brought them to have their first cup of tea.
Being 11 years old when the first train ran to Ystalyfera, she has vivid recollections of the time when most of the food and other necessities of life came to Ystalyfera over the Swansea Vale Canal and many a time did she witness the departure and arrival of the old coach called "Swift Dafydd Gape", which took passengers to and from Swansea in the old days.
Although Mr and Mrs Jones have no children of their own, they acted the part of fond parents towards two little boys, who are now men, of whom they are quite proud and justly so. They adopted for some years Mr Ivor Rees, who is now in a first class position as head overseer in the Cardiff Post Office. The second, adopted when only 22 months old, is now widely known as Mr David R. Jones, L.I.G.C.M., organist at Holy Trinity Church for the last 5 years. On these two they have lavished more than money – a wealth of parental affection.
There are many who still remember the free super with which Mr and Mrs Jones while at the Bush Inn, entertained the local boys who fought in the Transvaal War. Over that function the late Dr Thomas presided and he was supported by, among others, the late Messrs. David Clee and John Price.

THE CELEBRATION:
An exceedingly pleasant time was spent at Mr and Mrs Jones' house opposite Pantteg Chapel on Tuesday afternoon. About 50 guests accepted the invitation to join in the celebration of the golden wedding. Perhaps the most interesting was Mr George Rees Pentalwn. It was he who acted "best man" at the wedding 50 years ago. …………………………….
LABOUR VOICE SATURDAY 14th JULY 1923
A GOLDEN SUNSET

Five weeks ago it was our pleasure to report the golden wedding celebrations of Mr and Mrs Henry Jones, Pantteg, This week we have the sad duty of reporting the death of Mrs Jones which took place at eleven o'clock on Saturday night last. It seems as if the deceased, who was within a few days of being 70 years old, had become contented to die having seen her golden wedding. She had longed very much to see that happy day and for her age was exceedingly happy and active when it arrived. Having seen it she faded away, becoming weaker and weaker until the end came. There was no particular disease, but she took to her bed about a fortnight ago and never left it until she passed away as stated, quietly and peacefully.
Having noticed the particulars of her life pretty fully on the occasion of her golden wedding we do not propose to repeat them here. It may be added that Mrs Jones was respected and loved by all who knew her. She was so obviously kind and tender-hearted and so concerned about the welfare of others. A hard case, a pathetic story, or a bad report about someone she knew would touch her heart in a moment and the tear filled eyes would tell the story of her deep sympathy. Many stories are told of her kindness and especially of the mother love she bestowed so lavishly and so unselfishly on the two orphans she brought up, Mr Ivor Rees, of the Cardiff Post Office and Mr David R Jones, L.I.G.C.M., Cyfyng Road. The church and pastor at Pantteg were also particular objects of her deep concern and constant attention. Her husband, Mr Henry Jones, with whom much sympathy is felt, has without a doubt, correctly interpreted her wishes in announcing that he intends continuing Mrs Jones' contributions towards the support of the ministry at Pantteg during the remainder of his life. Although she could not be said to be possessed of much culture or wealth, she had something rarer – a kind, sweet and gracious personality, and Pantteg, where she spent the 70 years of her life will be considerably poorer after her death.
The funeral took place on Thursday the burial being at Pantteg. ……………………..