Organ Recital at Gurnos Chapel, 1915
In August 1915, one of the most famous of the Belgian refugees living in Britain during the First World War gave an organ recital at Gurnos Chapel. Professor Firmin Swinnen was the renowned organist of Antwerp Cathedral, but had fled Belgium following the German invasion.

The article below comes from the Labour Voice newspaper (the Llais) of 21st August 1915:-
PROFESSOR SWINNEN AT YSTALYFERA
VISIT OF WORLD FAMED ORGANIST

The officials of the Gurnos Congregational Chapel, Ystalyfera, are to be complimented on their enterprise in arranging for a visit to this district of Professor (Firmin) Swinnen, the world famed organist of Antwerp Cathedral, one of the most distinguished of the Belgian refugees now in Great Britain. Professor Swinnen has toured England and Wales giving organ recitals during his residence here, and has been hailed everywhere as a musician of remarkable ability. He is a master of the technique of the organ.
Professor Swinnen had been announced to give recitals at Gurnos on Thursday afternoon at 2.30, and evening at 7 o'clock, but unfortunately he missed his train at noon, and the afternoon recital had to be postponed until 5.30, when Dr W J Lewis presided over a very large gathering. In the evening, the chair was occupied by Mr Davies, C.C., and there was again a very considerable audience. Professor Swinnen rendered selections from the works of some of the best known composers, particularly those of Flanders and France and in the evening, the programme included the item "Berceuse."
The theme of this cradle song of lilting beauty and charm was "captured" recently in the course of a walk along the sea-shore during a highly successful tour of the north east coast. Songs were also rendered in delightful style by Miss Blodwen Lloyd, the eminent National soprano and Mr Josiah Thomas, also a well known Welsh artiste. Mr T G Samuel L.L.C.M., R.A.M., was an efficient accompanist.

Mr T.G. Samuel was keenly involved with the Belgian refugees, and would go on to have a glittering career in music and the arts.
---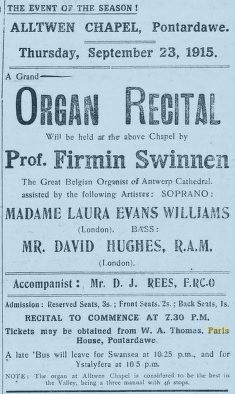 Professor Swinnen would go on to do an organ recital on Thursday September 23rd 1915 at Alltwen Chapel, near Pontardawe.
---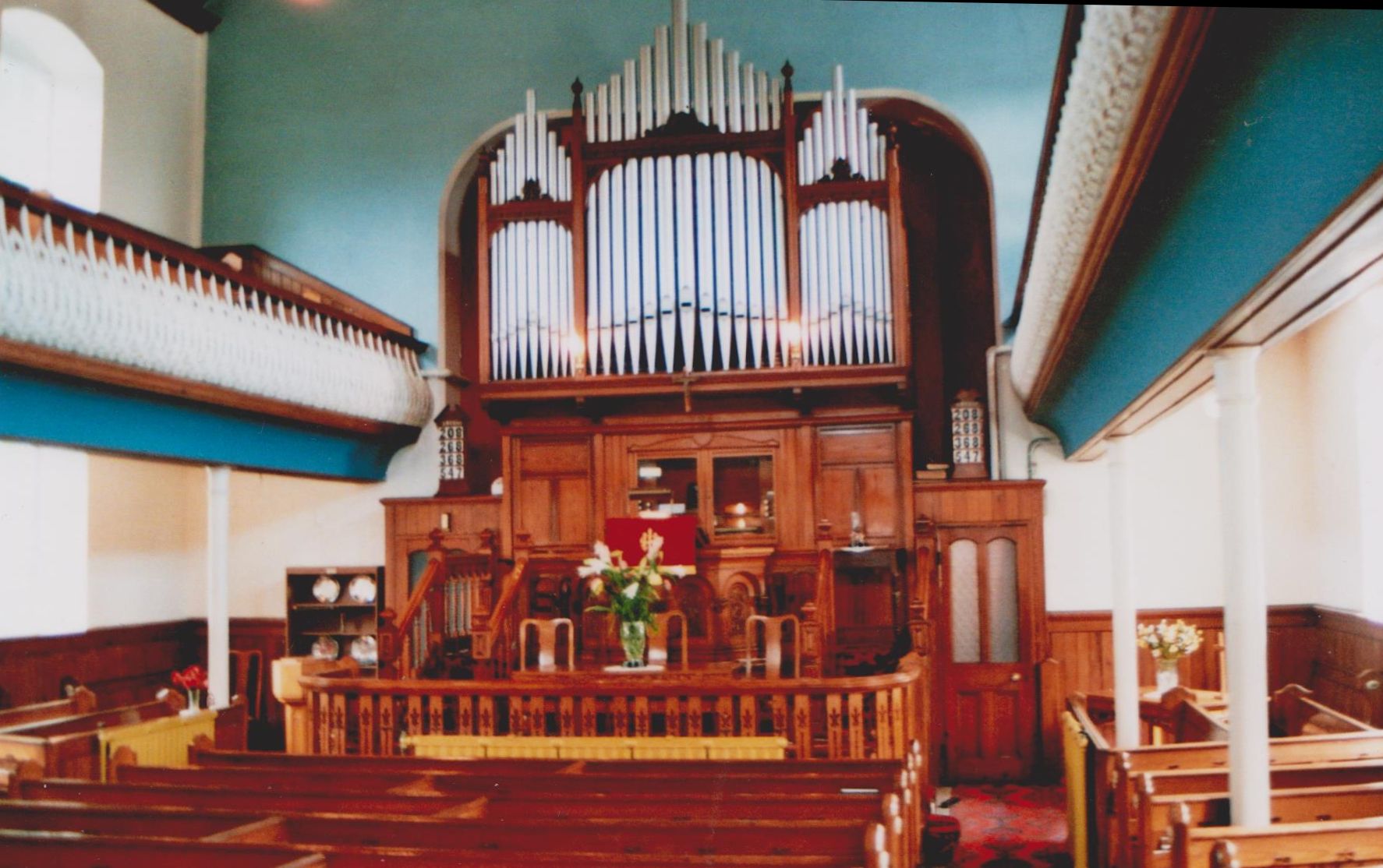 The organ of Gurnos Chapel, photographed in 2006.
---
The History and Heritage of Ystalyfera is put online by Swansea Valley researcher Val Trevallion and Wolfian Design. All copyright remains with the original copyright holder, and all original research is copyright Val Trevallion, YEARGroup.
You can contact Ystalyfera History by emailing: contact@ystradgynlais-history.co.uk or Val Trevallion by emailing yeargroup@hotmail.co.uk.