The People of Gurnos Chapel, Ystalyfera
Ministers of Gurnos Chapel
The Reverend Benjamin Thomas was the first minister of Gurnos Chapel, inducted in 1858. He served for 26 years until ill health forced himto resign in 1884. Rev. John Thomas who had been appointed pastor in 1884 retired from this role in 1921, and was succeeded by the Rev. D.J. Moses of Tycroes who took up the post in 1923. Rev. Moses would serve as pastor until December 26th 1926, after which he was succeeded by Rev. Aman Jones, whose induction took place on October 12th and 13th 1927. After over 24 years service, the Rev Aman Jones, B.A., on Sunday ended his ministry of Gurnos Congregational Church, Ystalyfera in April 1951.
---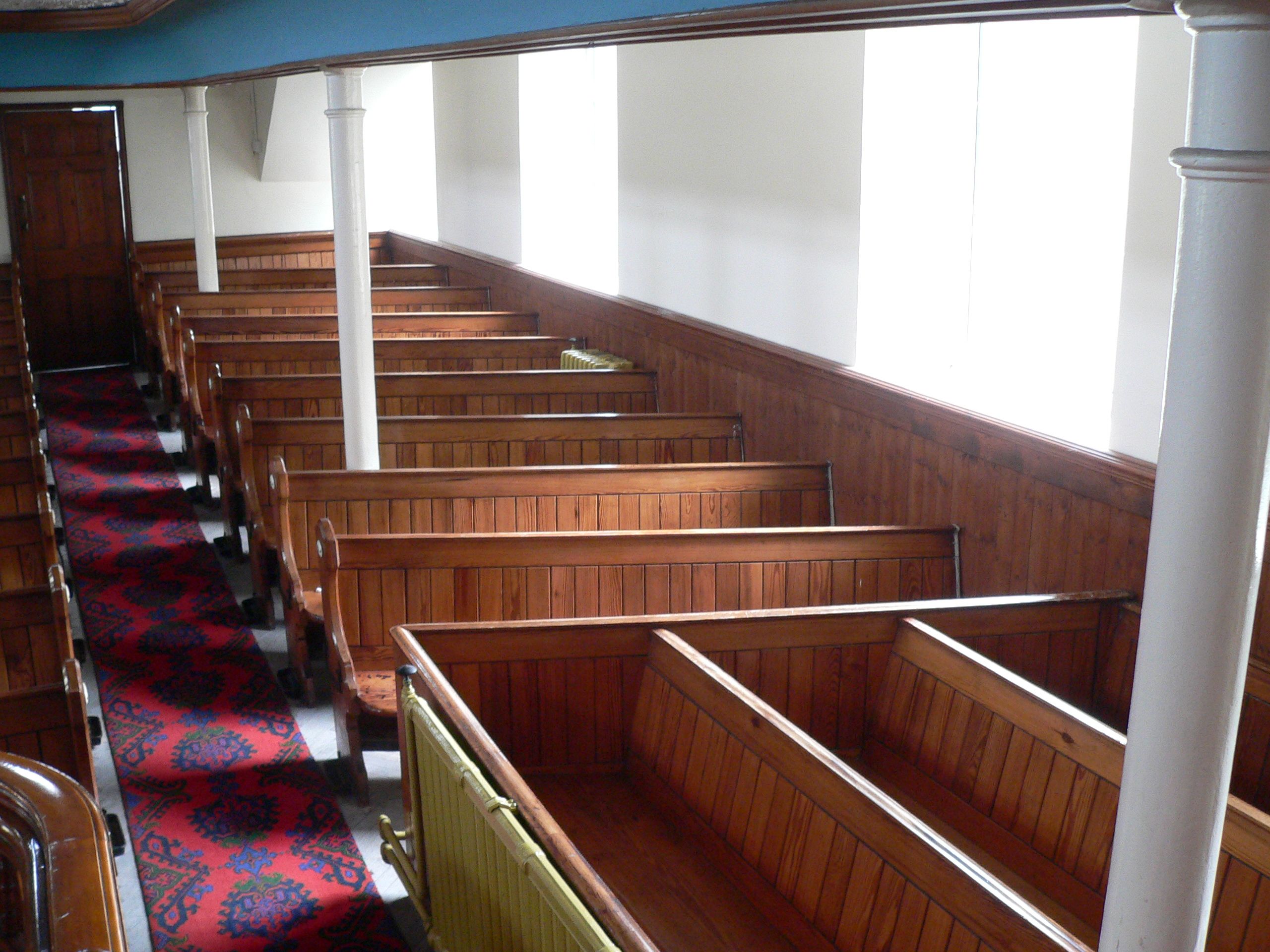 Rev. Moses ministry was very successful. The membership of the chapel increased to 304, and a manse was purchased for £620 for the pastor to live in.
View Full-sized
---
Who were the Deacons?
The photograph below shows the Deacons of Gurnos Chapel as of 1925.

Back Row (left to right)
Joseph Davies
D R Williams
Abraham Morgan
W J Griffiths

Front Row (left to right)
D Nicholas Jones - he was already a Deacon in 1906
Rev. John Thomas - pastor from 1884 to 1921, afterwards Deacon
Rev D Moses (centre) - pastor 1923 to 1926
William Davies - he was already a Deacon in 1906
D G Williams - Treasurer, elected in 1913

---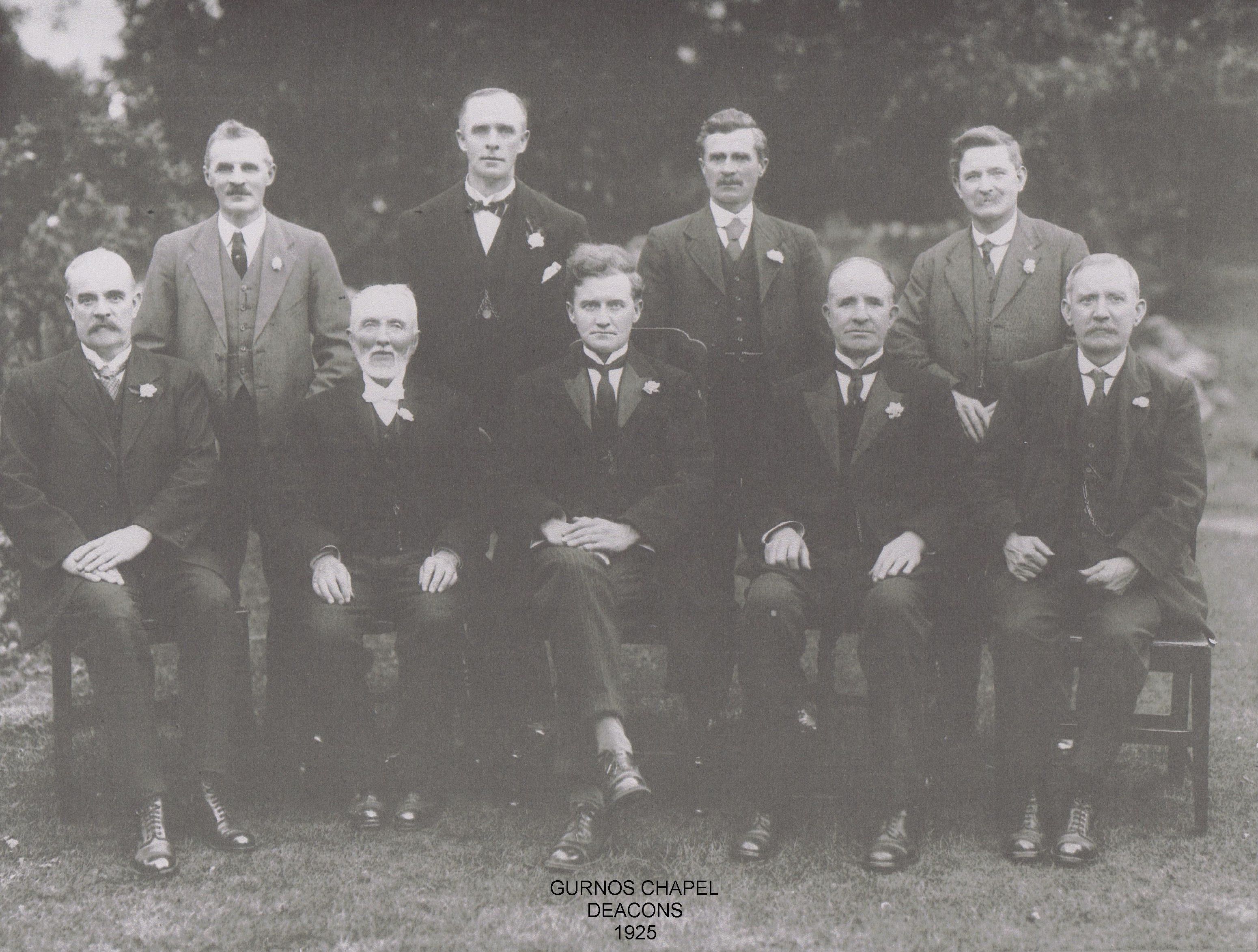 Deacons 1925
Information identifying the deacons comes from The South Wales Voice, 29th May 1943.
---
WJ Griffiths, Secretary of Gurnos Chapel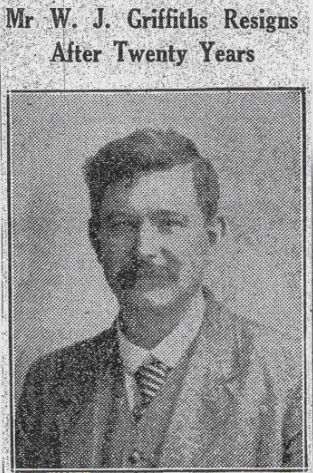 From the
South Wales Voice
, 9th January 1932:-
Mr William John Griffiths Resigns after 20 years.

After having filled the office of secretary of Gurnos Chapel Ystalyfera for 20 years, Mr William John Griffiths, Swanfield Ystalyfera, has resigned. Mr Griffiths has rendered valuable service to the cause during his long period of office.
William John Griffiths died in 1949 and was buried in Holy Trinity Churchyard with his wife, Sarah Ann who died in 1947.

He was the son of Ann and William Griffiths who were also buried in Holy Trinity along with two of their children, a daughter who died in 1878 and a son Thomas Ivor who died in 1879 aged 7 months. His parents were born in Carmarthenshire, his father, who was employed as an agricultural labourer, in 1838 and his mother in 1842.

They moved to Ystalyfera, (5, The Gardens Gurnos) where William John and his sisters, Rachel, Elizabeth and Margaret were born. William John became a coal miner and married Sarah Ann Davies in 1905. The couple lived at 18 Swanfield Villas. The South Wales Voice reported his wife's sudden demise:
From the South Wales Voice, Saturday 22nd November 1947:-
SUDDEN DEATH OF AN OLD RESIDENT
It is with the greatest regret that we announce the sudden demise of Mrs Sarah Ann Griffiths of 18, Swanfield Villas Ystalyfera, which occurred on Wednesday morning last. Mrs Griffiths was the wife of Mr William John Griffiths and like her husband was a native and lifelong resident of Ystalyfera. Mrs Griffiths, who was a very industrious hard working lady, was attending her house hold duties when, complaining of a sharp pain she suddenly collapsed and died.
Great sympathy is felt for Mr Griffiths in his sudden bereavement. Besides her husband, the deceased lady leaves a sister, Mrs Morgan of Crynant, to mourn her passing and also a number of relatives in law who are well known and respected in the locality. Mrs Griffiths was very closely identified with Gurnos Congregational Church where her husband is the oldest deacon and who was for many years the church secretary.
The funeral will be on Saturday at 3.30 for gentlemen only, the interment, being at Holy Trinity churchyard.
Sadly William John who had worked underground for more than 50 years, having been employed at Tirbach colliery, became a victim of silicosis but when he became ill at the age of 77 he had not been expected to die.
His obituary appeared in the South Wales Voice, 14th May 1949:-
He was secretary of the Gurnos Chapel for 20 years, where he was a deacon and Sunday school teacher of many years standing. His character, that of an amiable and naturally cultured man, was reflected in his appearance and he was widely respected and honoured as a devout and sincere Christian.
He had no children and his wife died some 18 months ago, but three sisters Mrs R Thomas Swan Lane, Mrs J Mainwaring Tan y Wern Lane and Miss Griffiths Llandaff survive him.
The funeral took place on Thursday last, interment at Holy Trinity Church yard.
In 1953 the Precentor of Gurnos Chapel, Ystalyfera, died. A Precentor was the person who led the singing of hymns in the chapel during a service.
From the South Wales Voice 27th February 1953:-
DEATH OF GURNOS PRECENTOR

The death took place on Saturday of Mr David Nicholas Jones of 1 Ynysydarren Road Ystalyfera after a short illness.

A native of the district, Mr Jones, who would have been 86 years of age, next April, had been a tinplate worker, caretaker of the Ystalyfera County Grammar School and a miner, from which latter occupation he retired 14 years ago.

It was however as a musician and singer that he was known throughout the district. He had been for 15 years precentor of Gurnos Chapel of which he was a lifelong member and the senior deacon.

He possessed a remarkable voice and with his three brothers had been in great demand, especially in oratorios and operas. He was also a member of the famous Ystalyfera Mixed Choir conducted by the late great W D Clee.

He was a founder of the Ystalyfera United Churches Cymanfa Ganu and his inspiring conductorship of the rehearsals he led, will not easily be forgotten.

He was a man of gentle nature and bypassing, the community has lost one of its most charming personalities.

His wife died five years ago and much sympathy is felt for his only surviving brother, Mr Oliver Jones Pwllbach who had been his constant companion.

Cremation took place on Wednesday at Glyntaf Pontypridd. Ministers officiating were the Rev E T Evans Wern; T J Morris Soar and G J Hughes Vicar.

At the Cymanfa Ganu rehearsal held at Wern Chapel on Sunday, the Rev E T Evans referred to Mr Jones's great services and devotion. The large congregation bowed in silent prayer.

In 1957 a testimonial service was held in Gurnos Chapel for the long-serving secretary, Mr Timothy Lewis, who had just completed 25 years of service.
From the South Wales Voice 6th September 1957:-
A MAN EQUAL TO ANY TASK

A testimonial service was held on Tuesday evening at Gurnos Chapel Ystalyfera in honour of Mr Timothy Lewis who has just completed 25 years service as it secretary.

The minister, Rev Edwin J Davies presided: Messrs John Jones read a Psalm and Donald Hughes offered a prayer; Mr J Ceiriog Hughes was at the organ.

Following the introductory part of the service, the minister referred to the great qualities of Mr Lewis and his devotion to the Church of Christ to which he had consecrated his life.

He had carried out his duties in a sincere and dignified manner, never complaining whenever obstacles had to be met and the going hard; he was equal to any task which presented itself and his zeal and modesty were an example eagerly followed by his fellow officers and members of the Church.

Mr Davies also referred to Mr Lewis's literary attainments and in particular to his book upon THE HISTORY OF GURNOS CHAPEL.

Others who spoke of Mr Lewis's great service were Mr D J Jones treasurer, Mr Ben Evans deacon and Miss Iris Davies on behalf of the young people of the Church.

Versus appropriately written for the occasion by Mr Joseph Davies, senior Deacon, who was unable to be present through illness were read by the minister.

Then, in a neat and effective speech 82 year old Mrs Sarah Evans Gurnos Road, the senior member of Gurnos Chapel, formerly, on behalf of the Church presented Mr Lewis with a cheque of £50 and a writing set.

The recipient who an earlier speaker had stated was a direct descendant of the great Welsh martyr John Penry who was burned at the stake for his convictions, suitably and feelingly responded.

He paid tribute to the Church for the support he had received especially from the late inimitable Rev Amman Jones, D G Williams and D R Williams, former treasurer; and the present minister Rev Edwin J Davies and Mr D J Jones the present treasurer.

In conclusion he gave thanks to God for the many blessings received and appeared to all present to pray to the Almighty for renewed zeal and vigour.

This impressive Service which, it is certain will never be forgotten by those privileged to be present came to an end with the singing of Hwyrol Weddi (Evening Prayer) and the Benediction offered by the minister.
---
The History and Heritage of Ystalyfera is put online by Swansea Valley researcher Val Trevallion and Wolfian Design. All copyright remains with the original copyright holder, and all original research is copyright Val Trevallion, YEARGroup.
You can contact Ystalyfera History by emailing: contact@ystradgynlais-history.co.uk or Val Trevallion by emailing yeargroup@hotmail.co.uk.