History of Pantteg Chapel, Ystalyfera
The History of Pantteg Chapel was translated into English by the late Brynmor Jonathan, and is presented in memory of Mr. David Aneurin Griffiths, B.A. for 53 years a Deacon and the Secretary of Pantteg Chapel.
Pantteg Chapel was constructed as a result of a community voluntary effort, with Fleming Gough leasing the land on a 999 year lease for a notional rent, and many future chapel members giving their time and expertise for free. The chapel was inaugurated over the 13th and 14th May 1821 and named Y Pantteg by Reverend John Davies of Alltwen. Apparently the founders of Pantteg had already chosen a different name, but what it was is now lost to history.
The history of Pantteg Chapel, Ystalyfera, can be downloaded by clicking this link. In some browsers right-click and choose 'Save link as'. The document is in PDF format and requires Adobe Acrobat to read; this program is installed on most computers, if you do not have it, you can download it for free.
Initially, it appears that the founders of the chapel intended it to be used by various different congregations in the area, but after a petition by some of the younger members it was agreed to register it as a church in its own right. Reverend Phillip Griffiths accepted their request to become its minister, at the same time agreeing to succeed John Davies at Alltwen, and subsequently it was agreed that both churches would share one ministry. The church was then registered at the Archbishop's court in late 1822.
After a leading member of the congregation died in 1824, expressing a wish to be buried by the chapel, Pantteg bought an additional amount of land and registered as a burial ground. A school-house was built in the mid 1830s, so that non-Conformist children would not be overly influenced by Church of England schools, and in 1838 Pantteg registered their chapel for marriage ceremonies.
By 1841 it was decided that the existing chapel was too small, the congregation sometimes numbering several hundred, and after examining the possibility of extending the existing chapel it was decided to build a new one at the same site. This second chapel was opened in October 1842, and in 1846 the older chapel was converted into domestic premises and a reading rooom on the ground floor, and a schoolroom in the newly-erected loft. The old schoolhouse was at this time converted into dwellings.
In 1864-65 the decision was made to build a new and larger chapel in place of the old chapel. By this time, Pantteg was regularly getting several hundred people to its services, had a registered membership of around 500, and had helped in the establishment of satellite churches and sunday schools at Gurnos Chapel, Ystalyfera, and in Godrergraig.
1865 also saw the resignation of Phillip Griffiths as Minister of Pantteg Chapel, after a ministry of 43 years; he was now 73 years of age, and no doubt this was a large contributing factor to his resignation.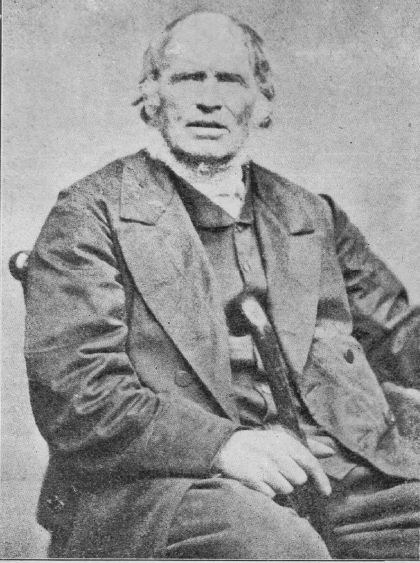 The Rev. Phillip Griffiths