Maternity and Infant Welfare
In 1957, built at a cost of nearly £14,000, Ystalyfera's new Maternity and Child Welfare Clinic was opened on Tirbach Road.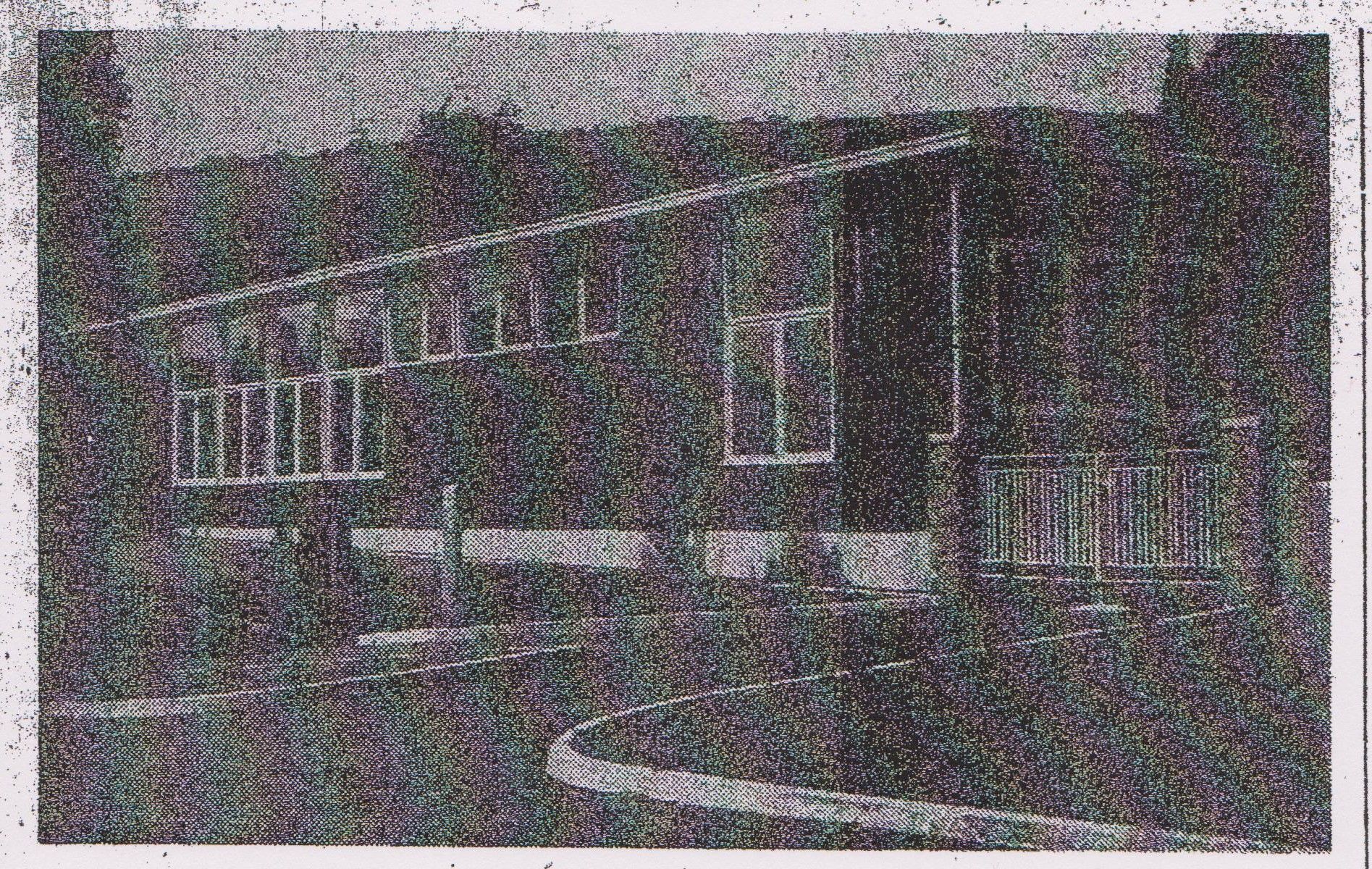 The New Clinic, Ystalyfera, 1957
As I had been filing obituaries of those who had been connected to the development of the welfare of the children within the district over many years, I decided to compile a rough history of the movement which culminated in the opening of the above building. I apologise for any gaps within the years but I have tried to maintain an order of development as I came across events.
The Infant Welfare movement had begun as far back as 1917 when in Swansea, in an effort to interest parents in the problems of maternity and child welfare, shows were being arranged. They were advertised as "BABY WEEK" and a series of children's entertainment and addresses to parents would be given by various speakers at different schools. Indeed it was part of a great national campaign or as one newspaper put it:
From 800 to 1,000 baby shows and "pram" parades will be part of a great national campaign during the first week of July to promote the health and welfare of babies. The Local Government Board is sending particulars to mayors, medical officers of health, and town clerks in 250 districts. Local committees are to be formed. The central administration will then be carried on by the National Baby Week Council, Kingsway House Kingsway W. C. 2.
Lord Rhondda is chairman of this council, which includes members of the Cabinet, doctors and social workers: in each of the 250 districts there will be a mother craft and baby welfare exhibition with competitions, and about 40 sections devoted to every feature of baby rearing. There will be a first aid section, showing how to deal with bumps, cuts, burns, chilblains, and infantile troubles.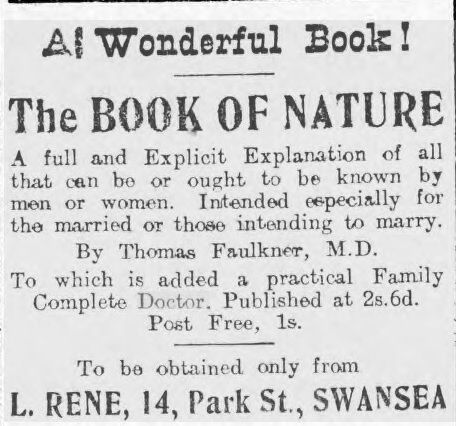 Advert in the Llais 17th January 1914
1918 and at Pontardawe, the County Education Committee had arranged an exhibition to take place at Pontardawe in June of 1918, to further advertise the Infant Welfare movement in the district. Mrs Russ Barker would deliver addresses to the elder school girls and to mothers and others interested. Representatives of the four Infant Welfare Committees in the district had met and had pledged themselves to do everything to make the exhibition a success.
In Swansea however, the movement had more momentum and
THE NEW WELFARE CENTRE OPENED AT SWANSEA
PROVIDED BY U. S. RED CROSS JULY 1918

The first Maternity and Infant Welfare Centre provide in Wales by the American Red Cross Society, was opened on Thursday at Siloam Schoolroom Pentre, Swansea, by Mr T J Williams (Maesygwernen Hall). The Duchess of Marlborough, at whose suggestion these centres are being financed, wrote to Lady Mond stating that the American Red Cross Society decided on favouring Swansea because of the important work done here by the Mothers' and Babies' Welcome.
In a class room at Siloam there was an exhibition of picture warnings, fire guard, model babies' woollen clothing made by Lady Mond herself, and babies' cots made of a banana crate, stretchers, examples of storage and pasteurisation of milk, etc.
There was a largo attendance, of mothers and babies, and of those interested in child welfare, among the ladies being Mrs J R Davies, Mrs Aeron Thomas, Mrs Jeremiah, Mrs Arthur Jones, Mrs Moorhead, Mrs Howell, Mrs Walters (The Hut), Mrs Dr. Powell, Miss Harris, Mrs W J Matthews.

ONLY U.S. CENTRE IN WALES

Dr. Harrington, president of the committee, in the chair, said they were beginning something that would be of great influence in the locality and they had to thank the American Red Cross Society for £500.
Mrs Williams, in declaring the Centre opened, said this was the only American Red Cross Centre in Wales, and there were only about five in England. She trusted the mothers would get all help possible for it. The Mayor congratulated "Penar" Mrs Hubert and Dr. Hubert Thomas and Mrs Dr. Trevor Evans on their work. He hoped the centre would be a great success, if only to show our appreciation of what America had done. He thought they would agree that at this time we owe our existence to America.
It obviously was proving successful as judging by their first report in October 1919: At the first annual meeting of Pentre (Swansea) Infant Welfare Centre on Thursday, the Rev. Father Harrington presiding, the report presented by Mrs David Matthews (the hon. secretary) showed that 312 infants had been attended to during the year, and Mr David Matthews, M.P., promised to do all in his power to promote infant welfare and public health generally as conducive to the nation's best interests.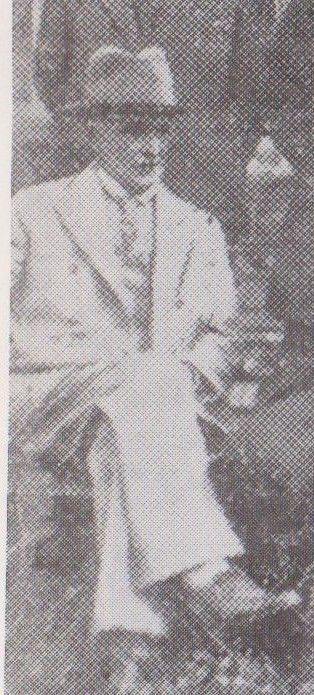 Doctor William James Lewis
So did the mothers of Ystalyfera have to travel to Pontardawe or Swansea?
No. In November of 1917, The Ystalyfera Infant Centre was opened on Friday afternoon at the Church Hall, and would be open every subsequent Friday at the same time. Dr Lewis would be in attendance from 4 to 5, assisted by the local health visitor; and all mothers are cordially invited and urged to bring their babies for examination by the doctor. Expectant and nursing mothers who are in imperfect health, and would like advice, will also be made very welcome.
In connection with the above centre, the film "Motherhood" was screened at the Coliseum on Monday, Tuesday and Wednesday evenings. Each evening a short program, arranged by Miss Alice Williams, the energetic secretary was presented, consisting of dances, sketches, and playlettes by the children of the Wern Schools, who acquitted themselves admirably.
These meetings in the back classrooms of the Church Hall were meant to supply a local need and advantage was taken by many mothers as it was found that several of the regular visiting babies had gained and continued to gain from half to one pound in weight weekly. Visits were welcomed from all mothers, whether their babies were ill or well, so that the latter could be weighed and progress of growth and development noted and recorded by the visiting doctor.
To make it easier for mothers to attend it had been decided that in future the centre should be opened at 3.30pm on Wednesdays (instead of Fridays) commencing on Wednesday next 30th January.
However a notice appeared in February stating that "The meetings are still to be held in the classrooms at the back of the Church Hall until the new centre is available".
The notice also indicated that it was a matter of satisfaction to the committee that the attendance of mothers and babies at the Infant Welfare Centre has improved so materially since the day of the meetings were changed. But a search for new premises was on and the public were made aware of this in February:
FEBRUARY 1918 BABY WELFARE

Mr Morgan also stated that in conjunction with Mr J D Rees, he had inspected two premises at Ystalyfera with a view of securing suitable accommodation for the Baby Welfare Committee in that part of the district, and their joint report giving details of the estimated cost of alteration required to be done and the cost of furnishing, etc., had been estimated.
Three members of the committee assisted them during their inspection and, taking in to consideration the more convenient location, as well as the suitability of the apartments on the ground floor of the premises belonging to Mrs Thomas and situated on the main road near Zoar Chapel, and now in the occupation of Mr Clatworthy, jeweller, they were of opinion that they offered greater advantages for the purposes of the institution than premises belonging to Mr David Thomas, and situated in Cyfyng Road.
I am not sure as to which premises the Committee decided to use but I did come across a notice dated September 1918, which implied that alterations had been necessary:
Infant Welfare Premises:-
The alterations to the Infant Welfare Committee premises at Ystalyfera had been completed and the secretary applied on behalf of the committee for an installation of gas fittings for lighting purposes and also fire guards. He had received a tender from the Tawe Valley Gas Co for supplying two pendant lights for the waiting room, and one single light pendant for the nurse's room, and a bracket for the medical officer's consulting room. It was decided to install the light and fire guards.
The Committee did obviously take premise near Pwllbach (the area around Smiths Garage today) because in late 1924 the local members of the Infant Welfare Committee were rather anxious in view of the approaching expiry of the lease of the rooms they were using at Pwllbach. Again the hope was expressed that they wished to secure more suitable and commodious rooms to carry on their splendid work on behalf of mothers and child.
A report of the marriage was entered in the CAMBRIAN 13th February 1903:
On 5th FEBRUARY at the Congregational Church Hendon by the Rev W F Adeney D D assisted by the Rev H E Bennett, the marriage took place of Constance Mary, eldest daughter of E S Adeney to Dr William James Lewis of Ystalyfera Glamorgan.
The couple set up home at Ty'r Waun where Dr Lewis was listed in 1901 as being the Medical Assistant to Dr David Thomas, himself an M D and J P General Practitioner. In 1907, although he helped run a large practice, he applied for the job as Medical Officer and the Cambrian Newspaper ran an article: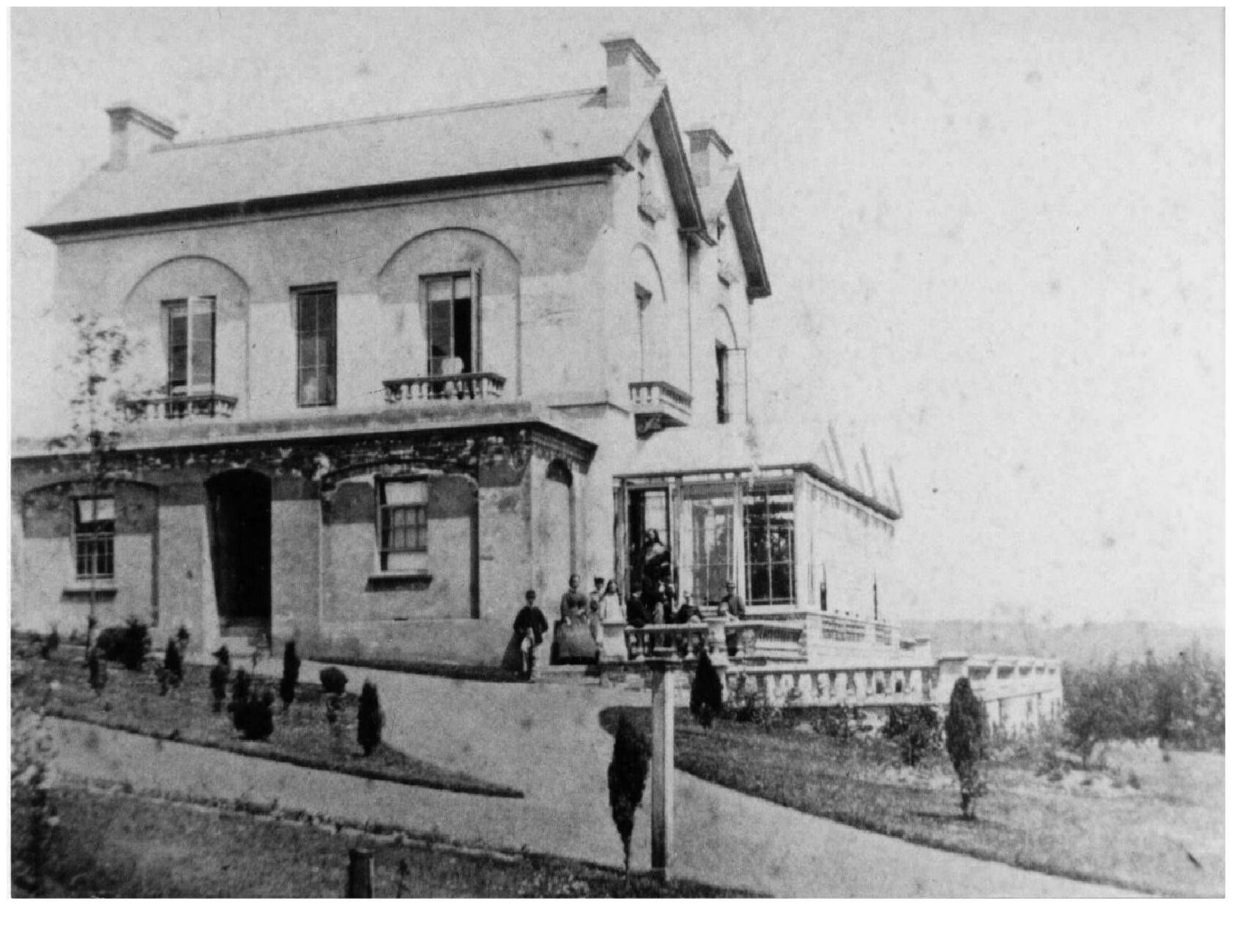 Ty'r Waun House, Ystalyfera
CAMBRIAN 7th JUNE 1907
PONTARDAWE MEDICAL OFFICER
NAMES AND QUALIFICATIONS OF APPLICANTS

Only two applications will be received on Thursday for the post of medical officer for the Pontardawe Rural District Council, viz., Dr. John Jones, Clydach, and Dr. W J Lewis, Ystalyfera.
Their qualifications taken from the Medical Directory, 1907 are:
Dr Jones: M.D. (London), M.B. (first class honours in forensic medicine), M.R.C.S. (England), L.R.C.P. (London), D.P.H., R.C.P.S. (London)
Dr Lewis' qualifications are: L.R.C.P., L.R.C.S. (Edin), L.M., L.F.P.S. (Glasgow).
As Medical Officer of Health he published many reports concerning the health of the district, and below is one such report Dr Lewis submitted during the year 1915: 969 births were registered, and of this number 496 were males, 473 females. The number of births was the lowest since 1908, when it was 967. By virtue of the Notification of Births (Extension) Act, 1915, this Act is now in force in the district. Arrangements had been made with the Pontardawe and Clydach Nursing Associations that two nurses on the staff of each of these associations should act as health visitors in their respective localities. A whole-time health visitor has been appointed for the Ystalyfera and Caegurwen localities, and she entered upon her duties the latter end of January. The approval of the Local Government Board has been obtained for these appointments. They are under the direct supervision of the medical officer of health who inspected their records periodically. They were informed of all births as soon as notified, and made their visits as soon as possible, and paid periodic visits subsequently, the number varying with the conditions found. General instructions had been given them what to do and observe, also record cards, on which they entered particulars of their visits. Mothers were advised to call on their private medical practitioner when the infant did not thrive, and great stress was laid on the advantage of breast feeding. The medical officer of health and sanitary inspector were also advised of anything that may require their attention.
The people seemed to be taking kindly to the visitors, and many spoke appreciatively of the guidance given. When their usefulness become more widely known, it was hoped that expectant mothers would often consult them, and that with greater experience and improvements of organisation their sphere of influence would increasingly enlarge, and that at no vey distant time they should see a decided reduction in the excessive infant mortality of the past, and greater vigour in the survivors.
Deaths: 456; number of deaths for 1914, 407.
Local and seasonal distribution was just normal for the district, but as to causes there was a very high mortality from congenital debility and premature births, especially in the Pontardawe locality. The deaths from whooping cough were also above average in Pontardawe.
Dealing with infant mortality, the net deaths from stated causes - under one year of age were:
Atrophy and debility, 34; convulsions 23; premature birth 15; whooping cough, 11; bronchitis 11; pneumonia 8.
Measles was prevalent throughout all the localities and 8 deaths were reported. Scarlet fever-190 cases were notified Pontardawe 38; Clydach 26; Ystalyfera 26; Caegurwen 100. The cases were mostly mild.
Influenza had caused 11 deaths. There were 55 cases. 8 cases of enteric fever were notified; of pulmonary tuberculosis, 29 deaths.
By arrangement with certain tradesmen the Small-pox Hospital could be made fit to receive patients after a few hours' notice. From the reports of the surveyor and sanitary, the Council could see that the work done that year had been very considerable, and quite up to the work of previous years, and thorough as usual. House to house inspection was completed during the year.
From the beginning therefore, Dr W J Lewis and Mrs Lewis, were instrumental in working for and supporting the welfare of children and on the death in 1971 of Mrs Lewis, her obituary states:
The death has occurred at her home, Ty'r Waun Millborough Road Ystalyfera, of Mrs Constance Lewis, widow of Dr William James Lewis, a former medical officer of health to Pontardawe Council who was in practice in the area for more than 50 years.
Mrs Lewis, a native of Thornton Heath, Surrey came to teach at the Ystalyfera Intermediate School in 1902.
Throughout her long and active social life in the district, she showed the keenest interest in the health and welfare of the people of the town.
She was secretary to the former Victoria Housing Association for more than 25 years and during the First World War she was a member of the W V S.
Mrs Lewis, who was 92, leaves five sons, Mr Ivor Lewis who lived with his mother at Ty'r Waun, Mr David Lewis a consultant surgeon at Shrewsbury, Mr Roland Lewis, a Harley Street ear, nose and throat consultant, Mr Edward Lewis a partner in a Cardiff firm of well known trade union solicitors and Mr James Lewis, senior dental officer in the Cardiff Health Department.
Back in 1918, the grounds of their home Ty'r Waun provided the site for many pleasing functions, where by the mothers and babies who had attended the Infant Welfare Clinic during the year, together with the district health visitors, midwives, members of the committee and a few friends, were entertained to tea by Dr and Mrs Lewis.
At the close of one such function two presentations were made,-a silver mug, given by Nurse Jeremy, to Baby Salt, of Wind Road, who has attended most faithfully, and a case containing knife fork and spoon, given by Mrs (Dr.) Lewis to Baby Chambers, of Godre'rgraig, who has gained most in weight and health, as a result of attending at the clinic. Mrs Bodycombe, of Pantteg, expressed the thanks of the mothers for the pleasant afternoon spent.
LLAIS 18th JANUARY 1919
The Ystalyfera Infant Welfare Centre is still flourishing, although we have not heard much about it lately. In spite of the inclement weather of Wednesday last it was satisfactory to find 18 mothers present with their babies. It is very encouraging to all who are interested in this work to realise that their efforts are meeting with success. The clinic is comfortably heated, and a welcome is extended to all mothers and expectant mothers. The doctor will be in attendance again on Wednesday, the 29th inst., when the next meeting will be held.
Another home, Glantwrch House, also provided adequate space for a party and this garden party organised in July 1919 also saw the results of the "Daily Sketch" competition:
LLAIS 12th JULY 1919
YSTALYFERA INFANTS, WELFARE GARDEN PARTY

A garden party organised by the committee of the Infant Welfare Centre was held on Wednesday afternoon on the lawn at Glantwrch House, the residence of Mr and Mrs D R Williams, M.E. About 50 mothers attended with their babies, together with Dr. and Mrs Lewis, a number of members of the committee, the health visitor and mid wives. An excellent tea was provided, the weather was all that could be desired, and a very pleasant time was spent. After tea a number of prizes were distributed, three to babies who had made the greatest progress during the year, three for those who had made the most regular attendance at the clinic, and eight to the most perfect babies attending the clinic, as judged in connection with the recent "Daily Sketch" competition. At the close of the function votes of thanks were passed to Mr and Mrs D R Williams and Mr D W Davies, Ty Coch, for the use of the grounds, and the deacons of the Gurnos Chapel for the loan of tables and Mrs Morgan, Swan Hotel, for the loan of seats. The prize winners were the following: Best Improved.-Leslie Evans, Pantygwanyd Row; Olwen Mary Buttress, Chemical Row; IsIwyn Thomas, Gough Road.

Best Attendance: Margaret Jones, Wern; David Arnold, Cyfyng; Dave Williams, The Drive Prize Babies: Mair Williams. Cwmtwrch; Arthur Curtis, Wind Road; William Crawford, Milborough Road; Alwyn Davies, Cwmphil; David B Jones, Wind Road; Tom Martin, Wind-Road; Lewis S Stoneman, Godre'rgraig; Rhys J Jones, Alltygrug Farm.
So the scene was set, annually a garden party was held in the grounds of Glantwrch House in connection with the Ystalyfera and Godre'rgraig Child Welfare Clinic and the tea being provided by the committee ladies. In 1923 a total of 120 mothers attended and the then President of the Committee was Mrs John Griffiths, wife of Mr Griffiths, Manager of the C & M Bank.

Over the next 40 years, what began when the Pontardawe Rural council sponsored the establishment of a maternity and child welfare clinic in the adequate but not ideal premises in Wern Road, those early pioneers never lost sight of the dream of one day opening a modern, airy building which could cater not only for expectant and nursing mothers but also for children. The road had not been easy especially as the belief that "What was good enough for our mothers and grandmothers is good enough for us" was a belief that was difficult to erase or change within the community.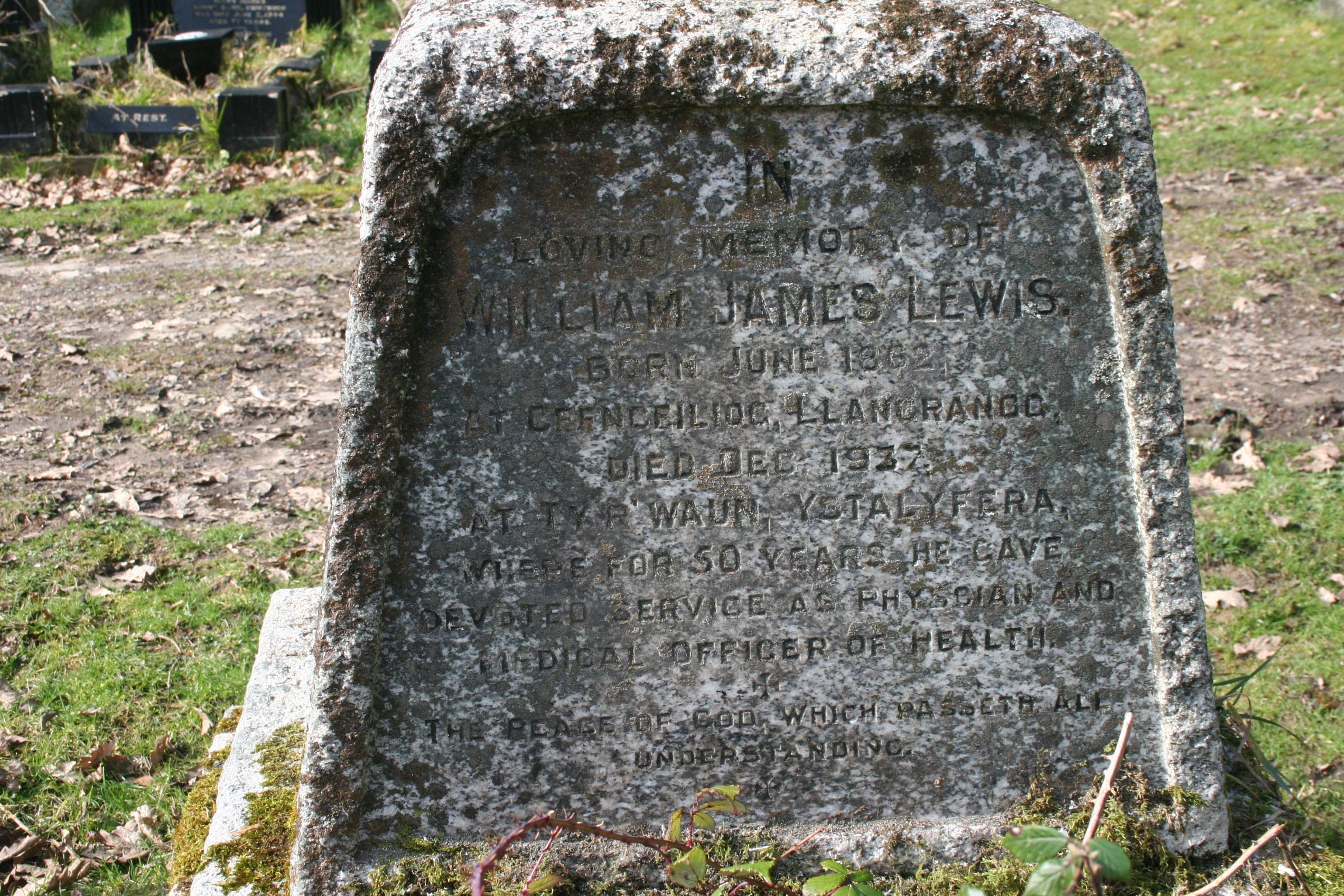 Alltygrug Cemetery, Dr. W J Lewis
Unfortunately, the passing of 40 years would also mean that some of the early pioneers of the movement would no longer be alive. Dr William James Lewis died in 1937: Miss Alice Williams J.P., headmistress of the Wern Girls School and the first person to advocate and initiate the campaign for the introduction of maternity and child welfare facilities died July 1942: Religious, political and other local public organisations lost an indefatigable worker by the sudden death in 1950 of Mrs Angharad Ann (Carrie) Cope-Harries, wife of Mr Ivor Harris, 47 Alltygrug Road. She had always taken great interest in the cause and was the secretary of the Ystalyfera Clinic. Amongst others connected to this work were Tal Lloyd, Ada Griffiths, Dan Daniels, S Gabe Edwards, David Thomas, John Cope, Roberts Rees, J Jones (the Post), J J Harries, William Thomas, Alice Evans, with the attendant midwives - Nurse Susannah Bodycomb and J Jones. Nurse Bodycomb of Pantteg was the wife of Thomas Bodycomb and she died in 1935 aged 66: their son, Mr John Bodycomb was a former registrar of births and deaths at Pontardawe. A prominent worker with the Women's Guild and Maternity and Child Welfare Centre her obituary stated that she had practised as a midwife in the district, claiming to have brought 4,000 babies into the world. The Health Visitor for Ystalyfera was Nurse Gwladys Ethel Jeremy who married Alfred James Cross in 1923 and before leaving Ystalyfera for Llanelly, Mrs Mary Hannah Booth nee James, who died in 1958, also served for many years as a committee member.

One lady who did see the fulfilment of that dream however, was Mrs Alice Maud Broome, Glenview Tanywern Lane Ystalyfera. A native of Newport Monmouthshire, Mrs Broome was in her 88th year and the widow of Mr W J Broome. Since she came to Ystalyfera over 60 years ago, Mrs Broome had been a member of St David's Church and one of the pioneers of Maternity and Child Welfare at Ystalyfera. She died in January 1958 but had managed to visit the new clinic where she was reported as saying, "I have waited 40 years for the establishment of this clinic" and her only regret was that many of her colleagues in those days of hard and voluntary work were not alive to see their dream realised.

It was in 1939 that Pontardawe Council first applied for permission to build a clinic. Permission was granted, but because of the war the scheme fell through. When the Glamorgan County Council took over the administration of the area in 1948 under the Health Scheme, this was a Priority Area.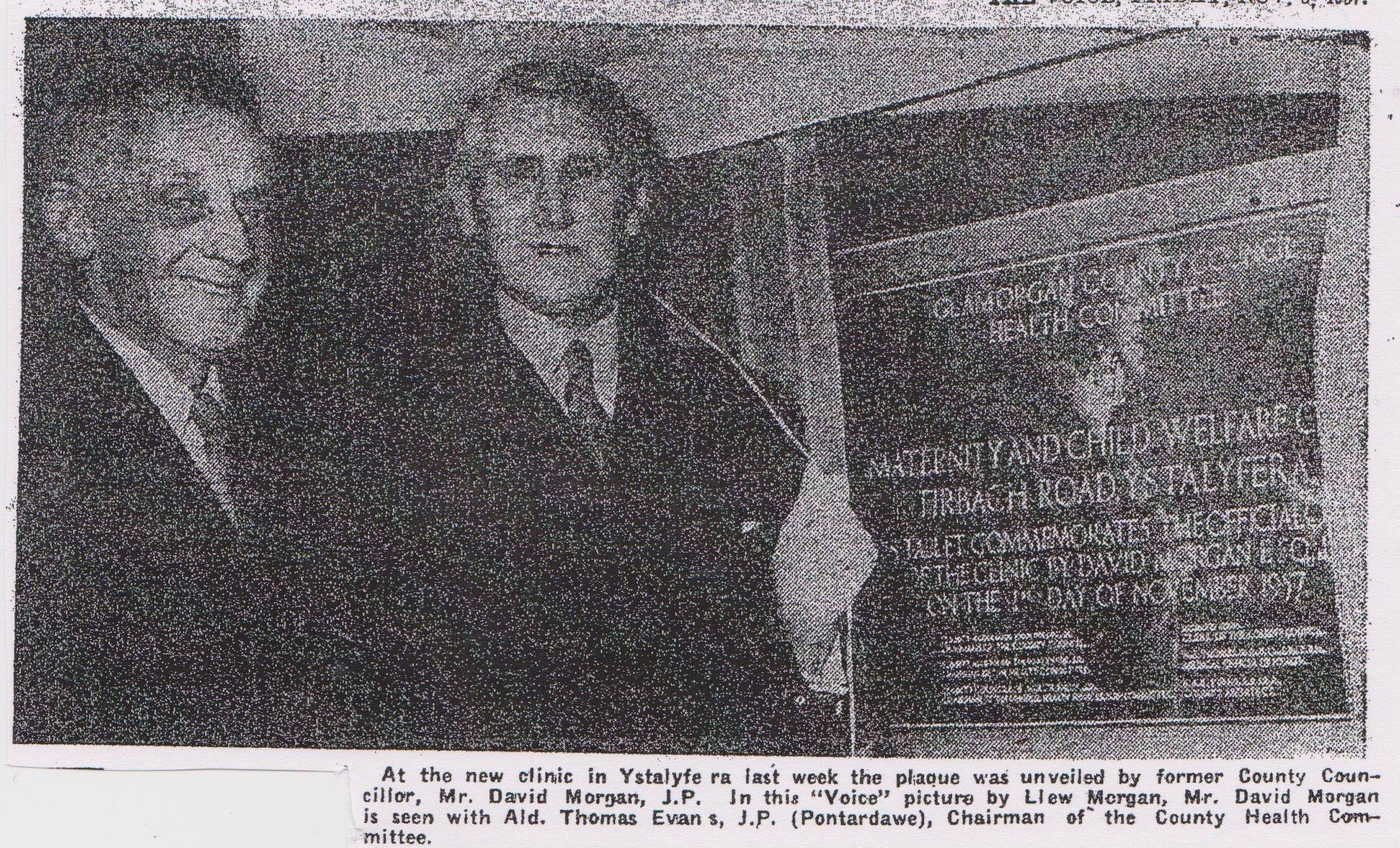 Tir Bach Clinic opens 1st October 1957
THE NEW CLINIC at TIRBACH ROAD
In his address at the opening ceremony, Mr David Morgan J.P., paid tribute to the pioneers of the service provided by such clinics in Ystalyfera and described the new building as a monument to their work.

Although not to be officially opened until October 10 or 24th, it nevertheless opened its doors for service on 1st October, and yet the memorial tablet states 1st November 1957, so I am actually not sure of the exact date of its opening.

However the building, comprised of oak panelling, very aptly stands in the former grounds of Dr W J Lewis's residence and was "conveniently near the bus stop and shopping centre". In 1957 the reporter stated that the clinic would be serving an area stretching from Godre'rgraig School to Cwmllynfell School and in that area there were roughly 12, to 13,000 families. It is expected the new clinic will cover all the work done by the existing clinics at Wern Road and Wern School - (the Wern School Clinic carried out dental examinations and treatments as well as eye examinations - the Wern Road building acted as an infant clinic). In addition there will be an ante natal clinic, an orthopaedic clinic, provision for speech therapy and adequate facilities for Polio vaccinations (the latter also previously being carried out in the Wern School). There will also be a "gas session" at the dental clinic (previously children would have to travel to Pontardawe to have teeth extracted by gas).

The decision to build a new building from scratch was not taken lightly. Four buildings in Ystalyfera were in fact taken into consideration before it was decided to build this clinic. They were the Tudor Hall, the Tudor garage, the Premier Hall and Mrs (Dr) Lewis's house, which she had kindly offered as a solution. Eventually after 12 months of deliberation it was decided to spend the £14,000 and to build even though this was to be a prefabricated building with only a 20 year guarantee.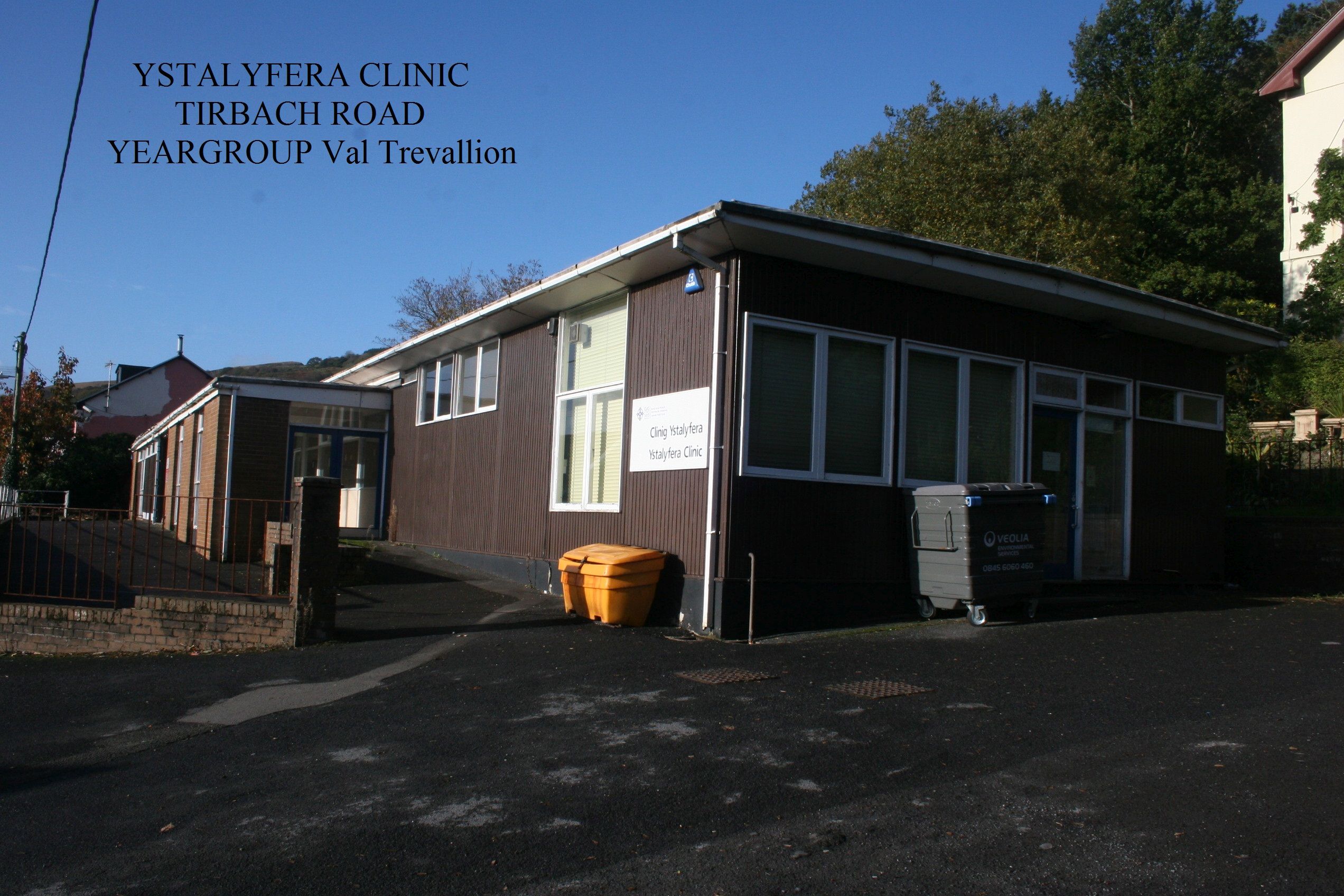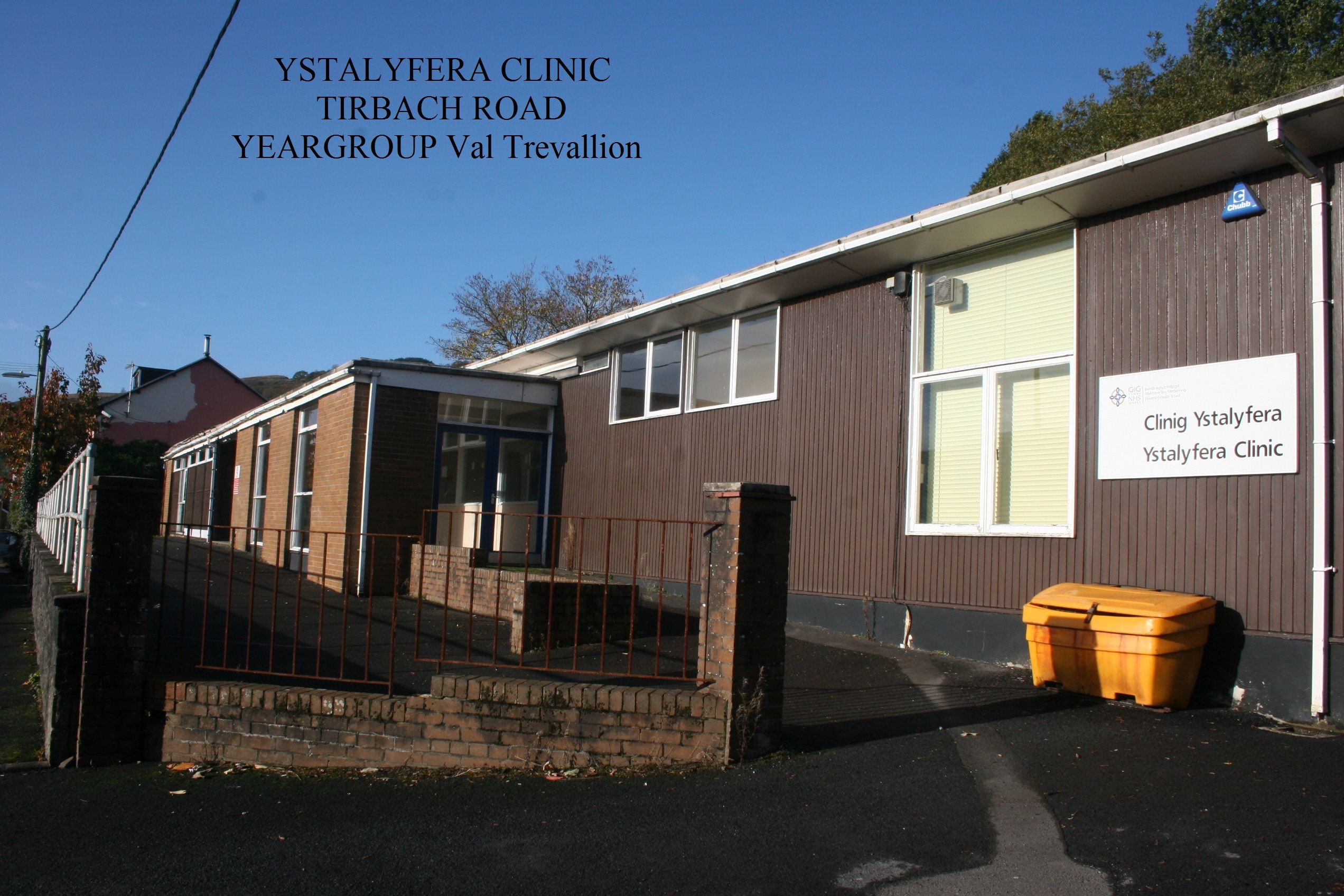 UPDATE
SOUTH WALES EVENING POST 16th APRIL 2012
Families in Ystalyfera and Godre'rgraig now face a trek up the valley if they want their children to see paediatric doctors, after Abertawe Bro Morgannwg NHS Trust announced doctors would be no longer able to attend the sessions in Ystalyfera's Tirbach clinic.
They will have to go to the Pengorof Surgery in Ystradgynlais - which those without transport claim will present difficulties due to the area's bus service. Almost 600 letters have been presented to ABM Health Board urging the continuation of doctors' sessions at well-baby clinics in Ystalyfera.

A spokesman for ABM Health Board said: "Routine well-baby sessions, like the ones at Tirbach Clinic in Ystalyfera, are provided by GPs across Wales as part of the General Medical Services contract.
"Tirbach Clinic is unusual because, for historical reasons, specialist community paediatricians have delivered this service.
"It was agreed two years ago that the service in Ystalyfera should move to a GP-delivered service in line with routine practice.
"This would free up ABM's community paediatricians to concentrate on delivering more specialist care for children.
---